As an Amazon Associate I earn from qualifying purchases. Without Any Extra Cost to You!
If you are an IT guru, you know how servers can be noisy. This is especially when all the fans startup. Their noise will distract and reduce your productivity.
But this shouldn't bother you anymore. Thanks to soundproofing. You can choose to soundproof the server rack or soundproof the server room.
In this article, we will discuss with you simple ways to quiet server rack & room.
Here are simple ways to quiet server rack and room.
1. Clean Your Cooling Fans
Fans are to blame for most of the server noises. Whenever you start hearing loud noises, it's important first to check the fans. Check whether there is any dirt or dust build-up on the fans. As the fans rotate, they tend to collect much dust and debris.
As a result, the fan slows down and gets louder.
The dust automatically causes the server to overheat. The fans, on the other hand, strain to remove the heat and circulate the server with fresh air. This whole process makes it difficult for the fans that are already rotating at a slow speed.
So, to solve this problem, clean the fans. Remove all dirt and debris stuck on your fan.
2. Replace Noisy fans with Quieter Fans
A server depends on its fans to cool the entire system. However, some fans operate quietly while others make noise. If you want to reduce most of the noises coming from the server, you need to work on the fans.
If your server uses old, broken, defective, or noisy fans, remove them. Buy quieter fans from Amazon and install them on your server.
Server fans are affordable. So, you don't need to worry about the budget. If you are not sure about the fans to buy, get either of the following fans from Amazon today. These are fans that will reduce most of your server's noises.
NF-A4x20 PWM, Premium Quiet Fan, 4-Pin
Premium quiet fan
Acoustic optimization frame
Replacing fans
Replacing fans in network and storage equipment
AC Infinity AXIAL 1225, Quiet Muffin Fan
[asa2 tpl="Flat_box_horizontal"]B009OWVUJ0[/asa2]
Designed for projects that require cooling or ventilation
Includes a heavy-duty aluminum fan with power plug cord
Dual-ball bearings have a lifespan of 67,000 hours
Has a lower noise and airflow rating than high-speed models
Pair of axial fans
Fits all standard 19" network cabinets
Network Cabinet Fan Applications
Standard accessories exhaust replacement size
3. Get an Enclosed Soundproof Server Rack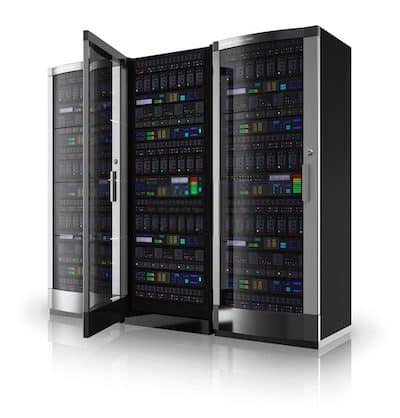 Using a soundproof server rack is one of the best and fastest ways to soundproof
of your server racks. It's a server cabinet specifically for housing the server. A soundproof server rack is different from the ordinary open frame server racks.
It's an enclosed server rack built with strong materials that do not allow noise to escape and cause disturbances to people near the server room.
Depending on the size of your server, you will find a soundproof rack that will fit it appropriately. However, when choosing a soundproof server rack, get the one with enough ventilations. Your servers overheat, and they need a fresh flow of fresh air.
The good news is that the servers are available on Amazon. Check the following racks and buy the one that fits your servers.
NavePoint 18U Deluxe IT Wallmount Cabinet Enclosure 19-Inch Server
[asa2 tpl="Flat_box_horizontal"]B00P4SVZ4S[/asa2]
Dimensions: 32.5″H x 24″W x 24″D
A sturdy welded frame structure
132-pound weight capacity
Fits Standard 19″ rack-mount equipment
Rails with cage nut style bolting
V7 RMWC6U-1N 6U Wall Mount Rack Cabinet Enclosure
[asa2 tpl="Flat_box_horizontal"]B01K1JJHTO[/asa2]
Fully assembled
Removable top and bottom cable panels
Fully adjustable mounting rails
NavePoint 6U Wall Mount Network Server
[asa2 tpl="Flat_box_horizontal"]B01FKOW8VO[/asa2]
Dimensions: 14.5″H x 24″W x 18″D
130-pound weight capacity
A sturdy welded frame structure
Rails with cage nut style bolting
Fits Standard 19″ rack-mount equipment
4. Have a Dedicated Server Room and Soundproof
If you don't want to go through the hustle of soundproofing the cabinet itself, you can have a dedicated server room. This will reduce the stress of dealing with noisy servers.
A dedicated server room will mostly have servers, computers, and any other IT equipment required. The data cable can then be run through the floor or ceiling to the required points.
In short, you will have removed the noise from your workshops.
However, this doesn't mean the servers won't be noisy. So, after having a dedicated server room, soundproof it. Soundproofing the room will make sure the noise from the server room won't cause any disturbances in the nearby rooms.
Here are simple techniques to soundproof server rooms.
5. Soundproofing the Server Room Door
A server makes some normal noises that don't signify any problem in its system. Since these noises can't be fixed, you only have the option of soundproofing them.
server room doors are a major culprit when it comes to allowing noises to cause disturbances in the nearby workshops. Therefore, apply the following techniques to prevent server noises from passing through your door.
Thicken the Door
Check your door. Is it solid, hollow, or metallic? Hollow and metallic doors will allow noises to pass through them.
If you have permission, change all metallic and hollow doors – in case you own the house. If it's a rented property, ask the Landlord to change or authorise you to change the door.
Get a solid hardwood door and install it over your doors. Solid wood is strong enough to block noises from your server.
6. Use Door Sweeps to Cover Space Between the Floor and Door
Any air space over your door will allow noises from your boiler to pass through them. The space below the door is purposely left to ensure that the door opens and closes smoothly. But at the same time, space will allow noises to pass through them.
Buy door sweeps from Amazon and install them under your door. Buy either of the following draft stoppers from amazon and get the work done today.
Draft stoppers will block server noises from leaving your room.
Under Door Seal for Exterior/Interior Doors
Soundproof Door Bottom
Weather Stripping
Double-Sided
No cold
36 Inch Foam
7. Hang Soundproofing Curtains or Blankets over the Door
Air spaces over your server room door need to be well sealed. Soundproofing curtains or blankets can easily get this done.
The curtains and blankets are made of heavy materials that dampen all the noises.
When choosing blankets, get the ones that are commonly used for moving purposes. They are dense enough to dampen all noises passing through them. With blankets, you can choose to pin them or hang them over the door.
For curtains, you only need to hang the curtains just like the ordinary curtains.
However, ensure you buy soundproofing curtains and blankets. If you aren't sure of the ones to buy, here are our top picks. Buy either of the following curtains or blankets from Amazon and soundproof your door.
Blankets
Sure-Max 12 Moving & Packing Blankets
[asa2 tpl="Flat_box_horizontal"]B01GK6JTFE[/asa2]
Deluxe Pro
Double-sided construction
80″ x 72″ (40 lb/dz Weight)
Professional Quilted Shipping Furniture Pads Royal Blue
Effective sound absorption.
Measures 95″ x 54.
Great for recording studios, drum rooms, rehearsal spaces, vocal booths, and more
Installation hardware included
Curtains
Noise Reducing Thermal Insulated Solid Ring
Top Blackout Window Curtains/Drapes
Two Panels,42 x 84 Inch.
Thermal Insulated
Noise Reducing
Size: 52W x 54L Inch
Other ways to soundproof your boiler room door are:
Placing a heavy rug under the door
Installing acoustic foams over the door
Sealing all gaps with a weather-stripping tape
8. Thicken the Wall
If your walls are thin, add a layer of drywall over it. This is a technique that works well with a concrete wall. All you need is to add a mass of another concrete over them.
For walls made with wooden materials, add a layer of wall platform with green glue as adhesive. Green glue absorbs the sound and turns it to heat energy.
9. Install Acoustic Foams over the Wall
Acoustic foams are designed to improve music rooms acoustics. They absorb and soften the sounds hitting over drywall. When used in the server room, they will also do the same.
All the noises from your server will be absorbed and softened.
The foams are available on Amazon and easy to install over your walls. Here are our top picks. Buy either of these acoustic foams and fix them over your wall.
Foamily 12 Pack- Acoustic Panels
[asa2 tpl="Flat_box_horizontal"]B010GPFRUQ[/asa2]
12 Pack covers 12 square feet
Professional acoustic control
Great for spot treating sound on walls
Mybecca 12 Pack- Acoustic Panels
[asa2 tpl="Flat_box_horizontal"]B00TP7C9YY[/asa2]
12 pack means
Professional acoustic control Acoustic
Sound deadening material

Parting Shot
With simple techniques to soundproof your server rack and room, you don't need to worry about the server noises. Apply more than one of the strategies we have discussed in this article, and you will solve the server noise problem once and for all.