As an Amazon Associate, we earn from qualifying purchases at no extra cost to you.
Noises coming through your door will make your life difficult. Soundproofing is the only thing that can help you.
However, soundproofing a pocket door is a different game. It's not as easy as soundproofing other types of doors.
Pocket doors are installed between walls. Their design allows more air spaces that allow noises to pass through them. Sometimes, the doors are not thick enough to prevent most of the noises passing through them.
Despite their soundproofing difficult, there are effective and tested ways that will soundproof much of these noises.
In this article, we will discuss the best soundproofing techniques for soundproofing pocket doors.
Factors to Consider When Choosing A Sound Deadening Technique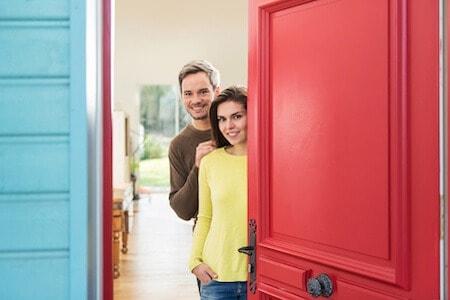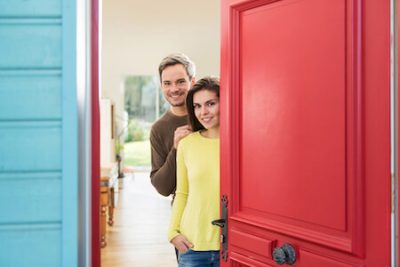 You should be mindful of the technique that you choose to soundproof your pocket door. Using the wrong technique is the same as not soundproofing your door at all. So before, you attempt any method; you need to consider the following factors.
Type of Noise Coming Through Your Door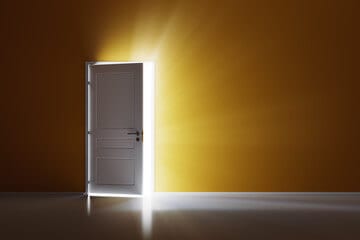 There are two common noises; structural and airborne noises. Each of these noises requires different soundproofing techniques for effectiveness. If you use one technique in the place of the other, you won't get the results you would desire.
Structural noise also referred to as vibrations, travels through solid structures. To deal with this kind of noise, you need to thicken your door or add some masses that would make it difficult for the noise to pass through them.
Airborne noises pass through air. So, the focus, in this case, is to block all air gaps and make your door airtight. If you block all gaps and opening on your pocket door, you would have dealt with this problem once and for all.
So, when soundproofing, use a technique that will block and eliminate the nature of noises you are experiencing in your premises.
The Level of Noise
Are you dealing with high-frequency noise or low-level noise? The amount of noise you are dealing with will determine the effectiveness of the soundproofing techniques you use.
For a high-level noise, use strong materials and techniques that will dampen it. The same applies to all types of noises.
Budget
For sure, soundproofing comes at a cost. However, the budget shouldn't be the first thing you think of when it comes to soundproofing. Consider the effectiveness of the method you intend to use. But with all said, settle on a method that you will be able to fund without straining yourself.
Simple Techniques to Soundproof A Pocket Door
1. Thicken Your Door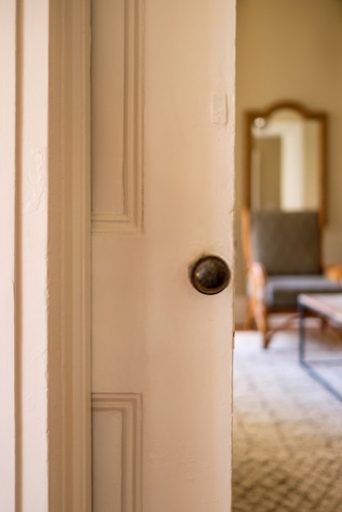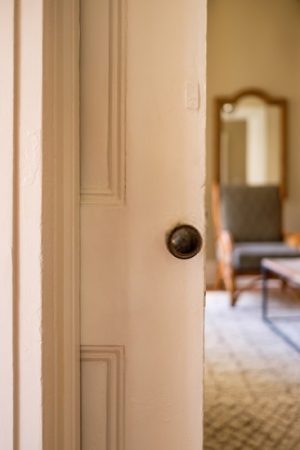 The first thing you need to deal with is the thickness of your door. If your door is hollow, it's going to allow both airborne and structural noises to pass through it.
Before attempting any other soundproofing technique, check the nature of your door. If it's hollow, remove it and have a solid pocket door.
Get permission from your property manager if you don't own the premises. Some Landlord will allow you to change the door while others wouldn't allow any change in their house. If you don't consult your property manager, you might find yourself in trouble.
The aim is to have a dense and solid pocket door. Thick doors do not allow noises to pass through them easily.
Having holes, gaps, and air spaces over your door will allow much of the noises to pass through them. One of the major culprits of the pocket door is the hinges.
There are limited ways to cover these air gaps over your hinges. That's why reinforcing the door panel would be the only thing that will make sense in this case.
Pocket doors come with different frame ratings and grades. It's important to install a better frame rating with a stronger door. We have already mentioned, the stronger your door, the ease of reinforcing the noises.
You can add solid wood with a flat surface or MDF wood over your existing door. This will be less costly than replacing the entire door.
The main purpose of reinforcing your door is to add mass. The higher the mass, the better the soundproofing effectiveness.
2. Fill the Gaps Between Pocket Door Frame and Wall
Some air spaces are left between the door frame and your wall. To deal with this, you need to fill these gaps permanently.
You can choose to use Acoustical Caulk or the neoprene soundproofing rubber. Either of these two would work well over your door.
Use the following materials to fill this area. They are all available on Amazon.
Green Glue Noiseproofing Sealant
6 Green Glue Noiseproofing Sealant Tubes
Includes Specialty Cleanup wipes and TMS installation guide
Sound rated caulk
Paintable
Insulation Soundproofing Neoprene Rubber
36%
(* = affiliate link / image source: Amazon partner program)
Pressurized foam strip
Self Adhesive
Strong enough to block all noises
These products are available on Amazon. Click on each one of them and choose the best for your door. Between the two, we would recommend Green Glue Noiseproofing Sealant. It will block your noises well than the rubber material.
3. Use Soundproofing Blankets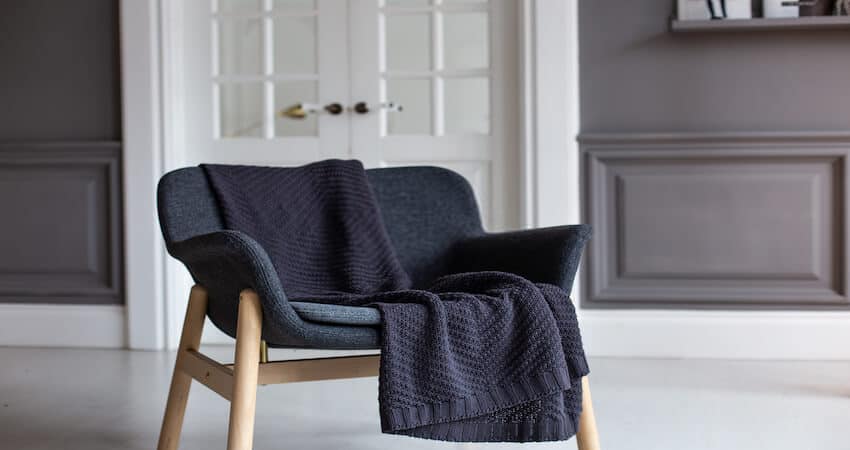 Air gaps are a major culprit for allowing noise to pass through the door. Any strategy that can block the noise movement will do well in blocking the noise.
Apart from the air gaps, the size and thickness of the door matter a lot. The thicker the door, the efficient it is in soundproofing.
Soundproofing blankets, therefore, serves these two significant purposes. They block all air spaces and increase the thickness of the door.
Soundproofing blankets work efficiently. They are thick and do not allow sound or air to pass through them. Best soundproofing blankets are also readily available on Amazon. You can install them on yourself. So you don't have to worry about anything when you think of soundproofing blankets.
Pin the blankets on the doors. Do this from inside the bathroom. Alternatively, hang the blankets like you would hang curtains.
You can opt to glue or use nails to attach the blankets on the door.
Alternatively, you can buy soundproofing blankets with grommets. These blankets can be hanged over the door. Hang them on curtain rods or rails. Just like you would attach the standard curtains.
For effectiveness, buy the thick blankets. Also, install layers of soundproofing curtains.
Soundproofing curtains can be used on all doorways where there is much noise coming from outside. It's cheap to buy and easy to install.
However, if you pin your blankets over the door, vacuum them regularly. Blankets absorb dust easily. But if you choose to hang them like curtains, remember to wash them time over time.
Buy any of the following blankets from Amazon and soundproof your doorway today.
Sure-Max 12 Moving & Packing Blankets
(* = affiliate link / image source: Amazon partner program)
Deluxe Pro
Double-sided construction
80″ x 72″ (40 lb/DZ Weight)
Professional Quilted Shipping Furniture Pads Royal Blue
(* = affiliate link / image source: Amazon partner program)
Effective sound absorption.
Measures 95″ x 54.
Great for recording studios, drum rooms, rehearsal spaces, vocal booths, and more
Installation hardware included
Deluxe Moving Blankets by Chean Cheap Moving Boxes
(* = affiliate link / image source: Amazon partner program)
Size: 72″ X 80″
Double lock stitching and thick 1/4-inch material
Ideal for preventing scratches and nicks to furniture
Double lock stitching with four square finished corners
For more insights about using soundproofing blankets, read this article How to Soundproof a Room with Blankets: 9 Best Ways!
4. Use Soundproofing Curtains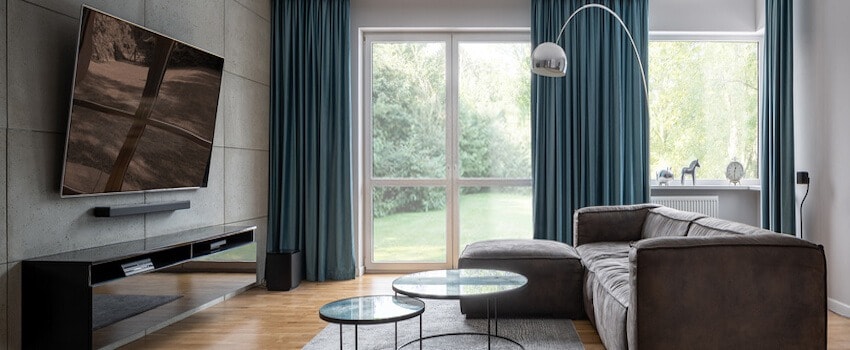 Soundproofing curtains work the same way with blankets. The only difference is that the curtains are hanged. Blankets can be hanged or pinned on the wall.
However, soundproofing curtains are different from ordinary curtains. They are thick and dense. Their density does not allow sound to pass through them.
When hung over the door, they dampen all noises coming or leaving your room. Technically, soundproofing curtains and blanket trap air in them. When the sound hits through the trapped air, it's dampened.
It's easy to use soundproofing curtains over the door than soundproofing blankets. All you need to do is buy your curtains and hang them over the door.
Use the curtains just like the normal curtains.
The other advantage of using curtains is that they come in different colors and designs. You can buy curtains that match your house and soundproof easily.
Therefore, whether you are soundproofing office or home door, curtains will serve you better. Buy them on Amazon and soundproof your doorway.
15%
(* = affiliate link / image source: Amazon partner program)
Noise Reducing Thermal Insulated Solid Ring
Top Blackout Window Curtains/Drapes
Two Panels,42 x 84 Inch.
(* = affiliate link / image source: Amazon partner program)
Thermal Insulated
Noise Reducing
Size: 52W x 54L Inch
5. Place Rugs under the Door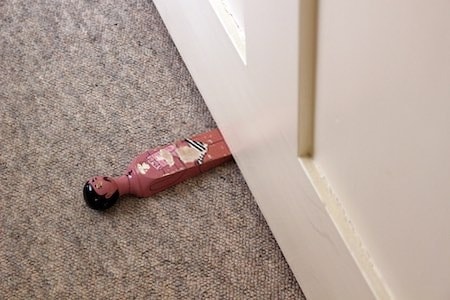 A rug will function well.
Therefore, if the gap below your door is huge, get a thick rug. Place the carpet under the door. When your door is closed, the carpet will dampen the air space.
Heavy rugs absorb and deaden most of the noises passing through the floor even before they reach the door. That's why it's more effective in covering the space below the door.
However, ensure you get a rug that will allow your door to open and close smoothly. At the same time, buy a rug that will cover the door space.
One advantage of rugs is that you won't be needed to buy a separate carpet for your house. When buying rugs at home, you can buy large ones that can be extended to where the doors are. As they soundproof your floor and other appliances in the house, they also soundproof your door.
Consider buying either of the following rugs from Amazon. Get one today. Place it under your door. You will be amazed by the results you will get from them.
Safavieh California Premium Shag
(* = affiliate link / image source: Amazon partner program)
Highly reviewed.
Thick
Easy maintenance
Safavieh Hudson Shag Collection SGH280B Grey
84%
(* = affiliate link / image source: Amazon partner program)
Top-rated mat
Thick
Easy maintenance
6. Soundproofing Door Paint
Finally, check with your hardware. Most hardware shops have soundproofing paints. Buy the paint and apply it over your door.
Soundproofing paints are normally thick. They have polymers compound that transforms sound to heat energy.
The paint can block medium to high-level noises. It works well with airborne noises. It's also a cheap alternative for soundproofing your door.
One of the best soundproofing paint is called Lizard Skin. It's available on Amazon. It's specifically designed for soundproofing car surfaces. It can also be used over your pocket door to block most of the noises passing through it.
LizardSkin 1301-2GAL White Ceramic Insulation
84%
(* = affiliate link / image source: Amazon partner program)
This product is a White Ceramic Insulation 2 Gallon Pail
Easy to install and attractive accessories for your vehicle
Parting Shot
With a soundproofed pocket door, you will enjoy you won't have to deal with the noises coming from outside. Also, people outside won't complain about the noise coming from your room.
If noises passing through your pocket door have been an issue, you don't have to worry about them anymore. Apply the techniques discussed in this article and enjoy your peace.