As an Amazon Associate, we earn from qualifying purchases at no extra cost to you.
Being an Amazon Affiliate, we may earn from each authorized purchase at no additional cost to you. We always recommend the most suitable products for you as we recommend for our family members.
An air conditioner appears to be a bliss for us. Especially when the weather is too hot, air conditioners are must-have tools in your home or office.
The only complaint of an AC is, it can be too loud. And for this, you can't sleep sound, you can't work sound.
Yes, you can go straight to replace the old AC with a newer one.
But, I think, this is comparatively a more cost-effective way to utilize a few DIY(Do It Yourself) tasks for reducing noise from your air conditioner unit.
Today in the article, we will let you know some cheap but worthwhile strategies to reduce noise from outside air conditioners.
Confused?
Okay, let's start learning the procedures at once!
6 Simple Ways That Helps You to Reduce Noise from Your Air Conditioner
Let See All points At a glance: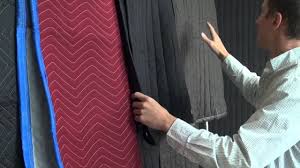 A Sound Blanket is-
Economical

Easy To Install

Extraordinary Noise-canceling Qualities
You can simply use a sound blanket for any model of the air conditioner unit. As the sound blankets are cheap, simple to set up, and come with remarkable noise-canceling features, you can use it right away.
That is to say, you don't need any professional aid to make your AC soundproof. Luckily, a sound blanket offers everything you need for soundproofing.
Many people assume that utilizing a blanket might impact on their air conditioning unit function. But the true fact is that a blanket normally boosts high air circulation. As a result, your AC unit doesn't get overheated. Being overheated, your AC will be at risk.
Indeed, there are plenty of methods you can undertake for reducing noise from your AC. But, the sound blanket is one of the most popular and effective ways among the thousands of methods.
A blanket won't need more than a few minutes to set up.
Check the Air Conditioner Compressor Sound Blanket Wrap from Amazon:
Supplying Demand SBUHD Universal Air Conditioner Compressor Sound Blanket
Sturdy Covers Indoor AC Cover Defender (Best Budget-friendly Sound Blanket)
COTTON WOVEN BLANKET BY VELLUX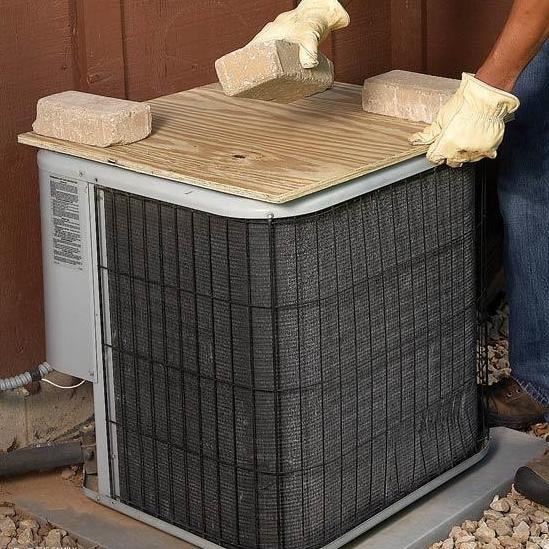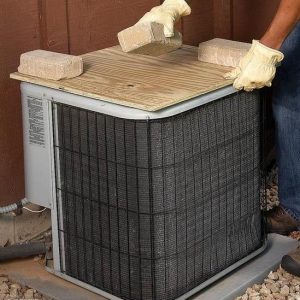 If we set up a barrier, or any type of obstacle for the AC unit, then it will work on reducing the noises. Yet, there are a lot of options to choose from for use as an enclosing material. There is something that you should keep into consideration before purchasing any material for the barrier.
Another important thing you should keep in mind is that the air conditioner shouldn't be set up between two walls. It will amplify the sound by bouncing off the walls and will be directed to various places. If it happens, it will be noisy not only for you but also for your neighbors.
Again, these materials should not have any reverberation.
In addition, keep a small distance between your air conditioner and the fence. It will increase enough air circulation as well as block overheating.
We recommend you to use Mass Loaded Vinyl (MLV) for fencing your AC unit. It is extremely good for soundproofing. By covering all four walls of the barrier with MLV, you should have no tension at all. Want to know what is our recommended MLV? Check it in a while from Amazon.
The Mass Loaded Vinyl (MLV) fence comes with promising support for noise reduction.
Many users also vote for wooden fences to use as a barrier. It is a good option as well.
In addition to this, if you want a more natural look, greenery can be a great choice for you. You may use a shrub or bush to block an area and it looks nice. Many people choose both a barrier and the greenery for covering their AC.
You can buy this inexpensive AC unit fence from Amazon: Compass Home Set of 2 Expandable Faux Ivy Privacy Fences
Install Your AC In A Good Surface
Installing surfaces is very important in consideration to produce sound.
In most cases, air conditioners are set up on strong and flat surfaces such as cement. Installing your AC on a good surface will prevent your AC unit from producing a too-loud sound.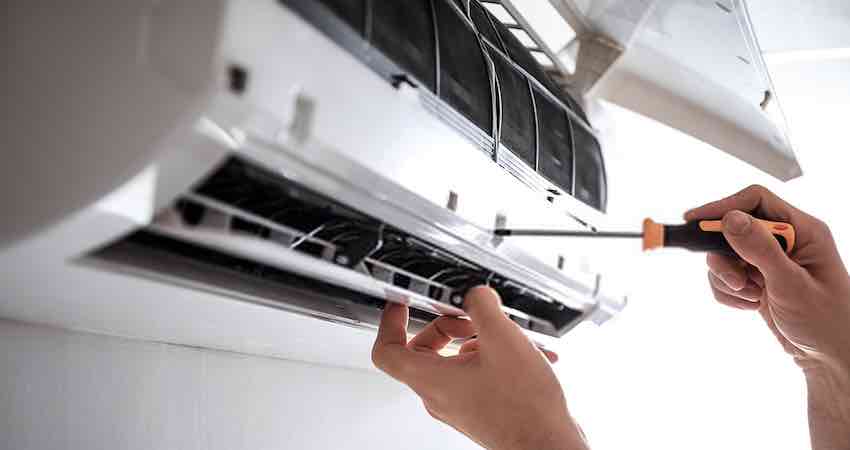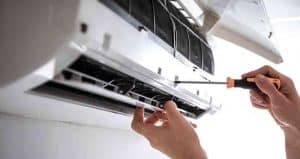 And if there are any issues with noise, simply block the loud sounds by utilizing foam.
Here are some other options that you can choose from Amazon.
Fowong Stripping Insulation Conditioner Shock Absorbing
Frost King AC41WA Conditioner Weatherseal
White Foam Seal Tape Conditioner
Prevent Water Dripping From Making Noises
Preventing water dripping noises from AC is another key issue . Although, water dripping is not always liable for noise. But when your air conditioner is a bit higher from the floor, these dripping sounds might be painful to hear.
You can simply solve this problem by attaching a hose to the AC's hose.
Again, you may find any uneven leaks in your AC. It can produce a lot of noise as well. So, keep your eyes open!
Soundproof Your Home, Not Only Your Air Conditioner
After having done all the fixes, if there is still any noise, you may want to soundproof your house instead. And, once you have soundproof your home, then your home will be free from any kind of noise.
And, if you soundproof your home while your home is under construction, it will be easier and budget-friendly.
However, if there is still high noise from your AC, it will be hard to listen to your neighbors. In that case, you may have to soundproof your home as well as your AC also.
Changing The Location Of Your AC
Changing location may not be possible for everybody, but still, if you have the option to get a location for an HVAC operation, you should go for it. HVAC operation tells where your AC should be placed for the least noise.
There are HVAC professionals, they will make a research on your house and recommend where you should put your AC.
Hopefully, once you can perform above techniques, you will be able to get your AC unit quiet and noise-free.
Let's Wrap Up!
Overall, this is all about how to reduce noise from outside air conditioners. All we recommended and mentioned is that you need to solve this problem. Plus, as you can get each and every material to do this operation, we have suggested the necessary products as well.
Most often, blocking noise is easy with a blanket or by setting up a barrier. Luckily, you can undergo these at a minimum cost and time.
And, building up a fence for AC properly, one can reduce the noisy sound level up to 98%.
So, once you have done so, there is no more concern about noise issues in your bedroom.
And, if you love any of our recommended products, then please feel free to order and buy on Amazon. We always try to recommend the best product for your particular requirement.