As an Amazon Associate, we earn from qualifying purchases at no extra cost to you.
Being an Amazon Affiliate, we may earn from each authorized purchase at no additional cost to you. We always recommend the most suitable products for you as we recommend for our family members.
There is rarely any house where there is nobody to play video games. It'd be okay if there was no noise.
But, unfortunately, most often it gets hard to listen to the buzzing of Xbox so loudly.
And more pathetic thing is, you or your kids won't get any pleasure in playing a game with a loud noise.
So, you are badly in need of the solution to this problem.
We tried the solution on our own, took the idea from experts, made some queries and now, we are here to let you know everything on Xbox noise reduction.
Let's know some useful tricks and find your gaming adventures without any noise.
Hopefully, the guide will make you and your house quieter and more peaceful.
Then, stay with us, and get rid of the problem.
How to Make Your Xbox Quieter
Workouts At a glance:
You have to do:
1. Run The Games With The Hard-Drive Rather Using The Disk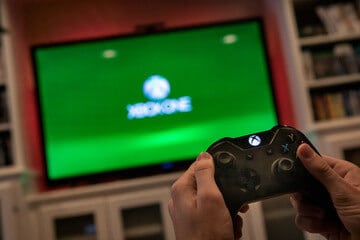 The first step that you should take to make your Xbox quieter, is running your games from your hard-drive.
One of the major reasons why it is too noisy in the Xbox is the rolling of the CD.
Once the game is started inward, the CD-ROM also begins to roll and roll. Like this, there it produces a terrible noise.
The console may get overheated. In order to figure out such noises, you should install the games straight to the console. Then, run the games with the system, and obviously not with the disc.
That is to say, if you want to get rid of the annoying noise, the first step should be installing the games onto your hard-drive.
2. Increase The Volume On Your Television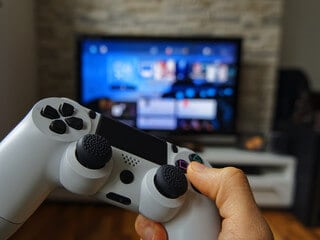 Yet, this step won't soundproof the entire gaming room. But still, this process will help you especially if there is low noise. And this is an inexpensive takeaway.
When the noise is not too loud, you are welcome to increase the volume on your television. This will help you not to hear the noise that enters your ear from the gaming. That is, buzzing of a fan and CD – ROM.
However, this isn't the ultimate solution. Let's dive deeper below to get better remedies.
Read Also our another comprehensive article of: Top 7 Best quietest power supply: Reviews & Guide in 2020
3. Use A TV Stand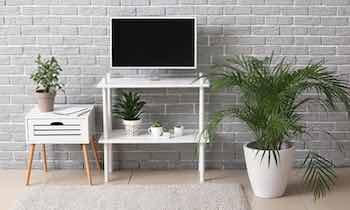 Buying a TV stand will help you mask the sound level. And as a bonus, it will give an elegant look to the house.
What does a new TV stand do? A TV stand blocks the sound waves to reach directly into your ear.
Being inaugurated in the back, the TV stands work to muffle the produced noise.
In addition, the stands will provide needed air circulation to the Xbox to ventilate perfectly. Plus, it will save your Xbox from getting too overheated.
If you want us to recommend some of the very best TV stands, then there are some options:
FITUEYES Universal TV Stand Base Tabletop TV Stand
Atlantic Centipede Game Storage TV-Stand
1home Mobile TV Cart Rolling TV Stand (Premium Choice)
FITUEYES Universal TV Stand Table Top TV Stand (Budget-Friendly Option)  
4. Use Noise-Canceling Headphones
Noise-Canceling Headphones are an extraordinary solution to your Xbox noise. For their very interesting functionalities, the headphones are being very popular for those who want to get rid of the noise.
Though, if you expect to enjoy one best noise-canceling headphone, then you should spend a bit more money here.
However, headphones are not the ultimate solution. Because, if all of your family members have to use them. Though, it will give you the delight of gaming instead of the nuisance noise.
And while you hear the loud sound for long periods of time, it will make your brain and ear exhausted.
Another good thing about the noise-canceling headphones is, most often they are made with a microphone. Therefore, it will let you contact one another at once.
Here Is A Noise-Canceling Headphone that We Loved: COWIN E7.
This headphone is a built-in microphone. Luckily, this is not much costly as well.
If you ask us to recommend some of the very best noise-canceling headphones, then I'd write down these names:
Plantronics Wireless Noise Cancelling Backbeat
Sony Noise Cancelling Headphone WH-1000XM4
Sony Noise Cancelling Headphones
WHCH710N (Most Cost-Effective)
5. Choose A Power Supply Adapter
This is another attempt that one can take. By using a quieter Xbox power supply, you can hope for less noise in your gaming time.
Are you thinking that how a common power adapter can bring the difference in the noisy issue?
Whatever, the main fact is, it works. Or I should say it works firmly. You can't even imagine how quiet it is and might forget that your kid is playing games.
Luckily, the power supply adapter comes at a cheap rate. Therefore, you can afford it without much hesitation. Plus, as it is long-lasting, you can run it quite a long time. That means this is such a long term investment if you take a power adapter for your Xbox.
If you tell me to recommend some of the very best power supply adapters, then there are my recommendations:
uowlbear Replacement Power Supply AC Adapter Brick with Power Cord for Xbox 360 Slim
Power Supply Charger Cord for Xbox 360 Slim Auto Voltage
6. Place The Xbox In A Different Room
Changing the location of your Xbox in a different room can bring a great change. In the noise reduction of AC, the HVAC system works for you that tells where you should place it.
In the same way, you can do it for your Xbox a well. It will tell you where your Xbox should be placed for the least noise.
Although, you may fall in difficulty with one problem. That is the cabling of your Xbox. To solve it completely, you can buy a few bale extensions and take your Xbox to any other rooms. Plus, you should buy some cable covers also.
The cable covers help to conceal the unpleasant cables. Plus, it will protect you or any of your family members from plunging over them.
7. Keep The Consoles In A Particular  Cupboard
Keeping the console in a spare cupboard is far better than positioning your console in other spaces and making needless cabling throughout the home.
Although here you will require some additional cabling, still it is not that much as the sixth step. Where you needed to set up the cable for going to a different room.
Still, this work out has a massive problem – Overheating!
As the cupboard remains sealed, and it runs a lot of times, so there is no ventilation for a long duration.
Don't get me wrong!
There is a solution. You have to set an easy ventilation system in your cupboard. And, thus this is one of the most convincing ways to make your gaming time quieter.
Read Also: 9 Best Silent Gaming Mouse in 2020: Reviews & Buying Guide
Let's Wrap Up!
I hope that these few steps and ideas made you find a solution that fits you the best.
You don't need to buy some white noise machines, criticize your kid for playing for too long while your nerves are edgy from this buzzing sound.
Just follow these simple steps, and your home will be a much healthier environment.
You and your children will be able to play some of the video games without disturbing anyone else in the room with an uncomfortable buzz.
Hopefully, now you know everything on Xbox noise reduction.
And, if you love any of our recommended products, then please feel free to order and buy on Amazon. We always try to recommend the best product for your particular requirement.