As an Amazon Associate, we earn from qualifying purchases at no extra cost to you.
If you have ever played a video game, you will agree with us that there is nothing that gives gamers satisfaction than high volume. If you have young people in the house, you will always complain. They won't stop gaming. And when they begin playing, be sure they won't play low volume. Lowering the volume isn't fun.
Again, a gamer will not love hearing noises from outside. It works two ways. You don't want to listen to outside noise and people outside they don't want to listen to your noise.
However, this should not be the case. You can play as loud as you want and no one will complain. Thanks to soundproofing.
Soundproofing a gaming room is similar to soundproofing any other room in the house. All you need to do is to block and eliminate all noise from leaving or entering into your Gaming room.
Whether you want to soundproof the gaming room for your children or yourself, the following techniques will work perfectly.
How to Soundproof a Gaming Room
1. Soundproof Gaming Room Door
Most of the noise that leaves or enters the gaming room is likely to pass through the door. Therefore, start by soundproofing your door. Block all the noises from passing through the door. Apply the following techniques on your doors.
Thicken the Door
Before trying doing anything else on the door, inspect it. Check its thickness and the material used to make it.
Knock the door with your hands. Feel the sound it makes. Listen if it makes a hollow or solid sound. If the door makes a hollow sound, work on it. Hollow doors are made with cardboard, which is not good at blocking noise.
The simplest technique to fix the door is to install sound dampening materials over it. You can fix moving blankets or sound deadening foams.
However, the most effective technique is to remove your light door and replace it. This technique will cost more money, but it will give higher results than applying dampening materials on the door.
If you live in a rented house or apartment, you might not take this method. If you must replace the door, talk to the property manager or Landlord. Some might allow you to change the door. Others will not agree with this idea.
If you cannot be allowed to replace the door, install sound deadening materials. It will help.
You may also like: How to Soundproof a Door with 11 Easy & Effective Ways
Cover the Door Spaces with Dampening Seals
This method is the cheapest but yet among the most effective for gaming room soundproofing. You can apply it on both solid and hollow doors. Buy the seal on Amazon and fix it yourself. Below are systematic steps to install the dampening seal on the door.
Measure the height and width of your gaming door.
Use a handsaw to cut the weather-stripping into correct sizes.
Place the cut strips to seal the door.
Cover the gaps from inside. Covering from outside will make your door look ugly.
This technique will reduce the noise from your gaming room. However, if you don't like it, other techniques can be used on dampening the door. Keep reading.
Buy the following seals on Amazon.
Foam Adhesive Strips
2-Inch-Wide X 1/4 Inch Thick
Total 13 Feet Long
(* = affiliate link / image source: Amazon partner program)
Seal, Doors,
Waterproof,
Sound Dampening
Craft Tape (33 Ft- 1/8″ x 2″)
Install Draft Stopper
Every door is installed in a way that it can open and close smoothly. This is why there is a gap between the door and floor. However, the same gap allows sound from the gaming machines to disturb people in other rooms. It will also allow noise to come into the gaming room.
The large the gap, the more noise it's going to allow through the door.
Bring an end to this problem. Buy a draft stopper on Amazon and fix it under the door. The stoppers are also called door sweeps.
When installed under the door they slide nicely over carpets, wooden, and laminate floors. They leave no marks or scratches on the floor. The drafts will block all the noise.
Check the following sweeps on Amazon
(* = affiliate link / image source: Amazon partner program)
Under Door Seal for Exterior/Interior Doors
Soundproof Door Bottom
Weather Stripping
13%
(* = affiliate link / image source: Amazon partner program)
Double Sided
No cold
36 Inch Foam
Pin or Hang Soundproofing Blankets over the Door
Soundproofing blankets work effectively in reducing gaming room noises. They are thick and do not allow sound or air to pass through them. The blankets are also readily available on Amazon. You can install them on yourself.
Pin the blankets on the doors. Do this from the inside the gaming. Alternatively, hang the blankets like you would hang curtains.
Sure-Max 12 Moving & Packing Blankets
(* = affiliate link / image source: Amazon partner program)
Deluxe Pro
Double-sided construction
80″ x 72″ (40 lb/dz Weight)
Professional Quilted Shipping Furniture Pads Royal Blue
(* = affiliate link / image source: Amazon partner program)
Effective sound absorption.
Measures 95″ x 54.
Great for recording studios, drum rooms, rehearsal spaces, vocal booths, and more
Installation hardware included
Size: 72″ X 80″
Double lock stitching and thick 1/4-inch material
Ideal for preventing scratches and nicks to furniture
Double lock stitching with four square finished corners
For more insights about using soundproofing blankets, read this article.
Try Soundproofing Curtains
Soundproofing curtains work the same way with blankets. The only difference is that the curtains are hanged. Blankets can be hanged or pinned on the wall.
We have tested the following curtains in our home. They are all effective.
15%
(* = affiliate link / image source: Amazon partner program)
Noise Reducing Thermal Insulated Solid Ring
Top Blackout Window Curtains/Drapes
Two Panels,42 x 84 Inch.
(* = affiliate link / image source: Amazon partner program)
Thermal Insulated
Noise Reducing
Size: 52W x 54L Inch
2. Soundproof Your Window
If your gaming room has a window, you should soundproof it. Doors and windows have large air spaces. The spaces allow sound to pass through them.
Apply the following techniques in soundproofing your windows.
Hang soundproofing curtains and blankets over the windows.
Seal all the gaps on your window with dampening seals.
Install additional window pane
The above techniques will reduce all the noise passing through the window. Use the same curtains and soundproofing blankets like the one we recommended for soundproofing the door.
3. Work on Your Wall
If you have soundproofed your door and window, but you still hear some noise, it's time to work on your wall. Thin walls or cracks will allow noise to pass through them. Therefore, try the following techniques on your walls.
Add a layer of drywall
If your drywall is thin, thicken it. This is the most effective technique to dampen noise passing through them. When adding the drywall, add sound dampening materials in between the new and the old wall.
You will need a professional to add drywall for you. Don't try to fix it unless you have experience in construction. Otherwise, you will destroy the wall.
It's also expensive to add wall layers. But it will give better results than any other wall soundproofing techniques. The denser and thicker the wall is, the better the results.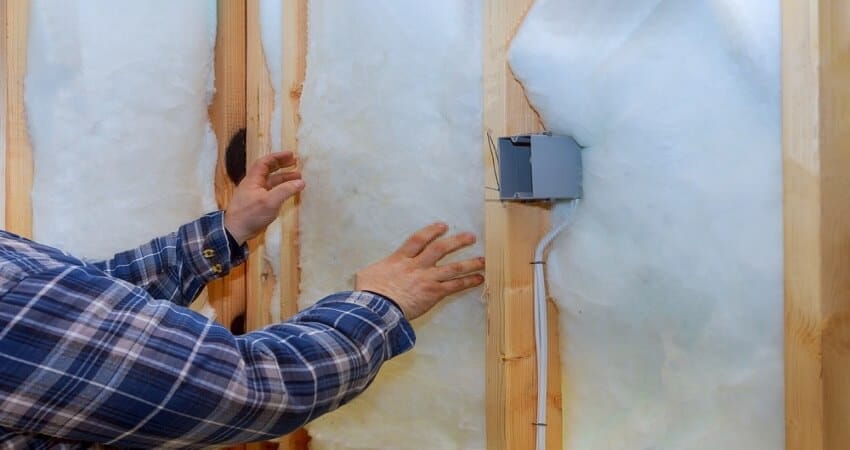 Just like we mentioned about replacing the door, consult your landlord if you are living in a rented house. Don't make any adjustment in the house gaming room without their permission.
If you can't get permission to add other wall layers, apply other wall soundproofing techniques.
Fix Acoustic Foams on the Wall
Acoustic foam panels are specifically designed for music rooms. With the musical noise coming from the gaming room, the foams will dampen all the noise.
Acoustic foam panels absorb all noise that bounces off the wall. They also soften echoes hitting on the dry walls.
We have tried and tested the following acoustic foams in our gaming room. They work perfectly on the walls.
Check our tested foams on Amazon.
Foamily 12 Pack- Acoustic Panels
(* = affiliate link / image source: Amazon partner program)
12 Pack covers 12 square feet
Professional acoustic control
Great for spot treating sound on walls
Mybecca 12 Pack- Acoustic Panels
(* = affiliate link / image source: Amazon partner program)
12 pack means
Professional acoustic control Acoustic
Sound deadening material
Seal All Cracks on the Wall
Thin walls crack easily. Due to vibration noise from the gaming appliances, the chances of wall cracking are high.
Therefore, inspect your wall and check any cracks. If you notice any crack, fill them with joint compound. Apply one layer first and leave it to dry. Apply another layer the following day to seal completely. After the second layer, sand until smooth. In the end, put wallpaper or paint the wall to hide the marks.
Seek help from a professional who can help you seal all cracks on the wall.
4. Soundproof Gaming Room Floor and Ceiling
If there are rooms above or below the gaming room, they will be affected by the gaming noise. Work on the floor to reduce noise from the rooms below the gaming room. For rooms above, soundproof the ceiling.
Use Heavy Rugs on the Floors
Lay heavy mats on the floor. Heavy mats will absorb all sound waves and vibrations. The mats will also absorb the noise coming from the room below the gaming room.
Consider buying the following rugs from Amazon.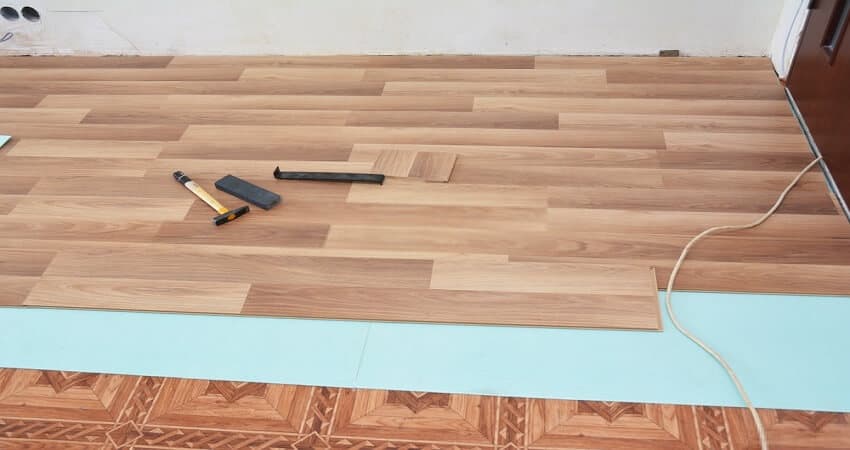 Work on the ceiling
You can apply the same technique on the ceiling as you applied on the walls. If your ceiling is thin, thicken it. Alternatively, pin sound dampening materials on the ceiling. You can use the following materials to soundproof your ceilings.
Soundproofing blankets.
Soundproofing foam mats.
Acoustic tiles.
5. Build a Soundproof Box for Your Gaming Equipment's
Most of the noise in the gaming room comes from the speakers and computers used in gaming. Therefore, building a soundproof box will eliminate the noise right from the source.
You can build the soundproof box on your own. It's simple. You only need plywood panels, or screws to join them together. After building the box, it will be effective if you fix acoustic and vinyl foams on the walls of the box.
Build a box that is big enough to fit your gaming machines. Leave one side of the box open. This is the side that will ensure your computer doesn't overheat.
6. Buy Gaming Headset
If you want to get rid of the noise completely and still enjoy your game get the gaming headset. They are perfect for people who are not fun of taking huge soundproofing projects. Gaming headsets are also cheap and readily available on Amazon.
Get effective and comfortable headsets. Currently, there are many headsets to choose from. Consider the following features when selecting any type of gaming headset.
Comfort
Design
Features
Budget
Size
Whether you are willing to spend or you are on a budget, you will find a headset that will give you the best out of the headphone services. Check the following headsets on Amazon.
RUNMUS Gaming Headset PS4 Headset
21%
(* = affiliate link / image source: Amazon partner program)
Surround Sound,
Xbox One Headset
Noise Canceling Microphone & LED Light,
Compatible with PS4, Xbox One, Switch, PC, PS3, Mac, Laptop,
Over-Ear Headphones
ZIUMIER Gaming Headset PS4 Headset,
13%
(* = affiliate link / image source: Amazon partner program)
Xbox One Headset with Noise Canceling Mic & RGB Light,
PC Headset with Stereo Surround Sound,
Over Ear Headphones for PC, PS4, Xbox One, Laptop
Conclusion
Gaming rooms could bring divisions in your home. When the gamers want to enjoy their game will full blast volume, they disturb other housemates who are reading or watching a movie. Soundproofing, therefore, bridges the gap. The gamers enjoy their time in the gaming room without causing any disturbance. If soundproofing is difficult, you can always buy a gaming headset from Amazon. They will give equal satisfaction to the gamers in the house.