As an Amazon Associate, we earn from qualifying purchases at no extra cost to you.
Having speakers over your ceiling look stylish and modern. It also saves space in your home. However, the speakers can be a nuisance when it comes to noise. If not properly installed, they will transmit the noises to all other rooms in your home.
However, this shouldn't be the case. You can still have ceiling speakers and not make noises to adjacent rooms. Thanks to simple soundproofing techniques.
In this article, we will share with you two best and tested ways to soundproof your ceiling speakers.
Let's get started.
Soundproofing Ceiling Speakers
There are two common and effective ways to soundproof ceiling speakers. These are simple soundproofing techniques that anyone can try in their homes and they would work perfectly.
Here are the ways.
1. Build Backer Boxes
Option number one for soundproofing ceiling speakers is to have backer boxes.
Normally, when installing speakers on a ceiling, the back of the speaker goes into the ceiling. The back in most times, they are installed without a cover or a shield. As a result, they transmit their sound to other rooms rather than the rooms on which the speakers are installed.
The uncovered speaker backspace is the reason why you will hear the sound of speakers in the living room while you are sleeping in your bedroom.
So, to solve this problem, you need to create an airtight enclosure over the speaker. It will contain all the sounds to the room in which it's intended.
And here is where a backer box comes in soundproofing your ceiling walls.
Requirements for a Backer Box
When creating a backer box for your ceiling speaker, you need to ensure that it's tight. If you leave air spaces in it, the speaker will still transmit noises to other rooms in your house.
Also, your backer box shouldn't be more than 5 inches. This is because a standard ceiling framing is approximately 2×6.
A wooden board is a good material to make your backer box.
Once you have your airtight materials, the next thing would be to create the backer box.
Procedure to Build a Backer Box
Step 1: Measure Your Speaker
The first step would be to get the dimension of your ceiling speakers. Specifically, measure the back over where you intend to place your speaker. Measure its diameter to create a box that would fit tightly on your speaker.
Step 2: Cut Your Wooden Board
Cut wooden board pieces matching the dimension of your speaker. Strictly, cut the length of the dimensions you had measured previously.
Step 3: Join the Pre-cut wood to Make a Frame
Use nails or glue to fasten the woods and make a frame. When joining the woods, ensure you don't leave any air along the joints. For strong joints, use nails and add some wood glue to seal all air.
Join the frame with an MDF or OSB sheet. Either of these two will act a lid of your backer box. Use screws to fix the lid on your frame.
Step 4: Drill Small Holes on Your Backer Box
At this stage, you will have your backer box ready. All you need to do now is to drill small holes for wires on your backer box.
After this stage, your backer box is ready. All that remains now is to install it over your ceiling speakers. Once it's ready, install it to the back of your speaker and drill it over your ceiling.
Further Backer Box Soundproofing
Once your box is ready, you can go ahead and soundproof it. This can be done by adding additional techniques that will soften or reduce the transmission of sound from your speaker.
First, close all air spaces in your box by a green glue. It's specifically made to absorb sound noises and turn it to heat energy. It will work better than any wood glue to seal all air spaces and prevent further sound transmissions.
Click here to buy green glue on Amazon today. Here are the reasons why we believe green glue will be better than any other material you will use to seal the air gaps.
It's specifically made for soundproofing projects
Seals all air gaps
Easy to use
Readily available on Amazon
Other techniques to soundproof your backer box would include applying putty pads or caulk to seal the wire holes.
A soundproofed backer box will be more effective in reducing speaker noises than a box that hasn't being soundproofed.
The aim of building a backer box is to contain the speaker's sound. If there is an air gap in the backer box, you will have failed in soundproofing your ceiling speakers. You will still hear the noise from other rooms in your house.
2. Buy A Soundproof Enclosure
We must accept one truth – not everyone is crafty. Some people aren't DIY friendly. This means no matter how we explain simple steps to apply on yourself to soundproof; they won't manage to do it. And there is no problem with that.
Sometimes you just want things to be done with the perfection that is required.
If you are that kind of a person – the one who doesn't like taking chances with noises, you can always buy a soundproof enclosure. Without much effort, your problem will be solved once and for all.
Choosing the best soundproof Enclosure
In the market, there are different soundproof enclosures. However, not all of them will perform as intended or as you would wish to. That's why it's important to get a tried and tested enclosure.
Depending on the power of your speaker, you need an enclosure that will be able to contain most of the noises that might escape from your ceiling speaker.
In the market, there is 2 top soundproof enclosure that can't be matched by any other. These are enclosures we have tried and tested.
The enclosures are:
Klipsch ME-800-C Speaker Enclosures
Dynamat 50306 DynaBox Speaker Enclosure
This is a fire-rated speaker enclosure for your ceiling. They meet building requirements. At the same time, it will help you reduce all the noises from your speaker from causing disturbances in another room.
The enclosure is designed for ceilings with 8-inch woofers.
The construction of the enclosure is high-grade cold-rolled steel. Sound insulation is also laid over the construction to reduce most of the noises you are likely to hear from your speaker.
For installation, ME-800-C comes with all hardware required for installation. It also has pre-drilled holes simply and speed up the installation process.
Key Features
Fire-rated
8-inch woofers design
High-grade cold rolled steel
A sound insulation
Me-800-C enclosure is available on Amazon. Click here to buy it today.
(* = affiliate link / image source: Amazon partner program)
Dynabox a retrofittable enclosure for ceiling speakers. They help in projecting clear sound in the room where it's intended. It also encloses ceiling speaker sound from causing disturbances in other rooms. So, with them, you won't expect annoying noises from your speaker to the adjacent rooms.
DynaBox is ultra-flexible. As a result, it's able to collapse for quick and efficient installation. It makes it easy to retrofit already installed speakers.
Key Features
Reduce ceiling noises
Improves speaker sound quality
Diffuse back-wave distortion
Provide moisture barrier to your speaker
Dynabox is available on Amazon. Click here to buy it today and remove the noises from your ceiling speakers.
Our Top Pick
You might be wondering which could be the better option between both of these two speaker enclosures. The answer is simple; both are great enclosures that will reduce most of the noises from your ceiling.
However, Dynamat 50306 DynaBox Speaker Enclosure performs better in reducing all noises that could cause disturbances in the adjacent rooms. Plus, Dynamat is a reputable company that is known for manufacturing strong and reliable soundproofing material.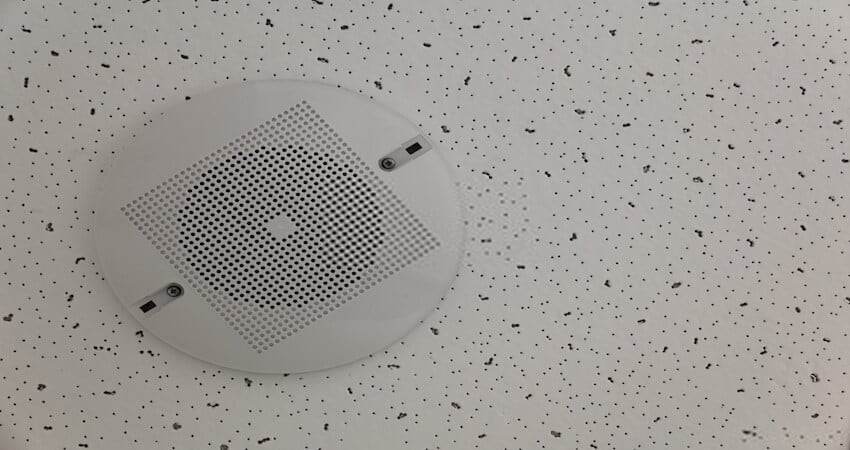 Buying or Building a Sound Enclosure: Which option is Better?
The answer is simple: it depends. As earlier mentioned, not everyone is good at DIY projects. And if you are among those people, buying will make more sense than building.
However, if you would like to reduce the cost of soundproofing your ceiling speakers, build your own enclosure. What's important is to ensure it's airtight and no space left on it.
But if you can't build an airtight backer box, go ahead and buy a professionally built speaker enclosure.
Parting Shot
Noises from your ceiling speakers shouldn't be a concern to your home anymore. Follow the steps we have shared here to build a backer box for your ceiling speakers.
But if you are not confident enough to build your own box, go ahead and buy one of the two enclosures we have shared with you. In case you aren't sure which to buy, get our top pick – Dynamat 50306 DynaBox Speaker Enclosure from Amazon today.