As an Amazon Associate, we earn from qualifying purchases at no extra cost to you.
Whether it's your noisy neighbor or appliances making noise in the next room, you are not alone. Noise is a common problem for many people. It doesn't matter if you live in an apartment or your own home. At some point, you will want to eliminate sounds from your room.
You might have control over the noise that comes from your house. But it's challenging to control sounds from outside. Especially if they are from other people or places you can't control. It's, even more, frustrating if you try to ask other people to reduce the noise from their end.
With all these challenges, the only option is to soundproof your room. The good news is that you can soundproof your house with blankets.
Sounds impossible?
It's one of the best and cheap methods to soundproof a room. Let's dive deeper and learn how to soundproof a room with blankets & how we can use blankets to soundproof our room.
Why Blankets?
Blankets make a huge difference to the appearance of a room if used correctly. They are a cheap and effective solution to noise problems.
If you stay in a rented house or a student hall you are limited in many ways. You cannot make any adjustments to the room. Also, you cannot take a big soundproofing project. Worst of all, you can't control your neighbors. Therefore, with all these challenges, blankets become a perfect choice to eliminate all the noise in your room.
You could also be eliminating noise from your own premises. It doesn't make any sense to incur high cost while you can use blankets to soundproof your room.
Blankets absorb and soften sound waves. You will enjoy soft music, and reduce unwanted echoes in your house.
Other benefits of using blankets for soundproofing includes;
Cheap to buy and maintain.
Easy to install.
Flexible to be used on different parts of your room.
When used properly, they can be part of your interior decor.

Are All Blankets Perfect for Soundproofing?
The answer is NO. Most blankets can be used in soundproofing, but not all will give good results.
Thicker blankets muffle airborne sounds and vibrations. When you think of soundproofing, you should look for blankets made of the following materials.
Cotton
Multilayered polyester
Mineral wool
The best soundproofing blankets are moving blankets. They are designed for protecting furniture and appliances from damages when transported.
Moving blankets are suitable for soundproofing because they are dense. They easily dampen any sound vibrations.
How to Soundproof a Room with Blankets?
Blankets are perfect for soundproofing, but you need to understand how to use them. Here we wrote 9 ways to soundproof your room using blankets that we have tested and tried personally. The following are the best ways and techniques to use blankets to soundproof your room. Follow them properly & say good by to noises from your room.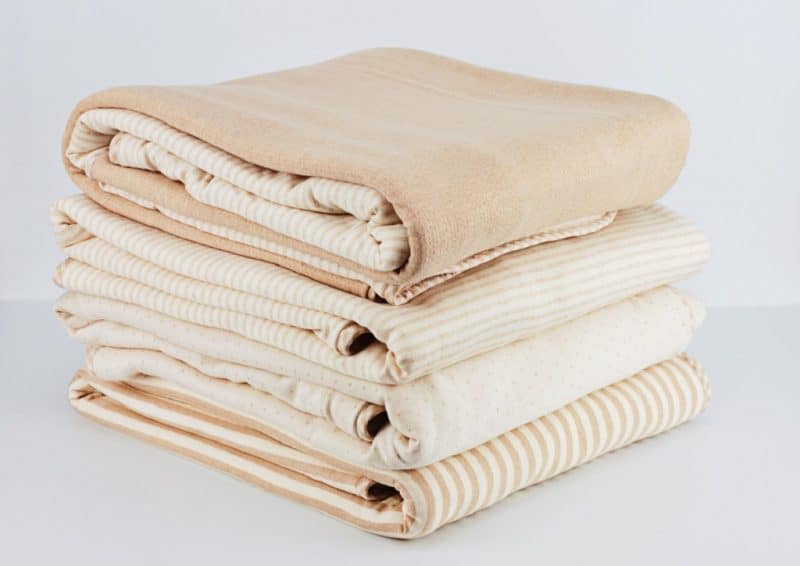 1. Soundproof Your Floors
If you are living in an apartment, you might be having a problem with the noise from the room below you.
Laying a blanket on the floor is the easiest thing you can do. When soundproofing your room, be creative. Style the floor with some picnic mood. Don't just lay a blanket on the floor aimlessly.
2. Pin the Blankets to Your Ceiling
Attach blankets to your ceiling if you have problems with sounds from the room above you. It might sound impractical, but it's beneficial.
For maximum experience, pin a thick blanket. If you have control over the room above you, put a thick rug on its floor. This will absorb a lot of sound impact from the room.
Attach the blankets on the ceiling using nails. However, don't use thin nails. Blankets can easily slide off from the ceiling if you use thin nails. Use a nail with a "fat head" to help the blanket remain secure.
3. Cover Loud Appliances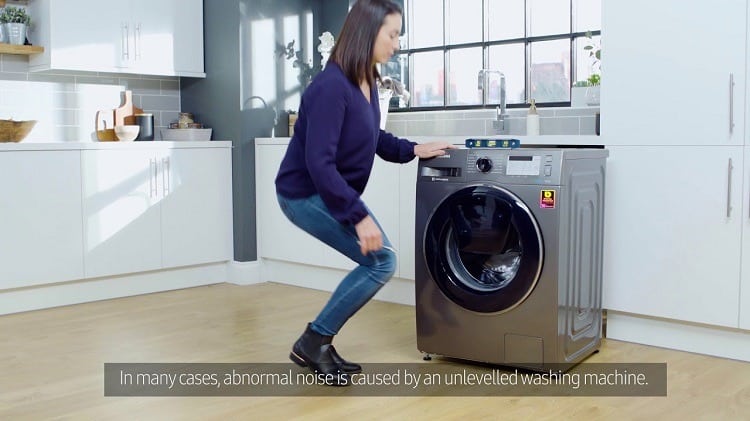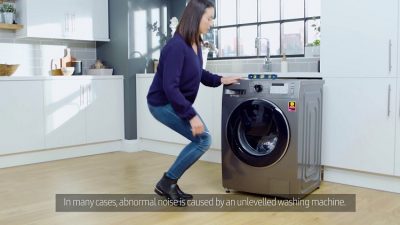 Some of the sounds in the house come from appliances like dishwashers, fridges, and laundry machines or washing machines. To reduce the disturbance caused by these noises cover them with soundproofing blankets.
However, ensure you comply with appliance instructions. Some appliances overeat and it might not be a good idea to cover them. Read your appliance's manual to understand areas that should not be covered.
When covering your appliance, you don't need to cover it completely. To control the noise from the appliances, apply the following strategies.
Lay a blanket on the floor.
Place the appliance at the center of the blanket.
Tape the free blanket to the sides of the machine.
Place another blanket at the top of the appliance. Whenever you are using the appliance, just roll it over.
Remember to check your appliance safety measures.
4. Cover Your Furniture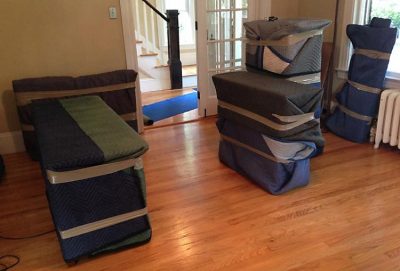 You should know that every hard surface allows sound waves to bounce. As the sound waves bounce the noise in your house increases.
Therefore, whether you are looking to improve your sound quality or reduce noises, cover your furniture. Dense and thick blankets are the best choice for soundproofing your home.
However, having a blanket on your table doesn't look good as you would wish your house to be. Therefore, use an attractive blanket.
Once you cover your furniture with a blanket, find some other attractive material and place on top.
5. Attach the Blankets to Your Walls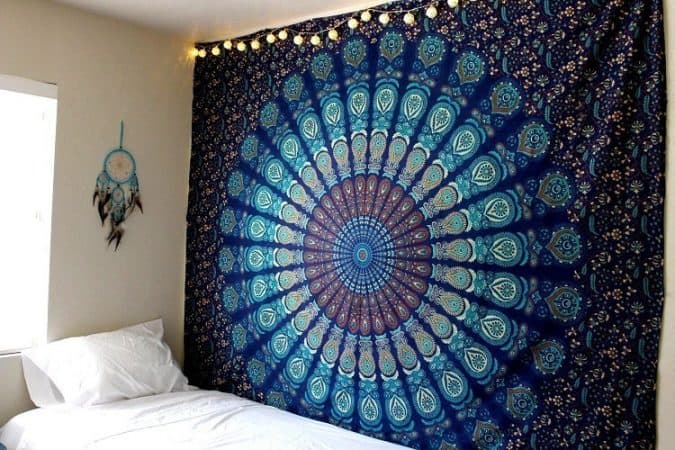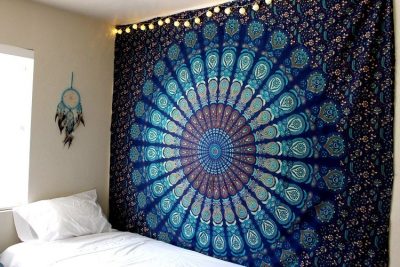 Much of the noise in your room is likely to come from outside.
Blankets on the walls would absorb any sound vibration and prevent it from entering into your room. The blankets will also soften the sound from inside the room.
Basically, you can attach blankets on the wall just like you would do with a poster. The following are top ways in which you can fix the blankets on the wall.
Nail your blanket against the wall.
Glue or tape it to the wall. Ensure you use industrial adhesive to hold the weight of your blanket.
Use the mounting putty to tack the blanket to the wall.
Suspend your blanket with curtain rods or curtain tracks.
Out of the above techniques, the best way is to nail the blanket to the wall. Leave the nails exposed when pinning your blanket. Using nails makes it easy in case you would like to change or wash your blankets.
Kindly note that it's not necessary to cover the entire wall. Just place the blanket at the center and cover the largest surface of the wall. That will be enough to absorb all the sound passing through the wall.
6. Hang the Blankets Over the Doors
Doors are difficult to soundproof. Many of the doors have gaps that allow air and sound to pass through them. However, blankets have great success covering doors. When soundproofing the doors, do the following.
Nail or glue the blankets to the doors.
Drape the blankets over the doors.
If you don't plan to open the door, nail the blanket to the surrounding wall.
Use a curtain holder and hang the blanket above the door.
Nailing or gluing the blanket on the door will obviously damage it. However, that's the perfect way to prevent sound from entering your room.
7. Cover Your Windows
When soundproof curtains fail, use the soundproof blankets. Just like curtains, hang them up. Consider buying soundproofing blankets with grommets. They will make it easy for you to hang them on the curtain holders.
For better performance, cover the windows as much as possible. Cover all air gaps in your windows.
However, soundproofing your windows with blankets might not be a perfect idea for your room. You need some air and light to enter into your room. Therefore, if you choose to use blankets, let them be a temporary solution. You can only be covering the windows only when the noise is too much.
8. Sound Proof the Source of the Noise
Most of the times the noise you want to eliminate from your room comes from a distant room. For example, you might be soundproofing your bedroom from the kitchen noise. Therefore, instead of using blankets in your bedroom, work on your kitchen.
Ensure that the sound is regulated from its source. The following are rooms and areas in your home, which you might need to use blankets and soundproof them.
Kitchen
Garage
Rooms with furniture
Industrial space with loud appliances
Laundry rooms, and
Music rooms
9. Get the Best Technique that Suits Your Lifestyle
Why are you soundproofing your room? This is the first question you need to ask yourself before making any move. As you answer this question, you will know the best technique to use blankets to soundproof your room.
Consider the purpose of the room you are soundproofing. Some techniques will be perfect for some scenarios but fail in other when applied in other rooms.
If for example, you are soundproofing a recording room, you will need a different technique from soundproofing your kitchen. A recording room will require all the external sounds to be blocked. On the other hand, a kitchen will require you to prevent the disturbance caused by kitchen appliances.
Also, remember to consult your family members and colleagues before soundproofing your room. You might not have any problem blocking the windows, but your colleagues might not like the idea.
What to Look for in Soundproofing Blankets?
Not every blanket will be useful in soundproofing your premises. The following are the top factors you should consider before buying any blanket.
Thickness, Density, and Weight
The thicker, denser, or weightier the blanket is, the better. Sound will have a hard time penetrating through the blanket.
For better results, use double or triple blanket layers in your soundproofing.
The size of the blanket should cover the space you need to soundproof. Don't leave any space in between blankets.
Blankets come in different sizes. Buy a blanket that fits your space.
Understand the measurement of your room, then buy a blanket size that fits it.
Grommets are hanging the blankets on a wall or a rod. Blankets made for soundproofing purposes, come with grommets.
If a blanket does not have grommets, install them. Ensure your blankets have grommets that will enable you to fix them well to areas you want to soundproof.
Soundproofing blankets are made in different designs. Some blankets are designed for tranquil places such as offices. The blankets designs used in offices may not be necessary for homes.
Soundproofing blankets come at different prices. As you choose your best blanket, settle for a blanket that is within your means. As you factor the budget, don't think of the blanket alone. Think of other soundproofing equipment that would be needed.
Top 5 Best Soundproofing Blankets on Amazon
It won't be fair if I don't recommend to you the best soundproofing blankets in the market. Check the following blankets on Amazon.
#1. Sure-Max 12 Moving & Packing Blankets
Deluxe Pro
Double-sided construction
80″ x 72″ (40 lb/dz Weight)
Professional Quilted Shipping Furniture Pads Royal Blue
#2. Audimute
(* = affiliate link / image source: Amazon partner program)
Effective sound absorption.
Measures 95″ x 54.
Great for recording studios, drum rooms, rehearsal spaces, vocal booths, and more
Installation hardware included
#3. Deluxe Moving Blankets by Chean Cheap Moving Boxes
(* = affiliate link / image source: Amazon partner program)
Size: 72″ X 80″
Double lock stitching and thick 1/4-inch material
Ideal for preventing scratches and nicks to furniture
Double lock stitching with four square finished corners
#4. Sure-Max 4 Moving & Packing Blankets
(* = affiliate link / image source: Amazon partner program)
Ultra-thick
Size: 80″ x 72″
Weight: 65 lb/dz
Professional Quilted Shipping Furniture Pads
#5. Supreme Mover Moving Blankets
33%
(* = affiliate link / image source: Amazon partner program)
Size: 72 inch x 80 inch
Quilted premium cotton
3-inch black woven binding
Weight: 7.5 pounds each
Parting Shot
Whether your neighbors are noisy or it's your own appliance, you don't need to worry about noise again. It's time to soundproof your premises. Choose either of the above blankets from Amazon. Buy and install them and say goodbye to unwanted noise. You won't have to argue with your neighbors about their noisy dog.