As an Amazon Associate, we earn from qualifying purchases at no extra cost to you.
Living in the same house with drummers can be difficult. It's more difficult if the drummer is a teen. They will want to play all the time. But whether it's a teen who is playing or it's you, controlling drum noise is not easy. One minute you will be playing low volume sound, but after a few minutes, you will be lost in the beat. You will find yourself playing very loudly.
Therefore, the best thing is to soundproof your drum room. This article discusses 5 quick ways to fix your drum noise now.
5 Easy & Quick Ways to Soundproof a Drum Room
1. Buy a Drum Shield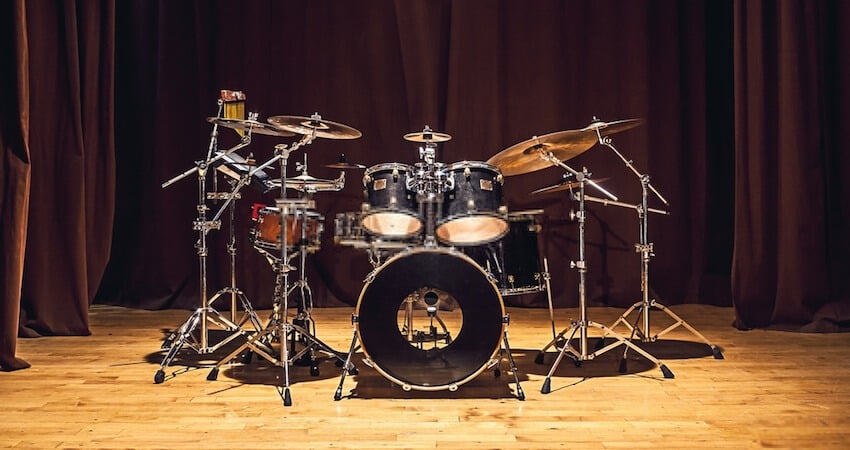 Drum shields are expensive but one of the most effective techniques to soundproof drums. Drum shields prevent noise from escaping into the other room. Most of the professional drummers use the shield to manage the stage sound when the drums are too loud.
A drum shield cages the sound and protects it from interfering with the noise produced by other instruments.
Therefore, if your drums are too loud, you can buy the drum shields. Cage your drums and play without disturbing your housemates.
Buy a cage today from Amazon and reduce the noise from your drum room.
Drum Shield DS4 Five Panels 2ftx5ft(Check on Amazon)
DS4 5 panels Full 1/4″ x 24 x 60 Crystal clear acrylic
Total Height;5 ft.
Acrylic drum shield and drum screen panels, for Drum sets,
12 Bright Chrome Hinges or Living Hinge
Drum Shield / 6 Panel Drum Shield with Deflectors 5ft Tall(Check on Amazon)
DS5D L 6 panels Full 1/4″ x 24 x 48 Crystal clear acrylic DS5D
Total Height 5 ft. Six – 2 ft. x 4ft. Panels w/ Deflectors
6 deflector panels 12″X24X Crystal Clear Acrylic
2. Lay a Thick Rug Under the Drums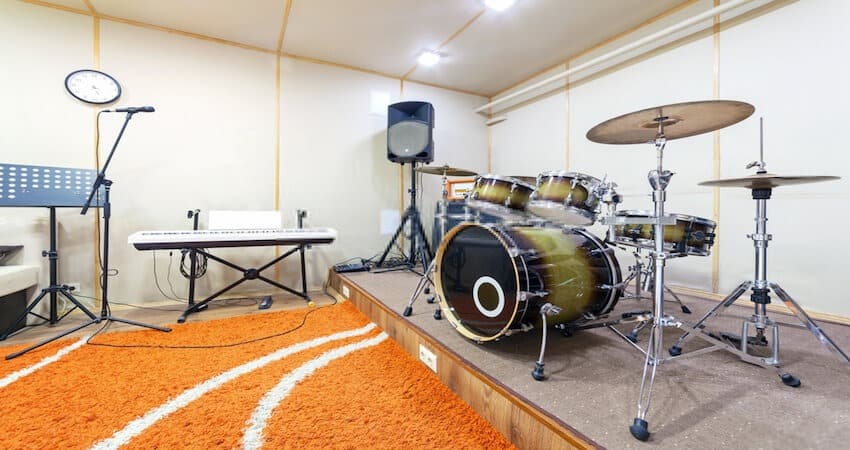 The first thing you need to do is eliminate the noise from its source. Drums are loud. They also produce vibrating sound.
Therefore, place heavy rugs under the drums. Heavy mats will absorb most of the structural noise. Mats will also soften the drums sound and improve your drum room acoustic.
Spread the rug under all drum kits. It will not only reduce noise but protect your floor from getting damaged. We recommend the following rugs from Amazon. They will reduce most of the drum vibration and sound.
Safavieh California Premium Shag(Check on Amazon)
Highly reviewed.
Thick
Easy maintenance
Safavieh Hudson Shag Collection SGH280B Grey(Check on Amazon)
Top rated mat
Thick
Easy maintenance
3. Seal All Air Gaps in Your Drum Room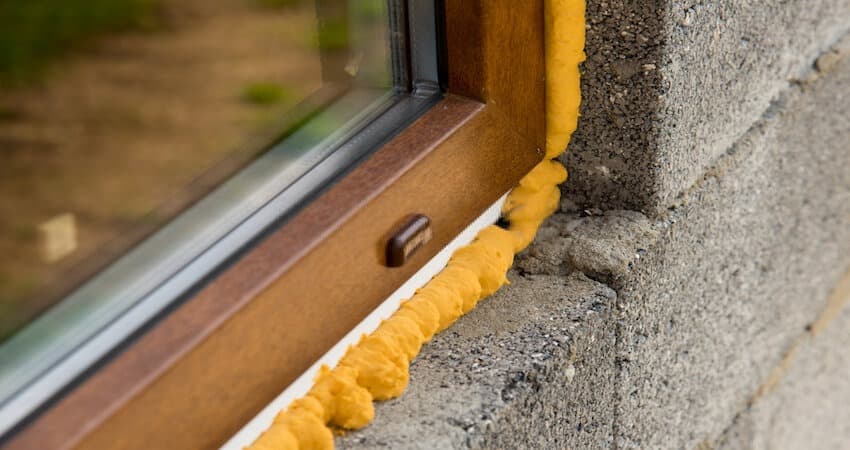 After reducing noise that comes from the noise focus on soundproofing your room. Start by inspecting your drum room. Check the walls, doors, windows, floors, air vents and ceiling. Find any cracks or air gaps.
Drums are extremely noisy. Even a small crack or air gap in your room will allow sound to pass through. When playing, drums can produce up to 120 dB through the air.
With that noise, you will disturb the peace of your housemates and neighbors when you play. Therefore, find a day and work on all air gaps. You need to seal all major gaps. It won't take you a lot of time since you can easily see the gaps.
Seal Air Spaces on the Door and Windows
This method is the cheapest but yet among the most effective for drum room soundproofing. Buy the seal on Amazon and fix it yourself. Below are systematic steps to install the dampening seal on the door.
Measure the height and width of your gaming door.
Use a handsaw to cut the weather-stripping into correct sizes.
Place the cut strips to seal the door.
Cover the gaps from inside. Covering from outside will make your door look ugly.
This technique will reduce the noise from your drum room. However, it will make your door look ugly.
Check your windows. See there are air spaces between the window and wall. Use the same seal and cover all the air spaces. No matter how small the gaps are, they will allow drum sound to pass through them. Seal every gap.
Check the following
Foam Rubber Seal Strip Tape(Check on Amazon)
Foam Adhesive Strips
2-Inch-Wide X 1/4 Inch Thick
Total 13 Feet Long
Foam Insulation Tape Adhesive(Check on Amazon)
Seal, Doors,
Waterproof,
Sound dampening
Craft Tape (33 Ft- 1/8″ x 2″)
Cover the Space Between the Door and Floor
Every door is installed in a way that it can open and close smoothly. This is why there is a gap between the door and floor. The door space, however, will allow drum noise to pass through it.
The larger the gap, the more noise it's going to allow through the door.
Therefore, buy door sweeps and install them under the door. Check the size of the gap and buy a draft that can cover it perfectly.
When installed under the door they slide nicely over carpets, wooden, and laminate floors. They leave no marks or scratches on the floor. The drafts will block noise from passing through the door gaps.
Check the following sweeps on Amazon
Door Draft Stopper(Check on Amazon)
Under Door Seal for Exterior/Interior Doors
Soundproof Door Bottom
Weather Stripping
Evelots Draft Stopper(Check on Amazon)
Double Sided
No cold
36 Inch Foam
Buy the following seals on Amazon.
Foam Rubber Seal Strip Tape(Check on Amazon)
Foam Adhesive Strips
2-Inch-Wide X 1/4 Inch Thick
Total 13 Feet Long
Foam Insulation Tape Adhesive(Check on Amazon)
Seal, Doors,
Waterproof,
Sound Dampening
Craft Tape (33 Ft- 1/8″ x 2″)
Fill Wall and Ceiling Cracks
Every ceiling will eventually develop gaps or cracks. The vibration noise from the drums brings cracks on the walls and ceilings. The cracks become an issue because they allow noise and air to pass through them.
Therefore, inspect your drum room walls and ceiling. Check any cracks.
Sometimes you might not see big cracks on the ceiling. Even small cracks will need to be sealed. If not sealed, they will develop big cracks. They will also allow drum noise to pass through them.
For a proper inspection, rub the ceiling surface. Clean all dust and check any cracks that you might have missed.
After finding the crack repair them if they are huge. Fill them with joint compound.
Apply one layer first and leave it to dry. The following day you can apply another layer to seal completely. After the second layer, sand until smooth. In the end, put wallpaper or paint the wall to hide the marks.
For small cracks seal them with patch seal. The seal is available on Amazon.
Quikrete Concrete Crack Seal Natural 1 Qt(Check on Amazon)
It is easy to use
It is highly durable
The seal kit comes with all tools you will need to seal the gaps. It comes with spackle, putty knife, sanding pad, and primer. After using it on your ceiling, the cracks won't be seen after you paint.
4. Use Soundproofing Curtains and Blankets on Doors and Windows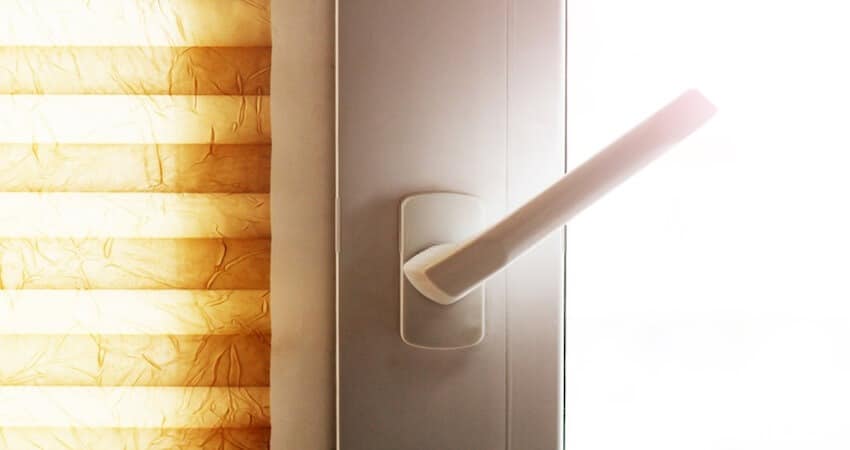 By nature, doors and windows are light. They also have air spaces that cannot be completely sealed. Therefore, use soundproofing curtains or blankets on the doors and windows.
Soundproofing doors and windows are the most effective technique to reduce noise from the drum room. The doors and windows have air gaps that allow sound to pass through them. As mentioned, the gaps cannot be sealed.
Your focus should, therefore, to block noise from passing on air gaps that cannot be sealed. To soundproof your door, use the soundproofing curtains or blankets. They work best than any other soundproofing material.
Don't pick any blanket or curtain. Soundproofing curtains and blankets are dense. They do not allow excess drum sound to pass through them. Hang the curtains and blankets on curtain rods.
On the doors, you can choose whether to hang or pin soundproofing blankets. Either technique will work well.
Factors to Consider When Buying Soundproofing Curtains and Blankets
Not every blanket or curtain will be useful in soundproofing your drum room. The following are the top factors you should consider before buying any blanket.
1. Thickness, Density, and Weight
The thicker, denser, or weightier the blanket is, the better. Drum sound will have a hard time penetrating through the blanket.
For better results, use double or triple blanket layers in your soundproofing your drum room.
2. Size
The size of the blanket or curtain should cover your door or window completely. Don't leave any space on the doors or windows.
Blankets come in different sizes. Buy a blanket that fits your space.
3. Grommets
Grommets are for hanging the blankets or curtains on lines or rod. Blankets made for soundproofing purposes, come with grommets.
If a blanket does not have grommets, install them. Ensure your blankets have grommets that will enable you to fix them well to areas you want to soundproof.
Most curtains come with grommets. You don't need to worry much about them. However, you may choose to buy a curtain that is compatible to your curtain rods or lines.
4. Design
Soundproofing blankets are made in different designs. Some curtains might be designed for soundproofing offices or bathrooms. These curtains might not be effective in soundproofing drum rooms.
Therefore, buy curtains designed for soundproofing loud noises.
5. Budget
Soundproofing materials come with different prices. As you choose your best blanket, settle for a blanket that is within your means. As you factor the budget, don't think of the blanket alone. Think of other soundproofing equipment that would be needed.
However, whether you are on budget or willing to spend, you will always find a curtain or blanket to buy on Amazon.
Buy either of the following curtains or blankets from Amazon today and say goodbye to loud bass from your neighbors.
Blankets
Sure-Max 12 Moving & Packing Blankets(Check on Amazon)
Deluxe Pro
Double-sided construction
80″ x 72″ (40 lb/dz Weight)
Professional Quilted Shipping Furniture Pads Royal Blue
Audimute(Check on Amazon)
Effective sound absorption.
Measures 95″ x 54.
Great for recording studios, drum rooms, rehearsal spaces, vocal booths, and more
Installation hardware included
Curtains
Nicetown(Check on Amazon)
Noise Reducing Thermal Insulated Solid Ring
Top Blackout Window Curtains/Drapes
Two Panels,42 x 84 Inch.
Deconovo Blackout Curtains(Check on Amazon)
Thermal Insulated
Noise Reducing
Size: 52W x 54L Inch
5. Soundproof Your Drum Room Walls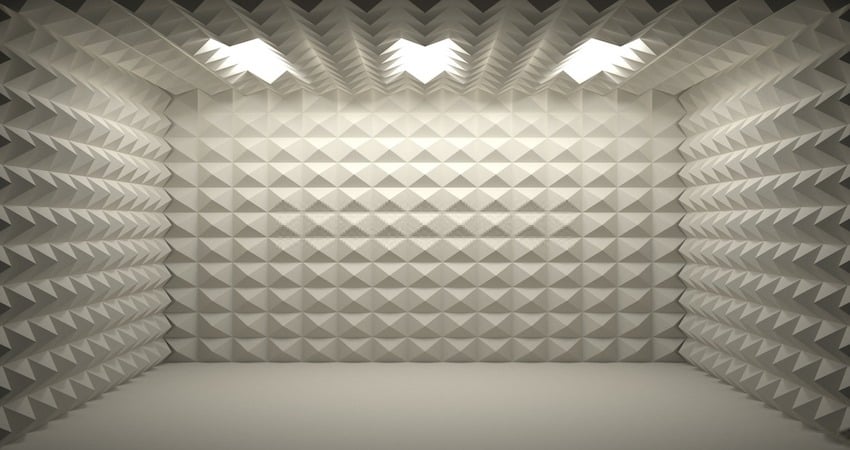 Drywalls do not allow much sound to pass through them. However, the walls vibrate. Drum vibration is too high and can be felt in the next rooms.
Also, when drum sounds hit drywall surfaces, it produces an echo. As a result, the noise coming from the drum room increases. To reduce the noise, therefore, it's essential to soundproof the walls.
Thicken Walls
Inspect your wall. Check it's thickness. The thicker the wall, the better the soundproofing effectiveness. If your wall is thin, get a professional to help you to thicken the walls.
If it's drywall, add a layer of concrete materials. If the wall is wooden, pin more wooden panels on the wall. Thicken it as much as you can.
Install Acoustic Foam on the Walls
Acoustic foam panels are specifically designed for music rooms. They will absorb all drum vibrations passing through the wall.
Acoustic foam panels absorb all noise that bounces off the wall. All drum echoes will be eliminated.
Acoustic foams will also improve the quality of drum sound. They absorb all sound and softens it. Just like they function in music rooms, they will also function well on drum rooms.
Check our tested foams on Amazon.
Foamily 12 Pack- Acoustic Panels(Check on Amazon)
12 Pack covers 12 square feet
Professional acoustic control
Great for spot treating sound on walls
Mybecca 12 Pack- Acoustic Panels(Check on Amazon)
12 pack means
Professional acoustic control Acoustic
Sound deadening material
Pin Soundproofing Blankets on the Wall if You are Under a Budget
Soundproofing blankets dampens sound vibrations. Just like they will function well on doors and windows, they will also function well when placed on the walls. The only difference is that they will make your drum room look ugly if you don't style them well.
Check the blankets that we had recommended earlier on Amazon.
For more insight on using blankets for soundproofing your laundry room, check our article on Soundproofing laundry room with Blankets.
Parting Shot
Don't let drum noise prohibit you or your loved ones from nurturing their talents. Start soundproofing your drum room today. Combine different soundproofing techniques to reduce the noise to the maximum. But to have value for your money, always choose quality soundproofing materials. Check the materials we have recommended in this article, buy them on Amazon and start soundproofing today.