As an Amazon Associate, we earn from qualifying purchases at no extra cost to you.
Each and every parent wants to make sure that his baby can grow up strong and healthy. Accordingly, good parents make their home baby-proof, feed their babies a nutritious diet, as well as share plenty of time with their child.
Yes, as a parent you are considering a lot of things. But, however, this is a very pathetic fact that most of the parents are not that cautious about the exposition of noise behind their baby. Even many of them don't know how loud is too loud for a baby.
If you are in that group or want to secure your child's hearing, then read out the whole article.
We will be sharing everything you need to know about the noisy issues that hamper your baby.
REMEMBER, HEARING IS SO IMPORTANT!
You must know that hearing is one of the most vital factors in any baby's growth. This is one major aspect by which a child learns how to speak. Besides, hearing is also liable for their nurturing of the brain between the age of 0-3. And most importantly, bonding between parents forms bonds with their children.
Unluckily, babies can't tell you that they are facing difficulty in a noisy environment or it's too loud. Therefore, parents have to be more careful to assure noise-free surroundings for their babies.
Thus, hearing is one of the most essential feelings. It gives us the proficiency to heed anything that is happening around us. That is how we get connected to the world. Vastly, hearing enables you to communicate in a way that other organs of our body can not.
What Is The Perfect Sound Level For My Baby?
To be exact, there should be a soundless than 60 decibels around your baby.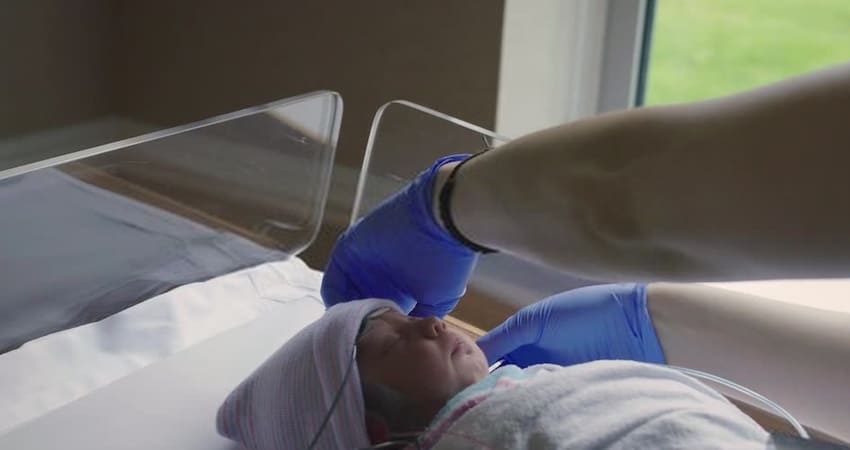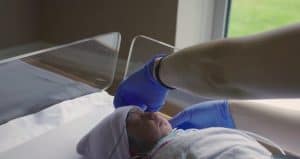 For comparison, we are framing a chart below that shows what the sound levels are for different occasions.
Comparison Chart:
| | |
| --- | --- |
| Occasion | Sound Level (In decibels) |
| Baby surrounding place | Quieter than 60 decibels |
| A quiet conversation at home | 50 dB |
| Freeway traffic | 70 dB |
| Workplace | 80-85 dB |
| Jet takeoff | 100 dB |
Then, you have to detect some issues and solve them smartly.
HOW YOUR CHILD IS THREATENED FOR NOISY TECHNOLOGY?
Living in this modern century we have plenty of smart devices, audio devices, as well as many other technology items for children. Yes, these tech devices are useful but still, you have to be very careful to use them in a secure way. That is to say, you have to keep below considerations in mind:
Learn and inform careful hearing to your child: The first thing they need to know is how to protect their ears. So, you should let them know why it is so important to maintain safe listening. Tell them~
Not to hear at a higher volume.
Take listening breaks
Select your child's devices wisely:
As said earlier, volume control is a great way to protect hearing issues. So, you should choose any device that offers noise-canceling features. For example, there are noise-canceling headphones available in the market. With this technology, your babies won't be able to level the volume up to drown out external sound. Choose earbuds or headphones that can stave off sound leakage.
If you want to see what's my recommended noise-canceling headphone, then check the headphone from Amazon.
Read Also: How To Soundproof A Nursery Or Baby's Room
CHECK OUT YOUR BABY'S TOYS — ARE THEY TOO LOUD?
Babies are very much fond of playing with toys. Toys are a great package for their amusement. But, the problem is some toys come with a loud noise. For example, talking toms or cars with sirens may have much loudness that might be sometimes intolerable for the babies. The sound might be more problematic when your kid plays a toy near his ear. However, the noisy toys might have a massive sound around 80 to 120 decibels.
In this way, the noisy toys might be too loud to result in your child's hearing damage.
To prevent the issue, you should choose noisy free toys for your baby.
Check whether there is any noise before purchasing.
Prepare a slight DIY adaptation. ( That means, condition a toy if it is noisy for your baby)
What are the Noisy Environments?
Below occasion can be good examples of the noisy environments:
Holiday parties and concerts
Sporting events,
Social gatherings
You have to ensure that the noise level doesn't cross the line of your child's safe hearing sound level. If it crosses, you should
Keep hearing protection for your baby.
Maintain a distance from noisy places.
Never keep your babies near any sound emitters.
Even, you should leave that place when it is too noisy and causing irritation.
HOW GOOD WHITE NOISE MACHINES ARE FOR YOUR BABY?
What about using the white noise machines for your kids? Yes, many parents undergo this technique for letting their kids sleep.
At the same time, many other parents aren conscious of their child's hearing. The white noise machines can be very loud at times. Yes, many of the devices incorporate a sound level quieter than 60 dB. But, running the machines constantly at top volume may harm your baby.
Unfortunately, some parents use these devices by the side of their baby's crib and run at high sound. In this way, those people want to prevent sounds coming from outside their baby's cabin. But, it is not a safe way at all.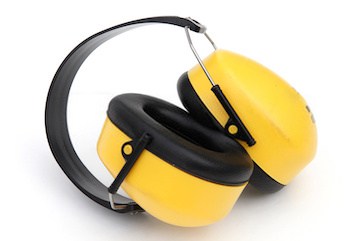 The white noise machines may provide around 85 decibels of sound which is never good for a child's hearing system.
Still, there are some good products in the market as well. You may check this WHITE NOISE MACHINE from Amazon.
IS YOUR HOUSE TOO NOISY?
You may not find anything wrong with the sound of your house environment. Yes, you may feel the homely sound fine for you but it might not be fine for your baby. To give an example, a vacuum cleaner usually operates at the sound of 70 decibels. Again, a metropolitan road delivers 90 decibels of noisy sound. Given sound levels should not be good for your kids. Therefore, you have to keep your kid in a distinct cabin while you are running anything noisy in your home. At the same time, ensure outside noise vulnerability to the least count.
"KID SAFE" DEVICES TO USE
As WHO and International Telecommunication Union suggest, any kids should not hear any machines that emit more than 75 dB to avoid listening defects. And a kid should never listen to any device for more than 40 hours in a week.
So, parents should know about "kid safe" headphones and other products so that they can lessen the damage.
At a glance, your kids should not use any device
having more than 75 dB and not consistently for more than 40 hours in a week.
There are some alternative ways as well to protect your baby's hearing. While there is some vulnerable noise beside your kid, and you can't make the place safe for him, then give hearing protection to him. Namely, it can be a headphone or any other suitable devices. A lot of expert Audiologists support this methodology.
Let's Wrap Up!
Overall, you can't deny the truth that your child's hearing is very vital. Where there is any concern for your baby's hearing, then you should make an appointment with a doctor for a hearing screening.
Indeed, our blog is only for informational bases. In addition, we tried to suggest to you what you can use and where you should go. If you want to know particular medical questions, please appoint a doctor for further details.
Hopefully, now you know everything on how loud is too loud for a baby. Please ask us in the comment box below if you have anything more to know.
And, if you love any of our recommended products, then please feel free to order and buy on Amazon. We always try to recommend the best product for your particular requirement.