As an Amazon Associate, we earn from qualifying purchases at no extra cost to you.
When you are working, and the noise from your PC is too much, you can only think of one thing – the fan. You need to get a fan that doesn't make a lot of noise, but at the same time it supplies enough air to cool your PC. And if that is your concern go ahead and buy Noctua NF-A14 FLX on Amazon.
This is a fan engineered with the best technology to supply your PC with enough airflow but at the same time reduce the noises you will experience with your computers. To maintain noises at a low level, the fan has Integrated anti-vibration pads, SSO2 bearing, Low noise adaptor, ultra-low-noise adaptor, and 4 vibration-compensators.
Looking to Buy a Most Silent Case Fan for Your PC?
It's a daunting task to get a silent case fan that offers highest performance. This is because most of the most top-performing case fans make a lot of noise due to their speed.
However, there are select fans that have silent technology to help in reducing the noise and at the same time, maintain their performance.
In this article, we will discuss the top ten silent and high performing fans.
How to Choose a Quietest PC Fan?
As you choose a case fan, the first thing you need to understand is that performance matters more than aesthetics and cost. So, don't be like many buyers who start by looking at the appearance of a fan rather than its performance.
Start by focusing on the performance of the fan. Check factors such as airflow, noise level, power consumption, features, and any other factor that can be included in the fan.
Keep reading this article; we will share with you the best fans and the factors that we considered before recommending them to you.
Our Recommended Top 10 Best Quiet PC Fans
We have taken our time to research, buy, and test many fans available in the market. Some fans performed well, but others didn't meet the threshold. At the end we discovered the following top ten fans that are little known about.
Buy any of these fans and enjoy working with a super quiet PC.
Reviews of Top 5 Best Quiet 120mm Fans Reviews
Key Features
Extremely Quiet
Static pressure and high airflow
Low noise impeller
Fluid dynamic bearing
1. ARCTIC F12-120 mm Standard Low Noise Case Fan
Fan effectiveness is determined by its airflow. However, the noise produced by the fan is also a critical factor to consider when buying any fan. Arctic cooling Fan bridges these two gaps.
The Arctic F12 has a 9-blade design that gives a 20% more airflow as compared to most of the other PC fans. It's new impeller design, and fluid dynamic bearing makes the operate silently.
Some delicate features are incorporated by the fan to improve the overall airflow. Most of the other PC fans have seven blades, but Arctic F12 has nine fans. As a result, there is more airflow, and at the same time the fan runs quietly.
The ninja-knife impeller design lowers the noise level and improves the laminar airflow.
Arctic Cooling is a brand that has built its reputation by engineering fans with the highest level of innovation. Arctic F12 is not an exception to these superior features incorporated in most of the fans manufactured by the company.
Without any doubt, I recommend Arctic fan for your PC. Buy it today on Amazon and enjoy working with a silent computer.
Key Features
Fan Size 120mm x 25mm
Static pressure
Super quiet with a noise level of 21 dBA
Two years Warranty
2. Corsair Air Series AF120
Corsair is a reputable company that is known for its investment in technology and innovations. They are even making a joke that if NASA was to make computer fans, they would have to copy their idea.
The custom-engineered rotors combined with magnetic levitation sets the fan apart. With these two main features, you can always be sure that you will end up with a quiet PC.
The innovative designs also go to fan blades. The whale-like and angled fan blades make it crucial in cooling your PC with high airflow.
Specifically, the Air Series AF120 brings all innovations together. It has nine ultra-thin blades. As a result, the allows more airflow as compared to other ordinary fans you can fund in the market.
The rubber corners absorb all vibrations coming from the fan and drastically reduce most of the noises experienced. Also, the fan features an advanced hydraulic bearing system. This among the many reasons, the Corsair Air Series AF120 fan is quiet.
3. Cougar Vortex PWM 120 Cooling CF-V12HPB
If you haven't thought of buying Cougar Vortex Fans, then it's time to start thinking of it. In fact, I don't blame you if it has never come into your mind to buy Cougar Vortex brand. This is a company that has been underrated for a long time, but their products are above market comparisons.
And if your concern is getting a PC fan that is quiet and has high airflow, then this is the deal. The Cougar CF-V12HPB Vortex fan has a hydrodynamic fluid bearing. The bearing is responsible for much silence you will experience with this fan.
The fan has the capabilities of running for over 300,000 hours without any signs of problems or making noises.
Other features that reduce noises coming from the fan include the pulse width modulation technology. This is a 4-pin connector to the motherboard that controls the speed of the fan.
The innovative blade designs also maximize on the airflow experienced by the fan. Some other features include the rubber material on corners that absorb the fan vibrations.
If you are looking for a quiet fan that will reduce most of the fan noises from your computer, buy Cougar Vortex PWM 120 Cooling CF-V12HPB today on Amazon.
Key Features
Virtually inaudible operations of 16.4 dBA
6-pole fan motor
Fluid-dynamic bearing
Funnel-shaped air inlets
Optimized seven fan blades
4. be quiet! Silent Wings 3 120mm PWM, BL066, Cooling Fan
When choosing a PC fan, you don't need to compromise between performance and silence. You should get these two critical features in any fan you settle on.
And when you think of these two aspects, there is no other fan that comes to mind other than be quiet! Silent Wings 3 120mm cooling fan.
With its state-of-the-art technology, the fan offers superior cooling with virtually inaudible operations. As a result, it's a perfect choice for high-performance computers. It will cool the system without making many noises. The fan can be used in radiators, PC cases, and heat sinks.
The 6-pole fan motor has three phases that ensure fewer vibrations and lower power consumption. It also features advanced fluid-dynamic bearing with a long life span of up to 300,000 hours. The fan frame has rubber.
The funnel shape of the fun air inlets ensures high pressure on the seven blades with the optimized surface for excellent airflow.
Key Features
Low-noise adaptor
4 fan pin headers
4 vibration compensators
Anti-vibration mounts
5. Noctua NF-S12A PWM, Premium Quiet Fan
This is a case fan that comes with a custom design to make it better in every way. The fan engineering aims at getting a focused flow frame that helps in cooling your PC.
Noctua comes with seven blades optimized to achieve between airflow effectiveness and quietness.
To reduce the noises from the fan, the model has anti-vibration pads. The pads help in absorbing all the sound vibrations hence decreasing the transmission of noise from your computer. Noctua NF-S12A PWM fan has received over 250 recommendations and wards from the international press.
For full speed, the fan has 4-pin headers. The headers come with a low-noise-adaptor to minimize the noises and maximize the speed of the airflow.
SSO2 bearing ensures that the fan runs smoothly without any vibration over it. The bearing has a rear magnet placed closet to the axis to give the fan stability, durability and precision even when at high speed.
Top 5 Best Quiet 140mm Fan Reviews
Key Features
Super quiet with a noise rating of 24 dBA
Static Pressure
Affordable
High airflow
1. Corsair Air Series AF140 Quiet Edition Single Fan
Corsair AF 140 is a fan that brings together the benefits of cost, airflow, and noise reduction together. It's the first quiet 140mm fan top on our list.
The fan is low priced at its features and excellent quality. It's also very quiet with a noise level of 24dbA only. And if that is not enough, the fan is energy efficient. It's starting voltage is over 3.3 V.
Even at 12 volts, the fan can reach up to 1150 RPM and hence the motors would barely make any noise. In fact, the only sound that you will hear with this fan comes from the airflow rather than the motors themselves.
A hydraulic bearing reduces noise well.
When you purchase the fan on Amazon, you have an option to pick four LED lighting colors; red, purple, blue, and white.
Key Features
Quiet design
Hydraulic motors
11 fan blades
Rubber screws for noise reduction.
2. Fractal Design Silent Series R2 140mm Cooling Fan
Fractal Design silent R2 was released to replace the old FD series. As compared to the old FD series, numerous changes have been made make R2 series more effective in cooling and low noise reduction. From the packaging to the performance features, the new R2 series has numerous of things to celebrate.
To start us off, the fan has four metal pins and screws. These ensure the stability of the fan even when rotating at a very high speed. Also, other four rubber dumpers absorb all noise vibrations coming from the fan when it's running at high speed.
To maximize on the low speed, the fan has a low-speed adapter.
The fan is entirely made with a standard square frame with black painting. The hydraulic motor bearing performs well achieving high airflow with very low noise level.
And if you are looking for a fan with high airflow, the fan has 11 blades painted in white color (the color scheme is one of the Fractal-design for most of its fans).
All of the above features reduces the noise levels experienced by the fan once used over any PC.
Key Features
Quiet fan
A new lubricant motor
Fluid dynamic bearing with an oil capsule
Fan impeller designs
3. ARCTIC F14 SILENT-140 mm Standard Case Fan
Cooling effectiveness is the first thing everyone looks into a good case fan. And F14 fans are not left behind in this. They are specifically designed to give a high airflow to cool computer systems but at the same time maintain low noise levels.
Technologies and innovations that reduce noises are used on the fans to make them effective. This includes having an adapter for low noise levels.
Also, the fan has high-performance hydraulic fluid bearing. The fluid can last for over 300,000 hours. They are hence increasing reliability, durability, and performance for the fans. The dynamic bearing comes with an oil capsule that prevents oil leakages.
The fan also features a motor developed in German with lubricant combination for reducing noise and friction as the fan rotates at high speed.
The innovative design on the fan blades facilitates efficient ventilation and improves airflow of the fan.
Other fan designs also include a fully sleeved cable in every silent series R2 fan enhanced aesthetics and effortless cable routing.
If you are looking for a quiet fan for your PC, consider buying ARCTIC F14 SILENT-140 mm Standard Case Fan on amazon today.
Key Features
Integrated anti-vibration pads
SSO2 bearing
Low noise adaptor
Ultra-low-noise adaptor
4 vibration-compensators
4. Noctua NF-A14 FLX
Noctua NF-A14 FLX is our number one fan for airflow. This is because of the fantastic specifications featured by the fan that is not available in most of the other case fans available in the market. And to make the deal sweet, the fan is not that expensive.
Noctua company has dedicated its resources in researching and finding the best fans in the market. As a result, it has received numerous awards.
This is why Noctua NF-A14 FLX is still among the most compelling case fans.
The fan can push air in any part of the CPU, including the front where metal and air filters can get in the way. The fan delivers airflow at a high rate of 158 CFM and a speed of up to 3000 RPM. At this rate, it's inevitable to have much noise for any fan. But surprisingly, the sounds from Noctua are unnoticed.
The fan has a low-noise adaptor that allows airflow at a very high rate with a near-silent operation. Other features on the fan included fan screws, anti-vibration mounts, ultra-low noise adaptor, and 4-pin adaptor for powering the fan.
Key Features
Quiet fan
UFB bearing
8 Pre-installed rubber pads for vibration absorption
Fan sensor
5. Phanteks 140mm Case/Radiator Cooling Fan
Designed with a unique Maelstorm concept technology, Phanteks 140mm case fan is one of the most effective case fans out there. It features a UFB bearing designed by Moss and SSC systems. The bearing has a hub-tip ratio that achieves a state of equilibrium at high speed reducing the noise vibration of the fan.
The fan functions also allow users to reduce running speed from 600-1200 RPM, hence making it ideal for controlling and maximizing on the noises that you would get from the motor.
There are eight pre-installed rubber pads for absorbing noise vibrations from the running fan.
The fan has a circuit design sensor that sends signals to your computer to notify your computer when the fans are not working well.
Therefore, with all of the above features, you can expect the fan to deliver high performance but at the same time, remain quiet.
The fan is available for purchase on Amazon. Click here to buy it today.
120mm vs. 140mm: Which are quieter & What's the Difference?
First, you need to understand the most significant difference between 120mm and 140mm fans is size. The 120mm is smaller than 140mm. This simply means that 140mm fetches higher airflow as compared to the 120mm fan.
When thinking about which is quieter between the fans, you need to factor in the speed of both fans. The higher the rate, the more the noise you will hear from your fan. And for that reason, 120mm fan will need to move faster to supply as much air as 140mm fans. As a result, it produces more noise as compared to 140mm.
With that said, we can conclude that 140mm fans are quieter than 120mm fans.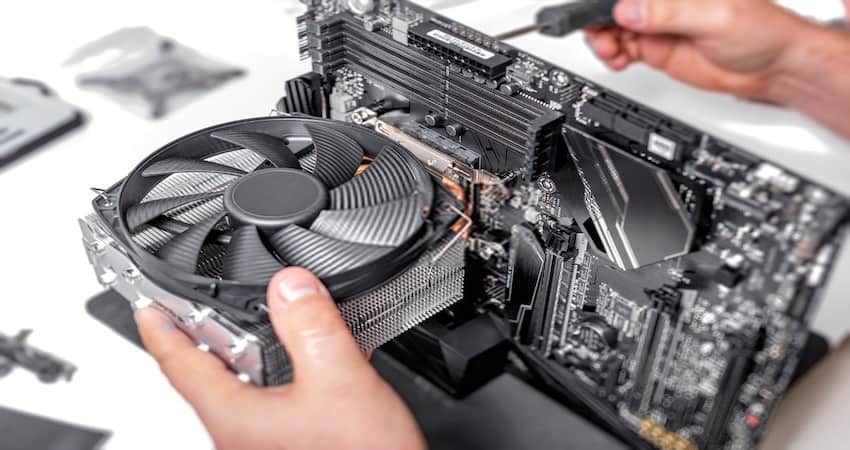 Important Key Points to Check Before Buying a Quiet PC Case Fan
As mentioned earlier, when choosing a case fan, you need to look beyond the price and its aesthetic. You need to check its performance. We have also used the same criteria to recommend the best case fans described above.
The following are the key points that we checked before buying or recommending any of the fans in this article.
Static Pressure Fans or Airflow Fans Difference
The first thing you need to think about is whether you would need a fan with high airflow or static pressure. The shape of the fan determines the actual shape of the fan blades.
Check the distance between the fan blades. If the range is small, then you have a static pressure fan and if the gap is large, it's an Airflow type.
Airflow fans work best if there is no restriction in behind and front of the fan while static pressure fans disperse air more evenly.
Cubic Feet Per Minute (CFM)
CFM measures airflow taken by a fan. It determines the volume of air that a fan can circulate to your computer in a minute. The higher the CFM rating, the better the performance of a fan. Therefore, when choosing a fan, settle on a fan that would supply maximum amount of air to your computers.
Larger fans move air faster. However, not all cases will fit any size of fans. It's therefore, essential to check your PC manual and know the size that would fit your computer well. But if your case can fit multiples size, choose a fan that has a larger size.
The Revolutions Per Minute measure the fans speed. The higher the RPM, the higher the air pulled into the system. As the fan spins faster, it also makes more noises. However, all the fans discussed in this article have additional features that reduce the sounds coming from a fan that moves at high speed.
There are three basic bearing types; fluid dynamic bearing, double ball bearing, and sleeve bearing. Sleeve bearing is cheapest but last for only 40,000 hours. Double bearing, on the other hand, lasts for up to 75000 hours while the fluid dynamic bearing has a life span of up to 300,000 hours.
This is a very critical feature to consider when choosing a fan. The fan noise is measured by A-weighted decibels (dBA). This is the sound as perceived in human hears. Therefore, choose a fan with features that reduce most of the noises you will hear from your fan.
Final Verdict
It's up to you to choose a fan that would fit on your case and supply enough air to cool your PC. By now you should have made the decision. If not yet, we recommend that you buy our top pick(Noctua NF-A14 FLX)
This fan will give you maximum performance and yet produce minimal noises.