As an Amazon Associate, we earn from qualifying purchases at no extra cost to you.
Laundry rooms are not that noisy. But you will agree with me that the constant vibration and low voice is annoying. When the washer is spinning and the dryer kicks on, the noise will disrupt peace in your entire home. The startup noise is usually irritating.
If this noise bothers you, it's time to soundproof your laundry room. This article explains the Simple ways To Soundproof A Laundry Room.
This is the Reason Why Your Washing Machine is Noisy
We are yet to see silent a washing machine. They rock, vibrate and often squeak. The lower pitch rumbling sound in the laundry room is caused by vibration of washing machines.
When a washing machine is running in a laundry room, vibration sound reverberates through the house solid structures. Its heard in the entire house.
As a result, it can be difficult to soundproof a laundry room. However, we have found a solution for you. Keep on reading and discover amazing ways to reduce noise from your laundry room.
Say Goodbye to Laundry Noise
It doesn't matter whether the problem is your washing machine or the design of your laundry room. The following techniques will reduce the sound coming from your laundry room.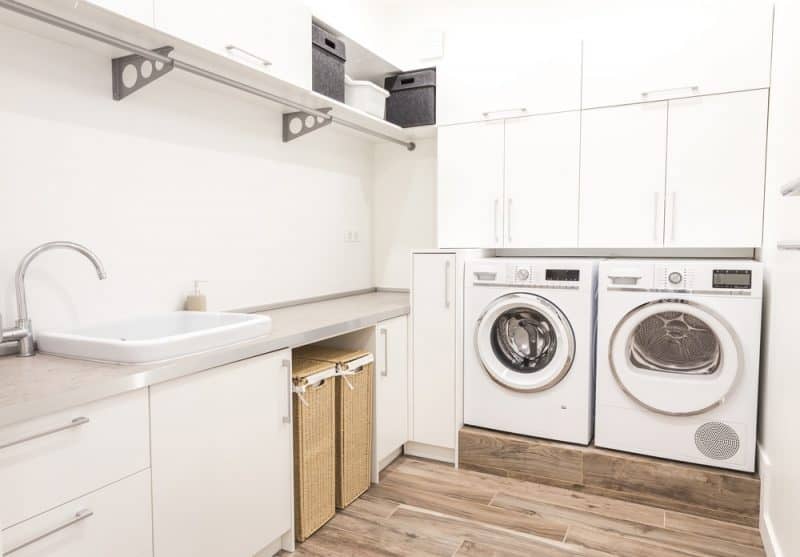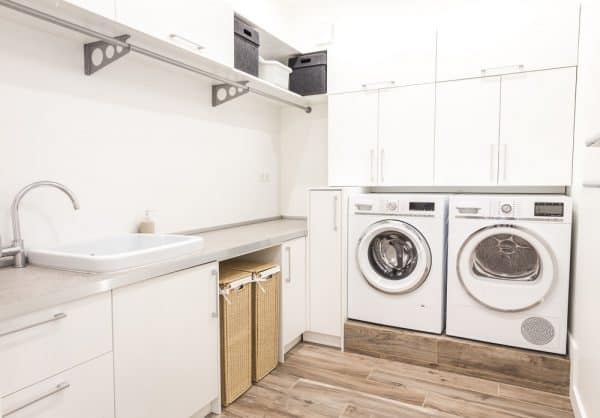 #1. Use Anti-vibration Pads
Before you would think of soundproofing your doors or windows, the first thing you need to do is remove all structural noise in your room. Vibration sound penetrates through the wall.
Anti-vibration pads are the most effective way to reduce structural noise. It's cheap and easy to install. They absorb all the vibrations and prevents them from causing disturbances in the other rooms.
The best part is that you don't need any special skills to fix the pads. You can do that in less than 5 minutes. Order the pads on Amazon and put them under the washer or dryer.
Depending on your washing machine, you will cut the noise by more than 30%.
#2. Put a Heavy Sound Proofing Blanket or Rug Under Your Appliances in Laundry Room
Soundproofing blankets are perfect for absorbing excess sound from dryers and washers. For that reason, buy a soundproofing blanket and lay it beneath your appliances.
When covering your appliance, you don't need to cover it completely. To control the noise from the appliances, apply the following strategies.
Lay a blanket on the floor.
Place the appliance at the center of the blanket.
Tape the free blanket to the sides of the machine.
Above all, ensure you buy the right blanket. Before the end of this article, we will recommend you the best rugs to buy.
A blanket or a heavy rug function well. You can use either. However, ensure you clean and dry the blanket regularly. This will prevent bad odors from coming from your laundry room.
#3. Reinforce Your Laundry Room Doors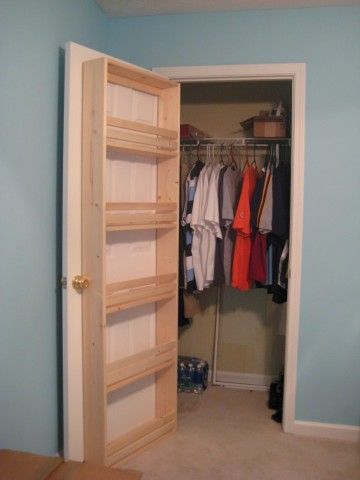 As we have seen, vibration pads can only reduce up to 30% of the structural noise in your laundry room. That is to say; vibration pads cannot work independently. You need to apply other techniques to soundproofing your laundry room.
Doors have air gaps, which means they are lousy in blocking the vibration sound from your laundry appliances. Therefore, reinforce the doors to prevent noise from reaching the other rooms.
The easiest way to soundproof doors is to hand soundproofing blankets. Soundproofing blankets are heavy. They prevent any sound wave from penetrating through them. When you use soundproofing blanket on your doors, you will see a huge difference.
When soundproofing the doors, do either of the following.
Nail or glue the blankets to the doors.
Drape the blankets over the doors.
If you don't plan to open the door, nail the blanket to the surrounding wall.
Use a curtain holder and hang the blanket above the door.
Nailing or gluing the blanket on the door will damage it. However, that's the perfect way to prevent sound from entering your room.
If you don't want to use soundproofing blankets you can buy soundproofing curtains. Either way, soundproofing blankets works better than soundproofing curtains.
You may also like our another guide about soundproof room with blankets here.
#4. Check Your Door Sweep and Cover it Tightly
If your goal is to cut all the noise from your laundry room, soundproof the door sweep. Put something under the door. The sweep is the space between the floor and the door. It doesn't matter how your door is sound absorbent if there is a space between the door and the floor.
Check how tightly your door hugs the ground. If there is a big gap, use a simple door sweep to cover the gap.
#5. Soundproof the Laundry Room Walls
Laundry appliances vibrate. The sound can easily pass through the walls and cause disturbances in the rooms on the other side of the walls.
Adding soundproofing materials on either inside or outside of the wall would dampen the sound. Before using any material to soundproof the walls, check whether there is any insulation in your laundry room wall.
Blankets
You can use soundproofing blankets and pin them on the wall. Attach blankets on the wall just like you would do with a poster. The following are top ways in which you can fix the blankets on the wall.
Nail your blanket against the wall.
Glue or tape it to the wall. Ensure you use industrial adhesive to hold the weight of your blanket.
Use the mounting putty to tack the blanket to the wall.
Suspend your blanket with curtain rods or curtain tracks.
Foam Mats
The foam mats work as insulators. There is no need for construction when using them. The mats contain rubber foam and are resistant to water, oil, and petrol.
Unlike blankets, the foams do not absorb moisture or release odors. They are adhesive and easy to stick on the wall.
Therefore, buy foam mats from Amazon and fix them on your wall.
#6. Soundproof Your Windows
Consider buying elegant acoustic curtains for your windows. The curtains should have heavyweight fabric. Heavy curtains will help dampen noise coming from the washers and dryers.
Alternatively, cover your windows with soundproofing blanket. Buy blankets with glomerates for hanging on the curtain rails.
#7. Soundproof Your Floors
If your laundry room is above another room, soundproof the floor. Lay down heavy rugs or soundproofing materials to absorb the sound from washers and dryers.
Soundproofing your floors helps in reducing interference with rooms below the laundry area.
#8. Repair or Buy New Laundry Appliances
Laundry appliances will make noise in your home. However, when a washing machine is broken down, old, or un-serviced, it will produce more sound.
You might apply all other soundproofing techniques, but it won't be helpful if the machines themselves are not in good condition.
If your machine is old, replace it. Stop using machines from the pre-world war era. Better machines are in the market. Though we won't guarantee about a silent washer, however, it will be better to have a modern washing machine than using an old washer.
Laundry appliances need continuous maintenance. Ensure that you check and repair it whenever needed. This will help you do away with unnecessary noises in your laundry.
Ensure you don't overload your machines when using them. Laundry appliances make a lot of noise when they are overloaded.
#9. Fix a New Door
The idea of buying new stuff might sound crazy, but they are the best things to do. You get to deal with the root of the problem. You don't treat the symptoms and leave the causes.
Get a sturdy and heavy door for your room. Heavy doors block sound from traveling through them. They are highly effective in soundproofing. As you buy a new door, remember to buy a door that does not have air spaces.
Buy a door that has exact measurements with your laundry door frames. Fix it and ensure no air spaces are left in between the doors. Whenever the machines are on, close the door.
#10. Layer the Walls
Empty spaces produce sound echoes. This increases the sound disturbance from laundry rooms.
If you have extra stuff in your house, stack them in your laundry room. Fill up the laundry room and reduce the empty spaces. Layer boxes or old closets closely to the walls. The more you layer the quiet your room will become.
The aim is to reduce empty spaces. Don't worry about how your laundry room will look like. No one ever visits laundry rooms. And if anyone visits, no one cares. A laundry room is not a living room.
Factors to Consider When Choosing Laundry Soundproofing Materials
Soundproofing materials for laundry range from pads, curtains, rags, to blankets. Consider the following factors to choose the best material.
Where to Soundproof
This is the critical factor you need to consider. Understand where you want to soundproof. Materials needed to soundproof doors are not the same as the materials required to overlay under machines.
First, understand the exact place you want to soundproof. Buy specific materials that will give maximum performance on the area.
Budget
Different materials cost differently. Settle on materials that you can afford to buy and maintain. When comparing the cost of materials, consider the long-term cost. Don't just check at a price only.
Material Performance
Heavy rags and blankets perform better than lighter ones. Choose materials that would eliminate most of the noise from the laundry room.
Design
Some materials come with different designs. For example, soundproofing blankets for windows comes with grommets. These designs would not be appropriate when soundproofing your floors with blankets.
Weight and Thickness
This factor applies to curtains, blankets, and rugs. The more weight and thickness of the material, the better the performance.
Best Materials for Soundproofing Your Laundry Rooms
Whether it's pads or blankets, they come in various types, designs, and make. After using different materials, we can confidently recommend the following ones for your laundry.
All of these materials are available on Amazon. Pick what suits you and say goodbye to laundry noise.
1. Anti-vibration Soundproofing Pads
The pads are used to absorb vibrations from laundry appliances. They are placed under the machines. Apart from reducing the noise, the pads can be used to provide solid floor floating for equipment.
Washer Dryer Shock Absorbing Pads
Pack of 4 Universal Anti-Walk Pads
Excellent Shock Absorber
Non-Skid Design
(* = affiliate link / image source: Amazon partner program)
sturdy and durable
Made of recycled tire rubber
Effective Anti-Vibration platform
2. Soundproofing Curtains
Soundproofing curtains are thick than normal curtains. They have densely layered materials. The deflect and absorbs sounds from the laundry rooms.
15%
(* = affiliate link / image source: Amazon partner program)
Noise Reducing Thermal Insulated Solid Ring
Top Blackout Window Curtains/Drapes
Two Panels,42 x 84 Inch.
Thermal Insulated
Noise Reducing
Size: 52W x 54L Inch
3. Soundproofing Blankets
The best soundproofing blankets are moving blankets. They are designed for protecting furniture and appliances from damages when transported. Moving blankets are suitable for soundproofing because they are dense. They easily dampen any sound vibrations.
Deluxe Pro
Double-sided construction
80″ x 72″ (40 lb/dz Weight)
Professional Quilted Shipping Furniture Pads Royal Blue
Effective sound absorption.
Measures 95″ x 54.
Great for recording studios, drum rooms, rehearsal spaces, vocal booths, and more
Installation hardware included
4. Adhesive Soundproof weather-strip
A weather Strip is an excellent soundproof, windproof, and waterproof tape. It helps block all noise from the laundry room. Buy from Amazon any of the following strips.
Soundproof Weather-Stripping Door Kit
39 Feet Self Adhesive
Sound, Wind, Dust, Draft & Insect Proof
Rubber Door Strips
Window Insulation
Soundproof Seal Strip
Single Sided Draft.
5. Soundproofing Foam Mats
The soundproofing Mats are moisture resistant. This makes them a perfect choice for laundry room soundproofing. The following are the best Foam Mats to buy on Amazon.
Fiberglass material,
High noise reduction
High-temperature resistance
Size: 170 mil 36 sqft
Waterproof
1/6" Thick Sound Deadener
Parting Shot
Combine more than one soundproofing strategy for effective performance. Use anti-vibration pads. Cover all air spaces in windows, doors, and walls. Most importantly, use the right materials. Pick the products recommended above and buy from Amazon. You will enjoy the peace of living in a quiet home.