As an Amazon Associate, we earn from qualifying purchases at no extra cost to you.
We love our heels. They make us look more elegant when we walk. However, heels can be embarrassing. When you enter into a quiet room, you draw the attention of everyone. All the people in the room stop whatever they are doing to look at you. This can be embarrassing, especially when you are arriving late to a meeting.
The heels will make you noticed. And if they are making noise, you won't be noticed for good reasons.
The noise also bothers people around you. Whether they are your colleagues at work, classmates, or your housemates, they don't like the "Clack Clack Clack" sound. It's irritating.
The good news is that you can reduce this noise. You can cut 100% of the sound produced by your heels if you combine different techniques.
Therefore, this article will discuss essential techniques to apply on your high heels. Use them and see the difference they will bring.
But before we go into the techniques, let's first understand some of the reasons why the heels make noise when walking on them.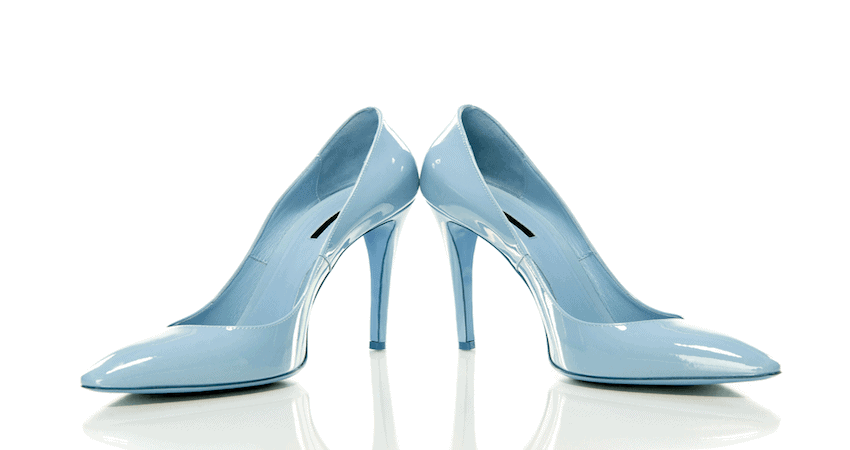 Why Some Heels Noisy While Others are Quiet?
Different factors cause the difference. The following could be the reasons why your heels make noise when you walk.
The way you walk can affect the noise produced by your shoes. If you walk with heavy steps, they will increase the impact your heels makes on the floor. Therefore, if you want to reduce this noise, try to lower your steps when walking.
Alternatively, adjust your posture. Keep reading this article. We will explain to you how to walk well and quietly with your shoes.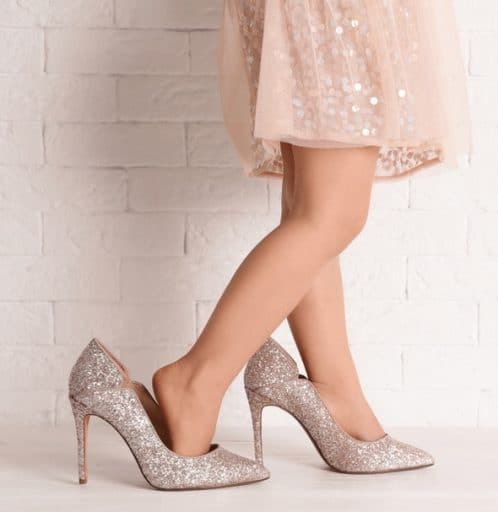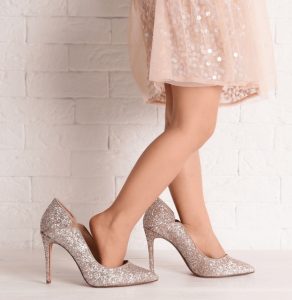 With oversized heels, you will end up making more noise while walking. Therefore, check your shoes if they are oversize. Every time you order your heels on Amazon, ensure you are ordering the right size. Not oversize, or tootight for your feet.
Some soles are noisy as compared to others. In this article, we will discuss further on the best sole to buy for your heels. Keep reading.
When your heels wear out, they expose the metallic tip. When the heel tip comes into contact with a hard surface, they make more noise. Therefore, avoid wearing worn-out heels. It's also dangerous since the metallic tip can easily slide on smooth surfaces.
Let's now dive to the techniques of making noisy heels quieter.
Ways to Reduce Noise from Your Heels
We all agree it's not fun walking on shoes that are attracting attention from everyone around you. The good news is that this problem can be easily solved. Check the following ways and apply them on your shoes. They will eliminate all the noises produced by your shoes.
1. Fix a High Heels Caps on Your Shoes
Some high heels have pointy tips. Pointy tips are worst in making noise. When you step on a hard surface, the sound can be annoying.
However, we have a solution for you. You don't need to worry too much when you wear your high heels shoes.
Buy high heels caps and fix them at the tip. The caps are easy to attach. They will reduce the noise of the high heel by over 80%. The level of noise remaining after fixing the cap will be unnoticeable. Or simply, no one will be bothered by it.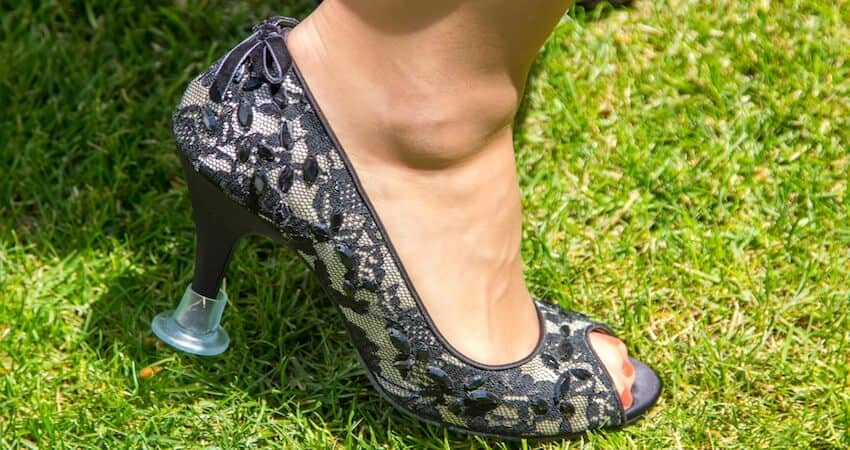 Why the Cap?
As stated earlier, the cap will reduce a high level of noise coming from your shoes. Also, the following are the top reasons why we think the heels caps are ideal for your noisy high heels.
It Covers the shoes' metal tip: The metal tips create more noise on hard surfaces. In addition, its easy to slip on smooth surfaces when wearing shoes with metal tips. Therefore, the cap will reduce slipping cases when walking.
Stable walking: The heel cap will hold you well on the ground when walking. No slipping or walking problems.
Increasing shoes durability: High heals can wear out quickly due to the pressure exerted on the tip. Fixing a cap at the tip increases the shoe layer. The cap will be wearing out and not the tip of your shoe. As a result, your high heels will last longer.
Different colors available: You don't have to worry about the color of your high heel. You will always find a cap that can match the color of your shoe.
The rubber caps absorb the noises produced by your high heels tips. However, the caps won't eliminate 100% of the sound. But you can combine this solution with other techniques. Keep reading as we discuss further methods to eliminate other ways to reduce your heel noise.
Check the following caps on Amazon
MUDDER 6 Pairs Heel Cap(Check on Amazon)
Shoe Heels Tips Replacement Dowels,
8 mm, 9 mm and 10 mm,
Black
2. Use Gel Cushions
Gel cushions will work the same way with sole caps. They absorb all shock and sound produced by your high heels. However, there is a slight difference between the gel cushions and high heel caps. They absorb shock and prevent all noise from your shoes when it hits on a hard surface.
The cushions are not only effective sound deadeners but also gives stability when walking. Wearing shoes with gel cushions will give you normal body posture position when walking.
Why use Gel Cushions
Reduces mishaps and sliding forward while walking on soft surfaces.
They deaden all noise and shock from your shoes.
You can use one cushion gel in multiple shoes. You can paste and switch them from one shoe to another.
Combining this technique with shoe caps will be a great idea to quiet your noisy heels. No one will notice them unless you go shouting, you are wearing them.
However, always remember to replace the gel cushions after some time. The cushions become less effective after they are worn out. Therefore, depending on how often you wear your heels, change the gel cushions after some time.
High Heel Cushions(Check on Amazon)
-Ball of Foot Pads
– Non-Slip Shoe Inserts
– Forefoot Metatarsal Pads
3. Use Foot Foam
Foot foam reduces the impact of the sound produced by heels when walking. It works similarly to gel cushions. The foam is easier to install as compared to the cushions.
After buying your foot foam, peel off the adhesive. Paste the foam on the shoe. Congratulation, you are now done with installation. Enjoy walking on your heels — no more worries about the noise you make with your walking.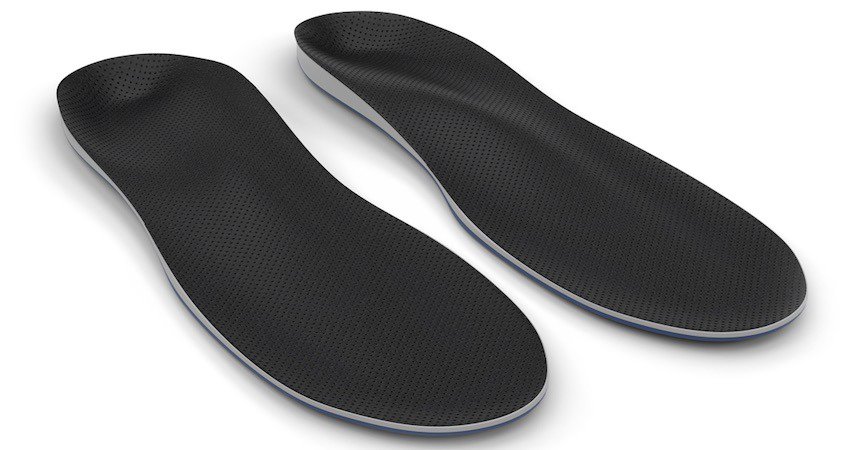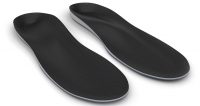 Made with shock-absorbing rubber, the foam is effective in reducing all noises coming from your heels.
However, avoid walking on wet or slippery floors. The foot foam can be slippery.
Consider buying the following foam from Amazon
HappyStep New Orthotic Memory Foam Insoles
Excellent Shock Absorption,
Cushioned Neutral Arch Support
US Men Size: 7-8.5 or Women Size: 8.5-10
4. Add an Anti-slip Sole On Your Heels
Rubber soles prevent noise coming from heels while walking. The soles are also safer. You cannot easily slip even when you are walking on a slippery floor.
However, you have to understand that rubber soles are expensive. It's also not easy to find the rubber soles from just anywhere. But every time you need to change your heel soles, you can get help from a cobbler. Cobblers will help you get the sole and fix it on your shoe.
The rubber sole needs to be installed underneath your shoe. So, it requires experience and expertise. It's not anything you can do on yourself unless you have experience. Otherwise, if you try it, you will lose the shoes, and the money spent buying the sole.
Alternatively, you can buy self-adhesive anti-slip soles on Amazon. After buying them fix them on your shoes. Combine them with other techniques discussed in this article for maximum results.
Non-Slip Shoes Pads(Check on Amazon)
5 Pairs Self-Adhesive Shoe Grips rubber
Anti-Slip Shoe Grips
Noise Reduction
5. Try Duct Tape Method
Duct tapes are effective in soundproofing ducts. The tape can as well be used in reducing noises from the heels. To fix the duct tape on your shoes, follow the following procedure.
Wash your heels completely. Remove any debris and dirt on your heel sole. The dirt will make the duct tape less effective on your shoe.
Dry the heel. Don't attach the tape on a wet shoe. If you do this, the duct won't hold well on your heel.
Attach the duct tape. Use several layers of duct take to ensure the quality of soundproofing — the thicker the tape installation, the better the results. But, remember to fix the tape according to the size of your shoe. Having excess duct tape will make your heel look ugly.
However, you need to be careful when walking on slippery surfaces. The duct tape is smooth, making it slippery.
6. Glue Felt Fabric on Your Shoe
Adhere felt fabric on your heels. Buy a strong and durable felt, then cut it well well with scissors and fix it on your heel with super glue.
Cut the felt according to the size of your shoe and fix it. Alternatively, apply super glue on your heel, place the felt on it, and wait until it dries. Once the felt sticks firmly on the shoe use scissors to cut the felt that is not attached to the heel.
When your felt wears off, reapply it. Follow the same procedure.
The felt fabric absorbs shock and deadens all the noise coming from your shoe. Instead of using the heel cap, you can try this simple technique on your shoe, and it will eliminate most of the noise produced when walking.
7. Walk With Confidence
Your walking style is a contributing factor to the noise produced by your heels. As you learn to walk with high heels, you will make more noise than someone stable and used to walking with the heels.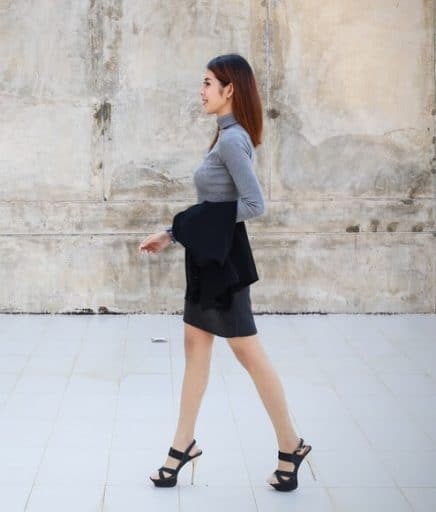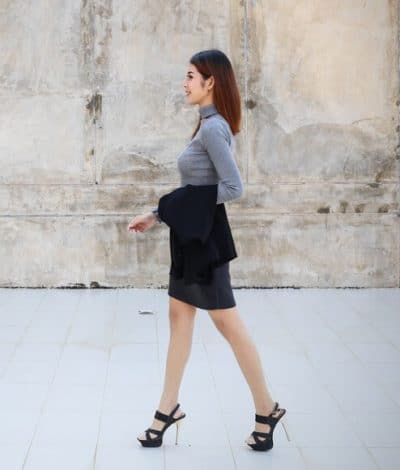 To achieve the best results while walking with your high heels, consider the following tips.
Body Posture: Try your best and walk in an upright posture. This is difficult when learning to walk with heels. However, with persistence and patience, you can achieve this posture. As you walk uprightly, you will notice the noise from your heels will decrease.
Mind Your Steps: When walking with your heels, lead with the foot. Never lead your steps with the heel. When you lead your steps with the heel, your shoes might collapse and make more noise. Worst case can happen if you slip and fall.
Involve Your Entire Body in Walking: Walk with head held high, pelvis in neutral, abdominal muscles pulled in, chest pressed down and maintain Y-step.
Practice makes perfect: Practice walking with your heels on any surface. Try and master techniques of walking quietly on dry surfaces.
Avoid Walking on Dry Surfaces if You Can: When heels come in contact with dry surfaces, they are likely to make more noise. Therefore, if you are walking in a room with carpet, avoid walking on the dry surfaces. Walk on the carpet or any other surface that will not produce much noise.
Wear Heels that Fit you: Loose heels are likely to make more noise when walking. The empty spaces will magnify the sound from your shoes. Therefore, always wear shoes that fit you properly. However, be careful not to wear shoes that are too tight. Tight shoes will injure your feet.
8. Buy Quiet Heels
If you try everything discussed in this article, but you still hear some noise, consider buying quiet shoes. In fact, if you can purchase quiet heels from the start, go for it. You will save yourself much pain. There is no greater alternative than having quiet shoes.
Get factory silenced heels. Most manufacturers are aware of this problem caused by heels while walking. This is the reason why it's essential to get classy heels that won't embarrass you next time you walk to a room.
Quiet heels are manufactured with rubber soles. As discussed, the rubber sole can absorb noise created by heels when they come into contact with solid ground.
Check the following rubber heels on Amazon.
Guilty Shoes Womens Cutout Gladiator Ankle Strap Platform Block Heel Stiletto Sandals
Fine quality
Rubber sole
Different sizes available
DREAM PAIRS Women's Swan-30 High Heel Plaform Dress Pump Shoes
Man Made Material
TPR RUBBER sole
FITTING TIPS: TRUE TO SIZE, WIDE WIDTH CUSTOMERS ORDER HALF SIZE UP.
Heel height: 5″ (approx)
Platform height: 1.25″ (Approx)
Women's Laser Cut Out Ankle Strap High Heel
Open Toe Sandal Pump
Chunky Wooden Heel Platform Shoe
Guilty Shoes
Womens Cutout Gladiator Ankle Strap Platform Block Heel Stiletto Sandals
Synthetic
Made in USA and Imported
Platform measures approximately 1.25
MATERIAL: Synthetic & Suede
Factors to Consider When Buying a Quiet Heels
Not every heel is available in the market is quiet. Therefore, be careful when buying a quiet shoe. Consider the following factors.
Sole: The heel sole plays an important role in reducing the noise produced when walking. It's obvious by now; you know rubber soles are the best. You won't hear much noise from the heels while walking.
Comfort: Choose to buy comfortable heels. The high heels should be a maximum of 2 inches if you want to walk without difficulties. If they are high than that height, you will struggle your feet. At the same time, you will make more noise when walking. Avoid any heel that makes your walking difficult.
Size: Buy shoes that fit you well. The heels should not be oversize. The remaining space in your heel will amplify the noise from your shoes. Also, when you wear too-tight shoes, they will injure your feet. Therefore, choose to buy shoes that fit you perfectly.
Design: Do you prefer open or closed heels? Consider buying heels that are comfortable with you. Don't buy a design that will make you feel uncomfortable. You need to walk with confidence if you need to make your noisy heels quieter.
Budget: This is the last thing you need to factor in. It's very essential. You need to buy a shoe that is within your budget. In the market, there are all categories of shoes. Don't break a bank to buy a heel that seems to be best for you. But if you can afford it, why not? Go for it. Rock your way every day with that classy look.
Final Words
You don't have to worry about noise when walking on your heels. Soundproof your shoes and walk like a boss. To achieve the best results, combine different soundproofing techniques. Whether it's fixing your heel cap or gel cushion, there are affordable techniques that you can fix them yourself.
If you want a permanent solution, buy quiet heels from Amazon. Your confidence in walking with heels will be improved — no more worries.