As an Amazon Associate, we earn from qualifying purchases at no extra cost to you.
As much as you love to drive with your favorite hit song, road noises will always ruin the fun. Fortunately, this should not bother you again. This problem can be fixed. Sound deadening materials will improve the quality of your car's sound system and reduce all other road noises.
Sound deadening materials absorb all echoes. A car fitted with deadening materials produces clear music.
Dynamat and FatMat are the common sound deadening materials. Despite their popularity, the two have diverse differences. This article will compare the two options and see which one is better than the other.
Aren't you bothered by the traffic noise? Without proper soundproofing your car, you cannot enjoy your ride. The horn of trucks, motorcycle revving, and all road noise will frustrate you on the road.
Due to poor soundproofing, the quality of your music will be affected. If you want to note the difference, just listen to music from a car that is not soundproofed. Listen to the stereo when the car is parked. Compare the experience with the sound you hear when the car is running. You will note the deference.
Therefore, to enjoy your rides, you should soundproof. The most effective technique is to add sound deadening materials to your car.
Sound deadening materials are flexible. They can be cut into desirable sizes. The best thing is that they come with adhesive backing. This makes them ideal for fixing them over your car.
However, you need to understand that sound deadening materials are not a noise barrier. They work by absorbing the sound and vibration wave.
This article, therefore, compared two automotive sound deadening materials;
Dynamat vs Fatman
1. What is Dynamat?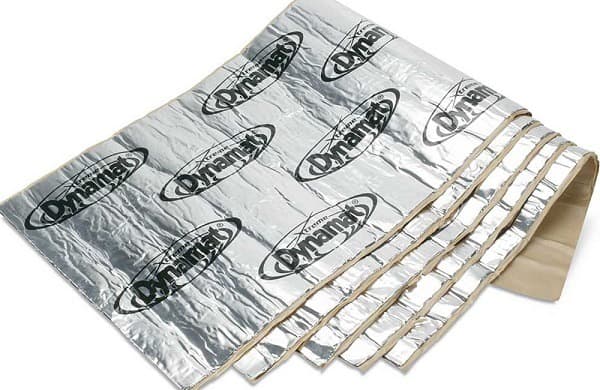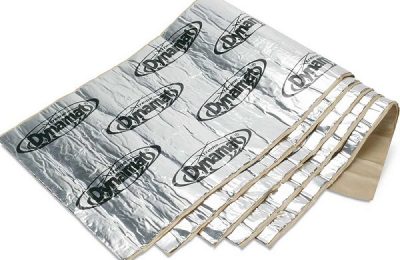 Dynamat is one of the best sound deadening materials in the market for cars. It makes the sound system in a car acoustically loud. It gets rid of all unwanted noises from outside. When you choose Dynamat, the quality of the soundproofing is guaranteed.
It's more expensive than most of the sound deadeners in the market. This is due to its efficiency.
The sound deadener does not only improve the sound quality. It also reduces road noises by more than 50%. The material is durable. Its coated with aluminum boots. Dynamat reduces a large number of road noises than all the other sound deadeners.
The design of most sound deadeners produces strong smells. However, Dynamat leaves no odor when used in your car.
Dynamat material can be used for different purposes. It can be used to soundproof home theaters, reducing humming and heat from the exhaust system, canceling vibrations, and soundproofing homes or offices.
Using a little of Dynamat gives a huge effect to soundproofing.
Pros:

Quality make and construction
Odor free
Durable
Effective
A little give enough performance
Cons:

Difficult to install
Expensive as compared to Fatmat
2. What is Fatmat?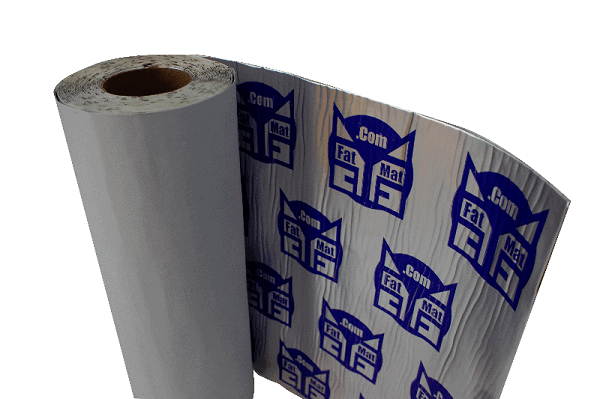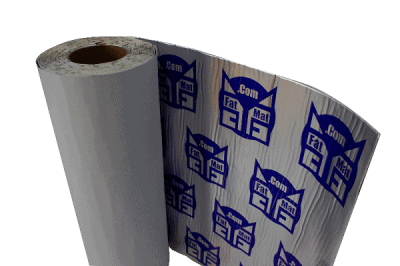 If you are looking for a sound deadening material that will boost your bass, look no further, Fatmat will get the job done. It also improves music sound quality and reduces road noises by more than half. Above all, its one of the cheapest options in the market.
Fatmat is made with asphalt. It's one of the best and thinnest Asphalt sound deadeners. It has a thickness of 50 mils. However, it comes with the odor of a newly tarmacked road.
Fatmat only performs better in colder areas due to its composition. Using it in hot temperatures, it causes major damage to the material. Therefore, it cannot be installed in cars driven in hot weathers.
As compared to Dynamat, it's easy to install though the installation process is tedious.
You can also use Fatmat to soundproof your homes and offices. It can be used on floors and door panels. It can soundproof all noises from entering your premises. Also, it reduces audio vibration.
Pros
Affordable as compared to Dynamat
Asphalt-based composition
Effective in noise reduction
Absorbs audio vibration
Cons
Has a strong odor
Doesn't perform in hot climates
Relatively thin
Why is Dynamat a Better Choice than Fatmat?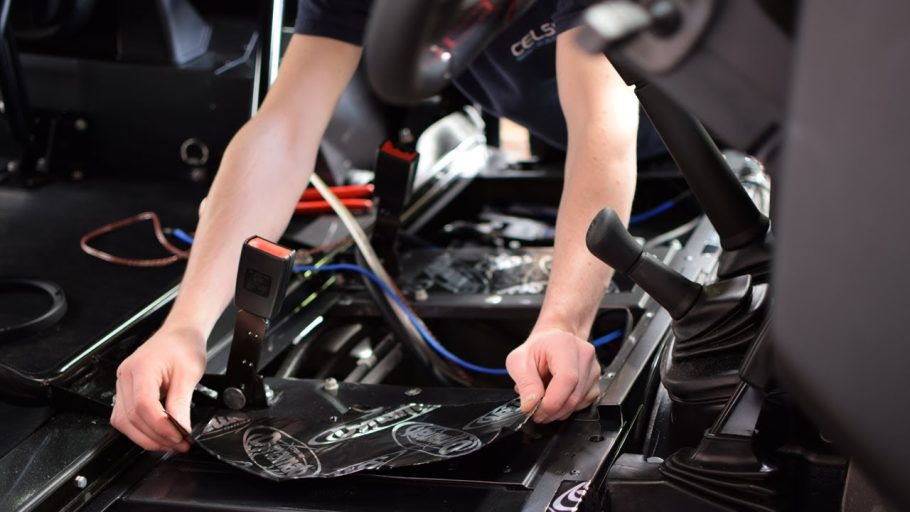 There are four reasons which make Dynamat a better choice.
It is highly effective in the reduction of road noise and improving the acoustic sound in the cabin.
It's not made of Asphalt. This factor is everything that you should look for when buying a sound deadener.
It's odorless.
It can function well both in cold and hot climates.
These are important features that are not found in Fatmat. Hence the reason the Dynamat is more expensive than Fatmat. However, it's worth the price. Check our recommended dynamat bellow, that we have tested on our vehicles & got really good result.
Dynamat Installation
You have to understand that Dynamat is not easy to install. It's tricky for most people. It's the most difficult sound deadener to install. Its thickness is to blame for the installation difficult.
Therefore, it requires extra time and energy to install. But we guarantee you that it's worth the investment you will have to make on it. It is the most difficult to install, but it gives the best sound protection.
Before you attempt to install it, it's essential to understand how the installation process of sound deadening material works.
Because of its thickness, you will have a difficult time cutting it. Therefore, we don't recommend you to install it yourself. Unless you are an expert, otherwise, hire a professional. Let them handle the installation for you.
You don't want to spend money buying a good deadener and destroy it when installing.
Where to Use Dynamat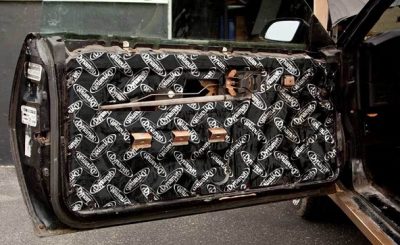 Dynamat has more uses apart from insulating cars. You can use anywhere you want to eliminate noise. Whether it's your office, room, home theater, home appliance, gym, and the list goes on, Dynamat will give you excellent results.
Therefore, it's up to you to decide where you want to use it. It doesn't matter; you will get great results when you use it. It can cover smaller areas, and so are large areas.
When installing Dynamat, priority should be in the front of the cabin under the floor mats. This is where most of the road noise comes from. After that place it under the floor mats in the rear seats.
After soundproofing your floors, fix them on your doors and roofs. For doors, you will need to order a special door kit available on Amazon. If professionally applied, you can achieve great results without 100% coverage.
Why Buy Your Dynamat on Amazon?
The price is relatively high than Fatmat. However, if you can afford it, don't settle for anything less. No other sound deadener will give you such experience as Dynamat.
The best thing with Dynamat is that you don't need to cover the entire car. Soundproofing a smaller area will reduce the noise.
Buy Dynamat on Amazon
80 mil 36 sqft
car Sound deadening mat,
Audio Noise Insulation and dampening
Butyl Automotive Sound Deadener.
19%
(* = affiliate link / image source: Amazon partner program)
12″ x 36″ x 0.067″ Thick
Self-Adhesive
Sound Deadener with Xtreme Door Kit
19%
(* = affiliate link / image source: Amazon partner program)
Single Sheet, 2 Sq FT, 24″ x 12″
Black Aluminum with Self Adhesive (peel off) Butyl Rubber backing
Wholesale product, Bulk packed
Folded 2 times (into 3rds)
Includes installation instruction sheet
Problem with Asphalt Based Sound Deadener: Fatmat
As mentioned, asphalt-based deadeners are only suitable in cold climates. In hot temperature, Fatmat will melt. It will emit an unbearable smell. We are sure no one would love to drive a smelling car.
The melting can stick in your car and cause a huge mess. However, if you live in cold weathers throughout the year, you can choose it as your Deadener.
1. Fatmat Installation
Asphalt melts. Therefore, you need the right heat temperatures when installing FatMat. It's easier than Dynamat, but it's still a bit hard to install.
When installing, be careful to ensure that there are no materials that seep out. Do your best to let no material fuse or stick into your FatMat. If anything sticks on it, it might be difficult to separate them.
Just like Dynamat, we recommend that you don't install Fatmat on your own. Seek help from a professional.
2. Where Can I Fix the FatMat?
Just like Dynamat, FatMat can be used on different projects. Majorly it's used on floors and doors to reduce road noises. Besides that, it can be used in homes, offices, and any other premise you would wish to soundproof. The only requirement is that it should be in a cold weather area.
Buying Fatmat on Amazon
Fatmat is relatively cheaper. Also, it has a high value at its price. If your goal is to cover much of your area, therefore, FatMat is the best choice for you.
If you live in cold areas, check the following Fatmat on Amazon. If you will be driving in hot temperatures at some point, buy the Dynamat we have recommended to you.
Buy Fatmat on Amazon
(* = affiliate link / image source: Amazon partner program)
Thickness of 110mil
Self-Adhesive
Sound Deadener with Install Kit
(* = affiliate link / image source: Amazon partner program)
Black Butyl
MegaMat Sound
10 Sq Ft x 70 mil Thick
Final Word
In our opinion, Fatmat and Dynamat are great sound deadener materials. The difference comes with the temperatures around you. However, one thing is for sure: Dynamat is way better than Fatmat.
When it comes to effectiveness and quality, Dynamat takes it all. Therefore, if you are looking for an efficient product that can be relied upon, choose Dynamat. But if you are looking for a cheaper alternative, go for Fatmat. It will suit you perfectly. But only if you are living or driving in colder areas.
Have a look on this video to get know sound deadening material installation properly.