As an Amazon Associate, we earn from qualifying purchases at no extra cost to you.
You must have heard about soundproof paint if you have been looking for ways to soundproof your walls or ceilings. And probably like most people, you are still wondering whether the paint works. Or it is like just like the normal paint.
If that defines your current situations, you are on the right page. Welcome and join us as we discuss everything about soundproof paint, how it works, and its effectiveness.
Let's get started.
What Exactly is Soundproof Paint?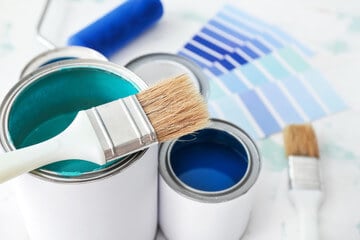 Soundproof paint, commonly known as acoustic paint, is a thicker and fast-drying, water-based compound. It can dampen noises and vibrations passing through them.
Soundproofing paint is suitable for both interior and exterior painting. Just like any other paint, you need to either spray, trowel or rollover your surface to apply it. It's commonly applied to ceilings and walls for better performance.
Soundproofing paints are easy to use, eco-friendly, and able to reduce some level of noise passing through them.
The Difference Between Soundproofing Paint and Normal Paint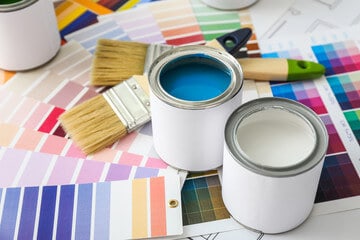 One noticeable difference between soundproof paint and normal paint is the thickness. Even if you don't know much about paints, you will see the soundproof paint appear thicker than the normal paints.
The thickness of the paint is because it is a heavy-bodied water-based paint. Its thickness is as a result of sound-absorbing fillers and ceramic microspheres. These two components are not found in the normal paint which as a result, appear to be thinner than the soundproof paint.
Another difference comes from the make of the paints. Most soundproof paint you will find in the market they are made of Latex, also known as Vinyl acrylic. The paints also have chains of polymers that bind the water surfaces created by a water-based surface on the paint.
The acrylic substance in the paint plays a major role in providing thermal and acoustic insulation over the surface that it's applied.
We also mentioned that soundproof paints have ceramic spheres. The spheres give a uniformity to the paint. When you apply it over your wall or ceiling, it leaves no gap. As a result, it dampens the noises and vibrations that could have easily escaped over the gaps. The ceramic spheres also help in reducing echo that could be bouncing over your wall or ceiling.
Unlike the normal paint, soundproof paint does not come in multiple colour choices. You can only choose between a few colour options that you will find in the market.
When you think about its cost, it's not that cheap or expensive, depending on the soundproof paint you choose, it will cost you an average of $30.
The soundproof paint might appear chunky despite how well you mix it. The paint will give your wall some texture on it. Even after applying it, it won't look like the regular paint.
How Does Soundproof Paint Work?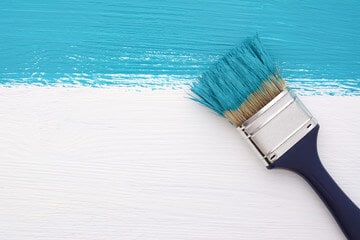 The rule number of soundproofing is on thickness. The thicker the soundproofing material, the better the soundproofing effects. The same applies to soundproof paint.
As earlier discussed, soundproof paint is thicker than regular paint. This is because it has heavy bodied materials made of latex and ceramic microspheres. These materials give the paint the thickness it needs to have a higher absorbing power.
So, when applied over your wall or ceiling, it will cut some noises and vibrations. The thickness of the paint will dampen sound movement and reduce it to some level.
In short, soundproof paint will act as a thick and soft surface. The soft surface reduces echoes that would hit and bounce over your wall while the thickness dampens noises passing over the wall.
When you want to soundproof your home, you need to have in mind that you don't need to paint your entire wall. Focus on critical rooms in your home where you need to regulate the noise from.
To get better results, it's advisable to apply three layers of the soundproof paint. This will give you a better thickness as compared to having a single layer of the painting.
Does the Soundproofing Paint Really Work on Walls and Ceilings? We have already talked about the difference between the soundproof paint and regular paint. Also, we have seen how soundproofing paint works. But the question remains – does is it really work?
You might be wondering whether it's worth investing in soundproof paint.
To answer this, you need first to understand the level of effectiveness of the soundproof paint. Basically, the soundproof paint reduces up to 30% of normal sound frequencies. Normal frequency sounds include the sound of people talking.
So, if you can still hear people shouting or talking from the next room, you might consider using the paint.
Soundproof paint normally reduces noises over the wall or ceiling by 3-4 decibels per coat. And we already mentioned that you need to apply on average three coats over your surface. This would mean that the noise reduced would eventually be between 6 to 12 decibels.
With that said, we can clearly say that soundproof paint works to some extent. It all depends on the noises you are dealing with at your home. If you are dealing with normal and low-frequency noise, the paint might work to some extent and reduce the noise.
However, if you want to reduce high-frequency noise and vibrations, the soundproof paint won't work. In this case, you will need to combine the soundproof paint with other techniques. Alternatively, you might be forced to use a different method to see meaningful results in soundproofing your walls and ceiling.
Application of Soundproof Paint
Applying acoustic paint is a bit different from applying the regular paint. You will require some equipment's however, there are some unique things you need to put in mind. The following are tips you should be aware of when applying soundproof paint.
1 gallon of paint will cover an estimated area of 100 sqft with one coat. The paint doesn't give much coverage due to its thickness that does not spread so well.
The paint will take more time to dry as compared to standard oil-based paints. When painting, wait for a minimum of 32 hours for one coat to dry and apply the second one. And the same time should be allowed for the third coat as well. We also recommend that you don't apply the paint during winter seasons – it will take a longer time to dry.
For noticeable soundproofing effects, we recommend that you apply the paint in at least three layers.
Due to thermacels, the paint is rough to touch, and it has an abrasive feel. To deal with this its advisable to apply a regular paint over it. But this should only be done when the paint has already dried up.
Where to Buy A Soundproof Paint

If soundproof paint seems like something that would give you a solution to low-frequency noise from your home, you can buy it and apply it over your walls and ceilings. The paint is available on Amazon. You can order it today and begin soundproofing your house.
Acousti Coat – Sound Deadening Paint – 1 Gallon
Nontoxic and Environment-friendly
Dampens ringing and tinning noise in metal structures
You can apply with a hopper spray gun, roller, or brush
Easily cleaned with water and soap
The paint is available on Amazon. Click here to check the latest price and buy it from Amazon today.
Alternative and Effective Techniques to Soundproof Walls and Ceilings
Soundproof paint reduces a certain level of noise. However, if you want to deal with a high-frequency level of noise, you need to use better soundproofing techniques. Some of these techniques will completely block the noises passing through your ceilings and walls.
The following are some of the most effective techniques that you can use to soundproof your ceiling and walls.
Use Acoustic Foams
If you are dealing with high impact noises passing through your ceiling and walls, acoustic foams are the solution to your problem. Acoustic foams are specifically designed for soundproofing studio and music rooms.
They have materials that absorb and soften sound and vibrations.
When you install the acoustic foams over your wall and ceiling, you won't hear the noise coming from outside. Also, your neighbours won't complain about the noises coming from your house. They absorb and soften all the sounds.
You will hardly notice the noise when you are outside.
And when you think about installation, they are hassle-free. Most acoustic foams are self-adhesive. You buy, peel and stick them over your wall or ceiling surface.
If you are looking for a technique that would deal with most of the high impact passing through your walls or ceiling, buy the acoustic foams today. The following are the best foams you will find in the market. Buy them from Amazon today and say goodbye to noises.
Foamily 12 Pack- Acoustic Panels
Price:
$44.95
(As of: 2023/09/27 9:01 pm -
Details
)
12 Pack covers 12 square feet
Professional acoustic control
Great for spot treating sound on walls
Mybecca 12 Pack- Acoustic Panels
Price:
--
(As of: 2023/09/28 8:03 am -
Details
)
0 new0 used
(* = affiliate link / image source: Amazon partner program)
12 pack means
Professional acoustic control Acoustic
Sound deadening material
2. Mass Loaded Vinyl
Mass loaded Vinyl performs just the same as acoustic foams. They are specifically built for soundproofing walls and ceilings.
You can use them to soundproof medium and high pitched noises.
To soundproof your wall, they use two different techniques – sound absorption and blocking. They absorb sound vibrations passing through them and turn them to heat energy.
Also, any noise bouncing over the Vinyl mat, it bounces over it. Its soft surface ensures that the sound doesn't produce an echo as it bounces over the wall or ceiling.
The mass loaded vinyl is available on Amazon. Buy them today and begin soundproofing your home without much stress.
Price:
--
(As of: 2023/09/27 9:01 pm -
Details
)
0 new0 used
(* = affiliate link / image source: Amazon partner program)
1lb – 4'x12.5′
Soundproofing Barrier for Walls, Floors, Ceilings, and doors
Self-adhesive
3. Seal All Gaps over Your Ceiling or Walls
Most of the time, you will hear noises through your walls or ceilings is because there are gaps over them. Air gaps allow noises to pass through easily.
So, if you want to deal with the noises over your wall, first inspect any crack. Find out if you will see a crack or air gap over the wall and fix it.
This is common if your wall or ceiling is wooden. The cracks and air gaps are commonly where the wooden material joins.
After identifying the air gaps, get an effective sealant, and close the cracks. The easiest and most effective technique to seal air gaps is to use the weather-strip tape to seal all the gaps. Your aim should be to ensure that all air spaces are sealed and nowhere will the noise escape through.
Buy the following soundproofing tapes to seal all the gaps over your ceiling and walls.
Price:
$17.98 ($1.38 / Foot)
(As of: 2023/09/28 8:01 am -
Details
)
You save: $5.01 (22%)
1 new from $17.98 ($1.38 / Foot)1 used from $15.98 ($1.23 / Foot)
(* = affiliate link / image source: Amazon partner program)
Foam Adhesive Strips
2-Inch-Wide X 1/4 Inch Thick
Total 13 Feet Long
Price:
$10.99 ($0.33 / Foot)
(As of: 2023/09/28 7:52 am -
Details
)
1 new from $10.99 ($0.33 / Foot)0 used
(* = affiliate link / image source: Amazon partner program)
Seal, Doors,
Waterproof,
Sound Dampening
Craft Tape (33 Ft- 1/8″ x 2″)
Verdict
Soundproofing your ceiling and walls shouldn't be a difficult task. All you need is to understand the nature of the noise you are dealing with.
The nature of the noise will determine whether soundproof paint will work on your case or not. We cannot entirely say that the soundproofing paint works or doesn't work without understanding the nature of the sound you need to soundproof.
One thing we are sure of is that soundproof paint will only reduce 30% of the normal low-frequency noise. This includes the sound of people talking on the other side of the wall or ceiling.
However, if you are looking for a more effective technique method to reduce most of the noises, you can use the techniques we have recommended in this article. Most important, you need to buy quality materials from Amazon.