As an Amazon Associate, we earn from qualifying purchases at no extra cost to you.
It can be difficult to choose between Dynamat and Boom Mat. Both mats seem to offer amazing results. The only major difference is the pricing.
Dynamat is expensive than Boom Mat. And this can easily mislead you to think its better than Boom Mat. But is that the case?
In this article, we seek to answer this question. We will share with you everything you need to know about these two mats. Use this information to make your decision.
How Do Dynamat and Boom Mat Work?
Both Boom mat and Dynamat are made with an odorless butyl rubber compound. It's an excellent sound deadener. The odorless property of these two mats makes them one of the most preferred sound deadeners by most users.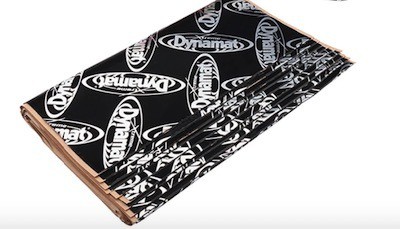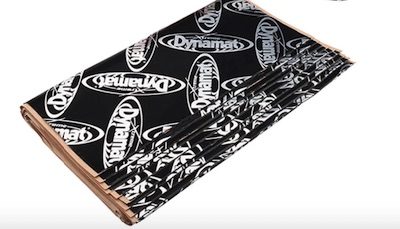 Both the mats have friendly self-adhesive compounds. When installing them, you don't have to worry about harmful and smell chemicals.
Both mats block sound from entering into your car or anywhere you are using them to soundproof. The rubber material is also good at absorbing and deadening sound vibrations you will get from outside.
These two deadeners work by absorbing and blocking noises to areas you are soundproofing.
The mats also do not burn. They are fire-resistant. As a result, they are perfect not only for soundproofing but for insulation.
Butyl rubber is dense. It's density blocks all sound waves and bounces them back. And the fact that it's soft, it softens the sound bouncing over it. As a result, when used in cars or rooms, it improves the interior acoustics.
Dynamat Review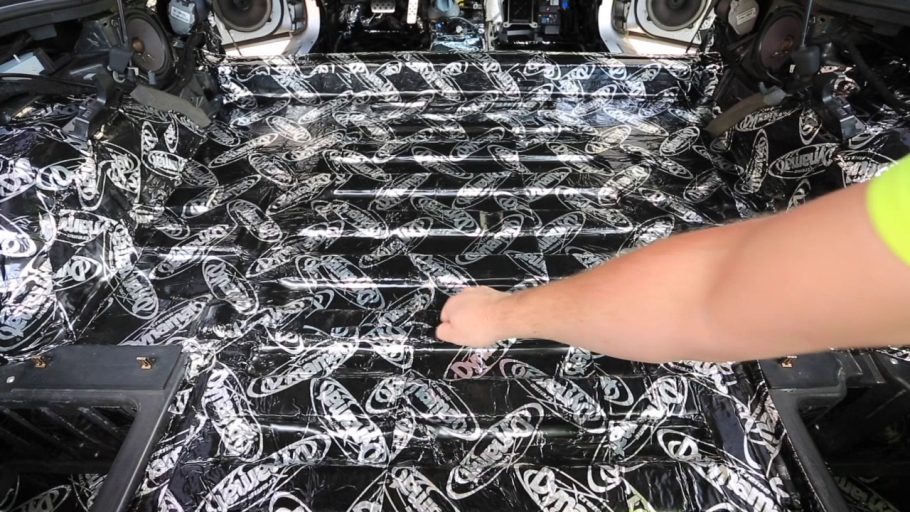 Dynamat is a sound deadening material that has been in the industry for a long time. It's a preferred choice over most of the soundproofing mats available in the market today.
Dynamat reduces automotive noise but also improves the quality of your car audio. It blocks all noise from the car engine, vibrations, and car movements. At the same time, it absorbs all the echoes in your car cabin. This is why the mat improves the quality of your car audio.
The mat is also perfect for heat insulation. Your car remains cool during hot summer days.
Dynamat Features
Permanent Adhesive: The mats have a lasting, seem adhesive for installation. After installing the Dynamat, it does not come off. It remains intact even when temperatures are high.
Aluminum Coated: Dynamat comes with an aluminum coating. The coating enhances heat resistance on the mat. It does not absorb heat.
Compatibility: Dynamat is made up of a material that is compatible with different car surfaces. Therefore, without any difficulty, you can apply it on different surfaces and hold firmly.
Flexible material: The mat is flexible and can be used to soundproof flat surfaces, corners, and curves.
Multiple functions: Besides soundproofing, the mat also insulates the car from excess heat. It also reduces the rattling of subwoofers. Therefore, when used in a vehicle, it enhances the overall bass effect of a vehicle.
Pros
No heating is required to install.
Improves subwoofers' sound quality.
Efficient in deadening vibrations, noise, and heat.
Aluminum coated.
Cons
Expensive
It requires a separate tape and roller to seal the seams between two mats
Best Dynamat Mats Available in the Market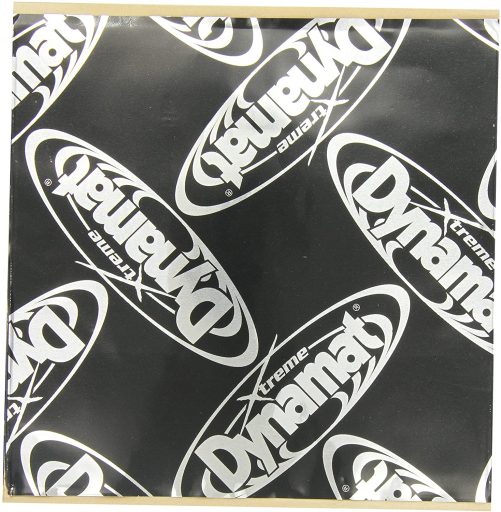 One thing you will love about Dynamat is that they come with varieties. You will find a mat that will suit your needs easily.
The following are various Dynamat available in the market.
Dynamat Xtreme is the most popular mat. It's made of Sticky butyl rubber coated with an aluminum alloy skin. Mat is super-thin yet very effective.
Dynamat Xtreme doesn't tear down. And unlike most soundproofing Mats, it doesn't leave a rubber smell in your car.
The mat comes in different sizes.
Click here to check the latest price and buy the Mat on Amazon.
12%
(* = affiliate link / image source: Amazon partner program)
Dynamat SuperLite is efficient for blocking car vibrations and road noises. As compared to Dynatmat Xtreme, it's thinner and light-weighted by 30%.
Therefore, if you don't want to add more mass to your car, this is the mat to choose from.
Despite its lightweight and thickness, its effective in soundproofing. Its installation is also easier; there are no special installation requirements needed to fix it over the car surface.
Therefore, if you a looking for a mat that will work effectively and still maintain the weight of your car, buy Dynamat SuperLite on Amazon.
(* = affiliate link / image source: Amazon partner program)
Dynaliner is a mat that's used alongside Dynamat. Normally, it applied on top of the Dynamat. It has a self-adhesive soft, closed rubber cell. With its structure, it makes an excellent heat insulator. The cells are also arranged in a way that water or oil can't go through it.
Dynaliner is strong and durable. It doesn't wear out easily.
Check the latest price and buy the mat on Amazon.
Boom Mat Review
Boom Mat is a sound dampening peel and stick dampening sheet. It has two layers – a black rubber butyl layer and a foil layer. The butyl layer is either 4mm and 2mm thickness. The foil layer, on the other hand, is 4 mil.
The Boom Mat is thicker than most of the soundproofing materials you will find in the market. Common sound deadener mats have a thickness of between 1.5 mm and 3mm.
Boom Mat Features
Butyl Rubber Construction: The mat is made with a fire-resistant rubber material. The material is dense enough to block noises.
Foil Coating: The rubber material is wrapped with a strong foil material. This feature makes it easy to cut your mat into desired sizes when soundproofing.
Self Adhesive: Boom mat comes with an adhesive material to peel and sticks on your surface. You don't need any chemicals during installation.
Flexible Option: The mat comes in two material options to choose from. You can either choose the 2mm or 4mm thick mat. Also, the rubber material makes the mat easy to install over any surface – corners, curves, and straight surfaces.
Heat Insulation: Butyl rubber is resistant to fire and heat. As a result, the mat makes a perfect insulator for your car.
Pros
Easy to install
Comes with different size options
Affordable
Flexible
Boom Mats Available in the Market
Design Engineering 050137 Boom Mat Sound Deadening Headliner
(* = affiliate link / image source: Amazon partner program)
This is a mat specifically designed to fit a Jeep Wrangler. It reduces noises entering into your car cabin. It also insulates cold and heat from the car engine or during harsh weather times.
When used over your car, it works perfectly.
Key Features
Reduces noises
Easy to install
Comes with fitting designs for a Jeep Wrangler
The sound deadening material is available on Amazon. Click here to buy it today and start soundproofing today.
Design Engineering 050130 Boom Mat Under-Hood Thermal Acoustic Lining
(* = affiliate link / image source: Amazon partner program)
Here is a mat that will block vibrations and noise from coming through your wood. For effectiveness, it's applied in the underside of the hood.
All you need to do when installing is to peel and stick.
The mat is also resistant to contaminants, water, and oil. With its insulation ability, it protects your painting work from an overheating car engine.
Key Features
Insulate under-hood
Blocks most of the external noises
Self-adhesive peel and stick mat
The contaminant, water, and oil resistant
Click here to check the latest price and buy the Boom Mat on Amazon today.
Dynamat vs Boom Mat: Which is Better?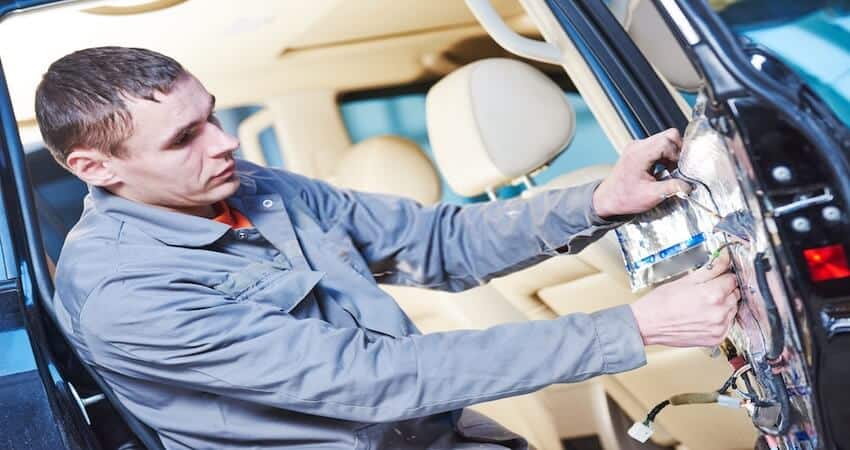 Boom mat is considered as one of the main competitors for Dynamat. Dynamat is more popular. To determine which of mats is better, there are some factors that we need to consider.
If you are wondering which is the best between the two mats, here is a close comparison. Take a look.
Effectiveness
Mat effectiveness is majorly depended on the thickness and material used on the deadener. And when it comes to thickness, the Boom mat comes with two thickness options. This makes it a flexible option. You can choose either to buy the 2mm or 4mm thick mat.
So, in short, it offers a more flexible option of mats more than Dynamat.
Dynamat, on the other hand, has a standard thickness. But one thing that makes Dynamat a great option, it's the fact that its rubber material is protected by aluminum surface. The layer of aluminum material makes Dynamat strong and one of the best sound deadener in the market.
Winner: Draw. Both mats have great features that make them effective.
Ease of Installation
Installation is an important factor that you shouldn't ignore. Both the mats can be installed even without much experience. They all have a self-adhesive compound for ease of installation.
However, Boom Mat is easy to install than Dynamat. All you need to do is cut the material to the desired sizes. Once you have the desired sizes, peel the backing off and stick them on a clean surface.
The fact that Boom Mat is coated with a foil makes them easy to cut, unlike Dynamat that has an aluminum coat on it.
Winner: Boom Mat. It's easy to cut and install over your surfaces.
Usage
Dynamat and Boom Mat are for automotive soundproofing. But this doesn't mean they can't be used in other soundproofing projects.
Both Boom Mats and Dynamat work well in automotive and other environments.
Their ability to withstand high temperatures makes them perfect for soundproofing other appliances that overheat.
Winner: Boom mats do an excellent job over different soundproofing projects.
Budget
You should think about the cost of the mat before buying it. Dynamat is more expensive than Boom Mat. Per 36 square-feet of material, the Dynamat will cost you around $249 while Boom Mat will cost around $198.
Winner: Boom Mat
So, Which is Better?
Both mats are excellent. They will perform an excellent job when used in soundproofing. Both mats use the same method in soundproofing. But when compared, the Boom mat has more benefits. It's flexible, easy to install, and cheaper than Dynamat.
Our Final Thought
As mentioned, Both Boom Mat and Dynamat are excellent sound deadening material. Dynamat is one of the best and popular products that have been in the market for a long time. Its durability over Boom mat is something to think of when making your decision.
If you are not under budget, we have no doubt when recommending to you, Dynamat. It will do an excellent job for any soundproofing project you want to carry out.
However, if you are looking for a less costly but yet effective product, Boom mat got you covered.
Both mats are excellent. But for technical jobs, always go for Dynamat. For your professional car sound deadening, money should be the last thing you think of.