As an Amazon Associate, we earn from qualifying purchases at no extra cost to you.
Your home should give you comfort that you can't find elsewhere. Nothing should come between you and your space in your own house.
However, this is easier when said than done. Sometimes, you might be sleeping in your bedroom, and you can hear noises from your teen's gaming room. Other times you watch your favorite program on TV, but the noise from outside can't let you enjoy any minute.
With noise, your home can turn to be a living hell.
But there is a solution. You can let people enjoy their space and soundproof your home — no need for destroying the fun of your kid's gaming or develop bad blood with your neighbors.
Noises Through the Door
The door is the most notorious part of your house when it comes to noises. There are so many air gaps in it. Whenever you hear much noise coming from your door, it might be hollow.
Hollow doors are majorly made of MDF of cardboards. These two materials leave an empty space between them. They allow more noise to cause disturbances in the house more than any other material.
Fortunately, there are simple techniques that can be applied to the door to reduce the noise.
4 Simple Ways to Soundproof a Hollow Door
The main goal of soundproofing a hollow door is to thicken it. The thicker the door is, the better the soundproofing efficiency. Noise will be easily dampened.
The following are simple techniques to soundproof the door.
1. Use Soundproofing Blankets
Soundproofing blankets close all the air gaps over the hollow door. Apart from the air gaps, the size, and thickness of the door matter a lot. The thicker the door, the efficient it is in soundproofing.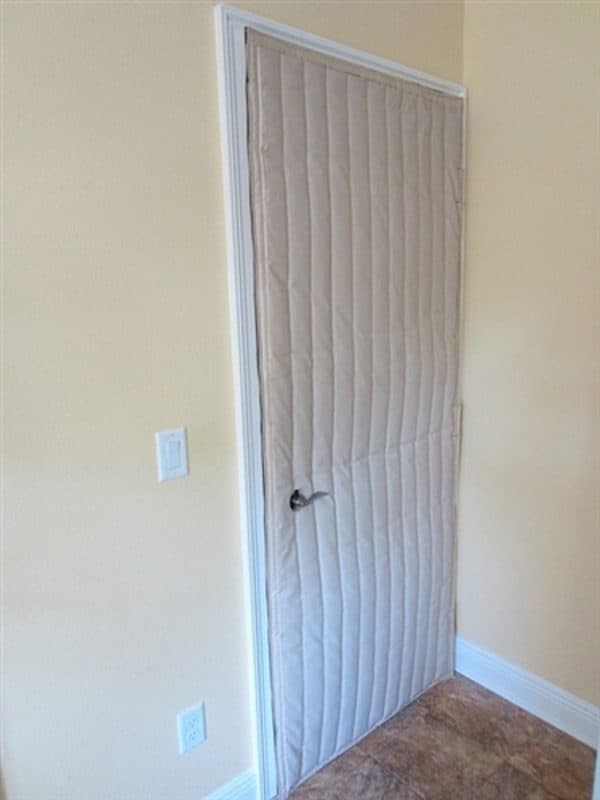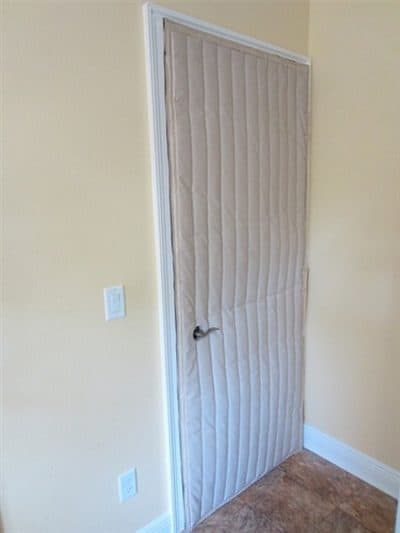 Soundproofing blankets work efficiently. They are thick and do not allow sound or air to pass through them. Best soundproofing blankets are also readily available on Amazon. You can install them on yourself. So, you don't have to worry about anything when you think of soundproofing blankets.
Pin the blankets on the doors. Do this from the inside the bathroom. Alternatively, hang the blankets like you would hang curtains.
You can opt to glue or use nails to attach the blankets on the door.
Alternatively, you can buy soundproofing blankets with grommets. These blankets can be hanged over the door. Hang them on curtain rods or rails. Just like you would attach the standard curtains.
For effectiveness, buy the thick blankets. Also, install layers of soundproofing curtains.
Soundproofing curtains can be used on all doorways where there is much noise coming from outside. It's cheap to buy and easy to install them.
However, if you pin your blankets over the door, vacuum them regularly. Blankets absorb dust easily. But if you choose to hang them like curtains, remember to wash them time over time.
Buy any of the following blankets from Amazon and soundproof your doorway today.
Sure-Max 12 Moving & Packing Blankets
Deluxe Pro
Double-sided construction
80″ x 72″ (40 lb/dz Weight)
Professional Quilted Shipping Furniture Pads Royal Blue
Effective sound absorption.
Measures 95″ x 54.
Great for recording studios, drum rooms, rehearsal spaces, vocal booths, and more
Installation hardware included
Deluxe Moving Blankets by Chean Cheap Moving Boxes
Size: 72″ X 80″
Double lock stitching and thick 1/4-inch material
Ideal for preventing scratches and nicks to furniture
Double lock stitching with four square finished corners
For more insights about using soundproofing blankets, read this article
2. Use Soundproofing Curtains
Soundproofing curtains work the same way with blankets. The only difference is that the curtains are hanged. Blankets can be hanged or pinned on the wall.
However, soundproofing curtains are different from ordinary curtains. They are thick and dense. Their density does not allow sound to pass through them.
When hanged over the hollow door, they dampen all noises coming or leaving your room. Technically, soundproofing curtains and blanket trap air in them. When the sound hits through the trapped air, it's dampened.
It's easy to use soundproofing curtains over the door than soundproofing blankets. All you need to do is buy your curtains and hang them over the door.
Use the curtains just like the normal curtains.
The other advantage of using curtains is that they come in different colors and designs. You can buy curtains that match your house and soundproof easily.
Therefore, whether you are soundproofing office or home door, curtains will serve you better. Buy them on Amazon and soundproof your doorway.
Noise Reducing Thermal Insulated Solid Ring
Top Blackout Window Curtains/Drapes
Two Panels,42 x 84 Inch.
Thermal Insulated
Noise Reducing
Size: 52W x 54L Inch
3. Use Acoustic Foams
Acoustic foams are designed to reduce noise and improve the acoustics of a music room. They are open-celled foams. They are resistant to air. As a result, they can reduce the amplitude of noise level.
Acoustic foams are also available in different sizes, shapes, and colors. Depending on the size and color of your door, you can find an acoustic foam to soundproof your door on Amazon.
The best part is that they don't require special skills to install. They are self-adhesive. You only buy and fix them over your door. When used over the door, the foams blocks all air spaces.
Acoustic foams also block sound and noise passing through a light door. At the same time, they absorb all sounds bouncing over the door. As a result, they eliminate any echoes from the house. Eventually, the house acoustic is improved. If you are listening to music, you can hear it well without much noise.
Below are the best acoustic foams on Amazon. Buy any of them and soundproof your doorway today. Expect to reduce more than 50% of the noises passing through your door if you use either of these acoustic foams.
Foamily 12 Pack- Acoustic Panels
12 Pack covers 12 square feet
Professional acoustic control
Great for spot treating sound on walls
Mybecca 12 Pack- Acoustic Panels
12 pack means
Professional acoustic control Acoustic
4. Use Soundproofing Fiberglass Panels
The soundproofing fiberglass panels work the same as blankets, curtains, and acoustic foams. Most of the fiberglass panels have grommets for hanging over the door like curtains or blankets. You can also choose to pin or glue them over your door.
Fiberglass panels absorb noises passing through the door. They prevent them from making echoes from the sounds hitting the door.
0mm 200x300mm
100% Carbon Fiber Sheet
Laminate Plate Panel
Parting Shot
Different ways would dampen and reduce all noises coming through the hollow door. The main thing that you need to do is to thicken it. After thickening the door, seal all air gaps on the door, or between the floor, frame and the door.
Alternatively, you can choose to replace the entire door. But whatever technique you prefer, buy quality soundproofing material on Amazon. Choose the materials we have recommended in this article. They make a huge difference when it comes to soundproofing a hollow door.