As an Amazon Associate, we earn from qualifying purchases at no extra cost to you.
Garden sheds are a utopia whenever we want to relax. You will breath fresh air. And your stress will disappear when you sit in the gardens.
However, it's quite painful when this peace is not under your shed anymore. Blame it on backyard noise. Instead of relaxing, you will end up with frustration.
Noise is associated with anxiety, stress, and potential hearing loss. Therefore, reducing noise from your garden shed should be a priority. You don't need to continue living with the frustration from your neighbors' sounds or heavy traffic.
In this article, we will discuss different techniques that you can apply to reduce noise from your garden shed.
Types of Garden Sheds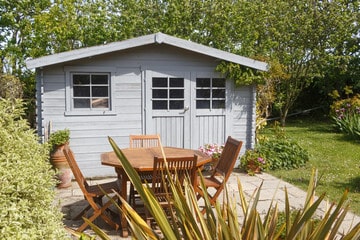 Before we discuss about soundproofing sheds, it's essential to understand different types of sheds. There are majorly two categories of sheds. Enclosed sheds and open shed.
Every category will require different soundproofing techniques.
Enclosed Sheds: These are constructed like houses. They have all structures like roof, doors, walls, windows, and floors.
Open Sheds: These are not entirely constructed. The shed might have pillars and roof. Or with incomplete walls. They allow air and sound to pass through them freely.
Construct the Shed Strategically
The location of the shed can determine your garden acoustics. If there is a sound passageway leading to your garden, the shed might create an echo if not well placed. In this case, set the shed at the end of the passageway to reflect the sound back.
You will spend most of your time sitting under the shed of the garden. Therefore, place the shed as far as possible from the garden noise.
Best Steps to Soundproofing Garden Shed
Depending on the design of your garden shed, there are various techniques to soundproof and eliminate the noise. The following are top techniques for shed soundproofing. Choose the method that suits your design.
#1. Soundproofing the Walls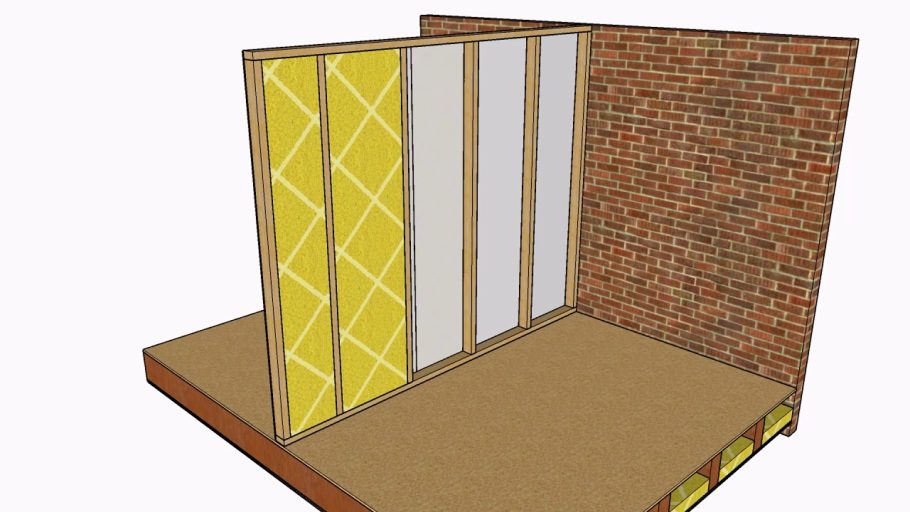 If your shed has walls, soundproof them. You can use regular insulation materials to soundproof your garden wall.
To achieve better results, invest in sound deadening foam tiles. Specifically, choose the forms designed for a music studio.
These tiles cover the walls well. They can alternatively be used to cover doors and roofs. To install them, you only need to glue them to your shed walls. An adhesive spray works well in fixing the foams.
Since your shed it's in the garden, the foam will carry dust time over time. Vacuum the tiles regularly. Keep them in good condition for effective performance.
The sound deadening materials are specifically designed for music rooms. However, they work well in garden sheds. They absorb all sound echoes coming to the shed.
If you are a fan of listening to music in the shed, the foam will also improve the acoustic quality of your music system.
Check the following foams on Amazon. Buy them and fix them on your shed walls.
Guteauto (Check on Amazon)
Fiberglass material,
High noise reduction
High-temperature resistance
Noico (Check on Amazon)
Size: 170 mil 36 sqft
Waterproof
1/6" Thick Sound Deadener
#2. Soundproof the Windows
Some sheds are constructed with windows. If your garden shed has this design, soundproof the windows.
Windows in most cases, are overlooked when soundproofing the garden sheds. They have gaps that allow noise to enter the shed.
However, soundproofing windows can be challenging. You need sunlight through the windows. Again you also need fresh air to come to your shed.
The quickest way to soundproof the shed windows is to hand curtains. Alternatively, you can use soundproofing blankets. Hang them just like soundproofing curtains.
Blankets and curtains will reduce echo and block noise. Check the following curtains and blankets on Amazon.
Blankets
Sure-Max 12 Moving & Packing Blankets (Check on Amazon)
Deluxe Pro
Double-sided construction
80″ x 72″ (40 lb/dz Weight)
Professional Quilted Shipping Furniture Pads Royal Blue
Audimute (Check on Amazon)
Effective sound absorption.
Measures 95″ x 54.
Great for recording studios, drum rooms, rehearsal spaces, vocal booths, and more
Installation hardware included
Curtains
Nicetown (Check on Amazon)
Noise Reducing Thermal Insulated Solid Ring
Top Blackout Window Curtains/Drapes
Two Panels,42 x 84 Inch.
Deconovo Blackout Curtains (Check on Amazon)
Thermal Insulated
Noise Reducing
Size: 52W x 54L Inch
Cover all airspaces through your windows. Air gaps that cannot be fixed by the blankets and curtains use the soundproofing seal strip. The seal strip will block all noise and water from entering into your shed.
#3. Work on the Door
If you chose to have an enclosed shed, soundproof the door too. Your door can be problematic in allowing noise to your shed.
Use the soundproofing seal strip to cover all air spaces in your door. It will work perfectly. Also just like the windows, hang soundproofing curtains and blankets.
Soundproofing doors is the same to soundproofing windows. Apply similar techniques in both instances.
#4. Soundproofing the Shed Roof
First, inspect the nature of your roof. Some roofs amplify the garden noise. For example, metallic roof vibrates when sound bounces off them.
Therefore, use sound deadening materials on your roof. You can use soundproofing foam tiles. Just like you fixed them on the wall, install them on the roof. Alternatively, you can pin soundproofing blankets on the roof. They will perform an excellent job.
#5. Soundproofing Shed Wooden Floor
Sound can pass through wooden floors. This is why it's important to remember to soundproof the floor.
Use thick carpets. It's more effective if you invest in soundproofing mats. Soundproofing mats are made from materials that deaden all sound vibrations. For effectiveness, place the soundproofing mats between two layers of wood.
The soundproofing mats are purposely made for car soundproofing. They are available on Amazon. Check the Mats below.
Dynamat (Check on Amazon)
Odourless
Non-asphalt
Sound deadening
Reliable
Hushmat (Check on Amazon)
Eliminates road noise and vibration
Perfect for soundproofing round areas
Affordable
Reliable
Eliminates road noise and vibration
Sound deadening
Other options of soundproofing garden shed floor would include using heavy soundproofing blankets.
Soundproofing Techniques for Open Garden Sheds
An open garden shed makes more sense than a closed shed. You get to experience the tranquility of your garden. It's open for fresh air and sunlight.
To reduce the level of noise in your open garden shed, consider the following techniques.
I. Plant Sound Blocking Shrubs
Shrubs in your garden bring a natural look. More importantly, it absorbs and deflects sound coming to the garden. Specifically, evergreen shrubs absorb most of the garden noise.
Just like the sound deadening materials, when sound bounces on the shrubs, it's turned into heat energy by the shrubs.
We recommend the following shrubs for your garden.
Spruce: They grow into different sizes and shapes. They can easily match the design of your garden.
Junipers: If you are looking for thick leaves and branches, settle for Junipers. The shrub is also resilient to most of the pollution in urban areas.
Hollies: They provide a ground level sound reduction. The shrub grows with lots of branches and large leaves. Hollies make thick shrubs that cannot allow noise to pass through them.
The above shrubs are just a few suggestions. Consider your home climatic conditions. Choose shrubs that can well perform in your climate.
Despite the nature of shrub, you choose, they will work well in reducing noise in your garden sheds.
II. Plant Trees in Your Garden
Settle for evergreen trees. Trees are useful for sound deflection and attenuation. Therefore, have tall and dense trees planted in your home. When sound comes to your home, it bounces off the trees.
Trees make some sound when the wind blows over them. It masks all the other noise from your backyard. Having trees in your home is a long-term solution. Most of the trees take time to grow. But they live for over 100 years.
Trees also attract birds to your homes. Bird chipping all day will bring a relaxing white noise to your backyard.
It's important to remember that trees work perfectly when they are densely planted in a row. They perform best when they are planted around the fence to make a wall like structure.
Consider planting the following trees in your garden.
Leyland Cypress: One amazing thing with this tree is that it grows fast. It can grow up to 1.5 meters per year. In their lifetime, they can grow up to 15 meters high.
Arborvitae: The tree is tough to withstand both cold and hot temperatures. They are slimmer than Leyland Cypress.
Eastern White Pine: It's the best for soundproofing gardens. Thanks to its straight, thick trunk. It's conical with massive height and weight. Eastern White Pine can grow to a height of 30 meters.
Just like shrubs, find out which trees will work well with your garden. Consider your climatic conditions before planting any tree.
III. Soundproof Your Garden Fence
Soundproofing fences is the most effective technique to reduce noise in your gardens. All you need to know is the nature of noise you wish to eliminate. Different types of fences will give a different level of results.
If you are dealing with heavy traffic noise, go for brick fences. Install acoustic fences if the noise is too much and the brick wall cannot reduce it. If the noise is not too much, you can choose wooden or hedging fences.
Consider the following fence soundproofing techniques.
Wooden Fences (Check on Amazon)
Material available easily
Easy to install
Cost effective.
Perfect for middle range noise
Metal Fences (Check on Amazon)
Blocks non-vibrating sound
Cost-effective
Stronger than a wooden fence
Hedges (Check on Amazon)
Blocks heavy traffic noise
Great aesthetics
Brings a natural look to your garden
Reduce air pollution in your home
Durable
Brick Walls (Check on Amazon)
Strong
Durable
Most effective for reducing traffic noise
Acoustic Fences (Check on Amazon)
Reduces up to 50% of the noise.
Sleek look
Easy and fast to install
Cost-effective
Check our article about soundproofing fences. Read and learn how to install each of the above fences.
Final Words
Keep the noise away from your garden. Apply the above techniques depending on the nature of your shed. If you choose to buy soundproofing materials, buy tried, and tested products. Check our recommended list for a good performance. Choose techniques that work perfectly for your backyard. Feel free to combine more than one strategy for maximum results.