As an Amazon Associate, we earn from qualifying purchases at no extra cost to you.
A shower pump brings efficiency in your home shower. You don't need to worry about where to place your tank or the pressure of your water. All you need is a pump that can supply you with enough water for bathing.
However, the shower pumps can solve one issue and create other more problems.
Some shower pumps make much noise. Sometimes the noise is unbearable despite the benefits the pump offers to you.
But this shouldn't be the case. There are simple techniques that you can apply to ensure that the pump noises are well dealt with.
In this article, we will discuss simple techniques to reduce pump noises that might cause disturbances to your home.
Simple Ways to Reduce Shower Noises
1. Identify the Noise and Fix It
This should be the first thing that you do on your shower pump. It applies to all appliances. Some noises you will hear mean that there is a problem with your device that needs to be fixed and not soundproofed.
So, always identify the nature and source of the noises from your appliances and fix it before you apply any other soundproofing techniques.
A shower pump is likely to make different noises that require different soundproofing techniques. The following are the common noises you will hear from your pump.
Vibrating Rumble
This is a loud echoing noise you will hear in your houses after your water is turned on. This noise you will not only hear it from the bathroom but also in other rooms. You will hear the echoes.
The noises are a result of improper installation, pump overworking or mounting surface.
High Pitched Whine
This is cavitation as a result of the lack of energy to push water into the pump. To solve this problem, you need a high-end casing that will allow a smooth flow of water around the impeller. It increases the pump energy and reduces cavitation which inturn cancels all the noises you are likely to hear from the pump.
Clicking/Buzzing/Humming
These are also common noises you will hear from the pump. They could mean that your pump is stuck, jammed, or there is an electrical issue with it. Whenever you hear these noises, get a professional to fix the shower pump for you.
These noises shouldn't be soundproofed directly. They signify a problem in your shower pump. If you hear any of these noises, go ahead and fix the problem. If you are not a shower pump professional, get a qualified technician to fix it for you.
2. Ensure the Pump is Correctly Installed
Sometimes the pump makes noises because it was wrongly installed. If you are not an expert, let a pump expert handle the installation. When installing your shower pump, ensure you consider the following key things.
Install a Pump Mat
Having a pump mat under your shower pump will reduce vibrations. There are no vibration noises that will be passed to the platform on which the pump is installed.
You can use the same mats used in the automotive. Dynamats are specifically best for a water pump. They are self-adhesive and waterproof.
Check either of the following mats and buy them from Amazon.
Odourless
Non-asphalt
Sound deadening
Reliable
(* = affiliate link / image source: Amazon partner program)
Affordable
Friendly in cold areas
Made of Asphalt
Easy to install
(* = affiliate link / image source: Amazon partner program)
Eliminates road noise and vibration
Perfect for soundproofing round areas
Affordable
Fit the Pump Feet
Most shower pumps come with their feet pads that are designed to reduce the vibration and noises passing through the pump.
The pump feet are made of rubber material. It helps in absorbing vibrations coming from the shower pump. You can buy the same pump feet as the one you buy to fix on your washing machine.
The antivibration pads are available on Amazon. Buy either of the following and start soundproofing today.
Washer Dryer Shock Absorbing Pads
(* = affiliate link / image source: Amazon partner program)
Pack of 4 Universal Anti-Walk Pads
Excellent Shock Absorber
Non-Skid Design
(* = affiliate link / image source: Amazon partner program)
sturdy and durable
Made of recycled tire rubber
Effective Anti-Vibration platform
3. Inspect the Piping System
Sometimes you will hear noises from your pump, but the problem comes from the piping system. Inspect your shower piping systems and ensure they are completely secure and supported.
Check cases of loose pipes. When the pipes are loose, they tend to exacerbate vibration or make some rattling noises when the pump is turned on.
Also, ensure that the piping system doesn't have any leakage. Leakage from the pipe will bring in the air in the pump and cause it to make unbearable noises when turned on.
4. Change the Pump Locations
Sometimes you will get disturbances from your shower pump because you have placed in the wrong location. If you hear noises from your living room or bedroom, take the pump away from those places. Place it far away from where it is less likely to cause any disturbances in your home.
Some other times, you need to change where you have mounted the pump. We recommend that you install your pumps on a paving slab or solid concrete base. They absorb vibrations and make your pump quieter. This is unlike other wooden or metallic platforms that magnify the noises instead.
5. Buy Quieter Shower Pumps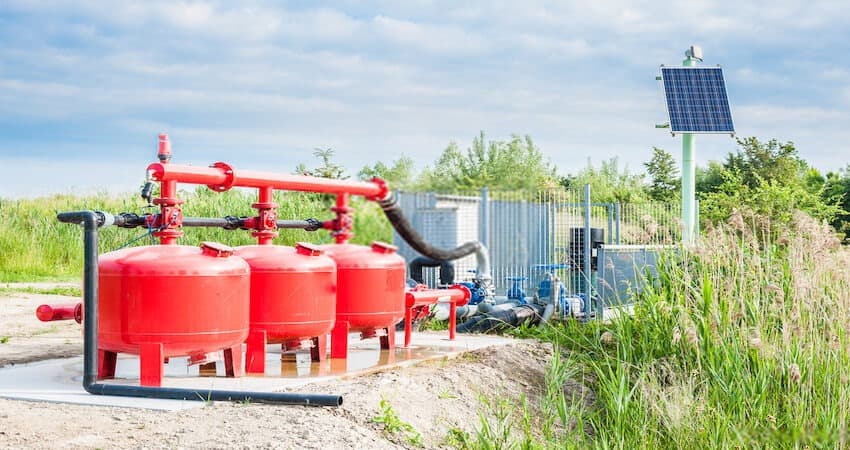 Without a doubt, some pumps are noisy. Despite the effort you put on soundproofing them, they will still cause disturbances in your home.
On the other hand, there are quieter water pumps that won't make such noises.
It's worth investing your resources in a quieter shower pump than buying a pump that will need you to invest more money in soundproofing it.
So, if you are tired of the shower pump noises, consider buying either of the following water pumps from Amazon.
SEAFLO 33-Series Industrial Water Pressure Pump (Our Top Pick)
(* = affiliate link / image source: Amazon partner program)
This is an ultra-quiet pump with a self-priming technology. It can pump water up to 6 vertical feet. The pump achieves a water flow of up to 3.3 gallons per minute.
And when you think of cost-effectiveness, the pump is power rated. Its a 115V pump with a current draw of 0.75 amps and a maximum of 1.2 amps when the pump is operating optimally. The pump also comes with an adjustable pressure switch that can turn on/off at a pressure of 45 PSI.
This is our top pick pump. It's available on Amazon. Click here to check the latest price and buy it today from Amazon.
Water Diaphragm Self Priming Pump
17%
(* = affiliate link / image source: Amazon partner program)
Here is a powerful and yet quiet self-priming shower pump. It can pump up to 3.0 gallons per minute, which is enough for showering.
The pump can run dry without getting damaged. With its quiet technology, you won't notice when the pump is operating. It works quietly.
It's available on Amazon. Click here to check the latest price and buy it on Amazon.
Shurflo 2088-554-144 Fresh Water Pump
(* = affiliate link / image source: Amazon partner program)
If you are under budget and looking for a great pump to buy, Shurflo is the best shower pump you should consider buying.
This is an ultra-quiet pump with 3 displacement chamber diaphragm. It has a 1-way operation check valve that prevents reverse flow. It has a permanent magnet motor that reduces the noises that comes from the pump.
The pump is available on Amazon. Click here to check the latest price and buy it today.
Parting Shot
Every time you hear noises from your shower pump, start by inspecting it. Check where the noise is coming from. Identify the reason why the pump is making much noise. If you find the problem, fix it – don't soundproof.
However, if you have fixed all issues on your pump and still, you can hear some noises, apply the soundproofing techniques discussed in this article. But if that doesn't solve your problem, go ahead and buy a quiet pump.