As an Amazon Associate, we earn from qualifying purchases at no extra cost to you.
Your shower water comes from a tank connected outside. Sometimes, the pressure in your piping system might not be enough to push enough water to your shower.
However, this problem can easily be solved. Thanks to shower pumps.
The pumps are convenient and efficient in boosting your water pressure. Unfortunately, some pumps solve one problem and create another one. Some pumps are noisy.
But that shouldn't worry you anymore. There are quiet pumps in the market that will give you all the peace you need.
In this article, we will discuss the top 5 quietest shower pumps you will find in the market. But before we do that, here is our top pick.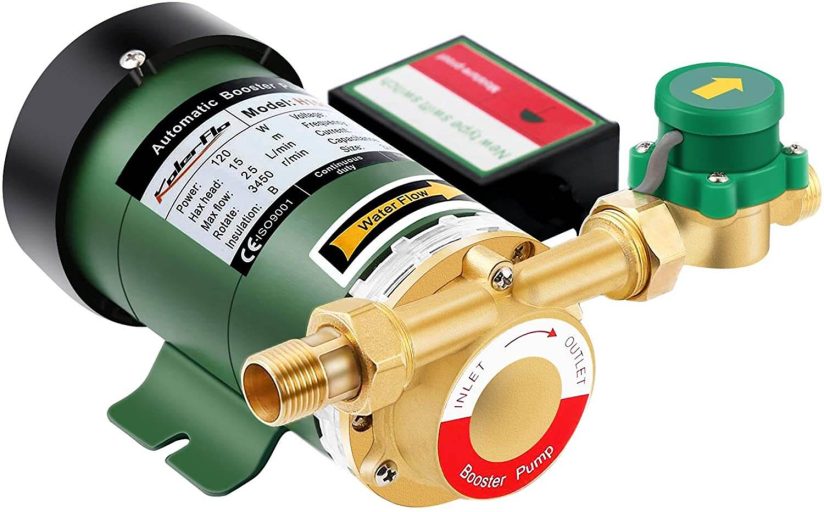 KOLERFLO 120W Water Pressure Booster Pump
Here is a top pump that will operate quietly. It's affordable and effective. When you think of a high-pressure pump, KOLERFLO achieves a pressure of up to 21.7 psi. Click here to check the latest price and buy the pump from Amazon today.
Which Shower Pumps are the Quietest?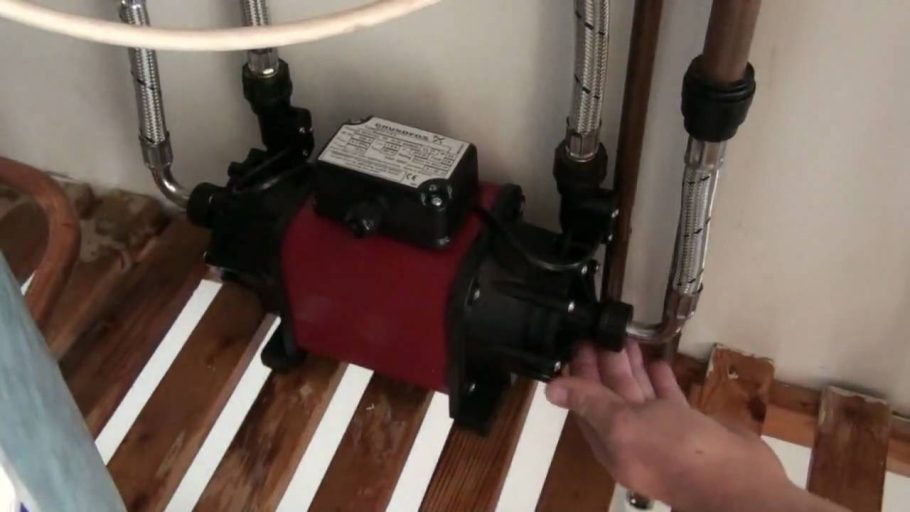 As mentioned, some shower pumps are noisy. However, some models are relatively quiet. This is majorly depended on the brand and the technology of the pump you choose.
Some cheaper brands are noisy. But, some manufacturers have perfected their shower pumps and come up with ultra-quiet pumps.
In this article, we will share with you some of the quietest pumps you will find in the market today.
How we reviewed these 5 best silent shower pumps?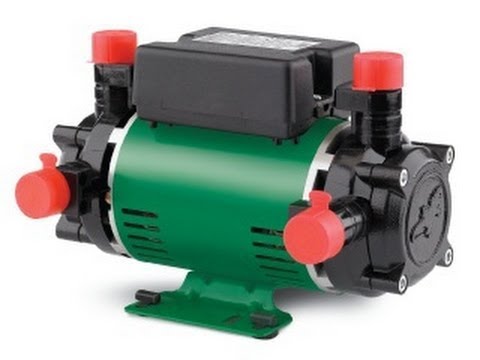 We already know what makes the best shower pumps. We first identified the pumps with all these specifications. Check the factors we considered at the end of this article. We will in details what we considered.
After identifying the best and high-performance pumps, we went ahead and checked what other users had to say about these pumps.
In the end, we settled on the following five shower pumps that will give higher performance when used over your home piping.
5 Best Quietest Shower Pumps Reviews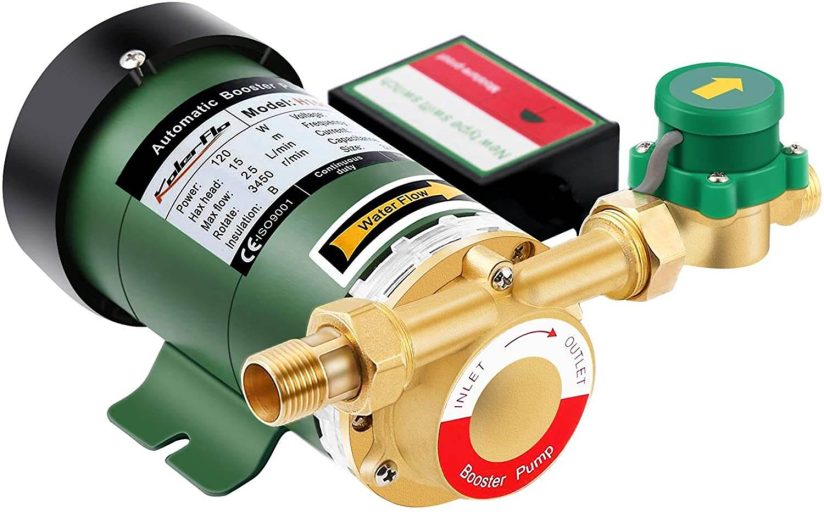 Key Features
Ultra-quiet operation
Attains a pressure of up to 21.7 PSI
Ease of installation
1. KOLERFLO 120W Water Pressure Booster Pump
If you are looking for a quality water booster for your kitchen and bathroom, this is the pump you should be looking for. It is lightweight, compact, and easy-to-install water pump.
And if you are on a budget, it's perfect for you. It's one of the most affordable water pumps you will find in the market today. It cost less than $100 making it one of the most affordable best performance water pumps.
You can trust the KOLERFLO pump to handle two to four faucets without any strain.
You can connect a unit of ¾-inches. The flow and union switches are between ½ to ¾ inches with these dimensions; it's easy to connect to most bathroom and kitchen systems.
For those who are looking for a pump with the ease of use, KOLERFLO got you covered. It has an automatic start and switches feature. When the pressure in your pumping system goes down, the pump starts automatically. It also turns off automatically when there is no water being used.
The pump works to supply 0.6 GPM.
A 120W motor powers the pump with its 200W flow switch. With its power, the pressure booster can deliver 396GPH when working at the optimum to deliver up to 50ft lift. It attains a pressure of up to 21.7 psi.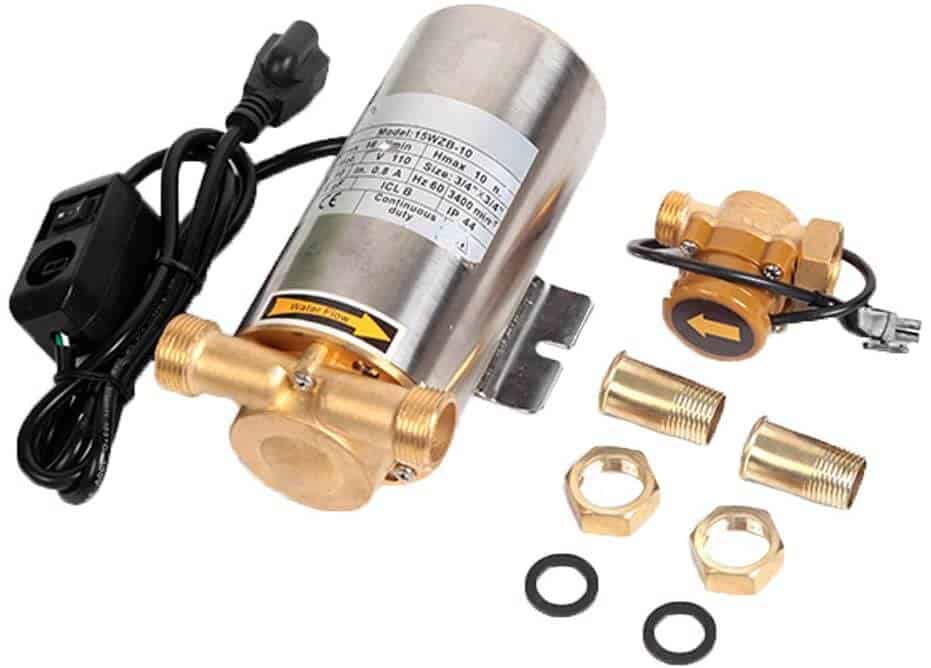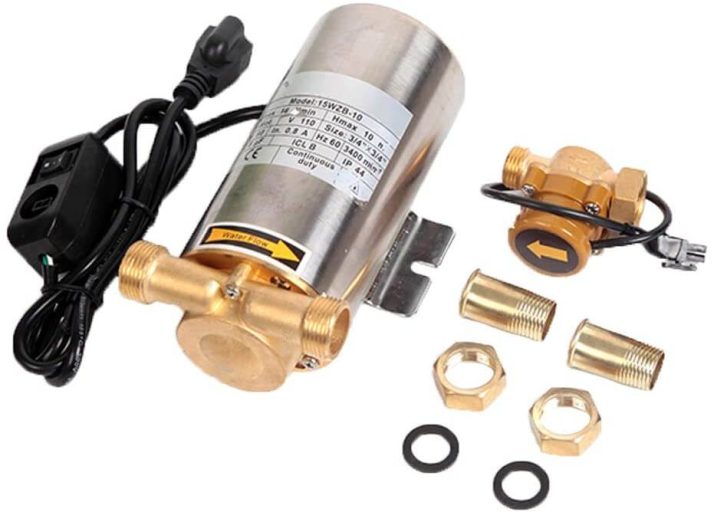 Key Features
Ultra-quiet pump
Stainless construction
Lightweight and portable shower pump
Affordable
2. Trupow 90W 250GPH Stainless Self Priming Automatic Shower Pressure Washing Machine Water Booster Pump
Here is a durable pump made of stainless construction. The material ensures that the pump doesn't wear and tear easily because even when it's used for a long time.
For powerful performance, the pump comes with a continuous-duty motor. It's energy-saving and operates quietly. The pump itself is easy to operate. Even without much experience, you can install and use it over your home piping system.
Trupow pumps are lightweight. It makes it a portable shower pump. It's a perfect choice for campers and people who love using RVs.
Its portability and power make it efficient for irrigation boosting. It has enough power. With it, you can expect a water supply of 330 GPH and a height of up to 35ft.
In short, this is a multi-purpose pump that will operate quietly.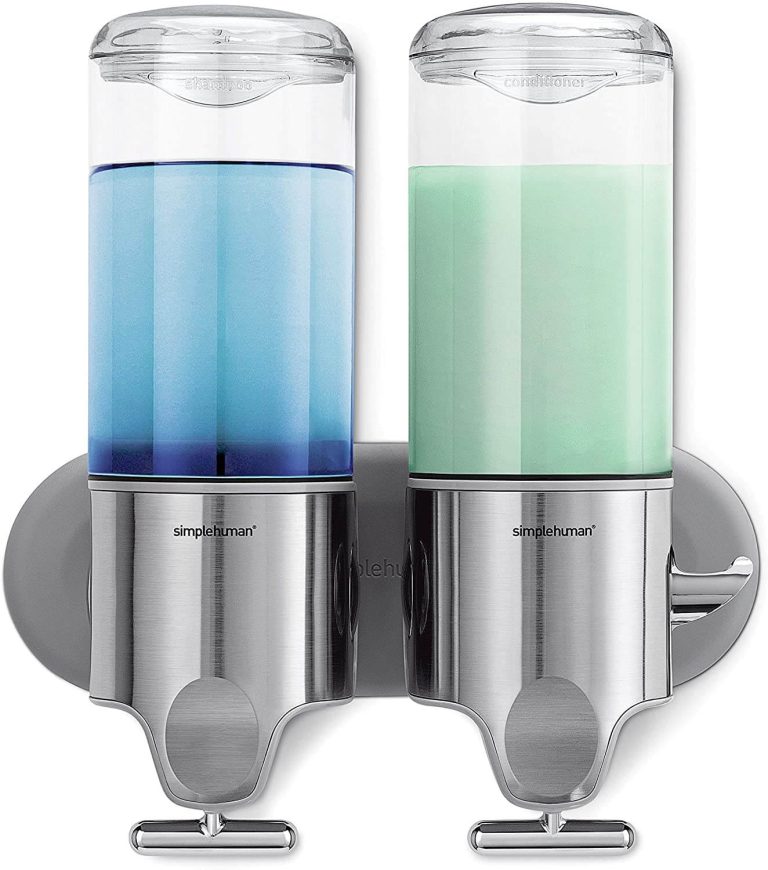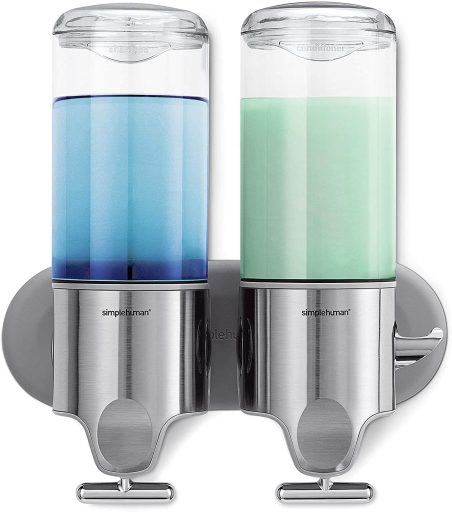 Key Features
Operates quietly
Easy to install
Rust and corrosion-proof plastic material
3. simplehuman Double Wall Mount Shower Pump
You should enjoy your daily life. And without the right equipment and technology, life would be difficult. Would you imagine getting into your shower, and you can't get enough supply or pressure of water?
It's frustrating.
This is why simplehuman have thought of solving simple and often daily home tasks. They specifically build equipment for efficient living. With their technology, you are guaranteed a functional, quiet, and built to last appliances.
Specifically, their Double wall mount shower pump is something you should look for. It's an elegant shampoo and soap dispenser.
It's a durable die-cast T-bar pump that makes it easy for dispensing the right amount of shampoo, soap, or air conditioner.
Once you buy it on Amazon, you can easily install it for yourself. It comes with adhesive strips, screws, or silicon glue to mount it over the wall.
For durability, the mounted pump is made with durable plastic dispenser bottles.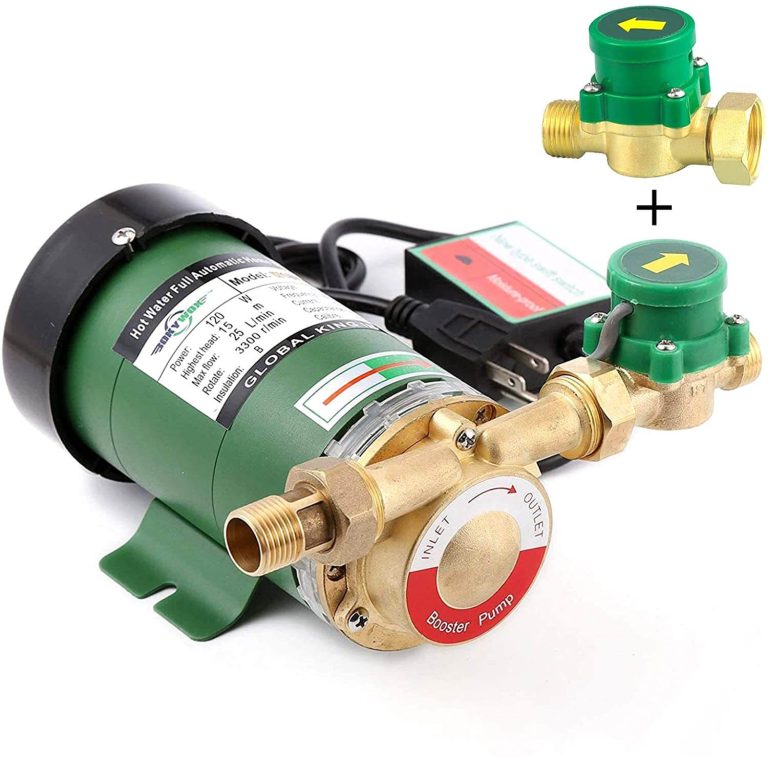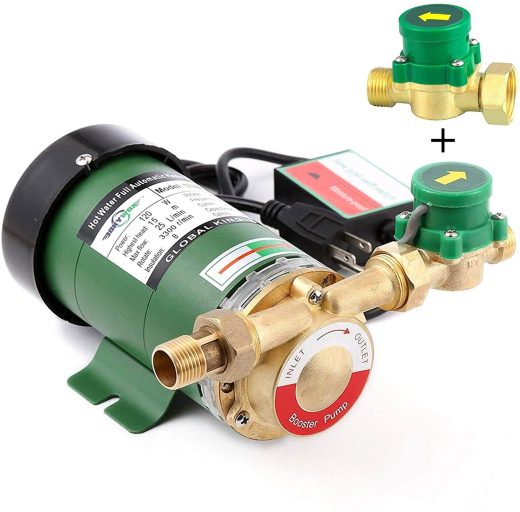 Key Features
Operates quietly
Durable cast and brass construction
Multi-purpose pump
Automatically adjust to your house water needs
4. BOKYWOX 110V 90W Home Water Pressure Booster Pump
Here is another high water pump suitable for the kitchen or bathroom. It can be connected to up to 2 faucets. It allows connection for ¾ inches on pump port and ½ inches on the union. The pump is suitable for a pump with ½ inch pump.
The pump can supply your bathroom or kitchen with a water flow of 0.6 GPM.
With its automatic starting feature, the pump only operates when it's necessary. When there is enough water pressure in the piping system, it switches off. This, in turn, saves on energy consumption.
BOKYWOX pump adapts to your home household water tank pressure and keeps your pipes supplied with sufficient water for use.
Apart from the piping system pressure boosting, the pump can boost pressure and circulate water to the heater. It can also be used in industrial equipment and increasing oxygen circulation in fish tanks and rearing ponds.
This is a multi-purpose pump that can also be used in circulating hot water for boilers.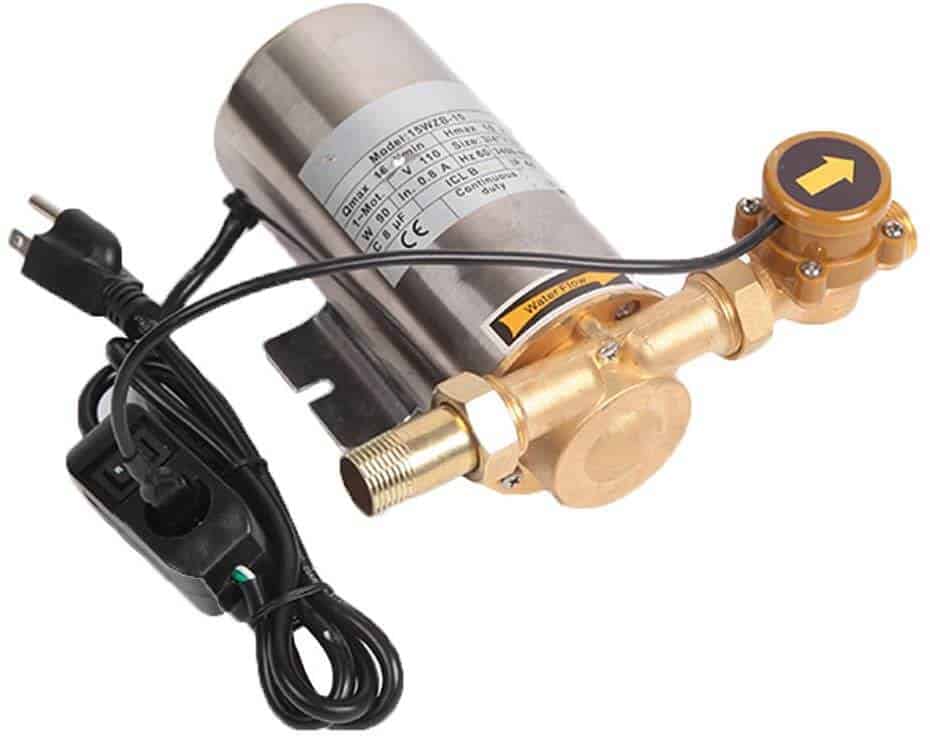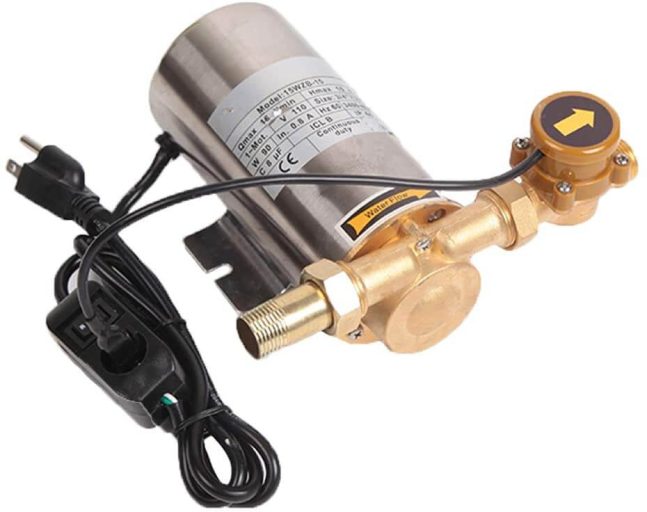 Key Features
Operates quietly
Stainless and durable pump construction
Auto switch
Perfect for household hot or cold water
5. EXTRAUP 115V 90W Booster Pump
Here is a pump that can handle both cold and hot water. It comes with a 250 GPH power. Its stainless construction makes the pump one of the most durable pumps you can find in the market today.
The heavy-duty motor is strong, operates quietly, and energy saving. The pump itself is easy to operate.
Its heavy-duty motor shell is stainless with a copper motor wire. The pump's impeller and pump body are made of brass.
The auto switch function ensures that there is a steady flow of water. It works automatically to ensure that the water pressure matches the house needs. Once a tap or water outlet is opened, the pump switches on and vice versa.
With its efficiency, it ensures a flow of 1.5L per minute.
What to consider before buying the quietest shower pumps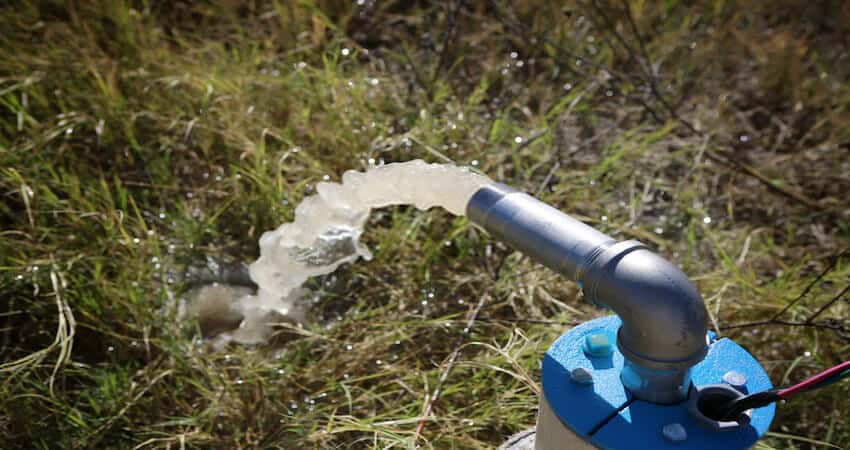 Not every water pump you will find in the market will perform as you would wish. Some are noisy while others aren't effective as they suggest. To get the best pump, to consider the following factors.
Build Quality
Whether you are installing your shower pump outdoors or indoors, it's important to check its construction. Ensure its strong enough to handle harsh conditions in your home.
We recommend that you buy a pump that will withstand winter and summer. The material should hold on different temperatures without affecting the performance of your pumping.
Check the temperatures that your pump can withstand.
Performance
This is the most important factor you need to think about when buying a shower pump. Under the performance of the shower pump, look at the following factors.
Horsepower: Buy a pump with at least 0.5HP. Normally, shower pumps have up to 2.0 HP.
Pressure: A pump with a pressure of around 30 psi would be enough.
Power and pressure are the main determinants of a shower pump performance. So, ensure you get a pump that will supply your home water need without straining.
Brand
Some water pump brands have invested in the improvement of their pumps. It's critical to get a reputable and trusted brand. If you don't know any of the brands you can buy, check the pumps we have discussed in this article. These are brands that will deliver high performances when it comes to pumping water for your shower.
Installation
Some pumps require professional installation while others you can do on yourself. If you are a DIY enthusiast, you can choose any pump that is easy to install. However, ensure you don't violate the pump's warranty when installing it.
We recommend you to get a pump that is easy to install. You don't have to pay for something that you can do on yourself.
Final Verdict
Now you don't have to worry about low pressure from your tank. You can go ahead and buy a quiet shower pump from Amazon and solve this problem.
However, before choosing any pump, consider the factors we discussed in this article.
But if you are not sure which pump to buy, choose our top pick. KOLERFLO 120W Water Pressure Booster Pump will ensure your shower is well supplied with the right water pressure and amount.