As an Amazon Associate, we earn from qualifying purchases at no extra cost to you.
The answer is 'Yes.' Soundproof tents exist and work well in blocking noise.
This is one of the most frequently asked questions about tents. They work well. However, you have to understand that they are not 100% effective. At least no other soundproofing technique reduces noise to 100% level. If there is, we are yet to see it.
The materials used in the soundproof tents play an essential role in noise reduction. Some tents are more effective than others. Therefore, it's essential to check the material used in the tents.
In this article, we will discuss how soundproof tents work. We will also recommend the best quiet tents available on the market.
But if you already have a traditional tent, stay with us. We will discuss tips and techniques to soundproof your tents. Some of these tips are simple. You can do them yourself in your tents.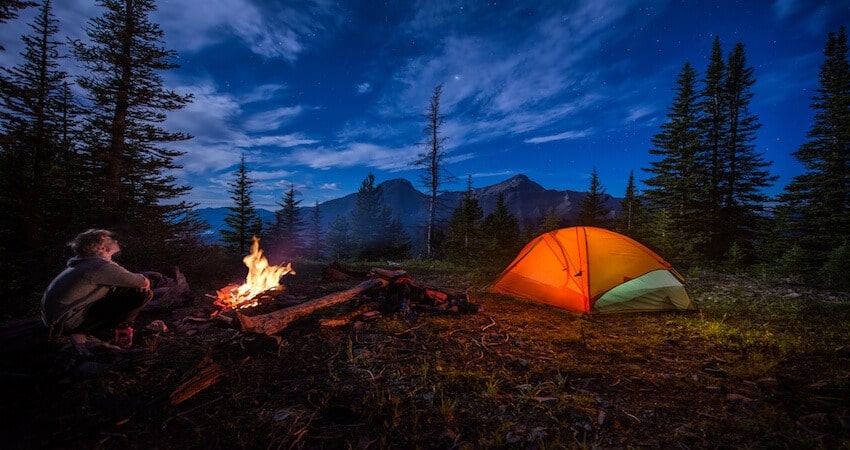 Factors to Consider When Choosing a Soundproof Tent
Tents come in different designs. Soundproof tents specifically are different form any other type of tent. They can dampen noises coming from outside. When you are sleeping, you won't be disturbed by the noise coming from generators or any other noise around you.
Therefore, consider the following things when buying a soundproof tent.
Fabric
What type of material is used to make your tent? Not all materials have the ability to dampen the noise in your tent.
Buy tents with dense materials. Dense materials absorb sound vibration and do not allow it to pass through them.
Polyester and nylon tents are poor in soundproofing. On the other hand, canvas/cotton work well in absorbing sound waves. Though cotton/canvas tents are more expensive, they offer better soundproofing efficiency.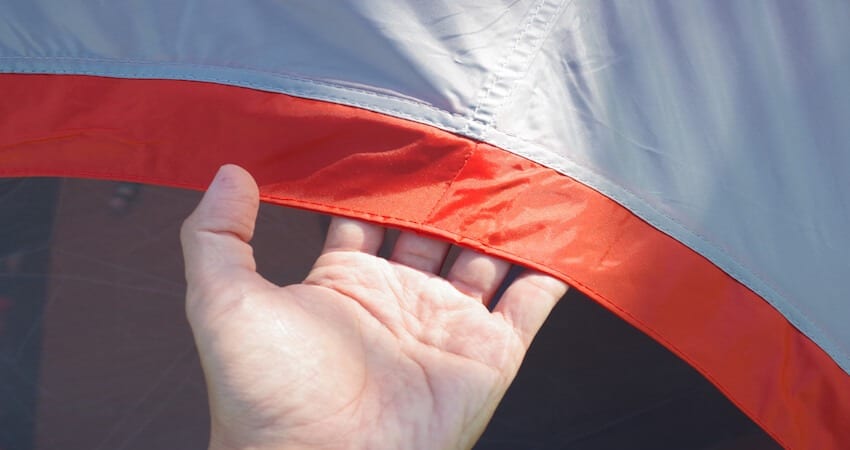 Polyester and nylon tents, they are cheaper, less bulky, lighter, and easy to maintain. Canvas tents are the opposite. They absorb water, heavy to carry, and difficult to maintain. However, they are cool during hot weathers. During cold seasons, the tends are also warmer. This is because they trap air easily preventing heat loss.
The same technique is used to trap sound waves and dampen them.
Budget
Soundproofing tents are more expensive than normal tents. Therefore, choose a tent that is within your budget. Depending on your budget, you will get a good tent. However, the budget should not be the primary focus when choosing a tent. Focus on efficiency.
The price of the tent is not always equivalent to its efficiency. Some tents sell their brand and not efficiency. So, don't fall on the trap of thinking, the higher the price, the better the performance. At least not with all cases.
Best Soundproofing Tents in the Market
The following are top soundproof tents. You can buy them from Amazon.
Sleeps 4
Effective in reducing noise from outside
All main fly and floor seams are factory sealed
Heavy duty 1000D polyethylene bathtub floor for extra durability and welded leak proof seams even in the corners
Coated polyester fly and wall fabrics (450mm coating) shield the tent from rain
1 Large 'D' style front entry door
(* = affiliate link / image source: Amazon partner program)
Can take up to 8 persons
Easy to setup
Made from polyester material (reduces sounds)
Great modern structure
An easy Electrical Access port
(* = affiliate link / image source: Amazon partner program)
Very large and spacious interior
Can take up to 10 people.
Fully Insulated (very warm)
Removable windows
Do I buy a Traditional or Soundproof Tent?
The choice is yours. But if you are looking for a tent that will eliminate most of the noise from outside, focus on buying a soundproof tent. They will function well as compared to traditional tents. However, be ready to pay a higher price for the quiet tents as compared to the traditional tents.
Soundproof tents also regulate heat. They don't get too warm during hot seasons. During cold weathers, the tents stay warm.
But if you don't have a problem with noise, go ahead and buy traditional tents. You can also soundproof the traditional tents.
Soundproofing Techniques for Traditional Tents
If you already have traditional tents, you can soundproof them. Apply the following methods.
Use Soundproofing Blankets
Moving blankets work well in soundproofing rooms. They can also be used in camping tents too. The blankets are dense. They absorb all sound echoes. Also, the blankets do not allow air or sound to pass through them. Use blankets to soundproof the following areas in your camping tent and home.
Place them on your tent floor.
Pin them on the walls.
Cover every air space.
Hang them over your doors.
Pin them on the top inside part of the tent.

Factors to Consider When Choosing the Best Soundproofing Blanket for Your Tent
Not every blanket will be useful in soundproofing your tents. The following are the top factors you should consider before buying any blanket.
Thickness, Density, and Weight.
The thicker, denser, or weightier the blanket is, the better. Sound will have a hard time penetrating through the blanket.
For better results, use double or triple blanket layers in your soundproofing.
The size of the blanket/curtains should cover the space you need to soundproof. Buy blankets that can fully cover your tent. Don't leave any space in between blankets.
Grommets are hanging the blankets/curtains on a wall or a rod. Since the tent is movable, consider buying blankets with grommets. This will help to hang and remove them easily in your tent.
Check the blankets below on Amazon
Sure-Max 12 Moving & Packing Blankets
(* = affiliate link / image source: Amazon partner program)
Deluxe Pro
Double-sided construction
80″ x 72″
Professional Quilted Shipping Furniture Pads Royal Blue
(* = affiliate link / image source: Amazon partner program)
Effective sound absorption.
Measures 95″ x 54.
Great for recording studios, drum rooms, rehearsal spaces, vocal booths, and more
Installation hardware included

Hang Soundproofing Curtains

Soundproofing curtains are thick and heavy. Curtains and blankets work in the same way. The only difference is that curtains can only be hanged over your tent. They can't be pinned on the walls or top part of the tent-like blankets.
For camping, soundproofing curtains are perfect. They are easy to move with. Also, they can easily be hanged on the tents. Whenever you want to move your tent, you can easily remove the curtains. Curtains are also useful to soundproof air vents in your home.
We recommend the following curtains from Amazon.
15%
(* = affiliate link / image source: Amazon partner program)
Noise Reducing Thermal Insulated Solid Ring
Top Blackout Window Curtains/Drapes
Two Panels,42 x 84 Inch.
(* = affiliate link / image source: Amazon partner program)
Thermal Insulated
Noise Reducing
Size: 52W x 54L Inch

Try White Noise Around the Camping Site
If your tents are permanently pitched in a camping site, add white noise. White noise is a random sound signal. It has the same intensity even at different frequencies. It has constant noise power.
Therefore, in your backyard, supplement the other tent soundproofing with the following white noises.
Nothing soothes more than the sound of running natural water. It contrasts all noises around the tents. Whether it's heavy traffic or children playing, you won't be able to hear it.
In your site, install fountains and water stream. Place them directly to the source of the noise.
Below are some ideas for running water.
A pond with a waterfall.
Water fountain
A running stream
A babbling pond
For effectiveness, you will require professional help to install these running water ideas. But it's not necessarily. If you are creative enough, you can try and build a waterfall.
Place the running water where you are commonly disturbed. As mentioned, it will be perfect if placed directly to the source of the noise. Place it between the sound and your refuge spots.
The flowing water should be close to the area which you are reducing the noise from. Say, for example, you want to remove noise from your outdoor fireplace, have the fountain right there. Keep it as close as possible.
Natural sounds are great for relaxing. They promote calmness and reduce stress. Their effect is opposite to the other nature of noise.
Wind chimes are a perfect choice for white noise. However, they are not as effective as running water. The wind chimes only produce sound when the wind blows to them.
Wind chimes work perfectly with a camping site. This is because the wind is constantly blowing. When someone is sleeping in their tent, they will be listening to the soothing sound of wind chimes.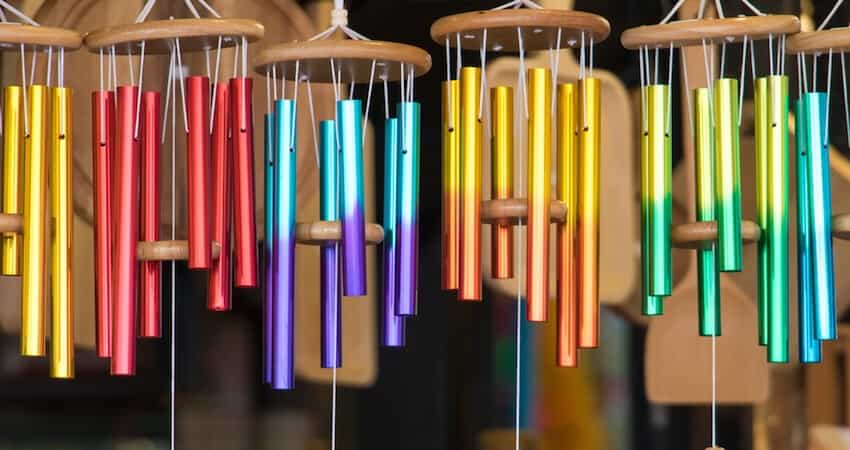 Despite the wind blowing limitations, wind chimes are among the easiest way to have white noise in your tents. You just buy and hang them. Within a minute, you will have dealt with the noise.
At your camping site, place them strategically around where the wind is blowing. Also, it's important to have them close to where you are reducing the noise. If for example, you are reducing the noise from inside your house, place the wind chimes near doors and windows.
You can buy Windchimes from Amazon today and place them strategically in your homes. We recommend the following wind chimes.
Corinthian Bells 36″ Midnight Blue Windchimes
(* = affiliate link / image source: Amazon partner program)
The overall length of the chime is 36″.
Hand-tuned to the scale of E.
Made with 1″ diameter aluminum tubes.
Length of longest tube is 18.5″.
Corinthian Bells 27-inch Windchime, Black
(* = affiliate link / image source: Amazon partner program)
Hand-tuned to the scale of C.
The overall length of the chime is 27″.
They are made with 0.75″ diameter aluminum tubes. Length of longest tube is 12.5″.
(* = affiliate link / image source: Amazon partner program)
30 Inches Amazing Grace Wind Chime
5 Metal Tuned Tubes
Black Elegant Memorial Wind Chimes
Metal Wind Bell Chime for Home, Garden
(* = affiliate link / image source: Amazon partner program)
30 Inch
Amazing Grace Wind Chimes
S Hook,
6 Tubes
Golden
Large Wind Chimes Outdoor Deep Tone,
5%
(* = affiliate link / image source: Amazon partner program)
45Inch
Sympathy Wind Chimes Amazing Grace
6 Tubes Tuned Relaxing Melody
Memorial Wind Chimes Large

Trees
Trees are useful for sound deflection and attenuation. Therefore, have tall and dense trees planted around your camping site or garden. Alternatively, choose to set up your tent next to the trees.
Trees make some sound when the wind blows over them. It masks all the other noise from your camping site.
Parting Shot
Camping is exciting. No one desires to be distracted when they are having an awesome time in their tent. Unfortunately, tent noise might not give you all the peace you need. This is the reason we have soundproof tents. Buying a tent cuts the sound completely.
However, if you already have a traditional tent, reducing the noise, it is simple. You can choose to soundproof the tent. The soundproofing techniques are easy. Alternatively, you can add white noise around your tents. It will function well in blocking all noises coming to the tents.