As an Amazon Associate, we earn from qualifying purchases at no extra cost to you.
Grooming your dog should be an enjoyable activity. But if you are using a noisy clipper, you will be frustrated by the whole exercise. However, that should never be the case.
In this article, we will share with you the top 7 quietest dog clippers you can use today. But before we begin, here are is our top pick. If you don't have time to read through the 7 clippers, go ahead and buy it today on Amazon.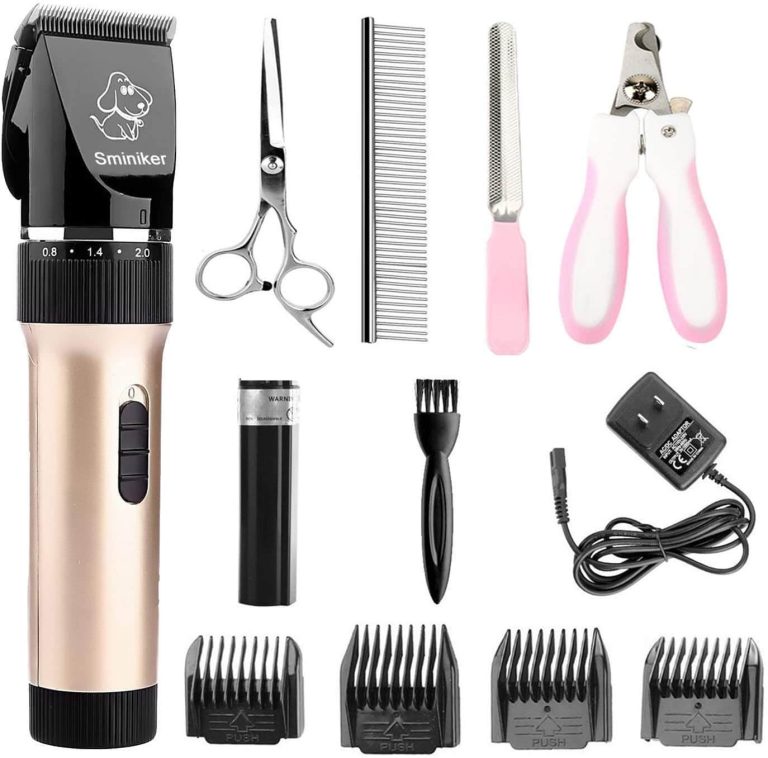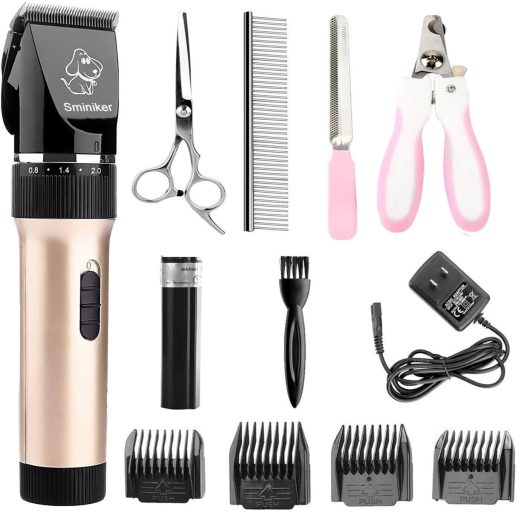 Sminiker Professional Low Noise Rechargeable Cordless Cat and Dog Clippers
This is a multi-purpose clipper. It is super quiet and rechargeable. You can use it anywhere comfortable with your dog. It comes with all other accessories that you would require for shaving your dog.
Looking for silent dog clippers?
If your dog becomes anxious every time you sit down to groom it, chances are you are using a noisy clipper. The vibration and noise coming from the machine will stress your dog all the time. Instead of enjoying grooming your pet, it turns out to be a tedious exercise.
But if that has been bothering you, here are the top 7 quietest dog clippers.
How To Choose The Best Quiet Dog Clippers?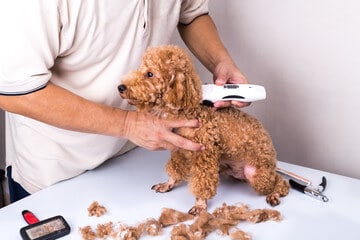 Today you will find all manner of clippers in the market. However, not every brand can be trusted for grooming your dog. Before picking any quiet dog clipper, the most important thing you need to consider is the coating of your pet.
Heavy coats: Owners of dogs with a heavy coat should get a reliable clipper. These are clippers with rotary motors that can cut long and thick coats. They need to be heavy-duty clippers.
Medium Length Coat: You need to groom your dog with a pivot motor trimmer regularly.
Thin-coated dogs: You need to buy a clipper with an electromagnetic motor. These will be sufficient to give your dog a clean cut.
Top 7 Reviews of Quietest Dog Clippers in 2019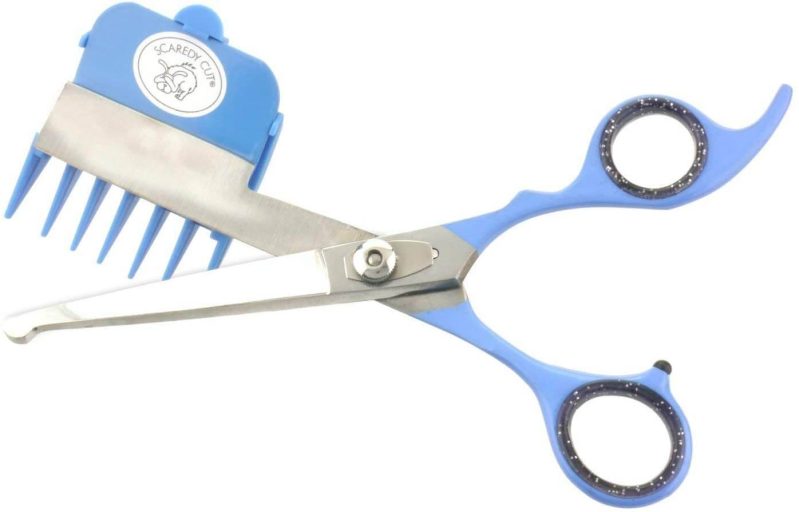 Key Features
A quiet, gentle scissor an alternative for buzzing clippers
Professional stainless-steel scissors with a clean serrated blade
7 comb lengths
1. Scaredy Cut Silent Pet Grooming Kit
Scaredy Cut Pet Grooming Kit is the most silent kit you will get for grooming your anxious pets. It offers a gentle home grooming experience that won't affect your dog. It's a great alternative for shaving, trimming, or grooming your cat or dog with a noisy electric clipper.
This is a manual kit that doesn't have a motor or any vibrating parts. It's silent than any electric clipper.
The kit comes with 7 attachment combs to help you groom your dog at a length that you want. You can choose from the comb any of the sizes that you would require.
For comfort in grooming, the kit also comes with a gel finger inserts. They will help you relax when doing a long grooming session with your pet. Inserts are set to fit both large and small fingers. And if your dog is too anxious, you can extend the tension level of your scissor by adjusting the screw located at the center of the clippers.
For the best performance, its advisable to wash your dog before grooming. This will give the grooming kit a longer lifespan.
Click here to check the clipper and buy it on Amazon for your quiet grooming.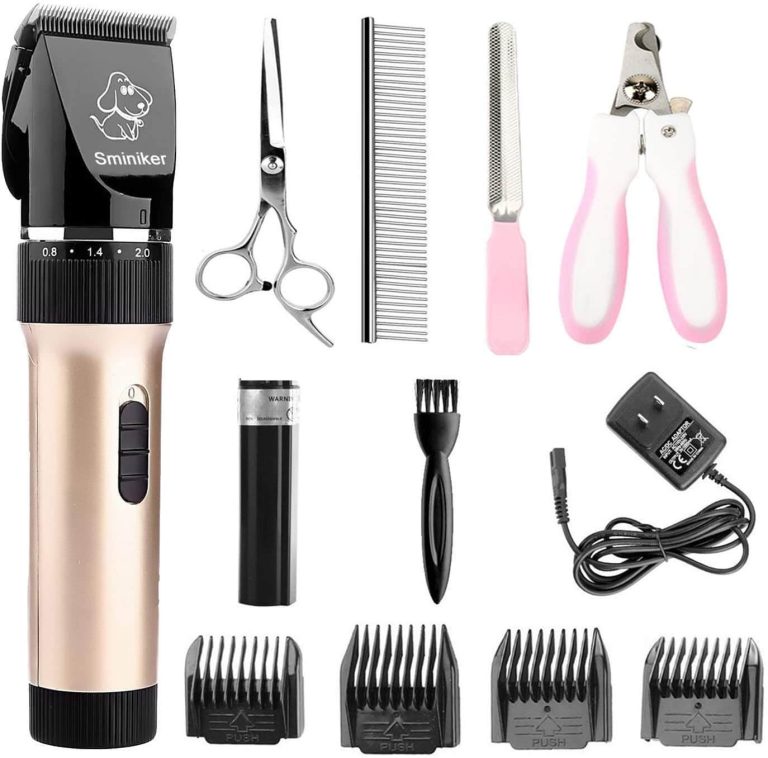 Key Features
Heavy-duty gear for a powerful cut
Titanium blade
User-friendly guide
Ultra-quiet design
2. Sminiker Professional Low Noise Rechargeable Cordless Cat and Dog Clippers
Here is a clipper that will help you groom your anxious dog without having to spend much money. It's a simple clipper that comes with all accessories needed for grooming cats and dogs. With its lightweight, it's also simple and easy to get the job done.
With their price and weight, they are still heavy-duty clippers.
The clipper is sold as a kit that comes with a stainless-steel comb, and a pair of scissors to help to trim and capture difficult hairs. It also comes with multiple combs to give you the right length for every time cut. With it, you will handle thicker hair and fur matting on your own. You don't need to pay over $100 every time you want to groom your dog.
For efficient and longer cutting, the kit comes with a titanium blade that combines with the movable ceramic blade. The titanium blade stays sharp. It doesn't get rusty and hence the reason why these clippers are regarded as one of the most durable clippers you can get in the market today.
For noise control, the clipper has a low vibration, precision motor, and ultra-quiet design. No noise comes from it. As a result, your dog will stay calm during the grooming.
It's a perfect tool to help in cleaning your dog and avoid ingesting unhygienic practices that would harm your dog.
Click here to check the price and buy the clipper on Amazon today.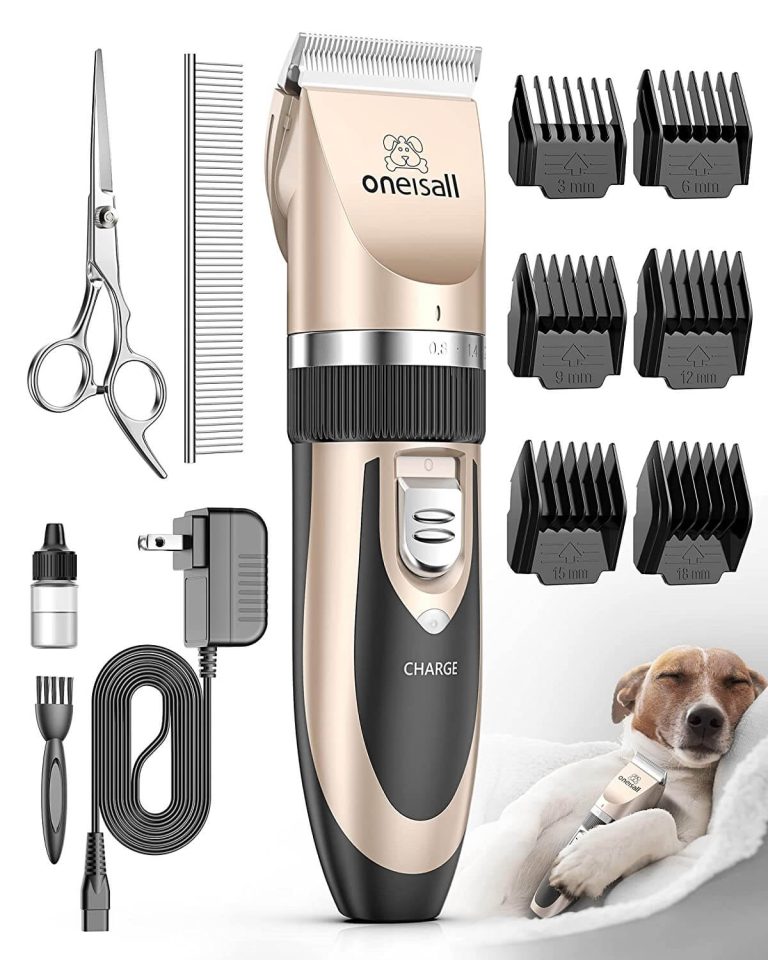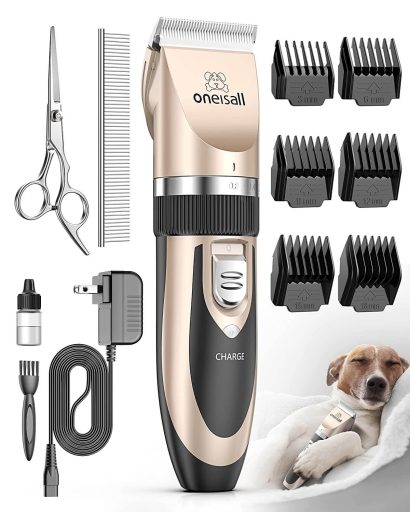 Key Features
Complete grooming kit
Low vibration and super-quiet operation
Switch to adjust different lengths
Rechargeable lithium battery
3. Oneisall Dog Shaver Clippers
This is a quiet cordless clipper with a charging cable. It's an all-round grooming kit with a cleaning brush, scissors, and four combs. A built-in rechargeable battery powers the clipper. The battery can last for up to two hours. However, it can be used with the cord attached to it.
The grooming is done by a ceramic moving blade that slides over a fixed stainless steel blade. The clipper sharpness gives it excellent grooming. Whenever you want to change the blades, they are detachable and easy to remove.
If your dog is anxious, this clipper operates quietly. You will only experience minimal vibration. It doesn't cause distress on your nervous pet.
For accurate clipping, the clipper comes with four-guard combs. They range from 3mm to 12mm. With them, you can shave your dog to your desired air size.
A five gear tuning switch on the clipper will enable you to adjust the cutting length of your pet. For dogs with long hair, its advisable to first trim it with scissors and then use groom it with the clipper.
Click here to check the latest price and buy the clipper on Amazon.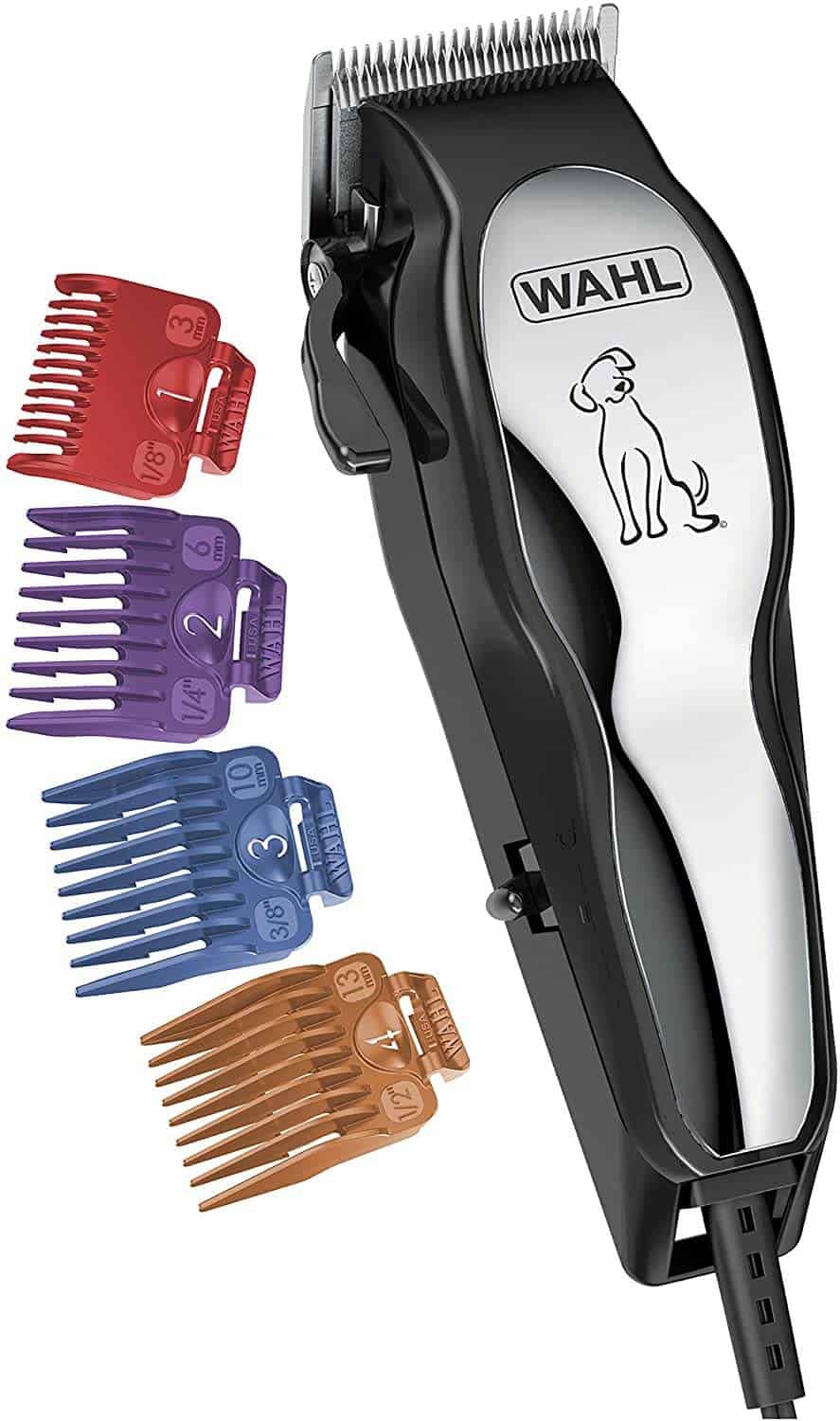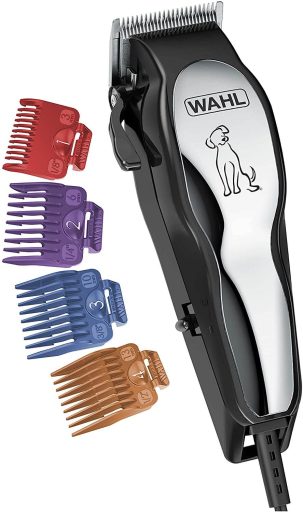 Key Features
More powerful to cut through thick hair and double coats
Has several clips for different size cutting
Affordable
Extremely quiet
4. WAHL Clipper Pet-Pro Dog Grooming Kit
Wahl is a top brand in the world that manufactures some of the best clippers you can ever find in the market. The pet grooming kit, just like its other products, gives a professional cut for your nervous dog.
When you buy the Wahl dog grooming kit, you will get everything you need to keep your dog clean. It comes with all tools for cleaning and shaving your pet.
You will get a pair of scissors. You won't have to get separate scissors. It also comes with a blade guard to keep your blades sharp. It's a self-sharpening blade clipper that won't need your effort to sharpen time over time.
And as if that's not enough, the kit also comes with a bottle of the oil used in the clipper cleaning. The oil also gives a smooth cut for your pets. As a result, you can expect minimal noise from it.
The power drive makes the grooming easier and faster. You will also get four different comps for shaving the hair of different sizes. Included scissors helps you cut hairs from difficult places.
This is a clipper that won't irritate your dog. It's smooth and easy to use.
Click here to check the latest price and buy the clippers on Amazon.


Key Features
Delivers more stroke per minute
Heavy-duty and powerful for shaving different animals
Detachable blades
5. Oster A5 Pet Clippers
Oster A5 is a corded pet clipper with excellent features and power. For its price, it's one of the most durable clippers you can find in the market. On high speed, the clipper gives up to 4000 strokes while at low speed, it delivers 3000 strokes.
Made by Oster, you can expect nothing but the best. It's a reliable brand that has won the trust of many people in the USA.
If you are looking for a clipper that will serve you for many years, Oster A5 will get it done for you. It's not a one-time grooming clipper. This is a clipper that you will use for regular trimming and grooming.
When it comes to noise, expect the clipper to be super quiet. Your dog won't be irritated by the annoying vibrations or humming of the most clippers in the market. It's a perfect choice for grooming anxious pets without much struggle.
The clipper is suitable for grooming other pets like cats, horses, and livestock. Their detachable A5 blade system makes the grooming of different sizes of pet hair easy.


Key Features
Powerful rotary motor
Quiet motor
Detachable ceramic blades
Break-resistant casing
Heavy-duty 12-inch cord
6. Andis EasyClip Pro-Animal 7-Piece Detachable Blade Clipper Kit
Grooming your anxious dog is enjoyable, calm, and easy with Andis Pro-Animal Detachable Ceramic blade clipper. You won't hear any noise or vibrations coming from the clipper. The motors are quiet and calm than their comparison clippers.
Its construction is made of a break-resistant material that fits your hands well. You can groom your pet easily and will a lot of confidence.
If your dog has soft hair, this is the kit you should be looking for. With it, you can be assured that there is no excess hair that would be left on the dog. For different hair hardness, the clipper comes with detachable blades that would help you groom different pets with the same clipper.
For trimming different sizes of hairs, the clipper comes with four different combs.
In short, this is a clipper you would use to groom your pet at all times. It will give that extra clean cut and look to your pet. And if your dog is anxious, you don't have to worry about anything. The clipper is super quiet.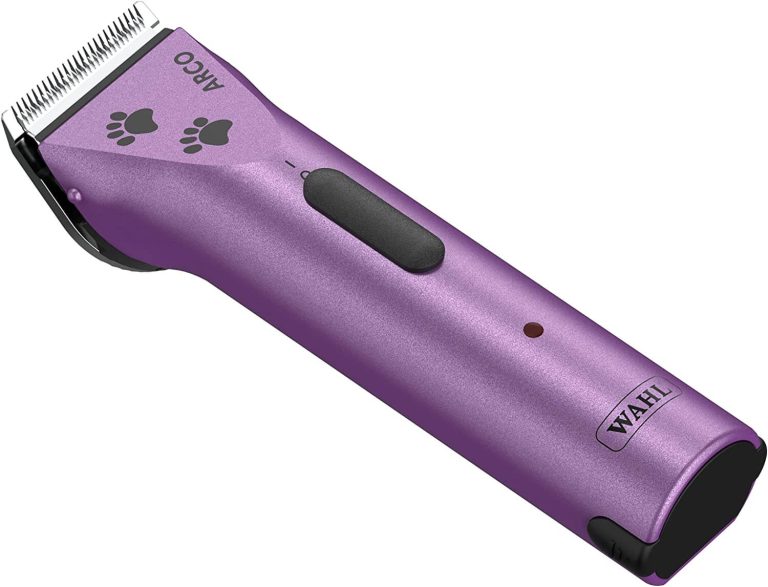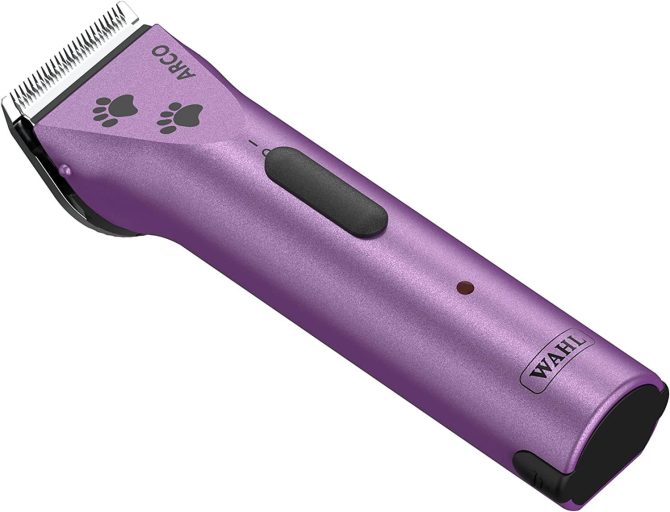 Key Features
Lightweight for ease of grooming
Two-speed setting
Extremely quiet clippers
14 inches heavy-duty cord
7. Wahl Professional Animal Arco Pet, Dog, Cat, and Horse Cordless Clipper Kit
These are clippers designed to give your dog a faster and smooth cut. It's also quite making it suitable for stressed dogs. With the quietness and smoothness of this clipper, your dog groom turns out to be an enjoyable exercise.
The lower speed setting of this clipper will give you a speed of 3000 strokes per minute. This makes it good for shaving areas that don't require much power. For much hair, the clipper can attain up to 3500 strokes per minute. There is also a constant speed that can be used to shave your dog in different areas.
Click here to check the latest price and buy the clipper on Amazon today.
Things you should consider before buying a quiet dog clipper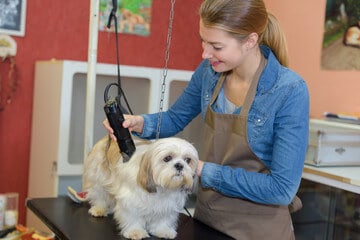 The clippers come in different designs, capabilities, and power. Therefore, it's important to consider the following factors before you buy any clipper for your anxious dog.
First of all, you will live with your dog for some years. Even if you sell the dog, the chances are you are going to get another dog within a short time.
This is the reason you need to get a clipper that would serve you for many years. No one would like to buy a clipper today and go back to look for another clipper shortly after several years of using it.
All you need is a strong clipper that would stand the test of time.
Grooming your anxious dog can be difficult if you are using a noisy clipper. You would even hate the job. Or you might end up thinking that you are cruel on your pet.
It's uncomfortable for dogs to hear the vibration or humming noise from the clipper. If the dog it's stressed, it will end up with more stress.
It's important to buy clippers with silent motors.
When cutting through matted and coarse dog coats, your clipper should run smoothly. This is why it's important to consider the power and the speed of the clipper you would like to buy. The motor rotations per minute determine the power of a clipper.
The best clippers have higher speed and power. However, when considering this factor put in mind the noise factor. Most of the clippers make a lot of noise.
However, all the above clippers have a high speed combined with noise reduction technology.
As you use your clippers for a longer time, the blades become hot. The stainless steel is prone to become too hot. This is especially when you use them for a long duration.
Choose any of the clippers above. They have a ceramic blade, which is not a good heat conductor. As a result, you can expect less heating from this specific clipper.
Over time the dog clippers have improved. Better blade technologies and metal alloys are the reason we have friendly blades today. So, when choosing any clipper its essential to think about the blades.
Check the material used on the blade. Avoid anything that could rust or stain easily. It's also essential to get blades that don't overheat or break easily.
We recommend that you buy clippers with ceramic blades. They will give you a long-lasting and perfect cut for your dog. Ceramic material doesn't rust, stain or conduct heat.
Benefits of Using A Low Noise Dog Clippers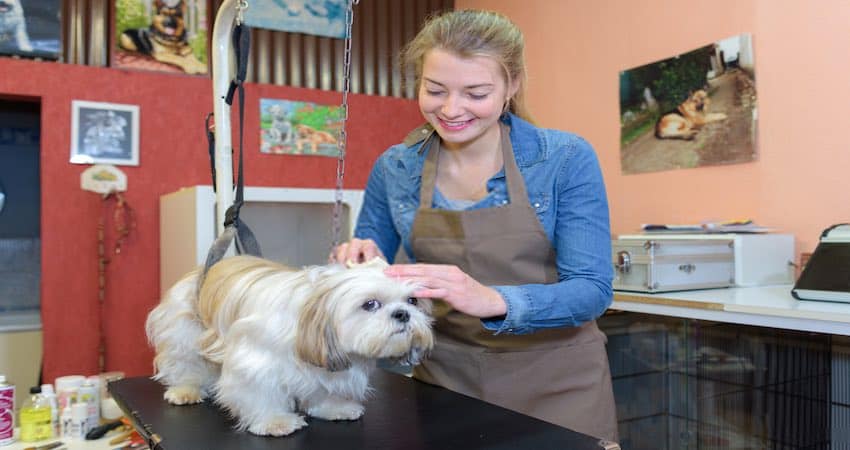 Have you ever seen a normal person who likes noise? No one does. Even dogs don't enjoy it when you shave them with a noisy clipper.
If you have been shaving your dog with a noisy clipper, you must have noticed that it gets anxious every time you sit on the grooming table. The loud and vibrating machine frustrates dogs.
Grooming your dog might take some hours. You shouldn't subject your pet to stress for hours. It's not fair to it.
Here is where low noise dog clippers come in. They work well in grooming your dog. Every cut turns out to be a time to bond with your dog.
Final Verdict
All of the above 7 clippers will give you the best experience you are looking for. It doesn't matter the thickness and size of your dog hair. You will find a clipper that is efficient and quiet to give your dog a comfortable shave.
If you are not sure what to buy, click here to buy Sminiker Professional Low Noise Rechargeable Cordless Cat and Dog Clippers, which is our top pick.