As an Amazon Associate, we earn from qualifying purchases at no extra cost to you.
Just recently, we were arguing with our mechanic about the best soundproofing Mats for automotive. Everyone seemed to have their views. But at last we agreed that Dynamat and SoundSkins are the top leading soundproofing mats we have in the market currently.
After that debate, I set out myself on a journey to find out which of the two soundproofing materials are best for any car.
In this article, I will present to you our most recent and honest review of both of these mats.
What Makes a Sound Deadener the Best for Car Soundproofing?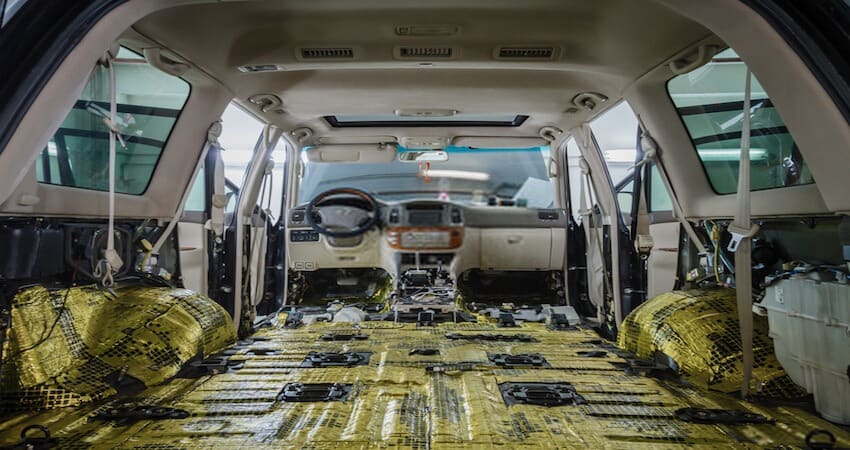 Sound deadeners come in different materials, sizes, and brands.
You won't choose the right sound deadener if you don't know what makes it effective. The following a few things you will find in a good sound deadener.
Method of Noise Reduction
Before choosing any mat, it's essential to understand the nature of sound reduction each material uses. You should understand the difference between sound absorption and soundproofing.
Soundproofing materials reduces the external noises entering into the car. The noises include wind, tire humming, and wind.
Sound absorption reduces noises from the car. The noises include cabin noise, loud motor, and rattling of the trunk.
Types of materials used in Sound Deadener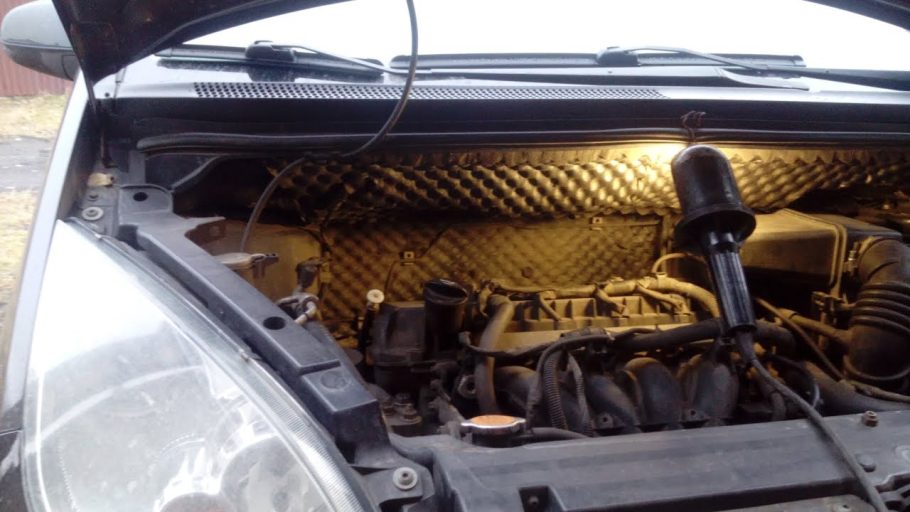 Different Mats use different materials. Therefore, they insulate the noise differently. One material is effective than the other. The material also determines other factors such as ease of application and flexibility.
The thicker the material, the better the insulation. Thicker materials isolate external noises from entering the car efficiently.
Cars are constantly in contact with oil. It doesn't matter how careful you are, grease or oil will be found on your car surface at some point.
Therefore, when choosing a car, deadener choose a material that can easily stick to your surface. Choose a material that is oil resistant.
Flexible material will give you an easier installation. You can bend it and install on corners, or curves. Inflexible material will not give you the best service as you would wish.
Always go for a lightweight mat. You won't use much effort fixing the material on the surface.
Dyanamat Review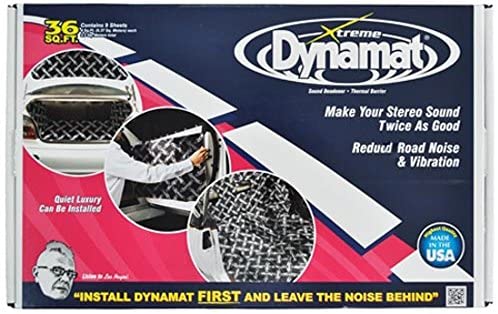 Dynamat is a sound deadening material that has been in the industry for a long time. It's a preferred choice over most of the soundproofing mats available in the market today.
Dynamat reduces automotive noise but also improves the quality of your car audio. It blocks all noise from the car engine, vibrations, and car movements. At the same time, it absorbs all the echoes in your car cabin. This is why the mat improves the quality of your car audio.
The mat is also perfect for heat insulation. Your car remains cool during hot summer days.
Dynamat Features:
Permanent Adhesive: The mats have a lasting, strong adhesive for installation. After installing the Dynamat, it does not come off. It remains intact even when temperatures are high.
Aluminum Coated: Dynamat comes with an aluminum coating. The coating enhances heat resistance on the mat. It does not absorb heat.
Compatibility: Dynamat is made up of a material that is compatible with different car surfaces. Therefore, without any difficulty, you can apply it on different surfaces and hold firmly.
Flexible material: The mat is flexible and can be used to soundproof flat surfaces, corners, and curves.
Multiple functions: Besides soundproofing, the mat also insulates the car from excess heat. It also reduces the rattling of subwoofers. Therefore, when used in a vehicle, it enhances the overall bass effect of a vehicle.
Pros
No heating is required to install.
Improves subwoofers sound quality.
Efficient in deadening vibrations, noise, and heat.
Aluminum coated.
Cons
Expensive
It requires a separate tape and roller to seal the seams between two mats
Best Dynamat Mats Available in the Market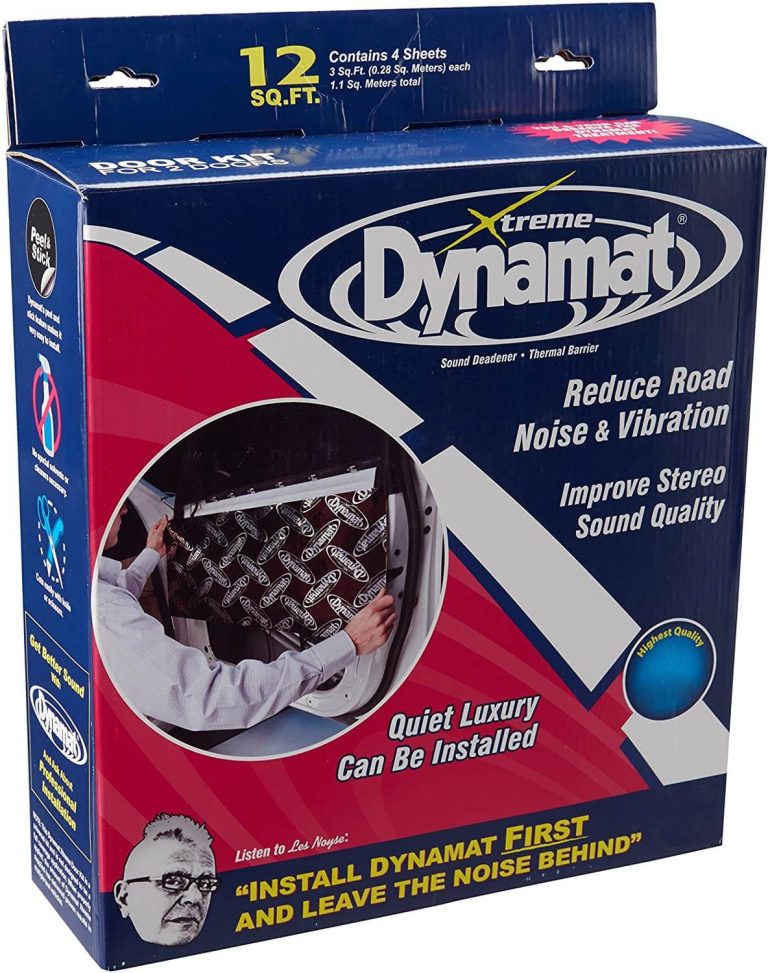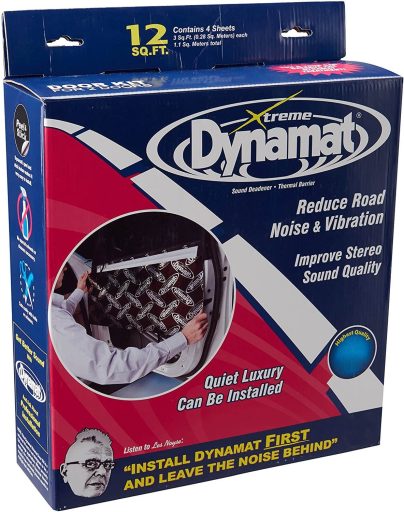 One thing you will love about Dynamat is that they come with varieties. You will find a mat that will suit your needs easily.
The following are various Dynamat available in the market.
Dynamat Xtreme is the most popular mat. It's made of Sticky butyl rubber coated with an aluminum alloy skin. Mat is super-thin yet very effective.
Dynamat Xtreme doesn't tear down. And unlike most soundproofing Mats it doesn't leave a rubber smell in your car.
The mat comes in different sizes.
Click here to check the latest price and buy the Mat on Amazon.
Dynamat SuperLite is efficient for blocking car vibrations and road noises. As compared to Dynatmat Xtreme, it's thinner and light-weighted by 30%.
Therefore, if you don't want to add more mass to your car, this is the mat to choose.
Despite its lightweight and thickness, its effective in soundproofing. Its installation is also easier; there are no special installation requirements needed to fix it over the car surface.
Therefore, if you a looking for a mat that will work effectively and still maintain the weight of your car, buy Dynamat SuperLite on Amazon.
Dynaliner is a mat that's used alongside Dynamat. Normally, it applied on top of the Dynamat. It has a self-adhesive soft closed rubber cell. With its structure, it makes an excellent heat insulator. The cells are also arranged in a way that water or oil can't go through it.
Dynaliner is strong and durable. It doesn't wear out easily.
Check the latest price and buy the mat on Amazon.
SoundSkins Review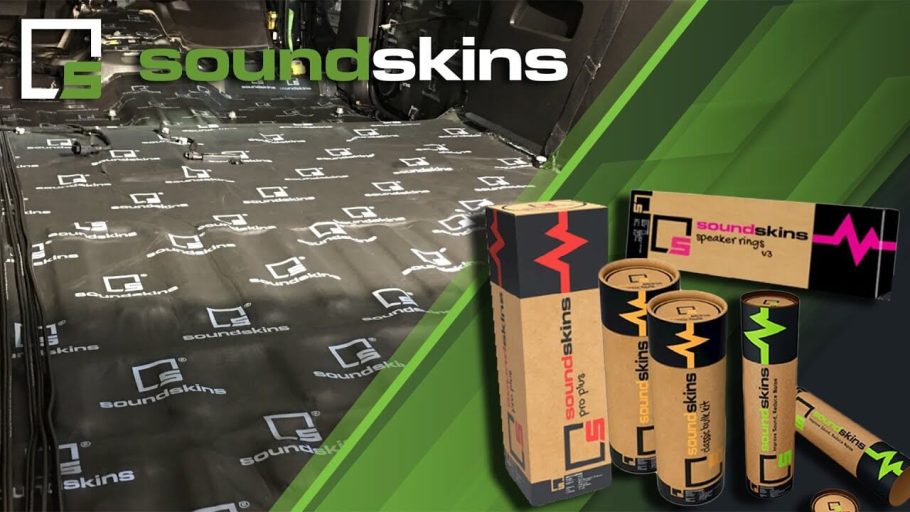 SoundSkins are automotive soundproofing materials that were officially launched to the market in 2015. Much information is not available hence the reason why it's not popular as compared to Dynamat, Fatmat, Noico or other popular soundproofing mats.
But despite all this, the sound deadener is one of the best deadeners ever invented in the world of automotive soundproofing.
SoundSkins is soundproofing block not only the automotive exterior noises but also improve internal acoustics.
The mats are made of butyl and quality foam. They are heatproof, waterproof, and long-lasting. Once you apply over the car, it holds for a very long time on the surface which it is installed. Thanks to a very high-quality adhesive coated on the mat.
Features:
Maximum Noise Deadening: SoundSkins mats soundproof a car into major ways; sound blocking and sound absorption. The Butyl material on the mat blocks all automotive noises coming from the outside. At the same time the high-quality foam absorbs and soften any noise in the cabin. As a result, the interior acoustics of a car is improved.
Waterproof: The mats do not allow water to pass through them. They also do not absorb any moisture hence the reason they have a longer life span.
Easy of Installations: SoudSkins come with a strong adhesive that can hold well and firmly on the automotive surface. The mats are also flexible to install on any automotive surface.
Heat Resistant: SoundSkins mat is effective in insulating car heats. The mats are strong and can withstand a high level of heat when used over the car.
Best SoundSkin Products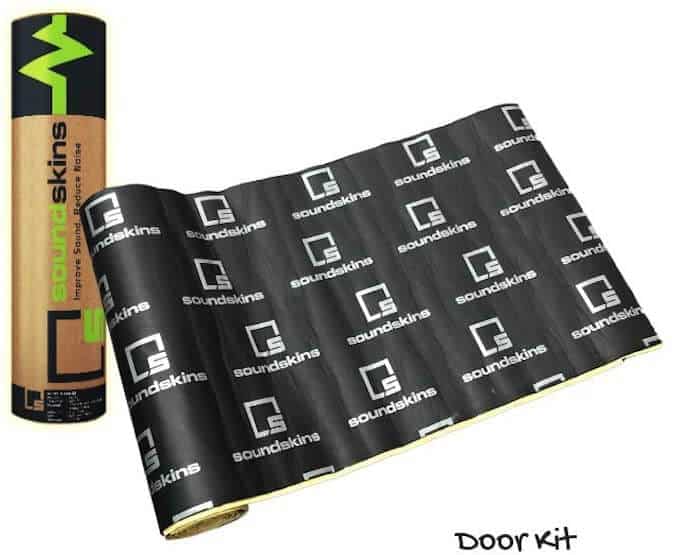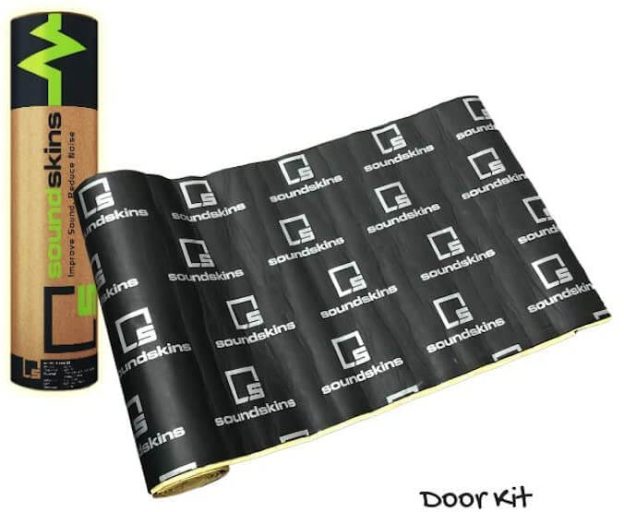 Unlike Dynamat, SoundSkin Mats do not have many options. It's only one kit that soundproof the car.
SoundSkins Pro-Kit weights around 6 pounds. The kit is specifically designed to reduce road and any other exterior noises from entering into the cabin. As a result, interior acoustics are also improved.
The mat combines a 3 butyl rubber layers with acoustic foil and foam — all of these blends to deaden all noises from outside. At the same time, interior sounds are absorbed and softened hence the improvement on the interior acoustic improvement.
The kit comes in a large kit that is easy to cut and install over the car surface.
As compared to all other Dynamat, SoundSKin Pro-Kit performs an excellent job. It's easy to install even for the beginners.
Check the latest price and Buy your SoundSkins Pro Kit on Amazon today.
Which Sound Deadener is Best?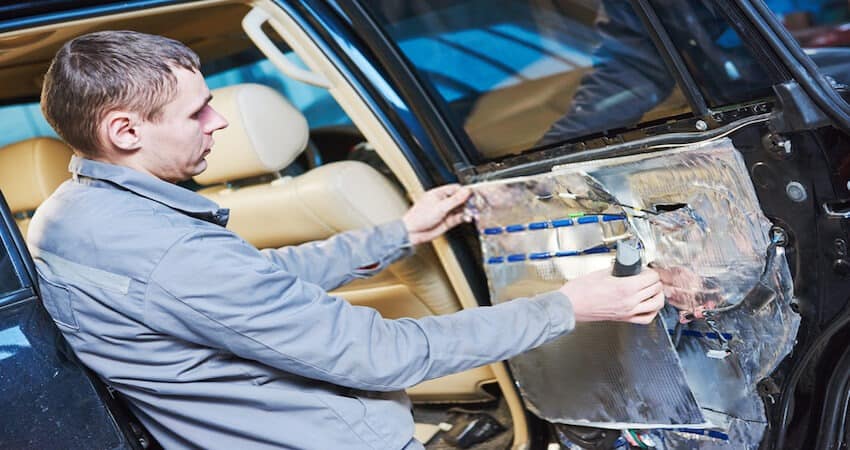 To understand the best product between SoundSkins and Dynamat we will look at five key factors that make an excellent soundproofing mat. The following are the factors.
Sound deadeners come in different dimensions, sizes, and thickness. The larger and thicker a soundproofing material is the better the soundproofing effectiveness.
Dynamat comes in 36 sq. Ft while SoundSkin comes in 11 sq ft.
When it comes to thickness, SoundSkins is 0.059" thick with around 7.7 pounds. On the other hand, Dynamat is 0.069" thick with approximate weight of 15 pounds.
Winner: Dynamat
Dynamat is easy to install. With a few online tutorials, you can fix it on your car. However, it can be difficult for newbies to install. SoundSkin, on the other hand, is easy to install, even for beginners.
Winner: SoundSkins
Both products do a fantastic job when it comes to soundproofing. They all block external noises, improve internal acoustics and at the same time insulate a vehicle from excess heat.
Winner: Both the Mats are great in Soundproofing effectiveness
Cost of the mat is a huge factor to consider when buying a soundproofing mat. Both the Dynamat and SoundSkins cost almost the same. The price for both mats ranges around $3 per square ft. However, Dynamat cost can rise when you opt to hire a professional to do it.
Winner: SoundSkins
Final Remarks
Both Dynamat and SoundSkins are both quality soundproofing products. So, it could be challenging to determine which of the two mats is better than the other.
If you are looking for a mat with varieties, buy Dynamat. With product varieties, it's easier to control your cost and reduce material waste during installation. But if your concern is ease of installation, choose SoundSkins. Even without experience, you can easily install the mat on your car.