As an Amazon Associate, we earn from qualifying purchases at no extra cost to you.
If you are reading this article, chances you love dogs. We do too. Dogs are excellent pet choice. They give us great companionship. However, sometimes, they can be too noisy. Dogs are fond of loud barking. Sometimes it's difficult to ignore the noise. That's the primary reason you need to soundproof dogs crate and Kennel. It's also essential to find ways to reduce the dog's barking.
Therefore, in this article, we will discuss a few proven tips about how to soundproof a dog crate and stop dog barking in kennels. So, stay with us & keep reading.
What is a Dog Crate?
A dog crate is a collapsible plastic or metallic pen that is large enough to allow a dog to sleep, stand, and turn around. A crate is a special house portable dog house. It's the dog's sanctuary and bed. The main purpose of a dog crate is to give dog security, safety, travel, reduce destructive behavior, and house training.
Why Use a Dog Crate?
There is more to a dog crate than giving comfort. In its appearance, it looks like a cage. But in a real sense, it is helpful in dog training. The following are the top benefits of using a dog crate.
1. Gives a Calm Retreat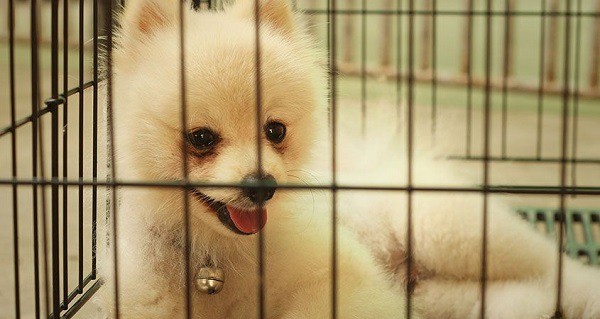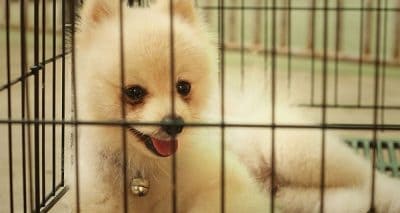 As a dog get used to using the dog crate, it serves as a comfortable place to retreat. Therefore, place the dog crate in a serene environment with fewer disturbances. The dog will be willing all the time to go to the crate when it feels stressed, scared, or tired.
2. Gives Safety to Puppies
Puppies like chewing stuff in the house. When it's roaming around the house, it faces the risks of poisoning, electrocution, or choking. Small puppies are at risk of being stepped or knocked by people in the house.
To prevent all these from happening, put the dog inside a crate.
3. Convenient for traveling with Your Dog
A dog crate is beneficial if you need to go with your dog. Most dogs don't feel comfortable moving in vehicles. Dog crates, therefore, helps in relaxing and keeping the dog calm during your journey.
Humans use safety belts to secure themselves when traveling. Dogs should as well use dog crates to secure them.
Types of Dog Crates
It will be unfair to you if we do not help you in choosing the best dog crate. Whenever you need to buy a dog crate, there are factors you need to consider. Most important, you need to understand the type of dog crate you need for your dog.
Dog crates come with different types depending on the material used to make them. The following are the top types of dog crates.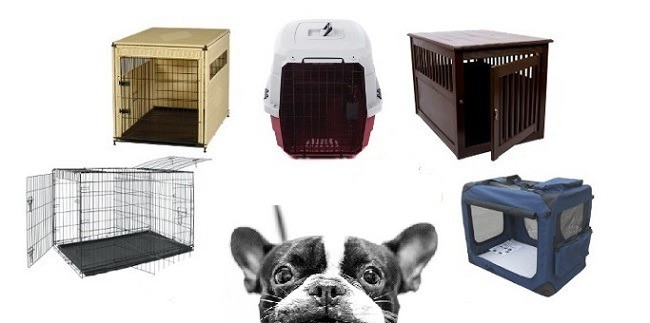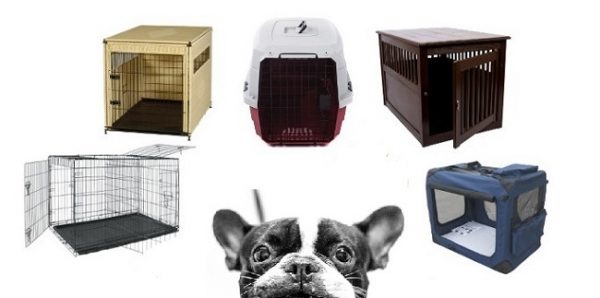 Plastic Dog Crates
A plastic crate is designed to withstand heavy tear and wear. It has more solid walls that give the dog more privacy.
Plastic crates calm dogs easily. They are legally authorized for transporting dogs through planes.
Soft Dog Crates
Soft crates are similar in design and features to camping tents. They are ideal for dogs that are comfortable sleeping in a crate. They have a strong fabric and supporting poles. The cage is comfortable and durable.
Metallic Dog Crates
Metallic crates are made with thick metal wires. They are generally easy to move with and durable. The metallic crates are foldable. This makes them hassle-free to store in the house and when sleeping.
Wood Dog Crates
Wooden crates are fancy and durable. They are made for dog lovers who are passionate about elegant looking homes and furniture like the design.
You have your favorite dog, but don't have the crate for dog yet? Bellow are our 4 best choice's dog crates, You can buy any of them on Amazon.
AmazonBasics Single Door & Double Door Folding Metal Dog Crate
Convenient front and side entry
Two slide-bolt latches
Sturdy metal construction
Optional divider panel
Perfect for travelling
Top door design
Durable material
LiteField 3-Door Folding Soft Dog Crate,
Indoor & Outdoor Pet Home,
Multiple Sizes and Colors Available,
Soundproofed
End table design
Lockable gate
solid wood construction
Importance of Soundproofing a Dog Crate
There are two major reasons why everyone should think of soundproofing the dog's crate. The dog and people will both benefit from the soundproofing.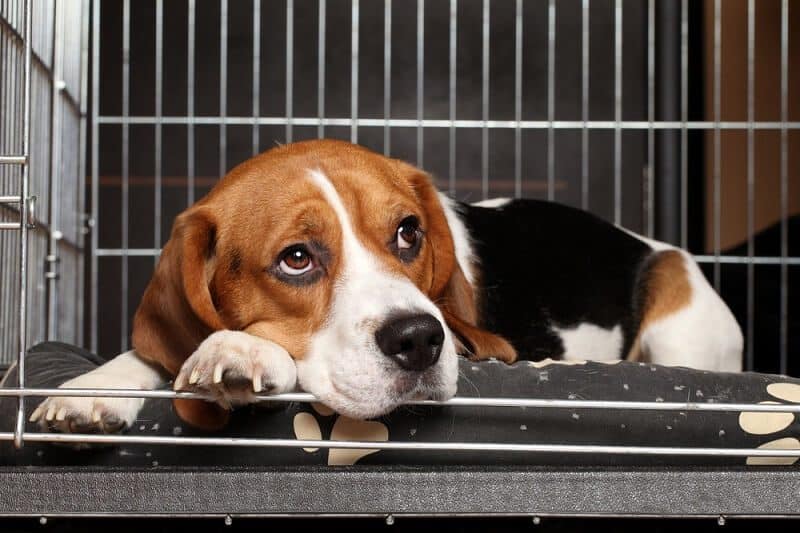 Reduce the Amount of Noise Your Dog will Hear
The number one benefit goes to the dog. A soundproofed crate gives the dog enough peace. It reduces the amount of noise the dog will hear from outside.
A soundproofed cage gives the dog a much better environment to sleep and relax. Dog noise disturbance is one of the reasons the dog will bark. Therefore, as the dog is at peace, it also gives you peace in the house.
I am sure you know some of the ways which soundproofing the dog crate will benefit you. For us, it really worked well. Before we soundproofed our dog's crate, we were thinking of selling our pet. There was no peace at night. The dog would just bark for no reason.
Dogs are dogs, and they bark. You can't punish them for doing what they know how to do best. Therefore, soundproofing helps a lot.
Soundproofing reduces the noise produced by the dog. After soundproofing, we haven't heard any complaint from our neighbors. Soundproofing protects both the owner and the people around the dog.
Buy A Soundproof Dog Crate
Most crate manufacturers acknowledge the need for having a quiet home. That's why they have designed soundproof crates. Therefore, if the dog's noise bothers you, consider buying a soundproof crate for dogs.
Soundproof crates are modified crates that prevent the dog's noise from disturbing people around the dog. The crates come with installed sound-absorbing materials such as panels and sound baffles.
The soundproof crates absorb the noise and vibrations. They reduce barking intensity. The crates are also comforting to the dogs. It absorbs echo that can scare your pet.
Therefore, buy a soundproofed crate today and enjoy living together with your dog. Check the following soundproof dog crate on Amazon.
Well-Ventilated Pet Crate
Indoor Or Outdoor Use
Made with New Heavy-Duty Tight-Weave Mesh Fabric
For pets up to 70 pounds
Water-resistant
indoor/outdoor
4 reinforced doors with heavy-duty zippers
Folds quickly for quick storage
For dogs up to 90 pounds
Portable Soft
Large Dog Crate
Travel Dog Crate for Medium to Large Dog
Soft Sided Pet Crate
Our Proven Techniques to Soundproof Your Dog Crate
If you had already bought an ordinary dog crate, don't worry. You can soundproof it. In fact, it can be cheaper to soundproof your dog's crate than purchasing a new crate.
The most important thing you need to do is to soundproof your crate but also leave enough space for your dog to breath.
The following are simple techniques to soundproof your dog crate.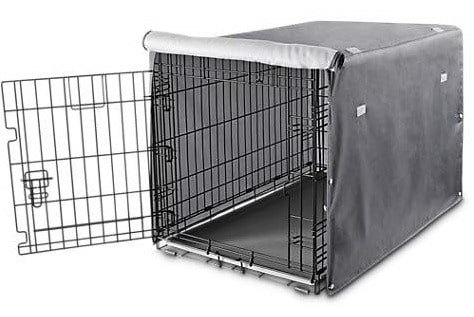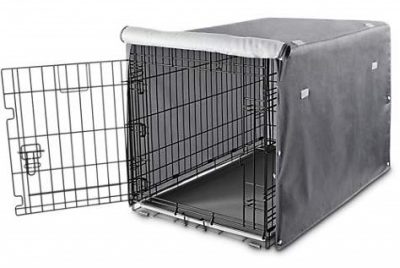 #1. Use Dog Crate Covers
Crate covers are an efficient solution to dog noises. A crate cover would cost less than buying a soundproof crate.
Put the cover over the cage structures and reduce the amount of sound getting in and out of the crate. The crate covers are made of heavy sound deadening materials. Despite the density of the material, it doesn't cause the cage to be too hot.
Dog crate covers are readily available on Amazon. You can always find a crate that is within your budget. Consider buying any of the following crates on Amazon.
Petsfit Durable Single Door Polyester Dog Crate Cover with Mesh Window
Multiple panels can be folded over.
Durable oxford cloth.
Back zipper feature for easier fit.
MidWest Homes for Pets Dog Crate Cover
Dog crate cover provides the privacy, security & comfort
Dog kennel cover allows easy access to front, rear & side doors
Hook & loop tabs
Dog kennel cover is made of 100% durable polyester,
The dog crate cover includes 5 flaps which are the front, sides, back & top panel.
HiCaptain Polyester Dog Crate Cover,
Durable Windproof Pet Kennel Cover
Provided for Wire Crate
Indoor Outdoor Protection
#2. Buy Sound Absorption Sheets
Absorption sheets are another cost-effective strategy to soundproof dog crates. The sheets have soft sound deadening materials that reduce echo and amount of sound going through them.
The sheets also create a quiet and dark room for the dog. Most of the absorption sheets come with grommet holes installed for easy mounting. After buying the sheets, hang them around your dog crate.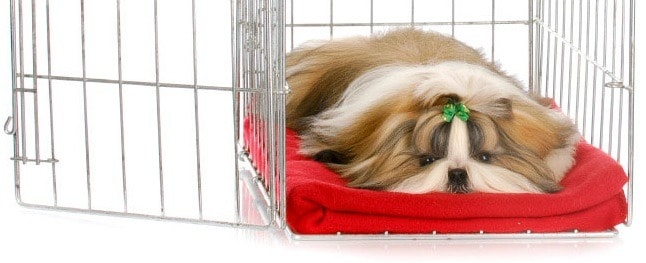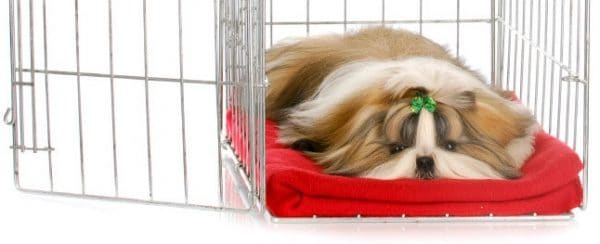 #3. Use Moving Blankets
Moving blankets are heavy. They absorb all sound waves passing through them. To reduce the intensity of your dog barking, place the blankets at the floor of the crate. Blankets are easy to clean, which makes them the best choice for soundproofing.
Tips: By the way, Blankets are also useful to soundproof your fish tank. You may read our recent post about it.
However, do not cover the entire crate with moving blankets. The dog needs to breath fresh air. Consider buying the following blankets on Amazon.
Deluxe Pro
Double-sided construction
80″ x 72″ (40 lb/dz Weight)
Professional Quilted Shipping Furniture Pads Royal Blue
Effective sound absorption.
Measures 95″ x 54.
Great for recording studios, drum rooms, rehearsal spaces, vocal booths, and more
Installation hardware included
Size: 72″ X 80″
Double lock stitching and thick 1/4-inch material
Ideal for preventing scratches and nicks to furniture
Double lock stitching with four square finished corners
Ultra-thick
Size: 80″ x 72″
Weight: 65 lb/dz
Professional Quilted Shipping Furniture Pads
Size: 72 inch x 80 inch
Quilted premium cotton
3-inch black woven binding
Weight: 7.5 pounds each
Best Ways to Soundproof Dog Kennels
We have already discussed ways to soundproof the dog's crate. The same strategies can be applied to the kennel. However, a dog kennel would require specialized attention. The following are additional techniques to soundproof the dog kennels.
Acoustic tiles are strong. They do not allow sound to pass through them. You can install them on the kennel walls, floors, and ceiling. Feel free to replace the kennel walls with the acoustic tiles.
The tiles are manufactured from recycled cotton materials. They are designed to reduce sound echoes. Therefore, using them in the kennels will reduce the echoing from the dog' barking.
If you want to reduce echoes from your dog's kennel, use sound baffles. Baffles are soundproofing materials that are suspended vertically from the kennel ceiling.
Why use baffles?
Easy to install,
Class A fire rated,
Lightweight
How To Stop Dog Barking In Crate or Kennel
Dogs are emotionally disturbed by emotional farewells. Stop petting, hugging, and crying before you close your dog in the kennel. It will need more emotional touch and moment. And that's a recipe for barking.
Emotional farewell will leave your dog feeling lonely. As a result, it will bark uncontrollably until it sleeps or gets your attention.
Of course, it's important to say bye to your dog. But don't overdo it.
Exercise and Play with Your Dog
Ensure your dog is tired. After vigorous exercise, it will just need to sleep. Sleeping dogs do not bark. Just like babies sleep when tired, so do the dogs.
Take your dog for walks. In your free time, engage your dog in games. This will reduce the energy and the urge to bark uncontrollably.
Have a Dog Sitter if You Will be Away for a Long Time
At some point in life, you will need to travel. If you are going for some days, leave your dog with a dog sitter. I am sure you don't want to receive calls from your neighbors when you are away.
Leave the dog with a family member or a friend. When the dog is left alone, it will be lonely. It will result in uncontrollable barking.
Dogs love playing. It's not a secret. Therefore, you can easily get your dog distracted. If you buy your pet a toy, they will want to play with it. It's all about keeping the pet occupied. When your dog is playing, there will be no time for barking.
Check the following toys on Amazon and buy them to your dog.
Train Your Dog to Stay in the Kennel or Crate
Most of the times your dog will bark because they are not used to living alone. They would feel like they are being caged. No one likes it when they are caged. And dogs too don't appreciate that either.
However, you can train your dog to live in the crate. When the dog refuses to stay silent in the kennel, discipline it. You will only discipline it in a few days, and it will fine.
Even when the dog refuses to be firm and train it to stay in the kennel, with time, it won't need to be forced to stay alone.
Parting Short
If your dog is making noise in your home, buy a soundproof kennel or crate. If you already have the crate or do not have enough money on your budget, soundproof the current kennel. Soundproofing will work perfectly. It will protect the dog and the people around it. Also, you can apply the tricks discussed above to reduce your dog barking.