As an Amazon Associate, we earn from qualifying purchases at no extra cost to you.
If you have a noisy appliance in your home, you know how it can be frustrating to live with humming or vibrating machines. Dishwashers, specifically, can make it difficult for you to enjoy the tranquility of your home.
However, this shouldn't be a worry to you anymore.
In this article, we will discuss with you simple techniques you can apply to reduce the noises you will experience from your dishwasher.
Inspect and Fix the Noise Source
If your dishwasher was quiet, but all over sudden it starts making a lot of noise, there could be some problem with it. Before trying any soundproofing technique, get it checked. If you find any problem, then let a technician fix it.
Here are some of the common problems that could cause your dishwasher to be noisy.
Malfunctioning Pump
The role of the pump is to operate the spray arms and draining dirty water from the dishwasher. It has a filter and impeller located at its bottom.
Therefore, if you hear noises coming from the bottom of your dishwasher, the pump could be the problem. Check any debris or dirt stuck on it. Clean it and ensure nothing it's blocking the pump.
But if this doesn't fix the pump's noise, get an experienced technician to check it further and determine what the problem could be.
If it's not debris causing the problem on your pump, you might opt to replace the pump. Ask help from a professional to get the right pump and fix it over your pump.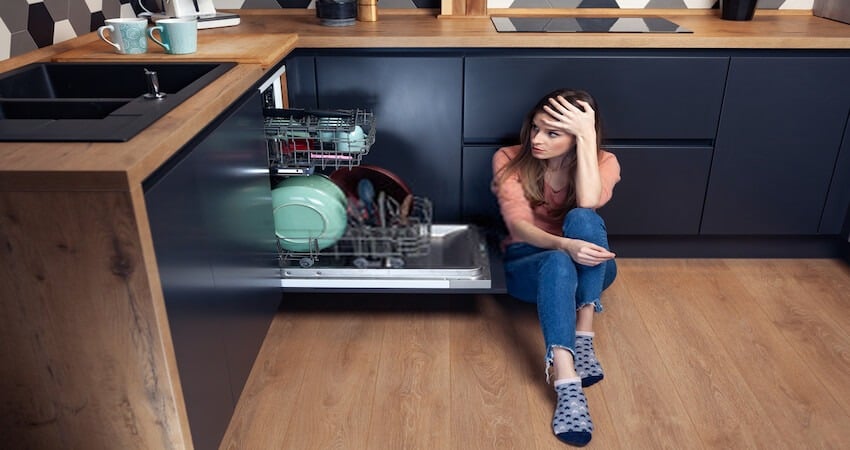 Loose Seals and Broken Bearings
A loose seal will make your dishwasher make some rattling sounds. If you hear such noises coming from the dishwasher, inspect the seals.
Bearings, too, will make similar noises when they are broken.
Seals and bearings break and wear out easily since they are made of plastic. And if you find they are the reason your dishwasher is making noises, all you need to do is to replace them. If you aren't sure about the bearings and seals to buy, get help from an experienced technician. A qualified dishwasher technician will help you get and fix the best bearings and seals on your dishwasher.
Broken or Worn Out Spray Arms
Spray arms need to be working properly without straining. However, when they are broken or worn out, they don't rotate correctly.
Worn out spray arms will definitely make noises.
Check them regularly. If you notice any problem with them, buy new ones. Get the arms replaced and enjoy washing your dishes with all the quietness you need.
Apply Soundproofing Techniques on Your Dishwasher
In the case where you have inspected all the three areas mentioned above but still hear noises from your dishwasher, its time to soundproof it.
When a dishwasher is operating, it will definitely make some kind of humming or vibration noises. These noises don't mean that there is a problem with your dishwasher. It's just how your dishwasher is designed to operate.
However, washing dishes shouldn't be noisy. The following are some of the techniques that you can apply to your dishwasher and reduce most of the noises you will get from it.
Here are some soundproofing techniques that will be effective for your noisy dishwasher.
1. Get a Dishwasher Sound Shield
A sound shield is a best and fastest way to deal with the dishwasher noises. The Whirl Pool dishwasher sound shield does a perfect job. Even though it's a Whirlpool brand, it can fit and function well on any other brand.
A dishwasher sound shield acts as a soundproofing blanket. When installed on your dishwasher, it absorbs most of the noises emitted by your machine.
To install it, all you need to do is to place it over the dishwasher. Tuck it in the dishwasher openings to reduce many noises as possible.
Click here to check its latest price and buy the dishwasher shield on Amazon today. It will reduce most of the noises you are experiencing from your dishwasher.
2. Remove and Replace Your Dishwasher Insulation
A dishwasher comes with sound and heat insulation over it. Most dishwashers have either soundproofing blankets or foams. And just like any other material in your dishwasher, the insulations wear out.
As the insulation starts wearing out, their effectiveness reduces.
The older the insulation gets, the lesser effective it becomes. If you have used your dishwasher for a long time, get a technician to replace the insulations for you.
But if you are confident enough, remove the insulation on yourself. It's usually attached to the dishwasher with a rivet. Use needle-nosed pliers to remove the rivet. You will need to reuse it over the new blanket you will install.
Here is a dishwasher insulator that will work for most of the brands in the market.
Ge WD01X10448 Dishwasher Sound Barrier
Uses lighter material but absorbs most of the noises
Easy to install on your self
High quality manufactured by General Electric a reputable spare part company
3. Put Your Dishwasher Away from Walls or Platforms that Magnify Vibrations
Without a doubt, when you turn on your dishwasher, it's going to produce some vibration noises. The best way to solve this problem is to ensure you don't magnify the vibrations. If your dishwasher is causing disturbances in the rooms from the other side of the wall, keep it away from the wall.
Ensure you don't place your dishwasher on a metallic or loose platform. The vibrations will produce a rattling noise as they travel through the surfaces.
4. Use Anti-vibration Pads
Before you would think of soundproofing your doors or windows, the first thing you need to do is remove all structural noise from your dishwasher. Vibration sound penetrates through the wall.
Anti-vibration pads are the most effective way to reduce structural noise. It's cheap and easy to install. They absorb all the vibrations and prevents them from causing disturbances in the house.
The best part is that you don't need any special skills to fix the pads. You can do that in less than 5 minutes. Order the pads on Amazon and put them under the refrigerator.
The anti-vibration pads will be able to remove all vibration noises from your dishwasher. For effectiveness, buy anti-vibration pads made for washing machines.
The pads are used to absorb vibrations from laundry appliances. They are placed under the machines. Apart from reducing the noise, the pads can be used to provide solid floor floating for equipment.
Buy either of the following anti-vibration pads from Amazon and say goodbye to structural noises from your dishwasher.
Washer Dryer Shock Absorbing Pads
(* = affiliate link / image source: Amazon partner program)
Pack of 4 Universal Anti-Walk Pads
Excellent Shock Absorber
Non-Skid Design
(* = affiliate link / image source: Amazon partner program)
sturdy and durable
Made of recycled tire rubber
Effective Anti-Vibration platform
5. Put a Heavy Sound Proofing Blanket or Rug Under Your Refrigerator
Soundproofing blankets are perfect for absorbing excess sound from the dishwasher. Note these are not the blankets that are already fixed on your machine. It's an additional soundproofing blanket that you will add to reduce the excess noise coming from the dishwasher.
Use the blanket to cover your appliance.
When covering your appliance, you don't need to cover it completely. To control the noise from the dishwasher, apply the following strategies.
– Lay a blanket on the floor.
– Place the fridge in the center of the blanket.
– Tape the free blanket to the sides of the fridge. Be careful not to tape the fridge doors.
Above all, ensure you buy the right blanket. Before the end of this article, we will recommend you the best rugs to buy.
Best Soundproofing Blankets for Your Refrigerator
The best soundproofing blankets are moving blankets. They are designed for protecting furniture and appliances from damages when transported. Moving blankets are suitable for soundproofing because they are dense. They easily dampen any sound vibrations.
Here are the top two blankets you can use on your dishwasher. Buy either of them on Amazon today and enjoy using a quiet dishwasher.
Sure-Max 12 Moving & Packing Blankets
(* = affiliate link / image source: Amazon partner program)
Deluxe Pro
Double-sided construction
80″ x 72″ (40 lb/dz Weight)
Professional Quilted Shipping Furniture Pads Royal Blue
(* = affiliate link / image source: Amazon partner program)
Effective sound absorption.
Measures 95″ x 54.
Great for recording studios, drum rooms, rehearsal spaces, vocal booths, and more
Installation hardware included
6. Place Foam Mats Under Your Dishwasher
The foams work just the same way with anti-vibration pads. They absorb all the noises coming from your machine before it causes disturbances to people.
Foam mats are made with sound absorption and deadening materials that transform noise to heat energy.
Check the following mats and buy them from Amazon today.
(* = affiliate link / image source: Amazon partner program)
Fiberglass material,
High noise reduction
High-temperature resistance
(* = affiliate link / image source: Amazon partner program)
Size: 170 mil 36 sqft
Waterproof
1/6" Thick Sound Deadener
Parting Shot
With quiet appliances in your house, you will run your daily activities without disturbances. So, if your dishwasher has been preventing that from happening, apply the above techniques and reduce the noise. With a silent dishwasher, you won't be frustrated every time you think of washing your dishes.