As an Amazon Associate, we earn from qualifying purchases at no extra cost to you.
Boilers are normally noisy. Despite their sounds, we can't live without them in our home. But we can soundproof and reduce the disturbances caused by noisy boilers.
In this article, we will discuss different ways to soundproof your boiler.
Let's begin.
1. Identify the Noise and Fix Any Problem
We have said it before, and we will repeat it– never soundproof any sound you aren't sure where it's coming from. Just like any other appliances, some boiler noises are a sign of a certain problem that needs fixing rather than soundproofing.
So, if you want to quiet your boiler, first understand the noise, it's making.
Whenever you hear strange noises from your boiler, identify and get them fixed. Here are common strange noises that you might hear from your boiler.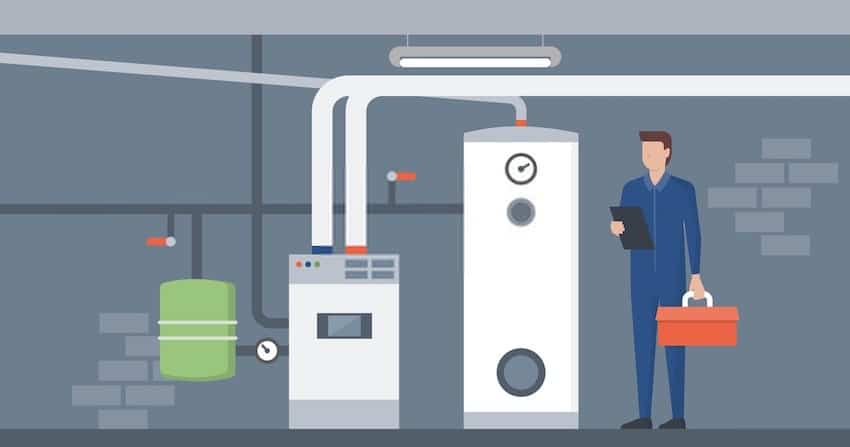 Banging Noises with No Heat
When your boiler is running, but the radiator is not heating, the first thing you think of is home heating oil. But when you hear the boiler producing a banging noise, the issue is mainly a faulty pump.
When there is a problem with your pump, the boiler switches itself off. As a result, it produces a banging noise and doesn't pump hot water to the radiator.
If this is the problem with your boiler, get a heating engineer to replace the pump for you.
Gurgling and Clunking Noises
An old boiler normally produces banging and popping noises when the system is turned on. The corrosion or limescale build-up restricts the flow of water. As a result, water in the boiler steams and expands producing a loud bang.
If your boiler is making a gurgling or clunking noise, this is the problem. Get a technician to repair or replace the affected part to ensure a smooth flow of water into the system.
Squeals and Squeaks
If you here these two sounds from your boiler, it means that there is something loose grinding against the parts of your boiler. In most cases, the fan is to blame for squeals and squeaks. Getting the fan replaced solves this problem once and for all.
Pipes and Radiator Noises
If your pipes are noisy, chances are there are air pockets in the piping systems. When hot water is flowing, the air is forced to move forth and back, causing the pipes to vibrate. Get the system flushed to remove these air pockets out of your system.
2. Soundproofing the Boiler Room Door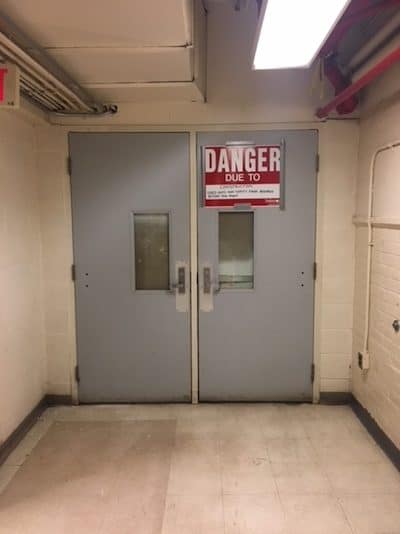 A boiler makes some normal noises that don't signify any problem in its system. Since these noises can't be fixed, you only have the option of soundproofing them.
Boiler room doors are a major culprit when it comes to allowing noises to cause disturbances in other parts of your house. Therefore, apply the following techniques to prevent boiler noises from passing through your door.
Thicken the Door
Check your door. Is it solid, hollow, or metallic? Hollow and metallic doors will allow noises to pass through them.
If you have permission, change all metallic and hollow doors – in case you own the house. If it's a rented property, ask the Landlord to change or authorise you to change the door.
Get a solid hardwood door and install it over your doors. Solid wood is strong enough to block noises from the boiler. Noise vibration doesn't vibrate faster and easily through the door. In this case, you would have solved this issue.
Use Door Sweeps to Cover Space Between the Floor and Door
Any air space over your door will allow noises from your boiler to pass through them. The space below the door is purposely left to ensure that the door opens and closes smoothly. But at the same time, space will allow noises to pass through them.
Buy door sweeps from Amazon and install them under your door. Buy either of the following draft stoppers from amazon and get the work done today.
Under Door Seal for Exterior/Interior Doors
Soundproof Door Bottom
Weather Stripping
15%
(* = affiliate link / image source: Amazon partner program)
Double-Sided
No cold
36 Inch Foam
Hang soundproofing Curtains or Blankets over the Door
Air spaces over your boiler room door need to be well sealed. Soundproofing curtains or blankets can easily get this done.
The curtains and blankets are made of heavy materials that dampen all the noises.
When choosing blankets, get the ones that are commonly used for moving purposes. They are dense enough to dampen all noises passing through them. With blankets, you can choose to pin them or hang them over the door.
For curtains, you only need to hang the curtains just like the ordinary curtains.
However, ensure you buy soundproofing curtains and blankets. If you aren't sure of the ones to buy, here are our top picks. Buy either of the following curtains or blankets from Amazon and soundproof your door.
Blankets
Sure-Max 12 Moving & Packing Blankets
(* = affiliate link / image source: Amazon partner program)
Deluxe Pro
Double-sided construction
80″ x 72″ (40 lb/dz Weight)
Professional Quilted Shipping Furniture Pads Royal Blue
(* = affiliate link / image source: Amazon partner program)
Effective sound absorption.
Measures 95″ x 54.
Great for recording studios, drum rooms, rehearsal spaces, vocal booths, and more
Installation hardware included
Curtains
15%
(* = affiliate link / image source: Amazon partner program)
Noise Reducing Thermal Insulated Solid Ring
Top Blackout Window Curtains/Drapes
Two Panels,42 x 84 Inch.
(* = affiliate link / image source: Amazon partner program)
Thermal Insulated
Noise Reducing
Size: 52W x 54L Inch
Other ways to soundproof your boiler room door are:
Placing a heavy rug under the door
Installing acoustic foams over the door
Sealing all gaps with a weather-stripping tape
For more information about soundproofing, a doorway read our article on Soundproof Doorway: 11 effective ways
3. Soundproof the Boiler Room Windows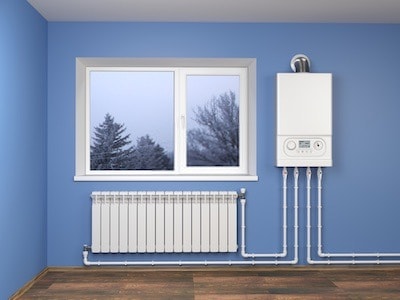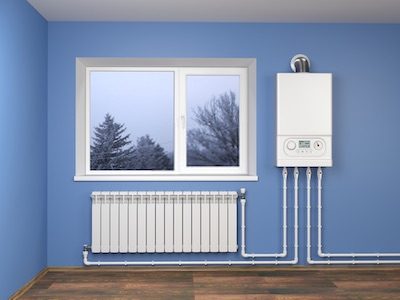 Do you have windows in your boiler room? If yes, they will allow a lot of noise from your heating system to cause disturbances in your home. Use the following techniques to soundproof the window.
Hang soundproofing Curtains or Blankets over the Door
Just like we have seen, soundproofing curtains and blankets will dampen the noise coming from your boiler. Therefore, get the blankets and curtains recommended above and hang them over the windows. They will dampen most of the noises that will be passing through your window.
However, for the windows, just hang the curtains. Don't pin or tape them over the window as you would do with the door.
Seal All Air Gaps with a Weather Strip
The focus should be to block all air gaps over your window. Use a weather strip seal to cover all air spaces left on the window. These include the spaces between the window panes, or the window frame and panes.
Below are systematic steps to install the dampening seal on the window.
Measure the width and height of your window.
Use a handsaw to cut the weather-stripping into correct sizes.
Place the cut strips to seal the window.
Cover the gaps from inside. Covering from outside will make your door look ugly.
Buy either of the following weather strips from Amazon and get the work done today.
22%
(* = affiliate link / image source: Amazon partner program)
Foam Adhesive Strips
2-Inch-Wide X 1/4 Inch Thick
Total 13 Feet Long
(* = affiliate link / image source: Amazon partner program)
Seal, Doors,
Waterproof,
Sound Dampening
Craft Tape (33 Ft- 1/8″ x 2″)
Boiler noise can be too much. Thin walls will allow it to cause disturbances in your home. It's important to soundproof the walls and reduce the chances of them allowing the vibrations to cause disturbances in the adjacent rooms.
Perform the following techniques that will deal with the noise.
Thicken the Wall
If your walls are thin, add a layer of drywall over it. This is a technique that works well with a concrete wall. All you need is just add a mass of another concrete over them.
For walls made with wooden materials, add a layer of wall platform with green glue as adhesive. Green glue absorbs the sound and turns it to heat energy.
Install Acoustic Foams over the Wall
Acoustic foams are designed to improve music rooms acoustics. They absorb and soften the sounds hitting over drywall. When used in the boiler room, they will also do the same.
All the noises from your boiler will be absorbed and softened. This, in turn, reduces the chances of the boiler making noises in the adjacent rooms.
The foams are available on Amazon and easy to install over your walls.
Here are our top picks. Buy either of these acoustic foams and fix them over your wall.
Foamily 12 Pack- Acoustic Panels
(* = affiliate link / image source: Amazon partner program)
12 Pack covers 12 square feet
Professional acoustic control
Great for spot treating sound on walls
Mybecca 12 Pack- Acoustic Panels
(* = affiliate link / image source: Amazon partner program)
12 pack means
Professional acoustic control Acoustic
Sound deadening material
Final Verdict
Heating your home doesn't need to be noisy. If you notice abnormal noises with your boiler, inspect it. Identify the source of the noise and fix any problem you find. If your boiler is working properly, go ahead and soundproof the room. Apply different techniques discussed in this article and say goodbye to a noisy boiler.