As an Amazon Associate, we earn from qualifying purchases at no extra cost to you.
No one enjoys it when there is too much noise in their space. Noise takes away that peace of mind everyone needs.
If this is your situation right now, we understand how you are feeling.
Sometimes it can be confusing if the noise is passing through your Bifold doors. You can't understand how well you can soundproof the door and reduce the noise.
But you don't need to worry anymore. In this article, we will discuss with you simple techniques you can apply to reduce most of the noise passing through the door.
Let's dive deeper and learn.
What are Bifold Doors?
These are doors that slide open. They are made with panels that fold against the wall. The doors can be installed on the backyard or in the house without losing any space.
Why Soundproof Bifold Doors?
Most of the bifold doors are hollow. They allow sound to pass through them easily. Therefore, if you have any source of noise in your home, you will hear it all passing through your door.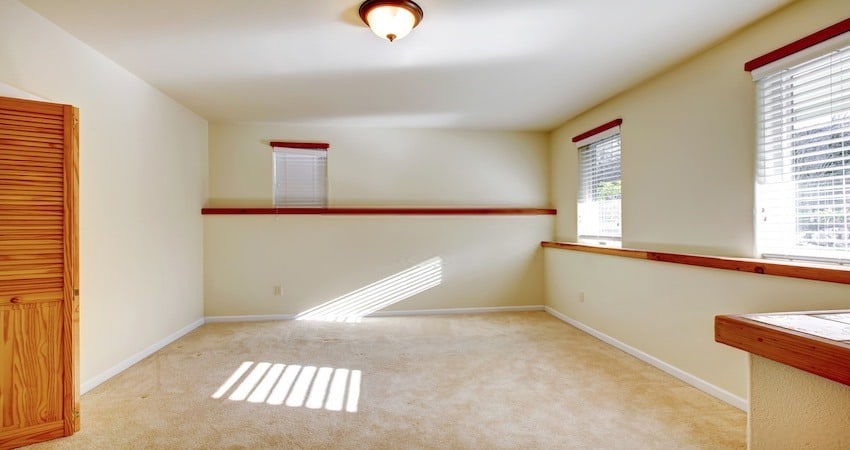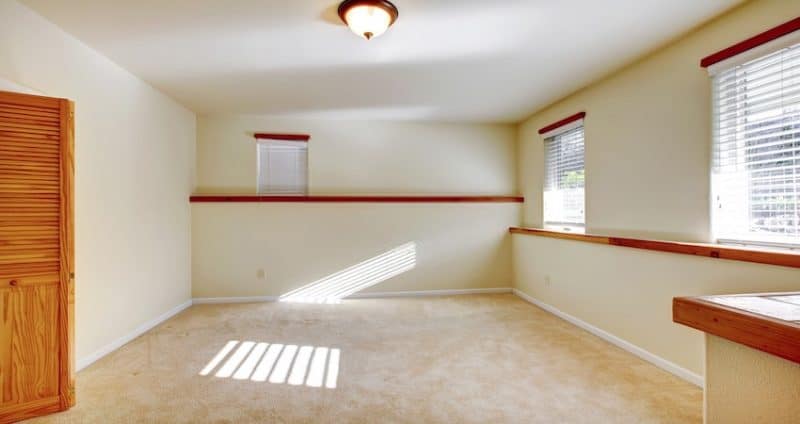 This is the main reason it's essential to soundproof your bifold door. You can use different soundproofing materials to block the noise passing through your door.
When soundproofing, you first need to seal all air gaps found on the door. Therefore, to cancel most of the noises passing through your bifold door, consider the following soundproofing techniques.
1. Use Soundproofing Curtains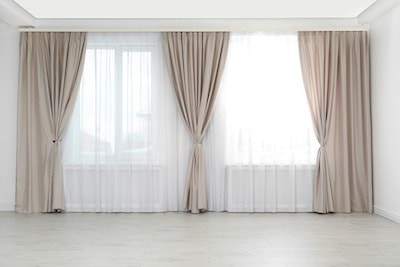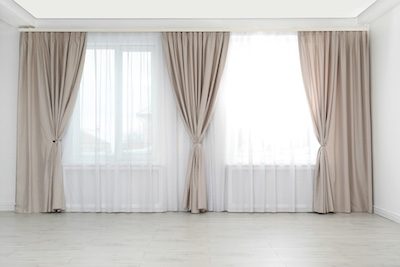 Buy soundproofing curtains on Amazon and hang them over your door. Soundproofing curtains are heavy as compared to the ordinary curtains. They are specifically made for soundproofing.
When used over your bifold door, they block any air gap over the door. The curtains are heavy. They trap all air trying to pass through it. As a result, they dampen the noise.
Soundproofing curtains are also great in improving interior acoustics. They absorb all echo noises passing through them.
However, when buying soundproofing curtains be careful to purchase quality soundproofing curtains. Check customer reviews on Amazon and see their experience with the curtains.
If you are looking for quality curtains, consider the following curtains from Amazon.
Noise Reducing Thermal Insulated Solid Ring
Top Blackout Window Curtains/Drapes
Two Panels,42 x 84 Inch.
(* = affiliate link / image source: Amazon partner program)
Thermal Insulated
Noise Reducing
Size: 52W x 54L Inch
2. Use Soundproofing Blankets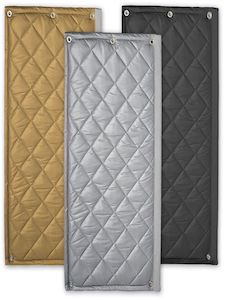 Soundproofing blankets work the same ways as soundproofing curtains. They are dense to dampen most of the noises passing through the bifold doors. Ensure you use the right soundproofing blankets for your doors.
Soundproofing blankets for windows and doors are used as curtains.
The blankets are heavy. They dampen and soften the noises passing through your bifold door hence reducing its disturbance.
Consider buying the following blankets from Amazon.
Sure-Max 12 Moving & Packing Blankets
(* = affiliate link / image source: Amazon partner program)
Deluxe Pro
Double-sided construction
80″ x 72″ (40 lb/dz Weight)
Professional Quilted Shipping Furniture Pads Royal Blue
(* = affiliate link / image source: Amazon partner program)
Effective sound absorption.
Measures 95″ x 54.
Great for recording studios, drum rooms, rehearsal spaces, vocal booths, and more
Installation hardware included
Deluxe Moving Blankets by Chean Cheap Moving Boxes
(* = affiliate link / image source: Amazon partner program)
Size: 72″ X 80″
Double lock stitching and thick 1/4-inch material
Ideal for preventing scratches and nicks to furniture
Double lock stitching with four square finished corners
For more insights about using soundproofing blankets, read this article How to Soundproof a Room with Blankets: 9 Best Ways!
3. Seal the Bifold Door Gaps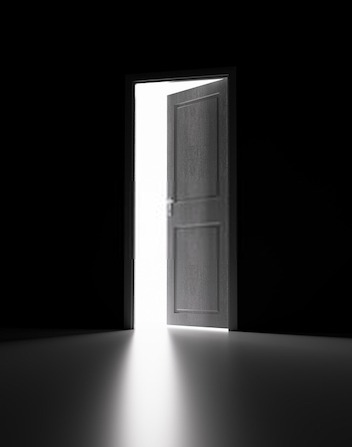 Inspect your door. Check whether there are any air gaps over it. Check cases of cracks or spaces left between the door and wall or frame. Also, check the area where the door panels are joined.
Once you have identified the door air gaps seal them with soundproofing adhesive tape (also known as weatherstripping tape). Follow the steps below to seal the air gaps on the door.
Measure the size of the gaps.
Cut soundproofing adhesive tape depending on the air gaps sizes.
Then seal the gaps from the inside part of the house.
Paint the door to hide ugly looking marks on the door.
If you want to seal your air gaps effectively, consider the following soundproofing seal tapes. Buy them on Amazon and soundproof your door.
22%
(* = affiliate link / image source: Amazon partner program)
Foam Adhesive Strips
2-Inch-Wide X 1/4 Inch Thick
Total 13 Feet Long
(* = affiliate link / image source: Amazon partner program)
Seal, Doors,
Waterproof,
Sound Dampening
Craft Tape (33 Ft- 1/8″ x 2″)
4. Apply Soundproofing Paint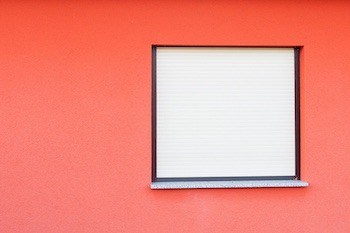 This is a simple technique that removes low to medium level of noises. Soundproofing paints are manufactured with polymers that absorb sound and transform it into heat energy.
The thicker the soundproofing paint on your door, the higher the effectiveness.
In most cases, you would require to apply three layers of the paint on your door to reduce the noises passing through it.
Most of the soundproofing paints are water bases. This means they are less harmful to the user.
Soundproofing paints are also known as acoustic paints. It can be applied to the door, walls, and ceilings. For effectiveness buy quality soundproofing paints from Amazon. Check the paint below on Amazon.
(* = affiliate link / image source: Amazon partner program)
– Sound Deadening Paint
– 5 Gallon
5. Close the Space Between Bifold Door and Floor
When installing the bifold door, some air gap is left at the bottom of the door. Space allows the door to open and close smoothly. However, this space would let much of noises to pass through it.
To seal this gap, use door sweeps or draft stoppers.
Screw the draft stoppers over the door. The soundproofing stoppers are specifically designed to block the noises passing through space below the door.
Check the following soundproofing draft stoppers on Amazon and fix them over your door.
(* = affiliate link / image source: Amazon partner program)
Under Door Seal for Exterior/Interior Doors
Soundproof Door Bottom
Weather Stripping
15%
(* = affiliate link / image source: Amazon partner program)
Double-Sided
No cold
36 Inch Foam
Parting Shot
When dealing with noises passing through the Bifold doors, it's essential first to understand the nature of sound you are trying to soundproof. Some noises require different techniques. Other noises you must use more than one type of noise reduction technique to achieve the best results.
However, anytime you want to reduce the noise, consider either of the above noise reduction techniques. They would be useful in reducing most of the sounds passing through your Bifold doors.