As an Amazon Associate, we earn from qualifying purchases at no extra cost to you.
Accordion doors divide a room perfectly. Also, they are a good option for having a temporary door in a home.
However, the same doors can allow noises to pass through them. This is especially if the doors are not well installed.
Currently, there are different soundproof doors to choose from that would soundproof your home well. From sliding barn doors, accordion doors, and elephant doors. Whichever door you want it would give a better soundproofing result.
In this article, we will discuss how to soundproof accordion doors or folding doors.
Accordion Doors
Accordion doors are commonly known as folding doors. They have a unique design. The doors can easily be installed on any entrance. They can be used in homes, offices and business premises.
For offices, accordion doors are perfect in diving sections of the office.
However, despite its design, the accordion doors have air gaps that can allow noises to pass through them even when they are closed.
Understand the Nature of Your Accordion Door
There are different types of accordion doors. Each type is installed on a different kind of door. Therefore, for effectiveness in soundproofing, you must understand the nature of your accordion door. This will help in getting the right technique to use in soundproofing the door.
ANC soundproofing partitions can be installed in any area. They are majorly used to blog light and noise from a room. The partitions can be appropriately used to fit the sizes of the accordion doors.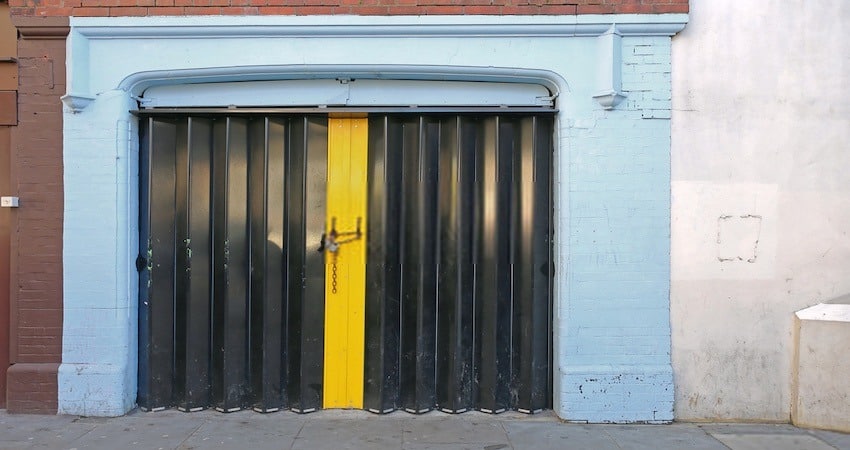 Whether you are looking for soundproofing materials or easy way to partition your room, settle for them, each partition is custom made to fit different home spaces and accordion doors.
Therefore, choose either of the following ANC soundproofing partitions and use them in soundproofing accordion door.
ANC _ 45 Accordion Door: ANC – 45 is a single panel folding suspended on a single track over the door. The following are the primary purposes of ANC – 45 Accordion Door
Sound Blocking: The double panel construction has linings of soundproofing materials. When the system is used over the door, it provides over 45% noise reduction passing through it.
Smooth glide operation: The track is supported by a ball bearing with smooth glide nylon wheel assembly. As a result, it glides well over the wall.
ANC – 38 Accordion Door
Installed with constructed frames. The steel hinge plate reinforces the accordion doors. They allow ease of closing and opening.
The door has steel trolleys covered with a nylon covering and ball-bearing wheels. Seams covers are also installed over the door.
It comes with a layered design that combines between 2 and 10 different materials for better sound improvement. The door also has door sweeps mounted to block light and sound passing through the ceiling and floor respectively.
This is an accordion door with tire pantograph frame on it. It has a reinforced steel hinge for ease of opening and closing. The accordion door has more layers on it to prevent noises passing through them.
This is a side folding panel that is usually suspended on the overhead track. It makes a temporary door or wall. It features sound blocking insulations that can reduce the level of noise passing through the door.
Best 3 Ways to Soundproofing Accordion Doors
Noise can pass through the accordion door itself or other gaps that may exist around your accordion door. Therefore, if you want to reduce the noise, the best way is to soundproof.
Follow the step below to soundproof any accordion door in your home.
1. Inspect and Seal All Gaps on the Accordion Door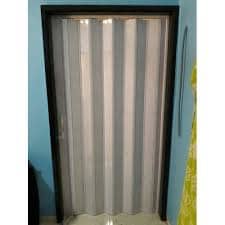 Check whether the door has been installed properly. Ensure they fit correctly over your door space. Doors that are not well installed, they will allow noise to pass through them.
Check any gaps that exist on the door. No matter how small the gap is, it will cause a significant effect in allowing noises to pass through your door.
Identify all the air gaps on your door and seal them. Use the weather-stripping tape to close any air gap you notice on the door.
Check either of the following weatherstrippings from Amazon and install them over your door.
Foam Adhesive Strips
2-Inch-Wide X 1/4 Inch Thick
Total 13 Feet Long
(* = affiliate link / image source: Amazon partner program)
Seal, Doors,
Waterproof,
Sound Dampening
Craft Tape (33 Ft- 1/8″ x 2″)
2. Check the Space Between the Floor
Do your accordion doors leave a space between the door and the floor. This space will be a major culprit in allowing much of the noise to pass through it cause disturbances in your house. Therefore, check and seal it.
If there is a space, screw draft stoppers or door sweeps, they will blog this air gap and reduce the noises passing through your Accordion door.
(* = affiliate link / image source: Amazon partner program)
Under Door Seal for Exterior/Interior Doors
Soundproof Door Bottom
Weather Stripping
13%
(* = affiliate link / image source: Amazon partner program)
Double-Sided
No cold
36 Inch Foam
3. Inspect the Door Insulations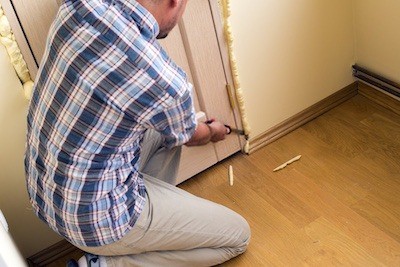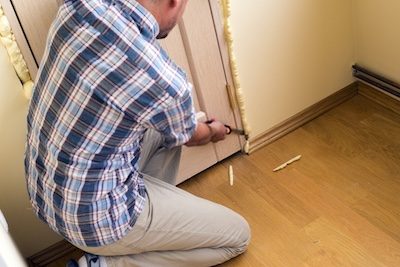 Accordion doors have insulations around them. The insulation reduces much of the noises passing through the door when it's closed. The main role of the insulations is to seal all the airgaps that could be left after the door is unfolded.
However, if the door insulation is worn out or damaged, it won't perform as required. Therefore, replace any broken or destroyed insulation.
Hang Soundproofing Curtains or Blankets Over the Accordion Door
Soundproofing curtains and blankets are strong. They dampen any air passing through them. As a result, noises are prevented from passing through your accordion door.
Hang the following soundproofing curtains and blankets from Amazon.
Blankets
Sure-Max 12 Moving & Packing Blankets
(* = affiliate link / image source: Amazon partner program)
Deluxe Pro
Double-sided construction
80″ x 72″ (40 lb/dz Weight)
Professional Quilted Shipping Furniture Pads Royal Blue
(* = affiliate link / image source: Amazon partner program)
Effective sound absorption.
Measures 95″ x 54.
Great for recording studios, drum rooms, rehearsal spaces, vocal booths, and more
Installation hardware included
Curtains
15%
(* = affiliate link / image source: Amazon partner program)
Noise Reducing Thermal Insulated Solid Ring
Top Blackout Window Curtains/Drapes
Two Panels,42 x 84 Inch.
(* = affiliate link / image source: Amazon partner program)
Thermal Insulated
Noise Reducing
Size: 52W x 54L Inch
Parting Shot
Accordion doors are perfect for portioning a huge space. However, when not well fixed, they will allow noises to pass through them. As a result, you will be disturbed by avoidable noises. Therefore, use soundproofing techniques discussed in this article to soundproof your accordion door.