As an Amazon Associate, we earn from qualifying purchases at no extra cost to you.
Cooking is an art. And the fact is that no artist can do well when working in a noisy workshop. You need to be comfortable in your kitchen to cook nice meals. This is why you need an ultra-quiet range hood for your kitchen. It won't only clean your air but also give you the peace you need.
In this article, we will share with you the quietest range hoods you will find in the market today. But if you don't have the time to read through the 7 range hoods, here is our top pick.

Chef 30" PS18 Under Cabinet Range Hood
This is a powerful and quiet range hood. Its size makes it ideal for small kitchens. At the same time, its power enables it to function well in busy and large kitchens. If you are looking for a range hood that comes with amazing features and performance, buy the hood on Amazon today.
Looking for a Quiet Range Hood for Kitchen?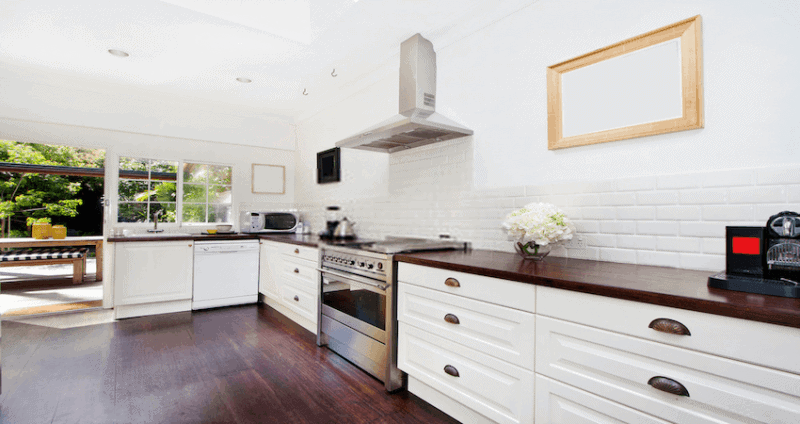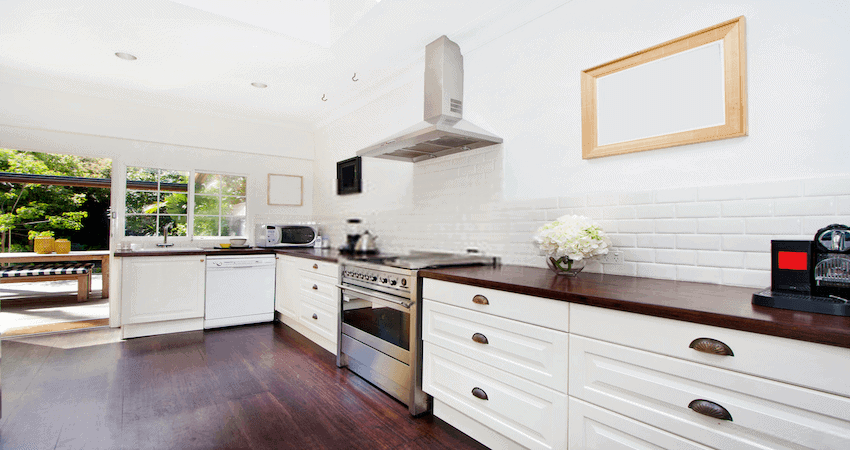 We have to agree that it's not easy to find a quiet range hood for your kitchen. This is especially if you are not an expert. There are so many range hoods in the market that promises the best performance, but the truth is that they are nowhere near what they promise. Again a range hood is not something you will purpose to try and test different hoods to find the best. Once you install, you can't think of getting another one.
With this in mind, we went further to research and of with you the top 7 best ultra quiet range hoods. We have discussed all of them in detail to help you make the right decision before getting any range hood for your kitchen.
How we picked these 7 best ultra-quiet range hoods?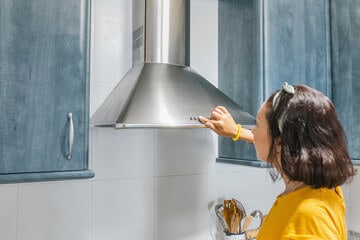 We understand what makes a good range hood. So, we first look range hoods that meet the requirements for high performing range hoods. Then we went the extra mile and see what people who have used these hoods say. We take and analyze different customer reviews.
With all that, we came into the conclusion that the following 7 range hoods are the quietest but yet high performing range hoods, you will find in the market today.
Buy one and enjoy cooking in a fresh and clean kitchen.
Recommended Quietest Range Hoods Reviews Comparison Table
7 Best Quietest Range Hoods Reviews


Key Features
Ultra-quiet
Slim design that saves space in your kitchen
Powerful 200CFM and 3 speed motor for maximum filtration
Affordable
1. Cosmo 5MU30 30-in Under-Cabinet Range Hood
Cosmo 5MU30 is an ultra-quiet under cabinet range wood that gives excellent performance in the kitchen. This is an under-cabinet range hood you can fix on different sets of kitchens.
If space is an issue for your kitchen, this is the hood you should buy. It has a slim design that makes it fit perfectly over condos and small apartment kitchens. The under-cabinet hood uses an optional charcoal filter kit. This means you won't have to worry about its compatibility like the ductless under-cabinet range hoods.
When it comes to performance, Cosmo is a powerful machine that operates quietly. At the maximum speed, you can only expect the sound of the hood to be at 56db maximum. To get rid of the harmful odor and filter your kitchen air, the hood comes with 200CFM and a 3-speed motor. It also features a reusable aluminum mesh filter that is strong to give you continuous filtration without breakdown.
The control panel has a simple and easy system to turn off and on and control your filtration speed. The LED lights show you how the machine is working. As a result, you can regulate and filter your kitchen optimally without much struggle.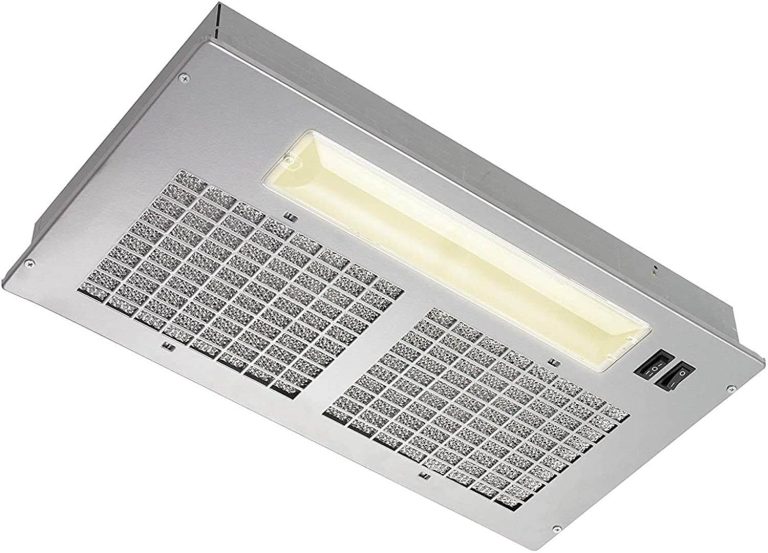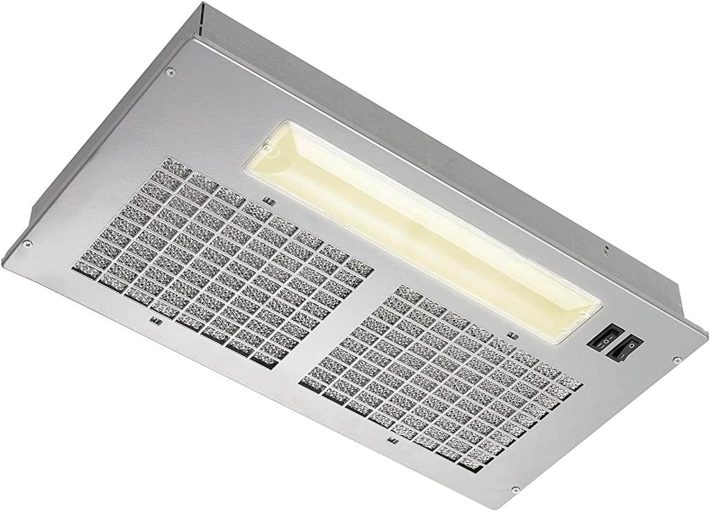 Key Features
7-inch round connector
Fully enclosed bottom
Ultra-quiet with a high performance
Ease of cleaning to keep your kitchen fresh at all times
2. Broan Aluminum Power Pack Range Hood Insert
This is a powerful machine from Broan, the leader in home ventilation. The company is known for its excellent technology in the manufacture of kitchen ventilation for the North American market. With their choices, style, and value, you can always trust every machine they manufacture.
And like most of their products, Broan Aluminum Rangehood is something every kitchen owner should have. It's a kitchen fully integrated range hood system designed for custom hood installation or flush with the bottom of a kitchen cabinet.
The machine has multi-speed control that helps in regulating the filtration and motor sounds. It's a silver-finish blower with effective quiet performance. There are two-speed motors that come with a rocker control to give 250-CFM of the exhaust.
To make cleaning easy, the machine has dishwasher safe filters. The machine services are smooth making them easy to clean. It's also difficult for kitchen dirt or soot from sticking on the machine. With all these eases of cleaning, your kitchen stays fresh at all times.
The incandescent lighting adds to the beauty and designs of the range hood.


Key Features
Sleek modern design
Super quiet with a powerful 860 CFM
Ease of cleaning
Additional lighting and clock features
Affordable
3. Chef 30" PS18 Under Cabinet Range Hood
Chef 3" PS18 is a superior and ultra-quiet range hood. It has double motors and a high performance of 950 CFM. With it, you won't have to worry about any harmful fumes or odor from your oven and kitchen. Its performance will suck all harmful air and keep your kitchen smelling fresh at all times.
For control and noise regulation, the under cabinet range hood has a touch control panel. On the panel, there is a read display screen to help you know when and how the machine is functioning. Also on the control is a digital clock that helps keep track of your cooking time.
The hood has a self-cleaning mechanism. The Chef's steam clean function turns water into steam. The steam, in turn, dissolves all cold greases that have stuck on the machine. With this technology, you can be sure your machine stays clean in areas that are difficult to access and clean on your own.
Besides, Chef 30" PS18 has easy to detach stainless steel baffle filters. This makes it easy for you to clean them anytime you wish to keep your kitchen tidy.
When cooking, you don't have to worry about lighting. The range hood comes with 2 brights LED lamps with ideal intensity settings.
In short, this is an under cabinet range hood that will filter your kitchen air and give you convenient cooking.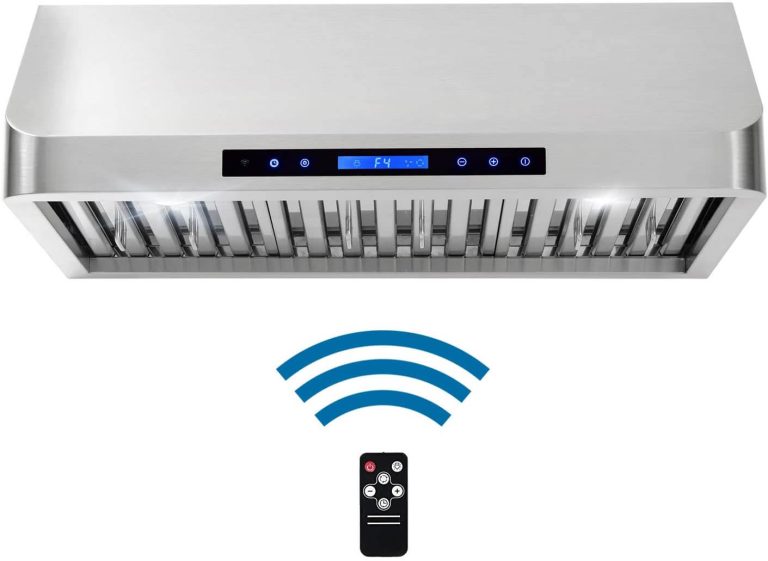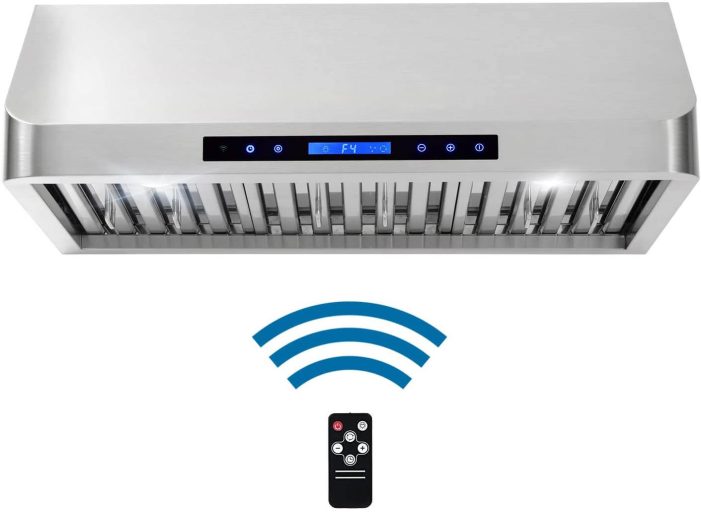 Key Features
Quiet and powerful range hood
Ease of cleaning with dishwasher safe stainless steel filters
Efficient and powerful lights
Affordable
4. Cosmo QS75 30-in Under-Cabinet Range Hood
This is a high-performance under-cabinet range hood that will blend perfectly with your stainless-steel appliances. If you are looking for a machine that would filter not only your air but also compliment your interior décor, then this is the deal.
Cosmo QS75 is a powerful but yet quiet range hood. With its three-speed double centrifugal motors, it achieves a filtrating of up to 900 CFM. The high power makes it easy for the machine to ventilate any kitchen size and design without any noise.
So, whether you are looking for a machine that will give you constant fresh air in your kitchen despite the high kitchen usage, Cosmo QS75 will get the work done.
For cleaning, it has dishwasher safe stainless steel filters. You can remove them and wash them regularly to keep it clean and looking as new all the time. The smooth stainless steel material also ensures that there is no grease of oil from the kitchen that would stick on the hood.
A three-speed push-button gives you full control over the operations of the machine.

Key Features
Powerful airflow of up to 860
Ultra-quiet machine
Affordable
5. BV Range Hood – 30 Inch 860 CFM Under Cabinet Stainless Steel Kitchen Range Hoods
This is a hood equipped with double motors that give a powerful airflow to your kitchen. The BV Range Hood achieves a power of up to 860 CFM. With this power, it easily removes the cooking smoke, reduces grease in the kitchen, and takes any odor away. With it, your kitchen will remain clean with fresh air at all times.
TVB Range Hood is an energy-saving machine that comes 2W LED lights. The lights aid in prep safety and give sufficient lighting to your cooktop. With the lights, you don't need to switch on all your kitchen lights. As a result, you will save on your kitchen energy consumption.
For ease of cleaning, the machine comes with dishwasher-safe stainless steel filters. The entire body is built with easy to clean stainless steel that offers a modern look to your kitchen.
With all these performances, the hood works quietly. You won't notice when it's running.

Key Features
Super slim to save kitchen space
Powerful and quiet operation
Four-speed fan blower
Affordable
6. Proline Wall/Undercabinet Range Hood
For people with a small kitchen, here is your deal. This is among the slimmest range hood in the market. It has a height of 5 inches. It's a hood that saves space and works quietly in a powerful way.
Its dynamic design will give you multiple venting outlet options. It can be vented by just removing the rear panels. The performance is high with a 4-speed fan blower, which runs ultra-quietly. The 600 CFM hood will suck and filter smoke, steam, and any odor from your kitchen.
With this performance, your kitchen stays with clean and fresh air.
The hood comes with LED lights that are bright and energy-efficient to provide sufficient cooktop light. It also comes with an easy to operate control panel. You will regulate the filtration operation of the air in your kitchen.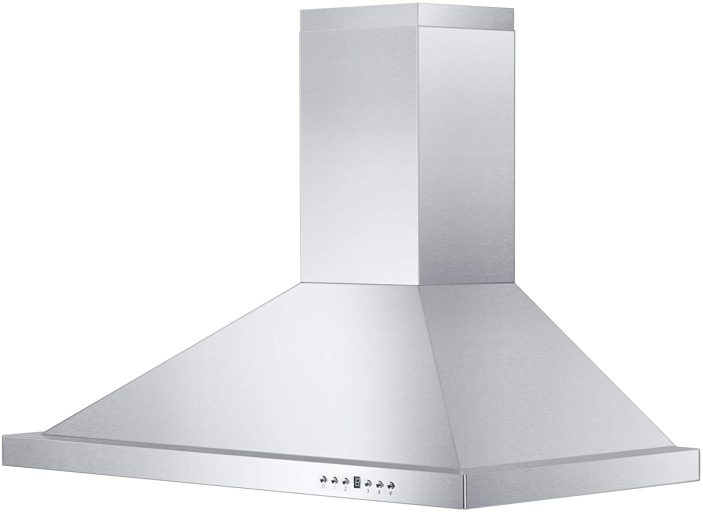 Key Features
High performance with 4-speed motors
Ultra-quiet operations
Auto-shut-off timer
Easy of cleaning with dishwasher-safe baffle filters.
7. ZLINE 36 in. 760 CFM Wall Mount Range Hood
With no doubt, we recommend to you this powerful wall mount hood. It's effective and durable. It works well both in traditional and modern kitchens to give excellent ventilation at all times.
The mount range hood has a 4-speed motor that attains a performance of up to 760 CFM. At this performance, the hood also operates quietly. It also comes with a timer with an auto-shut-off function to save your energy once your kitchen air filtration is complete.
The 36-inch size covers most of the cooktops. Quality stainless steel design prevents rusting and decay of the hood that is accelerated by hot steam. The baffles filters are dishwasher safe making them easy to clean.
The system is convertible to optional charcoal filters for the ductless hood lovers. And when operating, you can hardly notice the hood. It operates quietly than most of the range hoods you will find in the market.
Things To Consider Before Buying An Ultra-Quiet Range Hood For Kitchen & Bath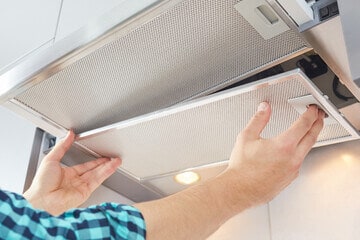 Nothing frustrates like noisy appliances in the house. The range hood is not an exception. As you clean the air in your kitchen, you need to achieve that with maximum silence. So, when choosing a range hood, don't just settle for any hood you find in the market.
Consider all of the hoods we have recommended to you. These will operate at its optimum and at the same time, give you a quiet kitchen.
Choose a range hood that would give you all the peace of mind you need in your kitchen.
The role of the hood is to filter the air in your kitchen or anywhere else you need it in your home. So, the filters become an essential factor to consider before putting your money on any hood.
Filters with aluminum materials are easier to clean and also less expensive. On the other hand, stainless steel filters are strong and durable. They are easy to clean and resist rusting. So, depending on your budget, buy a hood with either of these two filters.
Before you buy any range hood, you need first to understand whether it's compatible with your kitchen. There are three installation types, which are Island, Undercabinet, and wall mount.
Every installation type needs some expertise, which also differs on the cost of installation. So, before you settle on any hood, ensure you have a budget for its installation. Otherwise, you will get a good range hood and keep it in your house.
The power of a range hood is measured by Cubic Feet Per Second (CFM), which refers to the amount of air that moves through the hood system. It shows the power of the air removed or circulated in the kitchen. The higher the CFM, the higher the power to filter your kitchen air.
Range hood comes at different sizes. Some are ultra-slim while others are large. It's essential to put into consideration the size of your kitchen. Buy a range hood that would fit perfectly over your kitchen space.
Some range hoods have extra features that make them user-friendly. Look for these features. The features include; shut off, clock/timer. LED lights, controls, and other features that would enhance your kitchen experience.
With everything said, the decision lies on your budget. How much money are you willing to spend on your range hood? The hoods come at a different budget. When thinking about price, consider the cost of operation and maintenance.
You can see we have discussed the budget as our last point. This is because your entire decision shouldn't be based on the budget. You need to get the other features first and compare them with your budget.
How important is a range hood?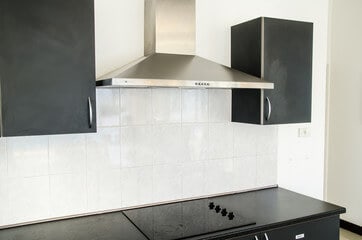 Probably, you have heard your friends talking about buying a range hood, but you're not sure whether it's the best thing to acquire. If that the case, here are some of the benefits you will get from a range hood.
It will keep your air clean: Kitchen soot and toxic odors can be harmful to your health. The hood will filter and remove all these unwanted air from your kitchen.
Removing excess heat: As the range hood removes and circulates air into your kitchen, it takes away the excess heat coming from your cooking. As a result, it maintains the right temperature in your kitchen. You will be comfortable when cooking.
Better Cooking Lighting: Most of the quiet range hoods come with bright LED bulbs. As a result, they give you additional lighting to your kitchen. You won't strain in a dark kitchen when cooking.
Final Verdicts
Now you don't have any reason to have a stuffy kitchen. If the noise has been your problem, get a quiet range hood that would filter and clean air in your kitchen. Choose any of the range hood recommended in this article. These will give you maximum performance.