As an Amazon Associate, we earn from qualifying purchases at no extra cost to you.
Pickleball game continues to grow. More people are setting up courts within their residential areas. The trend, over the previous years it has brought conflict between players and other residents.
The video below shows the conflict that has been experienced in the recent past.
However, these conflicts shouldn't continue. As a player, you can buy a quiet pickleball paddle and enjoy your game without causing any disturbance in the neighborhood.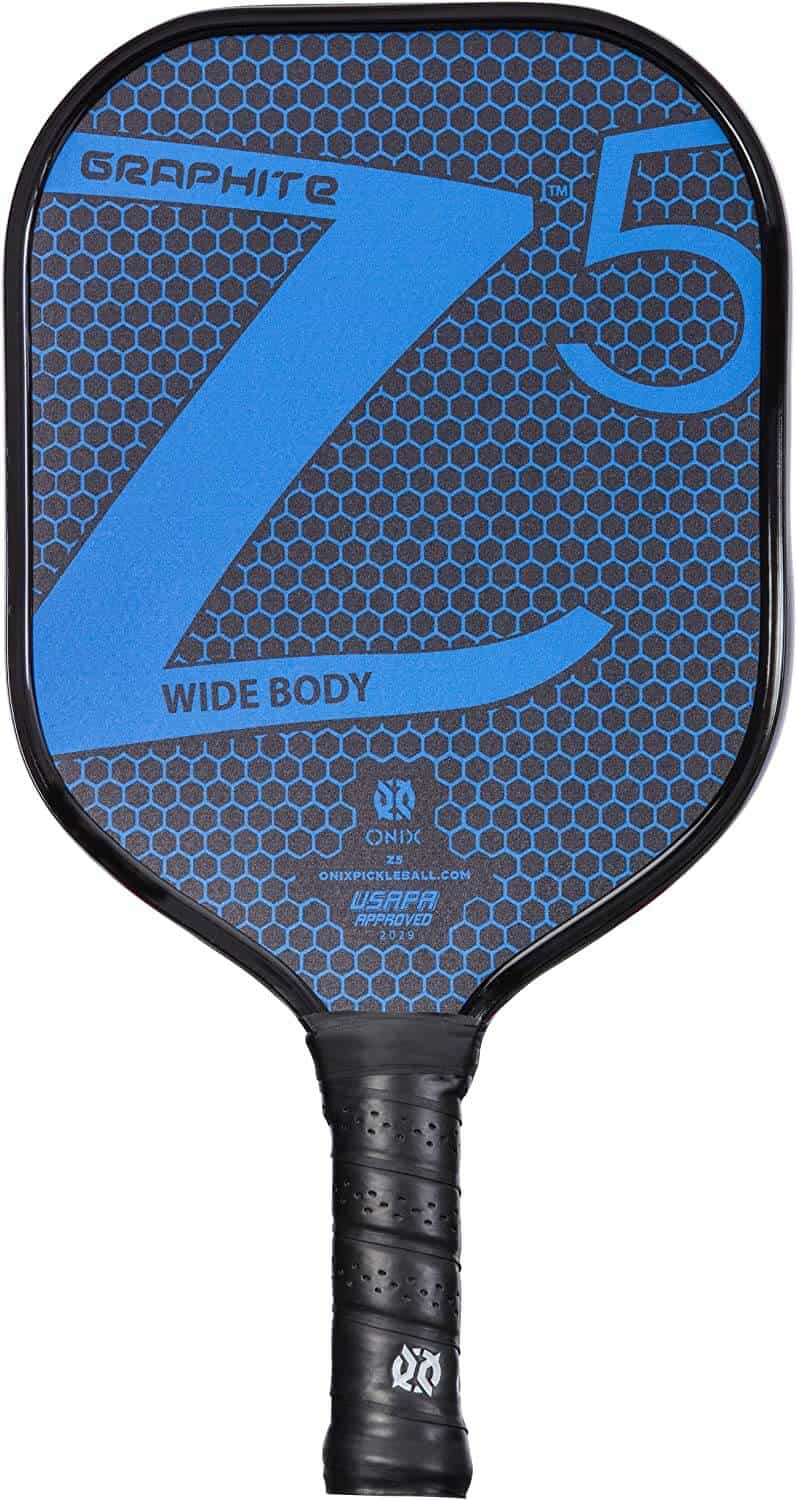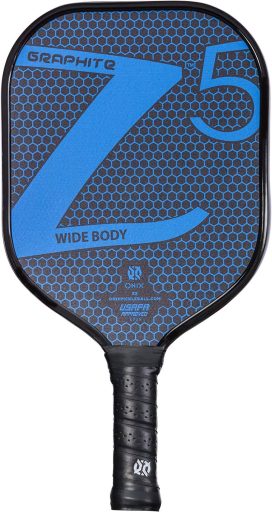 ONIX Graphite Z5 Pickleball Paddle
This is a super quiet paddle that is available on Amazon. With it, expect to have a good game control without much noise when you are playing. The paddle is a graphite Nomex honeycomb. It has a wide body that weighs 7.7 -8.1 ounces. It also comes with an edge guard.
Looking for a Quiet Pickleball Paddle in 2019?
Since pickleball noise is causing problems in the neighborhoods, there is no other option rather than getting quiet pickable paddles.
In this article, we will share with you the five most quiet paddles you can find in the market.
5 Best Quietesr Pickleball Paddles Reviews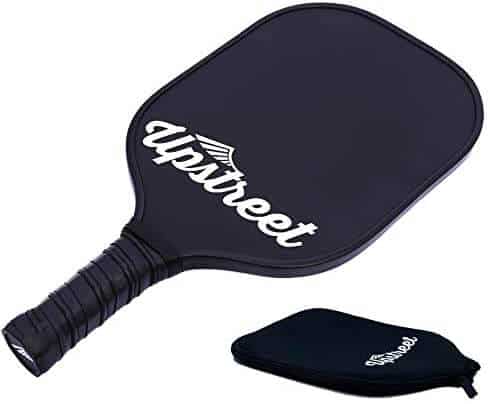 Key Features
Comes with neoprene pickleball paddle cover
Graphite pickleball paddle set
Crafty touch
Quiet
1. Upstreet Pickleball Paddle
Upstreet pickleball paddle is one of the most popular brands in the market today. The brand is known for manufacturing durable and lightweight paddles. The paddles also come in unique prints and colors.
If you are looking for a paddle with a soft edge, then this is the pick. It's made for both experienced and intermediate player due to its lightweight. A beginner will need a heavy paddle that would add some strength on the paddle.
The total paddle weight amounts to around 6 and 14 ounces.
The paddle had a core material on it that absorbs the shock. The textured or smooth surface helps in controlling the ball when playing. The soft material also absorbs any noise that could be produced as a result of ball shock on a hard paddle. It absorbs and softens all the sounds from the game.
So, expect the paddle to be super quiet during the game.
The handle is also comfortable. It doesn't strain your wrist or hand when playing. It features a smooth grip with a soft cushion on it. The material is sweat-absorbent making it an excellent choice for the pickleball paddle.
When you buy Upstreet Pickleball Paddle on Amazon, it comes with a neoprene cover. The cover helps store your paddle. When you drop it, it won't get damaged easily.
Upstreet Pickleball paddles have various color, fresh and exciting graphics.
If you are looking for a quiet and robust paddle, buy Upstreet Pickleball paddle on Amazon today.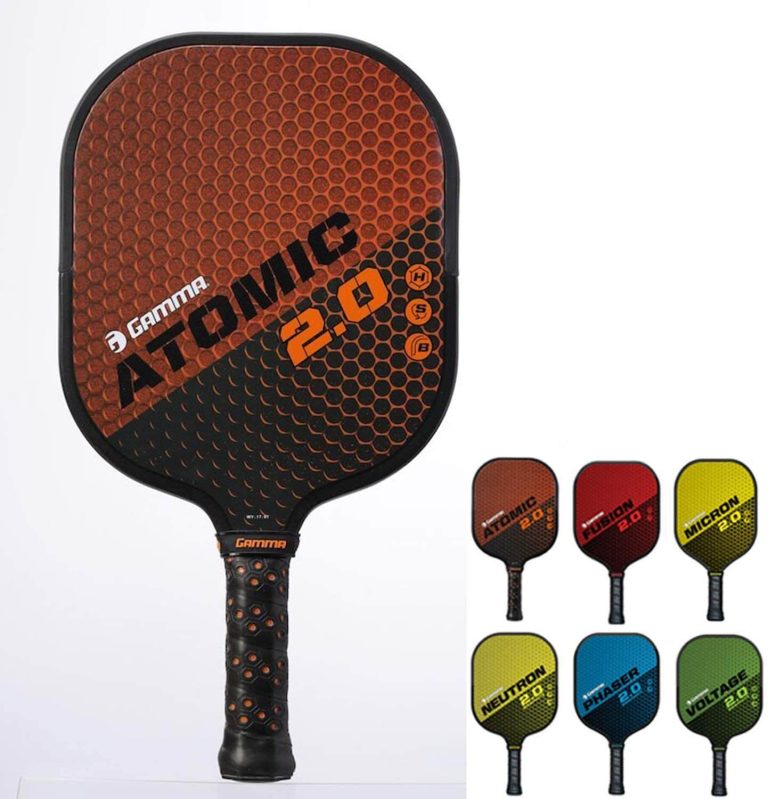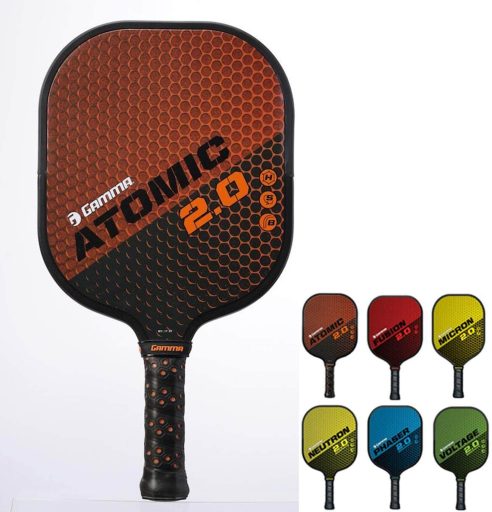 Key Features
4" Honeycomb Cushion Grip
Midweight of up to 8 ounces.
Perfect for beginners and experts
2. Gamma New 2.0 Pickleball Paddles
Gamma New 2.0 Pickleball paddles perform well just like upstreet paddles. They feature a honeycomb core design which is relevant for control and power. The handle is large enough to give comfort to players. It's a 4" handle with a sweat-absorbent cushion reminiscent over it.
If you want to participate in official tournaments, consider Gamma paddles. Even if you are not planning to compete right now, it's essential to have the paddle and get used to using it. This will be a plus whenever you decide to compete or play at any tournament.
Gamma brand has six different paddles in the market. Their weight ranges from 7 to 8 ounces. Some models have a fiberglass face texture while others have graphite faces. The edges of the paddles also have noticeable differences.
The colors and designs of the paddles also differ.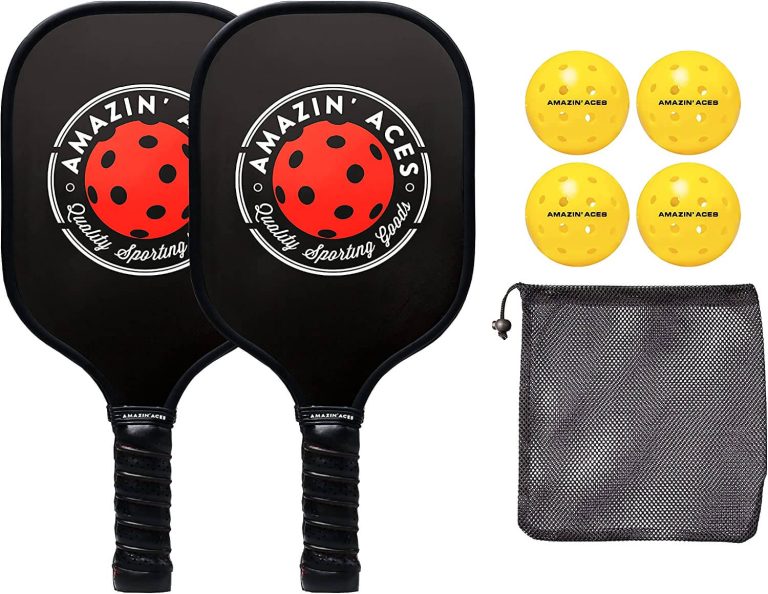 Key Features
A set of four pickleball, two paddles, and a mesh carry bag.
Midweight
Classic and beautiful designs
Premium comfortable grip
3. Amazin' Aces Pickleball Paddle Set
If you are looking to by a Pickleball that comes with all its accompaniment, the Amazin' Aces paddle set is the real deal. It comes with four pickleball and two wood pickleball paddles. Built with 7-ply maple wood, the design of the paddle is strong to last for a long time.
However, the set is not sold individually. It's available only as a set of all these components.
As a result, it's perfect for many beginner players who would prefer to buy a paddle set instead of buying everything separately.
As compared to most of the paddles in the market, Amazin's Aces Pickleball paddle set is heavy. It's weight totals up to 10.3 ounces. The weight is because the paddle is made of wooden materials rather than graphite or composite. The heavier the paddle, the better it is for the beginners.
The weight gives beginners extra power, especially when hitting the ball from the baseline.
And if you are looking for premium quality, the paddle combines high-end quality, expert craftsmanship, premium-grade materials, and best wooden handles.
With its one-year warranty, you can be assured of getting a quality pickleball Paddle Set.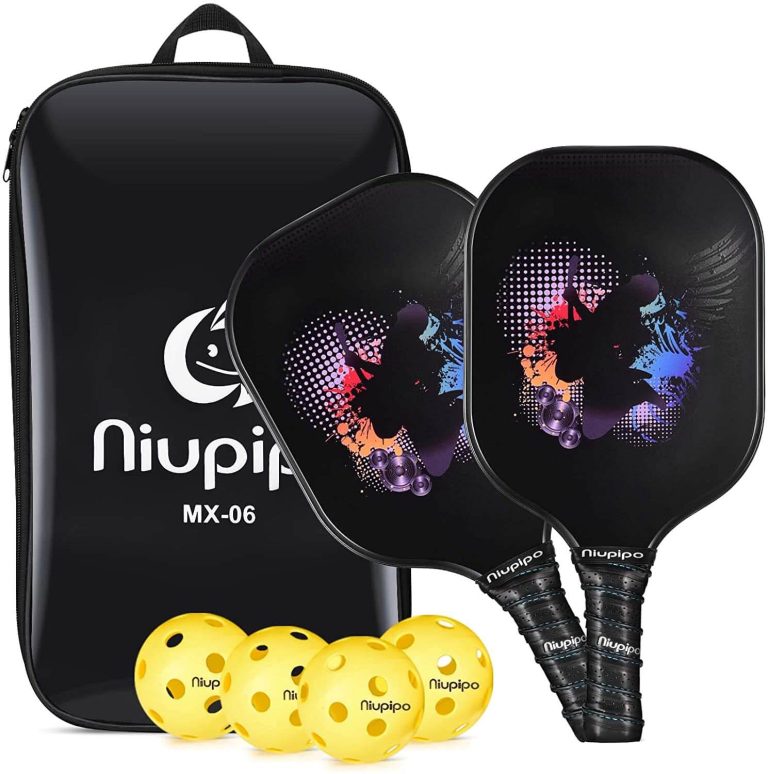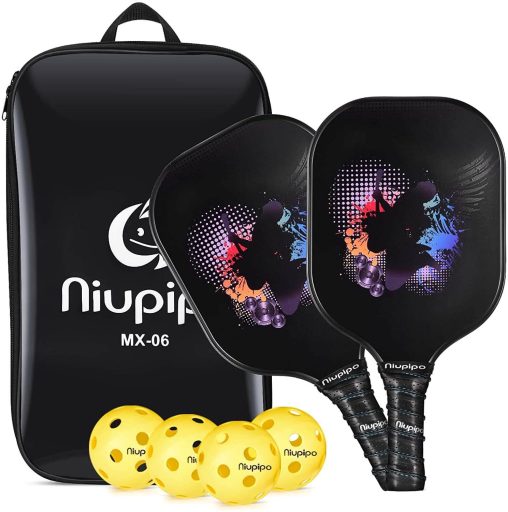 Key Features
Perfect weight
XL head size
Winn Dry Grip
4. Rally NX Graphite Pickleball Paddle
Rally NX Graphite Pickleball paddle is a premium quality brand available in the market at an affordable rate. It's made with durable materials. As result you can expect an excellent durability and playability with this paddle.
The graphite face of the paddle has more layers of carbon to add on the strength of the paddle. This feature makes durable, lightweight honeycomb core that can withstand volleys, dinks, and slams.
The unique Winn Dry Grip maintains a tight, dry, and reliable grip that gets rid of any annoying mishits. The design of the paddle also features a slim-trim edge that protects the Rally NX Graphite Pickleball Paddle from any damage in case it hits the ground.
The design of the paddle generally makes it ideal for balancing control and power more significant sweet spots. Whether you are looking for a paddle that will serve you better indoors and outdoors, Rally NX is a perfect choice.
The materials and the design reduce the noises you would expect to hear when playing with a standard paddle. This is the reason the paddle is more preferred when it comes to playing indoors. Graphite Face and NOMEX Honeycomb core
Key Features
Heavyweight paddle
Graphite face
Edge guard
Quiet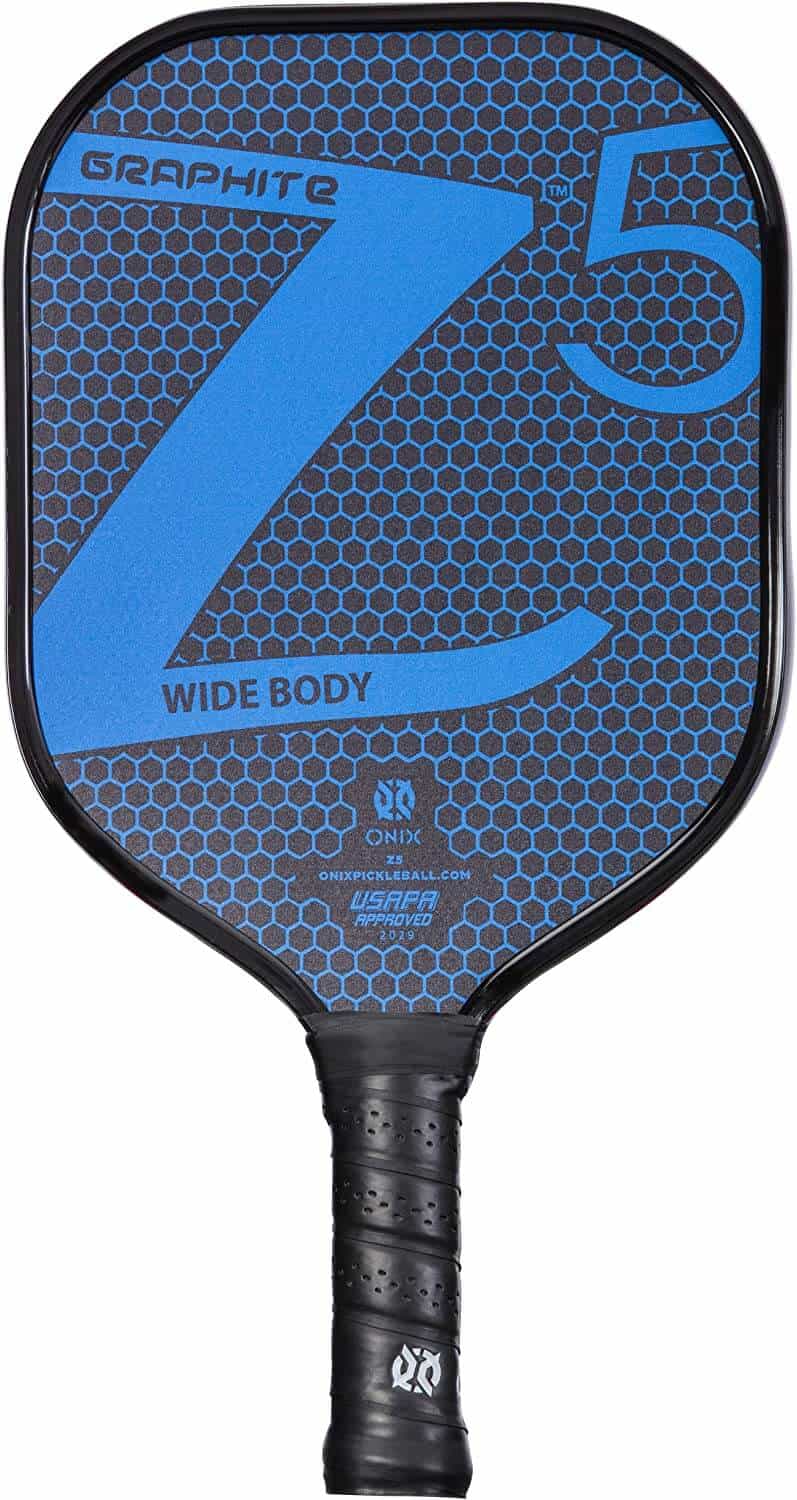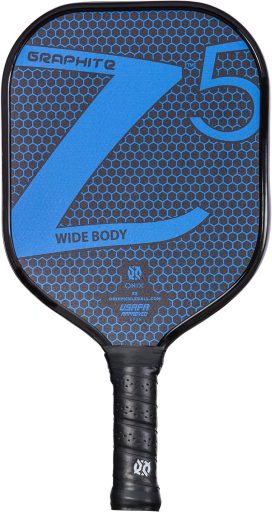 5. ONIX Graphite Z5 Pickleball Paddle
Onix Graphite Z5 comes in five different pickleball paddles. Every paddle has it's own feel and features. If you are looking for a unique style and a feeling that you haven't gotten with any other brand, this could be the paddle you have been looking for.
The five paddle types for ONIX Graphite brand are:
Sub Zero paddle: It has no edge. The paddle features a graphite face and a foam core. The total weight of Sub Zero paddle ranges between 7.2 and 7.9 ounces. As a result, its lighter than most of the Upstreet Graphite paddles.
Onix React Paddle: The Onix react paddle has the same features with sub Zero only that it weighs between 8.3 and 8.7 ounces. The paddle is made with fusion core technology. Its weight makes it perfect for beginner players.
Onix Z5 Graphite Paddle: This is a graphite Nomex honeycomb. It has a wide body that weighs 7.7 -8.1 ounces. It also comes with an edge guard.
Evoke Tear Drop: Has a composite face. The core is made of polypropylene hence the reason why it's the lightest as compared to the other five paddles. It weighs between 7.1-7.5 Ounces.
Onix Z5 Composite Paddle: This is a composite face paddle with a Nomex Honeycomb core. It also has a wide body, with a heavyweight of 8.2 to 8.6 ounce.
However, Onix Graphite Z5 is the most popular paddle among the five of them. It's great for both beginners and players at advanced levels.
Check the latest price and buy Onix Z5 Graphite paddle on Amazon today.
Things to consider before buying a quietest pickleball paddle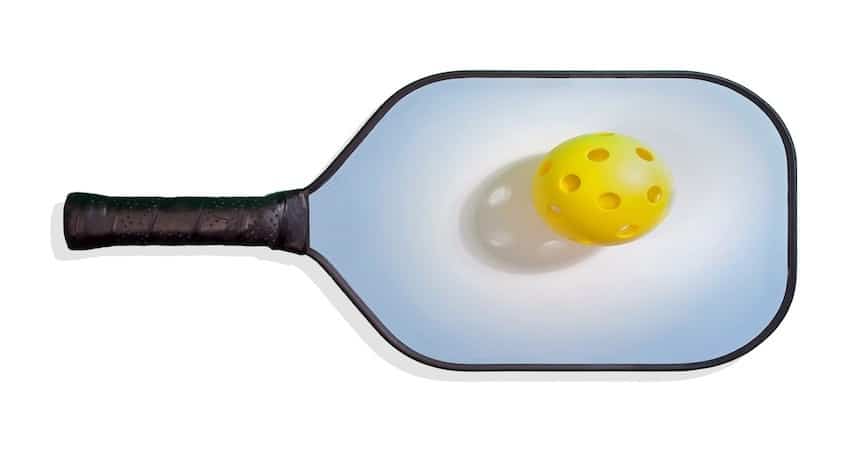 Whether you are replacing an old or need a new pickleball paddle, you don't need to buy a paddle that won't serve you well. Most important, you will need a paddle that won't make a lot of noise when playing with it.
The following are factors that you should consider when buying a quiet pickleball paddle.
Most of the pickleball experts agree that weight should be a top priority when choosing a pickleball paddle. Most of the paddles have a weight ranging from 6 to 14 ounces. A difference in the weight causes a significant difference in the noise and playability of the paddle.
It's essential to pick a paddle with correct grip circumference. These would match the size of your hand. The right size will give control over the game and enable you to spin and improve the game control.
Three different materials make paddles. The material used on a paddle determines the overall weight of the paddle and its performance. Material also determine the level of noise and durability of a pickleball paddle.
Main materials are;
Wood – cheapest and heaviest
Graphite – Lightweight, most expensive and powerful performance
Composite – it's in between the wooden and graphite paddle in almost all aspects.
Some neighborhood restricts pickleball noises. So, you need to consider where you will be playing with your paddle. There is no need of getting into problems with people in your neighborhood.
If noise is a problem, consider buying polymer paddles. They are less noisy.
Verdict
By now, you must be aware of the conflict you are creating by playing with a noisy paddle. It's essential to buy a quiet paddle from Amazon and enjoy your game without causing disturbances in the neighborhood.