As an Amazon Associate, we earn from qualifying purchases at no extra cost to you.
Nothing gives your home a nice look like a well-maintained lawn. But every time you think of mowing your yard, you get frustrated. Lawnmowers can be noisy. Everyone in your neighborhood will know that you are mowing your home. If you do it regularly, they might also not like you.
The noise from the blades and the engine can be too much. But that should not be the case. There are simple things you can do to reduce the noise produced by your mower. In this article, we will discuss tested techniques that will solve this problem for you.
Let's dive deeper and learn how to make a lawnmower quieter.
What's the Acceptable Noise Level for a Lawn Mower?
Lawnmowers vary in the noise they make. Unfortunately, most of the mowers are quite loud. You can, however, choose to buy quieter lawn mowers or soundproof the one you have.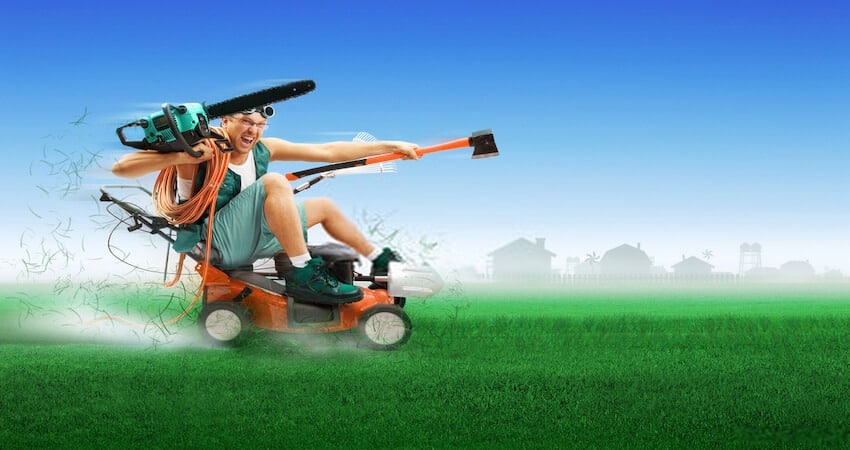 When mowing, you should also wear protective gear for your ears.
Most mowers produce a noise level of around 90 dB (Decibel). This is high than the recommended noise level for your ears. No one should be subject to this noise level for over eight hours.
Techniques to Reduce Noise Levels for a Lawn Mower
Below are the top ways to deal with the noise produced by your lawnmower.
1. Work on Your muffler
Most lawn mowers have a muffler installed on the engine. It specifically fixed at the exhaust port. The muffler forces the engine sound to pass through a noise-canceling chamber. It also provides pressure for the engine so that it can work at its maximum horsepower.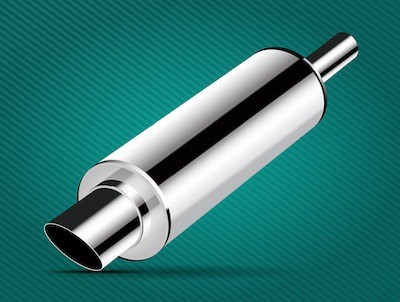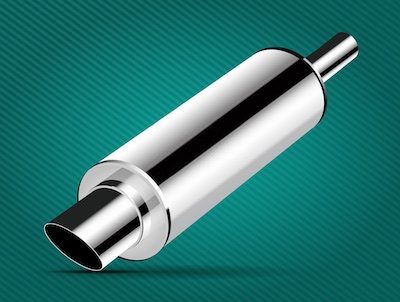 With time, the muffler cracks. The gasket seal between the exhaust pipe and muffler can also deteriorate. As a result, the engine noise is not canceled and they remain louder than desired.
Therefore, if your lawnmower is producing a lot of noise, inspect and fix the muffler. Carry out the following steps to work on your lawnmower muffler.
Step 1: Allow the Engine to Cool down. The exhaust pipe gets extremely hot when the engine is running. You cannot work on the muffler at this state.
Step 2: Locate where the muffler has been installed in the exhaust pipe.
Step 3: Unscrew the two bolts holding exhaust pipe to the port on the engine. Pull the pipe off to reach out to the muffler.
Step 4: Inspect the muffler. Check whether there are any cracks on it. Check also whether it has rusted also. This is mainly caused by continuous condensation. If the muffler has rusted or cracked replace It with a new one.
Step 5: Peel of the old gasket from the exhaust port. Scratch and remove any debris. Fix a new gasket over the exhaust port. Return the exhaust pipe and tighten it to the exhaust port.
If you are unable to follow the above procedure on your own, seek help from a professional. Don't attempt to change anything if you are not confident enough. But if you are confident, the above stages are easy to follow.
After this process, your lawnmower should be silent. If the mower still makes more noise, consider other techniques of making the lawnmower quieter. Keep on reading to discover other amazing techniques to make a lawnmower quieter.
Note: Ensure you get a good quality muffler. Make sure before buying any muffler you know the dimensions of your lawn. Longer mufflers are quieter. Therefore, consider getting a long one if it's possible.
You can check and buy different mufflers on Amazon. Check the mufflers below. They are tried and tested. Use any of them and expect to get excellent results.
2″ Inlet 3″ Outlet Exhaust Tip
Burnt Muffler Universal
8″ Length
34%
(* = affiliate link / image source: Amazon partner program)
Two-chamber design provides a deep aggressive tone
Available 3-inch inlet and 2.50-inch outlet
High-temperature metallic finish or 304 polished stainless steel
Thrush logo embossed on muffler cover
Available in 19″ overall length
2. Work on the Deck
If you want to reduce the noise coming from the blade, rock pings, and vibrations, quiet the deck. The best technique to quiet the deck is by using sound-deadening materials. You can use the same materials as the ones used on vehicles.
You can choose to buy Dynamat or Naico from Amazon.
Noico
Noico mats can be used anywhere to soundproof. They are specifically designed to be used in automotive.
Noico eliminates general automotive sounds, vibrations, and rattling of moving cars. Its performance offers unmatched soundproofing abilities for any automotive.
It's ideal for soundproofing any part lawn mower deck. It will reduce all noises coming from your mower through the deck.
Noico Features
Great Thickness: Noico is made up of a sound deader material of 80 mil thickness. Due to this thickness, it is efficient in soundproofing vibrations, loan mower cutting noises, and any other rattling on the deck.
Easy to Install: Naico come with installation indicators. So you don't need to worry about installation. The indicator notifies you when you have installed the mat properly.
Lightweight: Don't be misled by its thickness. Noico is very light, weighing approximately 0.7lbs per square meter. It doesn't add more weight on your lawnmower.
Built with Butyl: Butyl enhances efficiency in insulation while keeping the mat weight on check.
Available in Multiple Sheets: Naico mats can cover 36 square ft. It comes in 9 sheets that make it a perfect choice for different soundproofing parts of your car.
Pros
Multiple sheets
Lightweight yet thick
Easy and Friendly to install
Affordable
Perfect for any type of automotive surface
Cons
The foil is relatively thin
Has a rubber smell
You must wear protection gloves when installing
Popular Naico Mats on Amazon
(* = affiliate link / image source: Amazon partner program)
36 sqft car Sound deadening mat,
Butyl Automotive Sound Deadener,
Audio Noise Insulation and dampening
(* = affiliate link / image source: Amazon partner program)
36 sqft
Сar Waterproof Sound Insulation,
Heat and Cool Liner,
Self-Adhesive Closed Cell PE Foam Deadening Material
1/6" Thick Sound Deadener
Dyanamt
Dynamat reduces automotive noise. It blocks all noise from the car engine, vibrations, and car movements.
The mat is also perfect for heat insulation. Unlike other Naico and Fatmat, Dynamat does not melt due to high temperatures.
Relevant Resources: Soundproofing a Noisy Water Pump: 7 Simple Ways
Dynamat Features
Permanent Adhesive: The mats have a lasting, strong adhesive for installation. After installing the Dynamat, it does not come off. It remains intact even when temperatures are high.
Aluminum Coated: Dynamat comes with an aluminum coating. The coating enhances heat resistance on the mat. It does not absorb heat.
Compatibility: Dynamat is made up of a material that is compatible with different lawn mower deck surfaces. Therefore, without any difficulty, you can apply it on different surfaces and hold firmly.
Flexible material: The mat is flexible and can be used to soundproof flat surfaces, corners, and curves of your deck.
Multiple functions: Besides soundproofing, the mat also insulates mower from excessive heating.
Pros
No heating is required to install.
Efficient in deadening vibrations, noise, and heat.
Aluminum coated.
Cons
Expensive
It requires a separate tape and roller to seal the seams between two mats
Popular Dynamats on Amazon
(* = affiliate link / image source: Amazon partner program)
80 mil 36 sqft
car Sound deadening mat,
Audio Noise Insulation and dampening
Butyl Automotive Sound Deadener.
(* = affiliate link / image source: Amazon partner program)
12″ x 36″ x 0.067″ Thick
Self-Adhesive
Sound Deadener with Xtreme Door Kit
Single Sheet, 2 Sq FT, 24″ x 12″
Black Aluminum with Self Adhesive (peel off) Butyl Rubber Backing
Wholesale product, Bulk Packed
Folded 2 times (into 3rds)
Includes installation instruction sheet
Dynamat and Noico are great soundproofing mats. They are the best mats in the market. Specifically, Dynamat gives excellent performance as compared to Noico. Though it's expensive, it's worth the investment. Noico performs better as compared to other mats. Its lightweight and exceptional thickness make it the right choice if budget is an issue. Choose the mat that suits you.
For more information, check our comparison between Noico and Dynamats.
3. Install Engine Silencers on Your Lawn Mower
Silencers work the same with combustion engine mufflers in automotive engines. The silencers reduce the noise produced during combustion by the water lawnmower engine.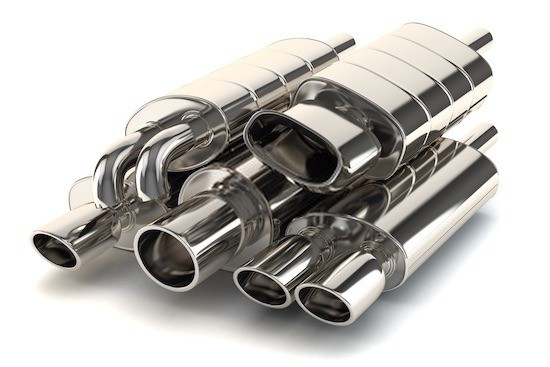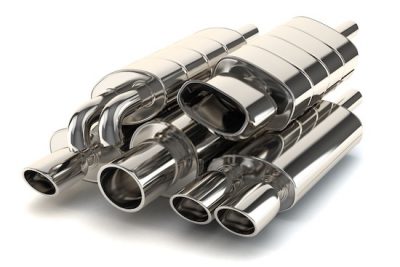 Engine silencers are mainly into three categories. Every category determines the level of noise reduction applied to your lawn mower.
Reactive silencers: They should be connected by a tube to the engine exhaust. The muffler has three internal chambers. Exhaust noise bounces between the chambers and reduces the noise produced by the lawn mower. Reactive silencer should be used to reduce low to mid-level noise.
Absorptive Silencer: This is a silencer with E glass or fiberglass insulation in its internal construction. When connected to the lawnmower exhaust, it dampens the vibration and sound produced by the engine. Absorptive silencers are perfect for reducing the high-frequency noise level lawnmowers.
Combination silencer: As the name suggests, it combines the technology of absorptive and reactive silencers. It's fixed like all the other silencers. Combination silencer reduces all levels of sound frequency from the lawnmower.
Before, fixing any silencer on your lawnmower, consult your mechanic. We recommend the following silencers. They are all available on Amazon.
32%
(* = affiliate link / image source: Amazon partner program)
18 Inches long
Extension
Coupler for Gen-Turi Generator Exhaust System
(* = affiliate link / image source: Amazon partner program)
Aluminized steel construction for corrosion resistance and durability
Tube-and-partition style interior design
Spot welded bushings provide stability and system support
Provides installers
Universal mufflers
4. Always Wear Hear Protective Gears When Mowing
You can manage to quiet your lawnmower. However, it will still produce a substantial amount of noise that will bother the person using the mower.
The structural noise from the lawnmower is not good for your hear drums. With time, they can damage your hearing. Currently, many people are half-deaf due to loud machinery. Having conversations with them can be a difficult experience.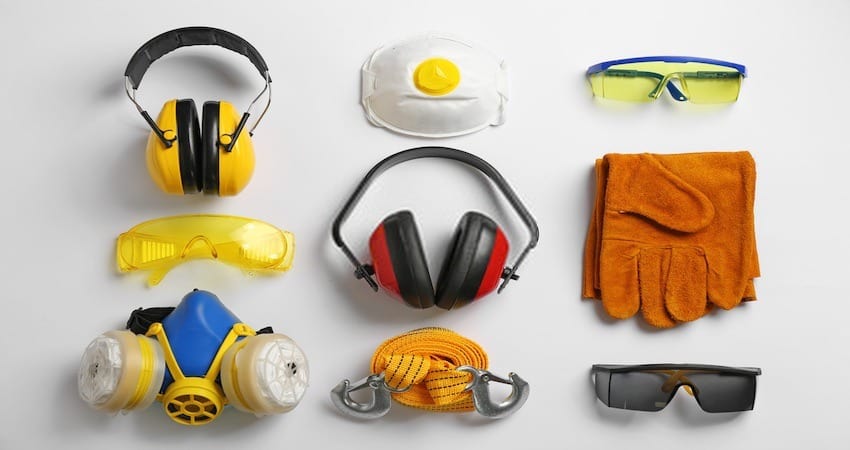 We are sure you don't want to be that person who is half-deaf.
Therefore, to prevent blowing your eardrums buy ear muffs or plugs. Hear muffs cover the entire ears. They provide greater noise reduction as compared to earplugs. The earplugs also work well in reducing the mower noise.
Buy quality brands on Amazon. You can check either of the following brands and always wear them every time you are mowing. Feel free to use them every time you want to stop hearing any kind of noise.
(* = affiliate link / image source: Amazon partner program)
Noise Reduction Safety Ear Muffs,
Shooters Hearing Protection Ear Muffs,
Adjustable Shooting Ear Muffs,
NRR 28dB Ear Defenders for Shooting Hunting Season
(* = affiliate link / image source: Amazon partner program)
Shooters Hearing Protection Safety Ear Muffs
Folding-Padded
Head Band Ear Cups,
Black
5. Buy a Quieter Mower
Just like most types of machinery, some lawn mowers are noisier than others. And we are not experts in all machinery, but we understand much about lawnmowers. We have been mowing our backyard for as long as we can remember.
Electric mowers are quieter than gas-powered mowers. Mowers with smaller engines also produce less noise than the ones will large engines.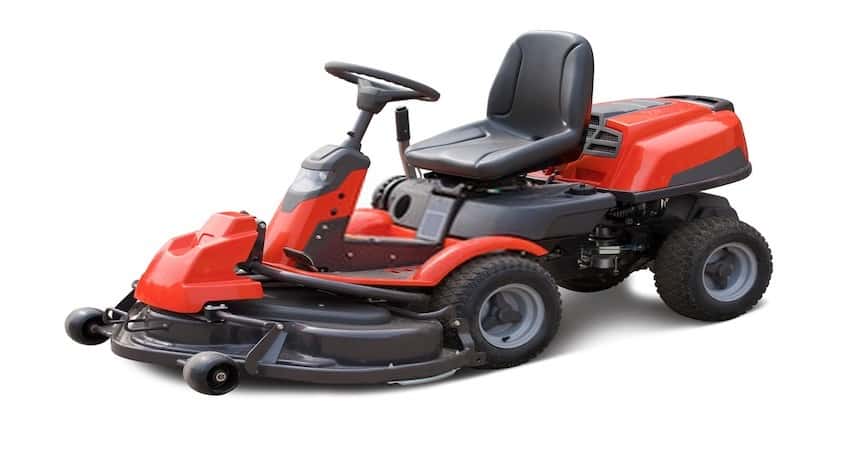 So if soundproofing your loud mower is expensive, consider buying a quieter one. For example, changing mufflers time overtime is costly in the long run. When you add up the cost of maintaining a noisy mower is too high than an electric mower.
Therefore, choose an electric over the gas-fueled mower.
Relevant resources: Car Under Hood Liner Insulation: Tips to Soundproof Car Hoods
Final Words
There are no many options to soundproof your lawnmower. However, the techniques discussed in this article will give you the best experience. Most important, chose to buy quality materials from Amazon when carrying out these techniques. This is the only way we guarantee you success in reducing the noise produced by your lawnmower.