As an Amazon Associate, we earn from qualifying purchases at no extra cost to you.
At high speed, the noise inside your helmet can reach 115 decibels. And that would be the noise from the wind only. If you factor other road noises, the total noise will go up.
According to studies, hearing loss starts occurring when you are exposed to a noise starting at 85 decibels. With 115 decibels and more, you can expect the hearing loss to be more common in riders. And this explains why every rider needs a quiet helmet all the time.
Apart from the hearing loss, it's super dangerous to ride under noise. Being in an environment with noises, it causes fatigue. This is the last thing a biker need.
And when the helmet is quiet, the ride becomes enjoyable. With a proper helmet, you can reduce all noises to below 85 decibels.
In this article, we will discuss some of the best ways to reduce helmet noises. With these techniques, you will enjoy your long and high-speed rides.
Tips to Make a Helmet Quieter
1. Use A Helmet that Fits Correctly
Buy and use a helmet with a size and design that fits your head properly. As you ride, you will encounter most of the traffic wind noises. For a helmet that doesn't fit your head properly, it leaves spaces where wind noises will cause disturbances.
It's important to get helmets that fit your head properly.
Ensure the helmet fits you well, especially around your neck. The idea is to ensure that there is no space left for the wind and noise to enter into your helmet.
Apart from the noise, a fitting helmet will give you more safety. In case of an accident, it remains intact on your head and reduces the chances of injuries.
2. Mind Your Riding Position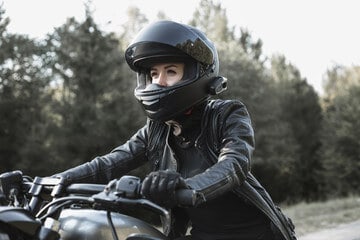 This is the first thing that you should mind when you want to ride without many noises. Most of the noises you will hear from the motorbike is as a result of vibrations running through your bones. Your helmet can not directly eliminate these vibrations.
However, when you get the right riding position, your helmet will help in reducing these vibrations. The vibrations would definitely reduce.
At all costs, avoid sitting on the metallic part of your bike. Ensure you sit on the cushion – it absorbs most of the vibrations coming from the motorbike.
3. Use Hear Plugs
Its difficult soundproofing wind noises, especially when riding at high speed. Even if you have a quiet helmet, you will hear the noise of the wind as it comes into contact with your head.
One of the most effective ways to reduce wind noises for bikes is to buy earplugs.
These are effective techniques to protect your ears. Earplugs are comfortable to wear with your helmet. You don't need a larger helmet to use them. You will just be needed to plug them and put on your helmets.
Most of the earplugs are made with silicone. It does an awesome job of absorbing sounds coming into your helmet. The plugs are also readily available on Amazon. Feel free to buy any of the following plugs on Amazon and enjoy a quiet ride.
Eargasm High Fidelity Earplugs for Concerts Musicians Motorcycles Noise Sensitivity Conditions
Hearing protection
Preserve sound quality
Absorbs most of the wind noises
4. Wear a Wind Blocker
Most of the wind noises in your helmet enter from the underneath part. This is why its always advisable to buy a helmet with effective padding in the neck area.
The supports will act as wind blockers by sealing the space underneath your helmet. As a result, the turbulence caused by air entering into your helmet is reduced.
Apart from reducing the noise, the helmet gives your neck good support and safety when riding your bike.
Most of the wind blockers come with helmets. So, it's important to get helmets with all features that reduce road noises. Keep reading; we will share with you the best quietest helmets to buy.
5. Wear a Scarf
A scarf functions just the same as a wind blocker. However, a scarf seals most of the air openings that the wind blocker can't fully block. It seals all the openings left by the helmet underneath your neck.
A scarf around your neck will block all the turbulence caused by wind noises.
When wearing the scarf, ensure it's high enough to meet the bottom of your helmet. As a result, it creates a shield and prevents the wind from getting through your helmet.
Check the helmets we will recommend in this article. All of them come with riding scurf. But if you already have a helmet, don't worry. You can get the scarfs on Amazon.
Check the scarfs below. They are durable and strong to reduce wind noises.
20%
(* = affiliate link / image source: Amazon partner program)
Double layer with thickened fleece fabric
Long to cover face and neck
Multifunction for motorcycling, skiing, and biking
6. Always Ride with Your Visor Closed
If you are an experienced rider, you know the wind is the main culprit for riding noises. With that said, your focus should be to ensure there is no opening where the wind will find a space to enter into your helmet.
It's advisable to buy helmets that come with a visor. A closed helmet is better and reduces most of the noise.
When riding, flip the visor to close your helmet. This will reduce a significant amount of noise. Ensure the visor seals your helmet well. When closing, it doesn't leave any air space.
If you ride with your visor opened, you will experience the air turbulence. The noise passing through the visor is high as compared to the one that passes through your chin. It's too much to the extent of causing hearing problems to you.
7. Wear a Motorcycle Face Mask
Wearing a face mask will perform similarly with a headscarf. A motorcycle wind mask is designed to reflect most of the noises in the helmet. Riding with it, you will notice a significant amount of noise reduction.
Other benefits of wearing a face mask are to protect you from bugs, dust, and debris that might enter into your helmet.
And the good news is that the face masks are readily available on Amazon. You can check the following face masks and buy the one that interests you most.
WTACTFUL Breathable Windproof Face Mask
(* = affiliate link / image source: Amazon partner program)
high-quality lightweight fabrics
Perfect protection from windproof, dustproof and resistant UV rays
Applicable to many outdoor activities
Self Pro Balaclava – Windproof Ski Mask
(* = affiliate link / image source: Amazon partner program)
Ultimate protection from wind, dust, cold, and sun's UV rays
Premium Hi-tech polyester fibers
Super comfortable
8. Buy a Quiet Motorcycle Helmet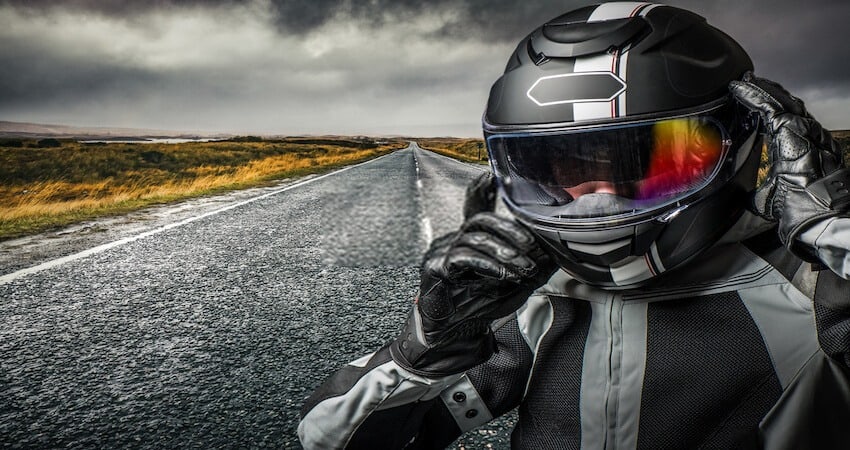 You might try most of the techniques to reduce helmet noises, but none will beat a quiet helmet. This doesn't mean the techniques above don't work. But a quiet helmet is designed in a way that reduces most of the noises you will experience when riding your bike.
And when a quiet helmet is combined with either of the above techniques, the noise is reduced to almost zero. You will enjoy riding your bike for longer distances and high speed.
Quiet helmets have aerodynamic technologies that are specifically designed to reduce wind turbulence.
If you are not sure which are the best and quietest helmets to buy, we got you covered. We have researched them for you. Here are top helmets you can buy them on Amazon today.
ILM Full Face Motorcycle Street Bike Helmet with Removable Winter Neck Scarf + 2 Visors DOT
(* = affiliate link / image source: Amazon partner program)
Quiet
Advanced Bluetooth Technology for clear music and phone calls
Streamlined Aerodynamic design to prevent wind noises
Echo cancellation and noise suppression technology
Lightweight
1Storm Motorcycle Modular Full Face Helmet Flip up Dual Visor Sun Shield: HB89 Glossy White; Size L
(* = affiliate link / image source: Amazon partner program)
Aerodynamic design to block wind noises
Strong and lightweight thermoplastic alloy shell
Modular flip-up design to give benefit for both open and closed helmet
UV protective finish to prevent excess light from your eyes
Removable padding for cleaning
1Storm Motorcycle Street Bike Modular/Flip up Dual Visor/Sun Shield Full Face Helmet (MattBlack, X-Large)
(* = affiliate link / image source: Amazon partner program)
Extra Large DOT approved helmet for proper fitting
Comes with Flip-up and Dual lens design for comfort
Lightweight thermoplastic alloy shell for durability
Aerodynamic to reduce wind noises
Removable and washable padding
Bell Qualifier Full-Face Motorcycle Helmet
(* = affiliate link / image source: Amazon partner program)
Internal shock-absorbing lining
Strong and lightweight polycarbonate composite shell
Super quiet
Clear with an optimal tinted shield for a good road vision
Click to any of the Helmets and buy it from Amazon and start enjoying your quiet Pick.
Parting Shot
At all costs avoid noisy helmets. With them, you risk a lot. There are high chances you will lose your hearing. Noise also causes stress and tiredness. These are the last things you need to experience when you are on the road.
So, what's next?
Buy a quiet helmet. Alternatively, apply the techniques discussed in this article to reduce most of the noises you will experience when riding your motorbike.