As an Amazon Associate I earn from qualifying purchases. Without Any Extra Cost to You!
Interior doors are light. They allow most of the noises from the house to pass through them. If they are not soundproofed, they cause disturbances. You will be woken up by a baby crying the next room, or by your teens playing video games at night.
Even when you want to relax, you will hear the noises from your running appliance.
However, this should not be the case. You can easily soundproof all of your interior doors and forget about all these noises.
Therefore, in this article, we will discuss with you the 5 most effective steps to apply and soundproof your interior doors.
5 Tested Most Effective Ways to Soundproof Interior Doors
Step 1: Identify the Source and Nature of the Noise
The nature of noise should be the first thing to consider when soundproofing interior doors. Different sounds will require different techniques to soundproof. There are 3 common types of noises that can be passed through your interior doors.
Airborne Noise: It's any sounds that will freely travel through the air. Airborne noises include people talking, children crying, and any other sounds that would pass through air. This noise can easily pass through interior door cracks and gaps. Therefore, to soundproof it, you need to block all air gaps over the door.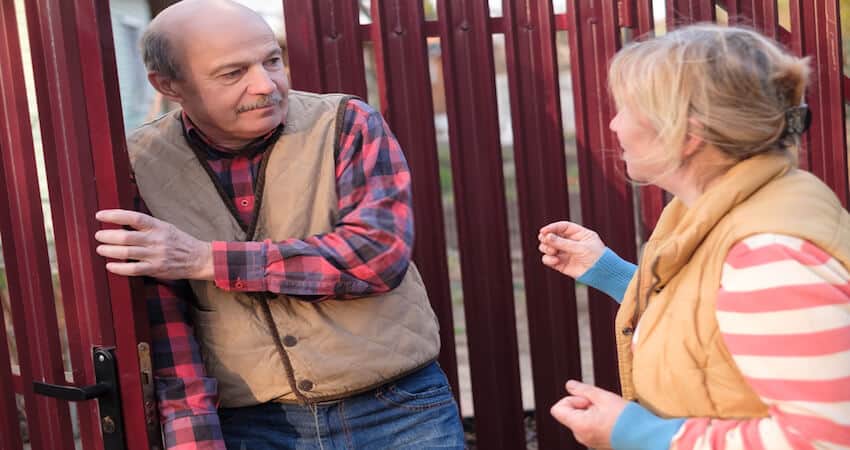 Impact Noises: It's any sound produced when two objects hit on one another. Impact noise could include noises when the door is banged, or other items hit the door. This noise could be common in the interior door when opening and closing. Especially if you have children in the house, they might be forcefully opening and closing the door. To reduce this noise, you can use sound absorption techniques. The techniques will absorb most of the noises coming from the door.
Structural/Vibration Noises: These are noises from appliances and music systems. It travels through vibrations. In could include; bass, refrigerators noises, washing machines, HVAC cooling system, or any other appliance sounds. Vibration sounds easily passes through solid structures. Most of these appliances operate from the house. Therefore, more noises are expected to pass through the interior doors.
After identifying the kind of noise you are dealing with, it will be easy to know the best technique to handle and soundproof the noise.
Step 2: Inspect Your Door
Most of the interior doors are lighter as compared to the external doors. However, this is not always true in all cases. But doors will have different effectiveness in reducing the noises passing through them.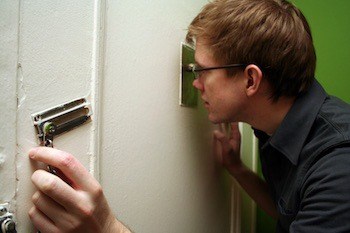 For example, solid wood doors are good at blocking most of the noises passing through them. On the other hand, the hollow doors allow all nature of sounds to pass through them. Metallic door, on the other hand, amplifies vibration and impact noises.
Therefore, inspect your door. Find out the material used on it. Check the gaps on the doors. Measure their sizes. The door gaps will allow noises to pass through them.
The type of material, air gaps, thickness, and design of your door will determine the best soundproofing techniques to use over your door for soundproofing.
Step 3: Choose Soundproofing Techniques
Now that you have identified your sound nature and source pick the best technique to soundproof. Different methods will apply in different situations. The following are the most effective techniques to soundproof your interior doors.
     I. Use Weather-strips to Cover all Air Gaps on the Door
Air gaps will allow airborne and impact noises to pass through the interior doors. The simplest way to cover the gaps is to use soundproofing seal tapes to cover all cracks on your door.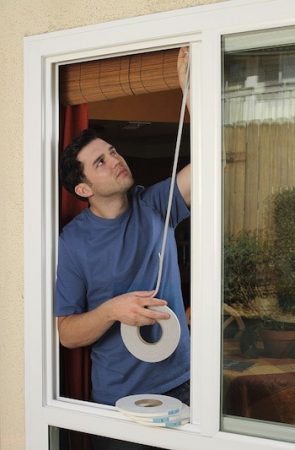 The strips are available on Amazon. Buy them today and install on your door.
To install, measure the size of the air gaps over your door. Cut exact sizes of weather strips and fix them over the door. It's advisable to fix the seal tapes on the inside part of your interior door.
Covering all airspaces will dampen the door. It will reduce over 70% of airborne noises passing through your door.
Check the following Weather-strips on Amazon and use them today.
Foam Adhesive Strips
2-Inch-Wide X 1/4 Inch Thick
Total 13 Feet Long
Seal, Doors,
Waterproof,
Sound Dampening
Craft Tape (33 Ft- 1/8″ x 2″)
   II. Use Door Sweeps
Door sweeps, also known as door drafts, cover the space between the door and the floor. This space is usually left specifically for allowing the door to open and close easily.
However, the same space allows all manner of sounds to pass through them. Using door sweeps at the door blocks this space. All you need to do is buy a quality sweep on Amazon and fix them under the door. Installation is easy. No special skills are required in order to use it.
Check our recent article about How door sweeps works in soundproofing.
Check the following door sweeps on Amazon and soundproof your door today.
Under Door Seal for Exterior/Interior Doors
Soundproof Door Bottom
Weather Stripping
Double-Sided
No cold
36 Inch Foam
 III. Hang Soundproofing Curtains or Blankets over the Door
If you are looking for a quick and easy technique to soundproof your interior door, this is the deal. Soundproofing blankets and curtains are thick and dense. When hung over the interior doors, they can dampen most of the noises passing through them.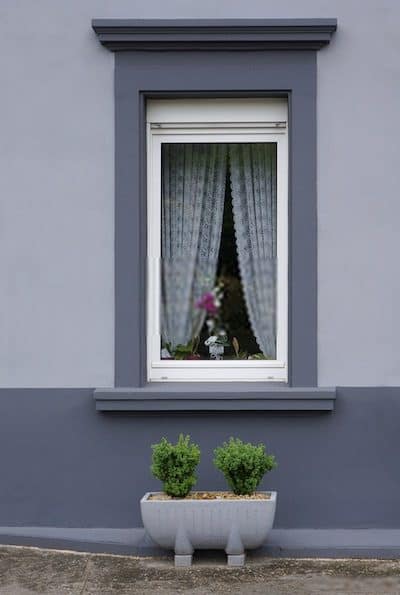 The curtains and blankets absorb all echoes. As a result, they improve your internal acoustics.
To use the curtains or blankets, you only need to hang them as you do with ordinary curtains. The blankets come with grommets.
Blankets and curtains are perfect if you don't want to do a lot of work over your door. Blankets and curtains can also complement your interior décor. They mainly reduce airborne, impact, and vibration noises passing through your door.
Buy either of the following soundproofing materials on Amazon. Any of these will give you the best results in soundproofing your home.
Blankets
Sure-Max 12 Moving & Packing Blankets
[asa2 tpl="Flat_box_horizontal"]B01GK6JTFE[/asa2]
Deluxe Pro
Double-sided construction
80″ x 72″ (40 lb/DZ Weight)
Professional Quilted Shipping Furniture Pads Royal Blue
Effective sound absorption.
Measures 95″ x 54.
Great for recording studios, drum rooms, rehearsal spaces, vocal booths, and more
Installation hardware included
Deluxe Moving Blankets by Chean Cheap Moving Boxes
Size: 72″ X 80″
Double lock stitching and thick 1/4-inch material
Ideal for preventing scratches and nicks to furniture
Double lock stitching with four square finished corners
For more insights about using soundproofing blankets, read this article How to Soundproof a Room with Blankets: 9 Best Ways!
Curtains
Noise Reducing Thermal Insulated Solid Ring
Top Blackout Window Curtains/Drapes
Two Panels,42 x 84 Inch.
Thermal Insulated
Noise Reducing
Size: 52W x 54L Inch
 IV. Install Soundproofing Acoustic Foams Over the Doors
If you are looking for an easy technique to dampen all nature of sounds from passing through your interior doors, choose acoustic soundproofing foams. The foams absorb and deaden all nature of sounds.
Music and recording rooms are soundproofed by these specific materials.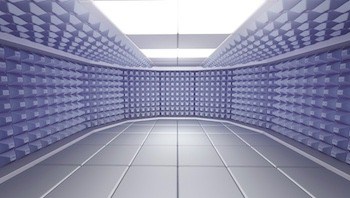 Soundproofing acoustic foams are self-adhesive. Buy them on amazon, peel of the adhesive seal and fix them on the door. First, start by measuring the size of your door. Cut the foams according to the size of your door. Finally, fix them over the door.
Soundproofing acoustic foams are perfect for thickening hollow and thin doors. They also reduce any noises passing through your interior door.
Buy either of the following Soundproofing Foams from Amazon.
Foamily 12 Pack- Acoustic Panels
[asa2 tpl="Flat_box_horizontal"]B010GPFRUQ[/asa2]
12 Pack covers 12 square feet
Professional acoustic control
Great for spot treating sound on walls
Mybecca 12 Pack- Acoustic Panels
[asa2 tpl="Flat_box_horizontal"]B00TP7C9YY[/asa2]
12 pack means
Professional acoustic control Acoustic
Sound deadening material
Step 4: Apply the Technique
As seen, every technique functions well to reduce a specific type of noise. Therefore, choose a method that suits your situation. Use the information you gathered from inspecting the source and nature of your sound. Also, use a technique that is suitable for your door.
For better results, combine more than one technique.
For example, seal all gaps over your door using a weather-strip, then place a door sweep under the door and hang curtains or blankets over it. This will ensure you deal with all noises passing through the door. One technique will have a certain level of success; the other method will complement the other one.
Step 5: Inspect the door again
After using every technique, you thought was best for your door, inspect it again. Listen if there are changes over your door. Listen to hear the effectiveness of the techniques you used.
If the techniques work, relax, and enjoy your tranquility. However, if you haven't gotten the level of noise-reducing you desired, check again what you did wrong. Besides, apply another technique to supplement the initial strategy you had used.
For example, if you only used blankets, check the door sweeps and cover them. Cover all other gaps over the door.
After you are done with step 5, repeat it. Repeat this step until you are satisfied with your soundproofing work.
Parting Shot
Soundproofing interior doors will give you the peace you desire to have in your home. You won't be woken up by noises from crying babies or noisy appliance. However, as you focus on soundproofing your interior doors, don't forget about the exterior doors also. First, start with the exterior doors if the noises are coming from outside.
For more insights about soundproofing exterior doors, check the following articles. These articles discuss everything you need to know about soundproofing doors.